Even When Dale Earnhardt Jr. Goes Ballistic, He Avoids Fights for This Simple Reason
In the world of NASCAR, few names are as recognizable as Dale Earnhardt Jr. The son of the legend has racked up some impressive wins himself, which includes two Daytona 500 first-place finishes.
While having an impressive career, Earnhardt has a reputation for getting hot-headed at times. However, No. 8 does try to avoid getting into fistfights on the racetrack for one main reason. 
Times Dale Earnhardt Jr. got heated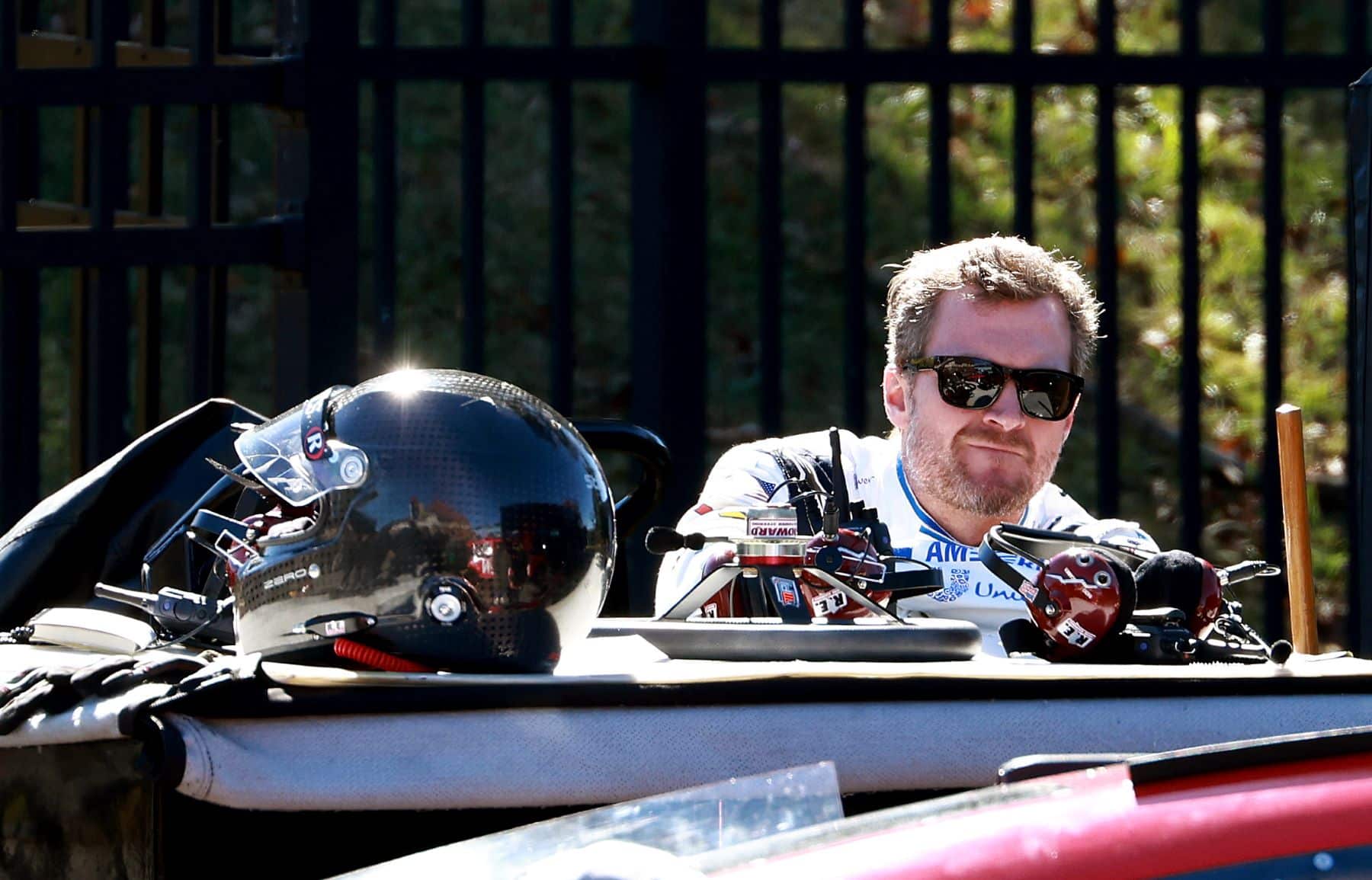 Every Kyle Busch fan knows that Dale Earnhardt Jr. can get quite aggressive at times. While most of us tend to mellow out as we age, the opposite may be true for Earnhardt.
Take, for example, his recent outing at the Go Bowling 250 at Richmond Raceway, part of NASCAR's Xfinity Cup Series. At the Virginia Raceway, Earnhardt escalated his rivalry with Kyle Weatherman. 
On turn 4, Earnhardt was hanging on the outside of Weatherman. As Weatherman moved up to avoid a collision with another car, he accidentally bumped Earnhardt. While an accident, it did light Earnhardt's fuse. 
Earnhardt went to get revenge by ramming Weatherman's car three separate times. Still, that wasn't enough to quench No. 8's fury. "I wanted to hit him again," Earnhardt admitted on his Dirty Mo Media podcast. "Next time you hit me, I'm hitting you," he warned to all drivers. 
Why Earnhardt avoids fights… most of the time
Even though Dale Earnhardt Jr. can get aggressive on the track, he'll never throw a punch. At least while the cameras are rolling, as he's made it clear that he's not afraid of fights. Earnhardt may be just as savvy about public relations as he is about driving. 
"If you go up and punch a guy in the face, that's going to be on TV all week," Earnhardt was quoted by NBC Sports. The accomplished racer is acutely aware that the media loves to sink their teeth into off-the-track drama. Yet, there is another more personal reason why Earnhardt avoids fights. 
"Momma's watching, you don't want to upset your momma," Earnhardt said. Despite all the fame and cushy upbringing, it turns out Earnhardt really is just a country boy from North Carolina. While Twitter and sports media can be cruel, nothing stings quite like a mother's disappointment.
"She's just a phone call away," Earnhardt continued to say. A keen reminder to all sons around the world. It makes you wonder how the mother of Clint Bowyer reacted after seeing her son try to chase down Jeff Gordon across pit row in 2012.
Dale Earnhardt Jr.'s future on the track
There has been a lot of speculation about Dale Earnhardt Jr.'s possible return to the cup series. However, those chances are slim. The now 46-year-old Earnhardt retired in part due to the number of concussions he sustained over his nearly two-decade career. As we know better now than prior generations, concussions and brain trauma should not be taken lightly. 
Still, Earnhardt participated in Go Bowling 250 in Sept. 2021 and the Xfinity Series with JR Motorsports back in April. Since 2018, he's participated in about one race per year. Earnhardt has hinted that he plans on doing another one-off race in 2022. Until then, we'll just have to reminisce about his glory days. 
RELATED: Kevin Harvick Fires Another Shot at Chase Elliott After Texas and Proves the Reigning Champion Is Living Rent-Free in His Head