Even After His Disastrous Stint in Jacksonville, Urban Meyer Happily Approves of the Jaguars' Doug Pederson Hire
Article Highlights:
Former Jacksonville Jaguars head coach Urban Meyer liked that his former team hired ex-Philadelphia Eagles head coach Doug Pederson
Pederson, who led the Eagles to a Super Bowl victory and three playoff berths in five seasons, is tasked with cleaning up Meyer's mess
The legendary college football head coach also said he's interested to see who becomes the Jaguars' next offensive coordinator
As far as former Jacksonville Jaguars head coach Urban Meyer is concerned, he's not holding any ill will toward his former employers. At least, not publicly, and not that he'd have any reason to justifiably be outraged at the Jaguars given his ugly year with the team.
Nonetheless, Meyer said all of the right things about Jacksonville's decision to hire former Philadelphia Eagles head coach Doug Pederson and task him with achieving essentially everything his predecessor failed to accomplish. Winning games would be a start.
Urban Meyer is a fan of the Jaguars' decision to hire Doug Pederson
For weeks, it appeared that the Jaguars were destined to hire Tampa Bay Buccaneers offensive coordinator Byron Leftwich, who played in Jacksonville from 2003-06. However, Leftwich reportedly didn't want to work with Jaguars general manager Trent Baalke, who the organization apparently has no intentions of firing anytime soon, and the retired quarterback withdrew his name from the running.
Enter Pederson, who went 42-37-1 in five seasons with the Eagles from 2016-20. Jacksonville officially hired the two-time Super Bowl champion — Pederson won his first when he backed up Brett Favre on the 1996 Green Bay Packers — on Friday, Feb. 4, and introduced him to reporters a day later.
On the Feb. 7 episode of Outkick's Don't @ Me With Dan Dakich, Meyer said he liked the Jaguars' decision to hire Pederson. 
"I think he's an excellent coach, obviously," Meyer said, adding, "It's [a] great hire and offensive mind. I think he's gonna do great."
Although Meyer and Pederson have not worked together, the three-time national champion said the two met at a golf event at Lake Tahoe, Nevada, in 2018. The veteran head coach added that former Eagles tight end Trey Burton, who played for Meyer at the University of Florida, raved about Pederson to him.
Meyer also said he's interested to see who Pederson hires as an offensive coordinator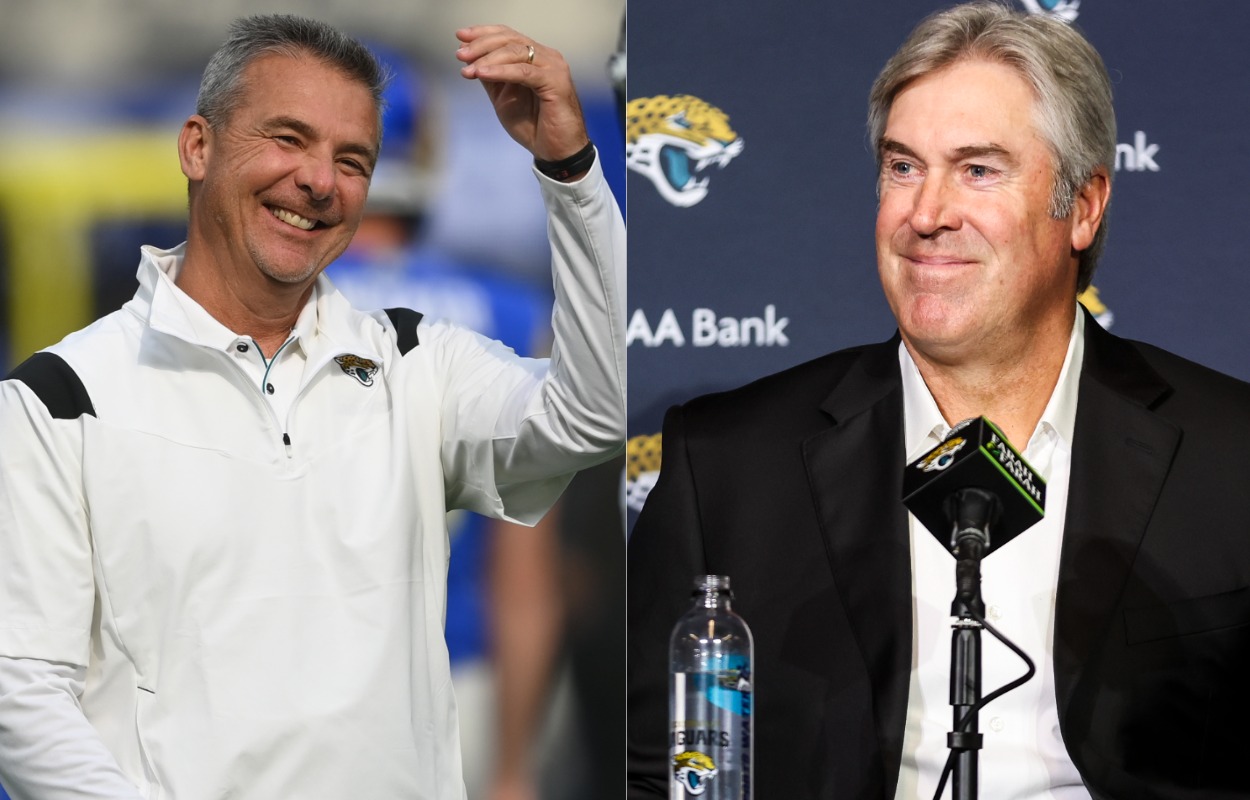 From the moment the Jaguars fired Meyer in mid-December, it seemed like a guarantee the team's next head coach would have an offensive background. According to NFL Media, eight of the 12 candidates who interviewed for the Jaguars job, including Pederson, were either currently offensive coordinators or held the position at a previous point in their career.
When he spoke with Dakich, Meyer said he's especially interested to see who Pederson hires as his offensive coordinator. The Jaguars' last head coach explained he hired away former Detroit Lions offensive coordinator Darrell Bevell to hold the same role on his staff because the Wisconsin product had extensive experience coaching the spread offense.
As of publication, Pederson had not hired a new coordinator. It is not yet known if Bevell will return to the Jaguars next season.
"So I think … it's going to be interesting to see who he hires as coordinator [or] if he's going to coordinate the offense," Meyer told Dakich. "But I think that's the choice you got to make when you're in the NFL."
The Jaguars need Pederson to work his magic and help Lawrence rebound from the short-lived Meyer era
Although the Jaguars didn't yet have Trevor Lawrence at quarterback when the team hired Meyer in January 2020, it was a near-certainty the team would select the Clemson star first overall in the upcoming NFL draft. And they did!
Neither had the rookie season they imagined. Meyer didn't even make it to Christmas, and Lawrence struggled throughout his first NFL campaign. The 2020 All-American recorded a 59.6 completion percentage, 3,641 yards, 12 touchdowns, and 17 interceptions in 17 starts. He at least set a new rookie franchise record for passing yards.
Jaguars fans should hope that Pederson can work the second-year magic that former Eagles quarterback Carson Wentz benefited from in 2017. Although the former North Dakota State star's completion percentage dropped from 62.4 to 60.2, he turned a 16-14 TD-INT ratio into 33-7 in three fewer games.
In fairness to Pederson, part of Wentz's success also came as a result of offensive coordinator Frank Reich and a stellar offensive line. The Jaguars don't have either right now.
Still, Pederson has at least shown he can develop young quarterbacks, especially after less-than-ideal rookie seasons. If he can turn Lawrence into a reliable NFL starter, it'll only help Jaguars fans forget about Meyer sooner.
Like Sportscasting on Facebook. Follow us on Twitter @sportscasting19.
RELATED: Urban Meyer Didn't Hold Back in Describing His Terrible Jaguars Stint: 'It Eats Away at Your Soul'