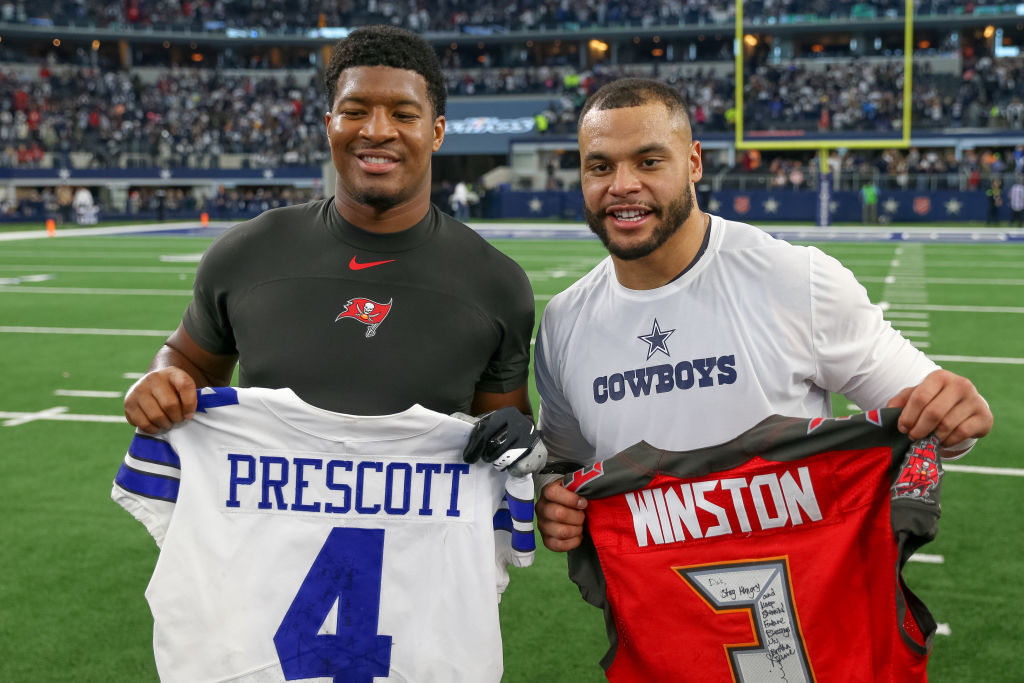 Even With 'Very Positive' Talks With Dak Prescott, the Dallas Cowboys Should Be Looking at Jameis Winston
The Dallas Cowboys have reportedly been having "very positive" talks with Dak Prescott on a contract but should still look at Jameis Winston.
Despite missing the postseason, the Dallas Cowboys have certainly gotten a lot of attention this NFL offseason. But that could have something to do with their franchise quarterback, Dak Prescott, still not having a long-term contract done, which forced the team to use the franchise tag on him last month. Amari Cooper finally inked his deal, a five-year/$100 million contract that makes him one of the highest-paid wide receivers in the league. But there are a number of big-name free agents still out there, including former Tampa Bay Buccaneers quarterback Jameis Winston.
So with Dak Prescott still not being signed, should the Dallas Cowboys actually consider bringing Jameis Winston into the mix?
The Dallas Cowboys have been having 'very positive' talks with Dak Prescott
The Dallas Cowboys have been discussing a new contract with Dak Prescott for quite some time. However, the two sides still haven't been able to come to terms on a new agreement. The Cowboys began their virtual offseason program today and it was believed that Prescott would not take part without a new contract. While Dallas placed the franchise tag on him last month, Dak has until July 15 to sign his tender and could conceivably stay away from all team activities until then.
While there is no deal in place, David Moore of the Dallas Morning News tweeted that Dak Prescott and the Dallas Cowboys have remained in contact over the past couple of weeks and that the talks have been "very positive."
Jameis Winston still doesn't have a home in the NFL
The 2020 NFL offseason has seen a number of big-time quarterbacks land with new teams. Philip Rivers is now a member of the Indianapolis Colts. Teddy Bridgewater is replacing Cam Newton with the Carolina Panthers. Nick Foles is going to challenge Mitch Trubisky for the starting job with the Chicago Bears. Oh yeah, six-time Super Bowl champion Tom Brady ended his 20-year relationship with the New England Patriots and joined the Tampa Bay Buccaneers. The signing of Brady obviously meant that former No. 1 overall pick Jameis Winston would be looking for a job, a job he still hasn't found.
Winston had a very interesting 2019 season. While he threw for 5,109 yards and 33 touchdowns, both career highs, he also threw a league-leading 30 interceptions. With teams preparing for the NFL draft, which begins this Thursday, Winston still hasn't signed a deal for the 2020 season as teams likely want to see how this weekend plays out. But there's an interesting scenario involving the Dallas Cowboys that might actually make a lot of sense.
Should the Dallas Cowboys bring in Jameis Winston as a backup option to Dak Prescott?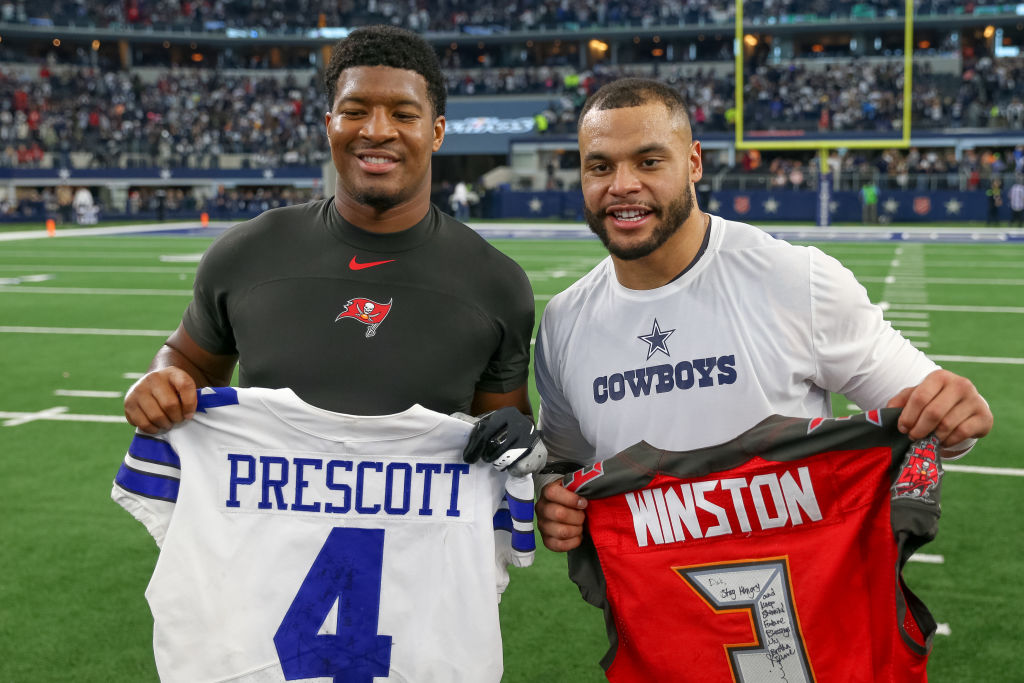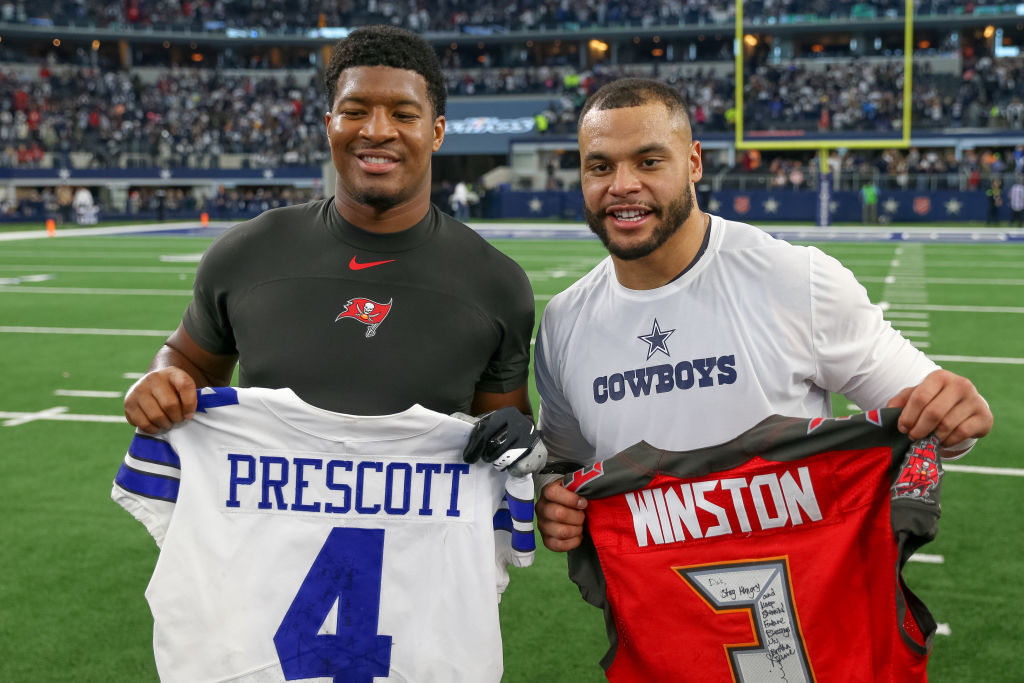 While most still believe that Jameis Winston can find a job in the NFL as a starter, there's never a guarantee there. So imagine a scenario in which he signs with the Dallas Cowboys. Yes, it's a bit of a stretch but it's not out of the question. Sure, talks with Dak Prescott have reportedly been going well but we've heard all of that before and there's still nothing done. And what if nothing actually gets done in that regard and Prescott holds out? Where does that leave the Cowboys?
Cooper Rush is the current backup and while he obviously has some talent, he's not on the same level as a guy like Winston. If Dak Prescott holds out, there's Jameis Winston to step in. If Dak signs his franchise tender and then leaves after the one-year deal is up, there's Jameis Winston. Yes, he's got some issues to work out with the interception rate but he'd also have a great core of receivers to throw to and a better offensive line than he had with the Bucs. Even NFL.com thinks it would be a good fit.
"Dak Prescott's contract situation will eventually be resolved, but the Cowboys would be wise to add Winston to the roster as a valuable insurance policy against injury or an extended holdout. The veteran passer is a significant upgrade over current backup Cooper Rush. For Winston, it would give the former starter an opportunity to refine his mechanics under a respected offensive mind in Mike McCarthy. This would represent a win-win situation for the team and player, which makes it a situation worth considering for a franchise looking to vault into title contention in 2020."

NFL.com analyst Bucky Brooks on Jameis Winston signing with the Dallas Cowboys
I'm sure Jameis Winston wouldn't be overly excited about being a backup to Dak Prescott, as I'm sure he still believes he'll get a big contract as a starter somewhere, but it at least gives him a job. It's not as crazy as it sounds. We'll just have to wait and see how things play out with the Dallas Cowboys moving forward.