Stats on Every Cleveland Browns Quarterback Since 1999
If one position has embodied the instability and struggles the Cleveland Browns have faced since their NFL return, it's the quarterback spot. Since 1999, the famously doomed franchise has had an astounding number of players start at least one game at quarterback. For a point of reference, the number of New England Patriots starters in the same period of time is five: Drew Bledsoe and his replacement in 2001, Tom Brady, followed by Matt Cassel, Jimmy Garoppolo, and Jacoby Brissett. The latter three only filled in for Brady when he was either injured or suspended.
Here is the exhaustive, complete list of Browns quarterbacks since their return to the league. (Note: years listed indicate ones in which the player started games for the Browns. Not necessarily all their years with the team.)
1. Tim Couch, 1999-2003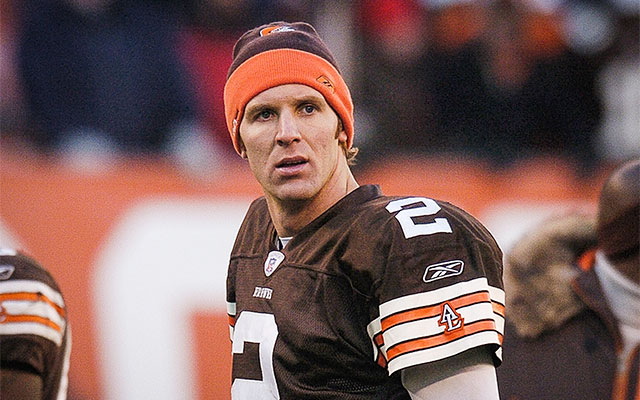 Tim Couch didn't start the very first game when the Browns returned to the NFL, but he was the future of the franchise on that day. Couch ended up with the Browns for five seasons, and then was out of the league before his 27th birthday. For his career, the Browns No. 1 overall pick back in 1999 recorded 64 touchdowns, 67 interceptions, and a 75.1 passer rating. In 2002, Couch led the team to its one and only playoff appearance since coming back to the NFL — but was unable to play in the game due to injury.
Key stats: 59 starts, 64 TD, 67 INT, 75.1 rating
2. Ty Detmer, 1999
The quarterback that did start the opener in that 1999 season was Ty Detmer. In that game, Detmer was just 6-for-13 passing with an interception and 52 yards before Cleveland turned to Couch in the 43-0 loss to the Pittsburgh Steelers. Detmer had been brought in primarily as a mentor to the young Couch, and he served that purpose. He threw four touchdowns, two picks, and a 75.7 passer rating in his only season with the team.
Key stats: 2 starts, 4 TD, 2 INT, 75.7 rating
Next: A Super Bowl winner.
3. Doug Pederson, 2000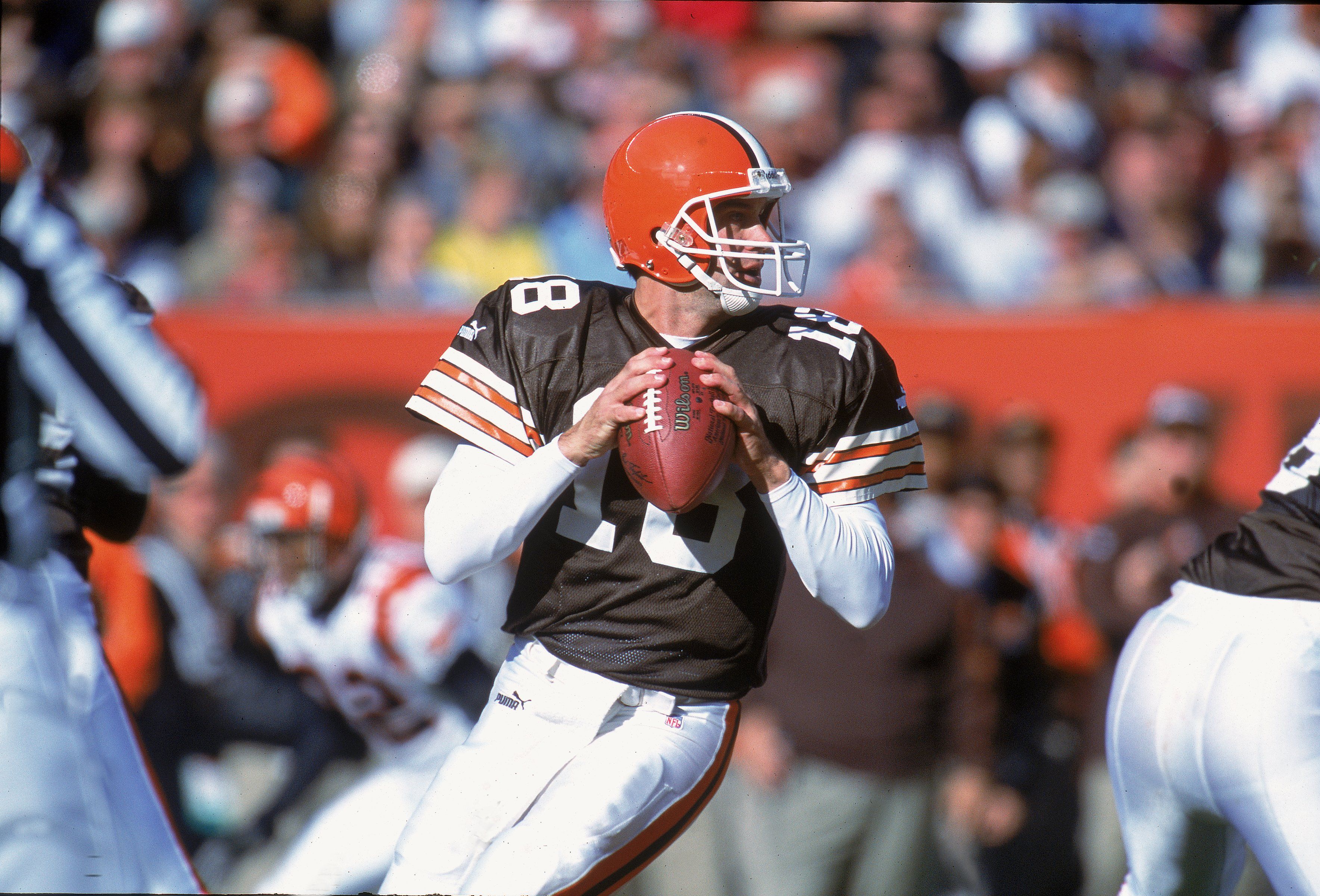 Before he was known as the head coach of the Super Bowl champion Philadelphia Eagles, Doug Pederson was an NFL quarterback. He spent most of his career in Green Bay as Brett Favre's backup, but joined the Browns in 2000 and made eight starts. Pederson recorded seven touchdowns, nine interceptions, and a 62.9 passer rating that year in Cleveland and then promptly returned to Green Bay to spend four more years backing up Favre.
Key stats: 8 starts, 2 TD, 8 INT, 56.6 rating
4. Spergon Wynn, 2000
There isn't a whole lot of story to tell with Spergon Wynn. He went to collage at Texas St. and was a sixth-round draft choice of the Browns in 2000, just one year after they drafted Couch No. 1 overall. But Wynn started just one game (he appeared in seven total) in a Browns uniform that year, a 48-0 loss to the Jacksonville Jaguars. He was released after the season and made a brief appearance with the Minnesota Vikings before disappearing into obscurity.
Key stats: 1 start, 0 TD, 1 INT, 41.2 rating
Next: The Browns' only playoff starter.
5. Kelly Holcomb, 2002-2004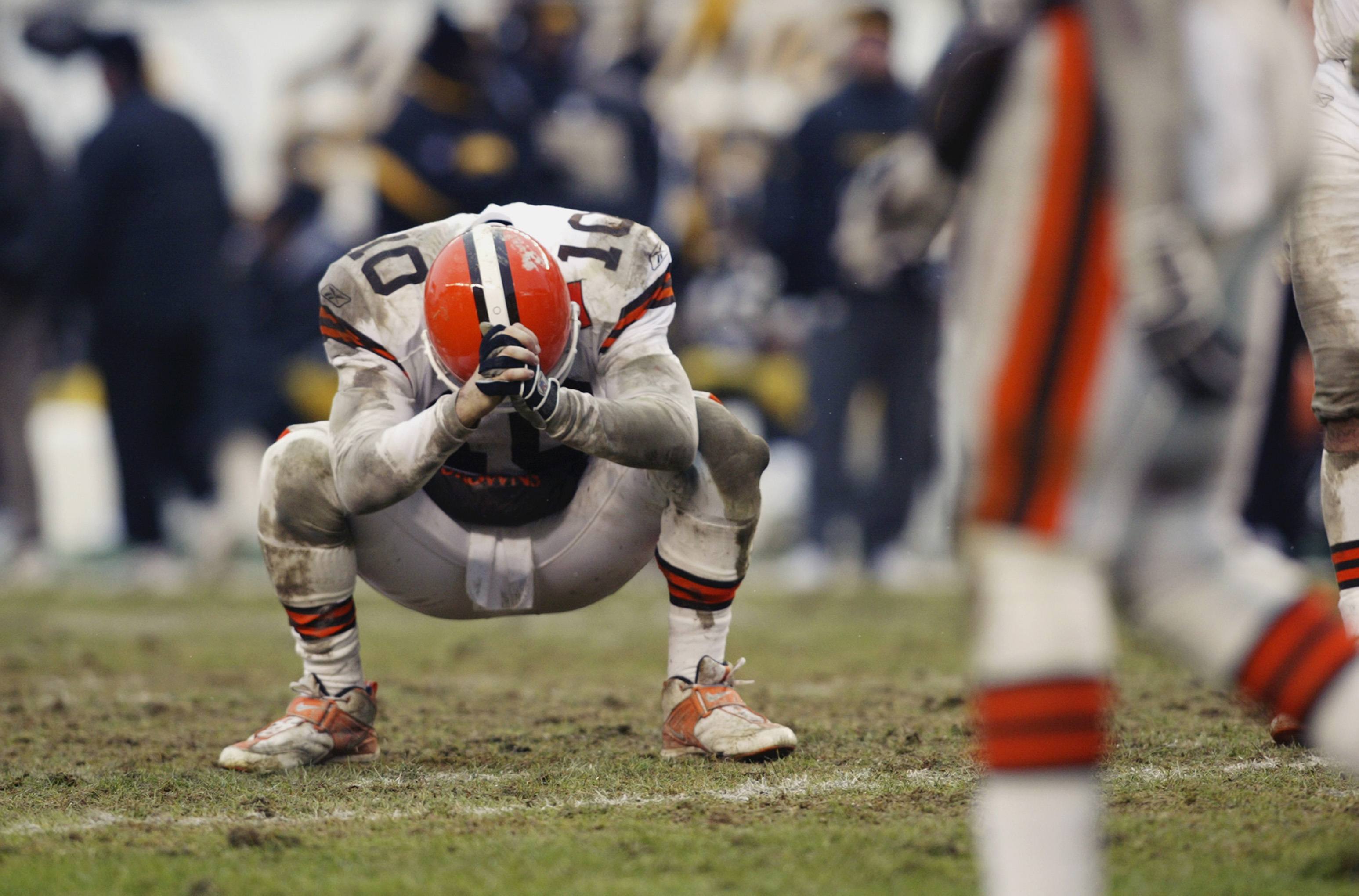 Kelly Holcomb actually joined the Browns in 2001, appearing in one game but making zero starts. He primarily served as Couch's backup during his time with the team, and actually started for the injured Couch in that one playoff game. Holcomb didn't play poorly, going 26-for-43 passing with 429 passing yards, three touchdowns, and one interception. His career regular season marks with the team include 26 touchdowns, 21 interceptions, and an 83.3 passer rating.
Key stats: 12 starts, 26 TD, 21 INT, 83.3 rating
6. Jeff Garcia, 2004
Former Pro Bowler Jeff Garcia was the highest profile player to come to the Browns ever back when he signed in 2004. Unfortunately, Garcia unable to lift the team from its extended doldrums. The 34-year-old recorded just 10 touchdowns, nine interceptions, and a 76.7 passer rating in his only season. But he wasn't exactly washed up. Garcia left and spent five more seasons in the NFL, including another trip to the Pro Bowl in 2007 with the Tampa Bay Buccaneers.
Key stats: 10 starts, 10 TD, 9 INT, 76.7 rating
Next: One of the McCowns'.
7. Luke McCown, 2004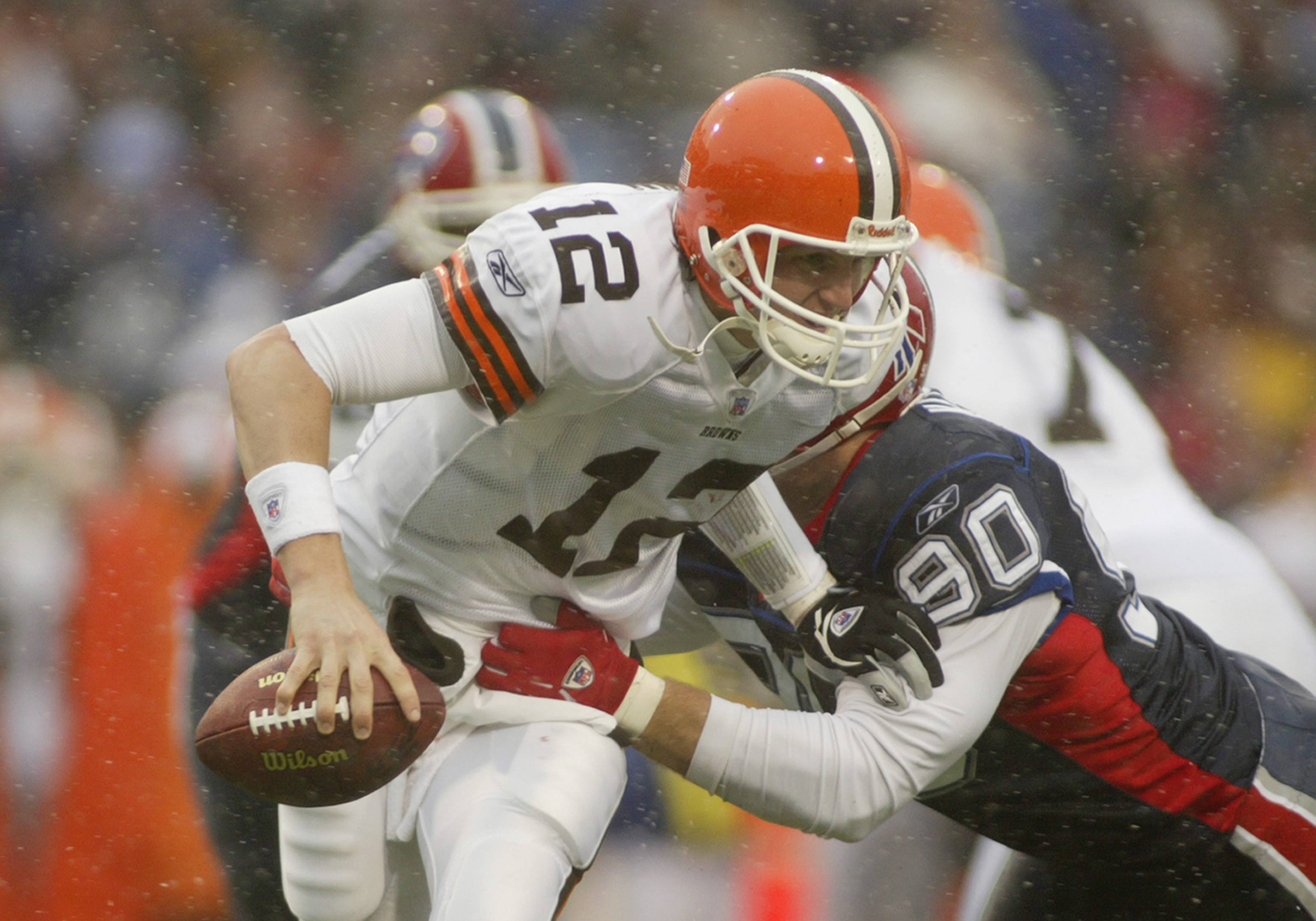 Luke isn't the only McCown on this list, but more on that later. He was a fourth-round draft pick of Cleveland back in 2004, and as a rookie he was able to make four starts with the team. McCown posted just four touchdowns, seven interceptions, and a 52.6 rating in that time. After briefly disappearing from the league, he did go on to have a decent NFL career. McCown played 10 years in the league as a backup quarterback before eventually retiring at the age of 34.
Key stats: 4 starts, 4 TD, 7 INT, 52.6 rating
8. Trent Dilfer, 2005
Trent Dilfer is a fun trivia question, as the starting quarterback who led the Baltimore Ravens to a Super Bowl victory in 2000. He joined the Browns near the end of his career, starting 11 games in 2005. Dilfer threw for 11 touchdowns, 12 interceptions, and had a 76.9 passer rating to go along with a 4-7 record. He did not play at all the next season before wrapping up his career with the San Francisco 49ers in 2007.
Key stats: 11 starts, 11 TD, 12 INT, 76.9 rating
Next: A draft pick that fizzled out.
9. Charlie Frye, 2005-2007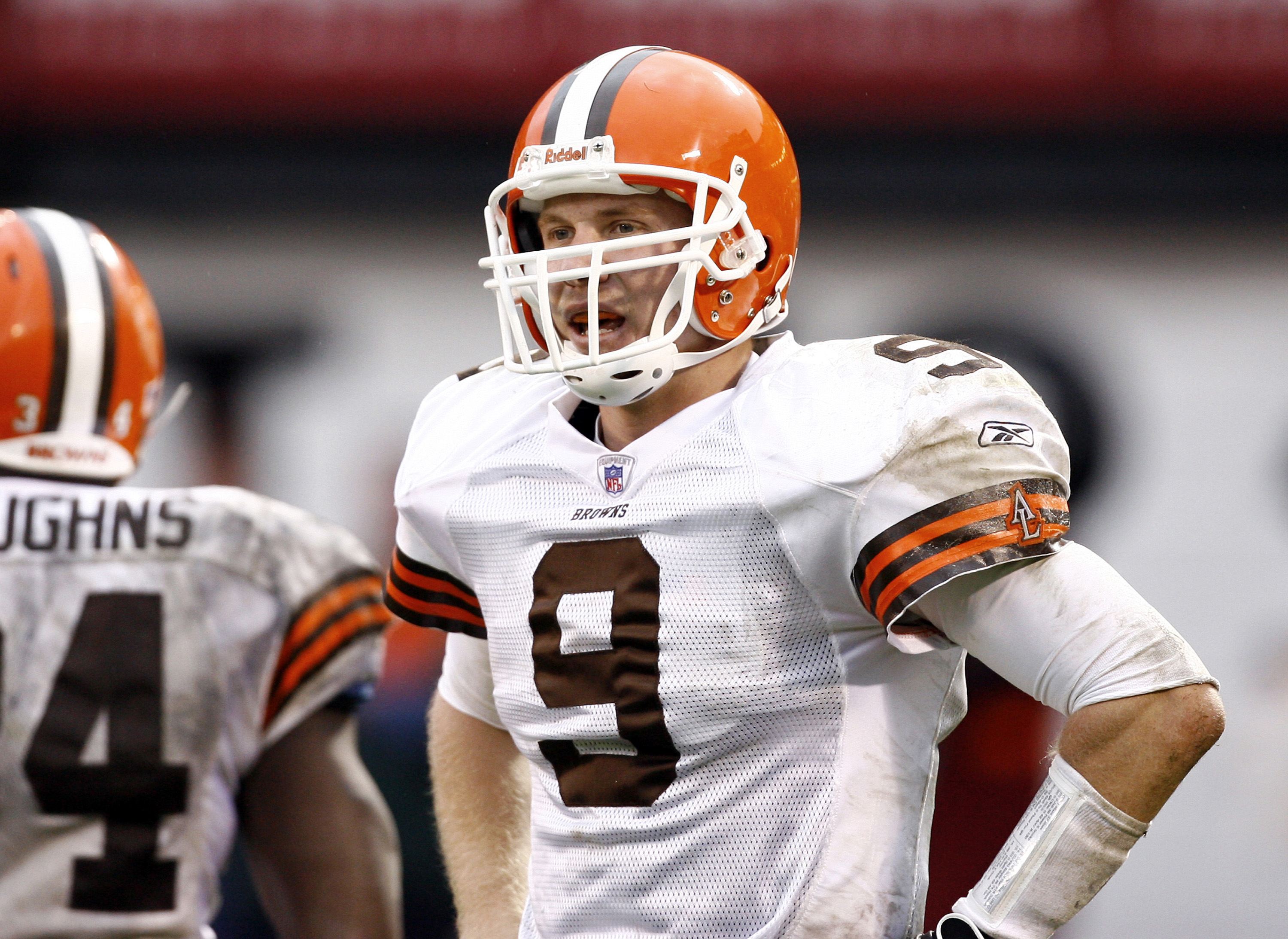 Charlie Frye was a third-round pick of the Browns in 2005, and you may be noticing a pattern by this point. The Browns drafted a lot of quarterbacks. Frye spent three years in Cleveland, totaling 19 starts. He ultimately compiled 14 touchdown passes, 23 picks, and a 71.1 rating with the team. Frye played two more years in the league as a backup before retiring at 28 years old in 2009.
Key stats: 19 starts, 14 TD, 23 INT, 71.1 rating
10. Derek Anderson, 2006-2009
Although he was a journeyman for the majority of his career, Derek Anderson had one very solid season for the Browns. The 2007 season was Anderson's first as the primary starter, and he finished the year with 29 touchdowns, 3,787 passing yards, and an 82.5 passer rating. He made the Pro Bowl and led Cleveland to a 10-6 record, although a tiebreaker cost them a chance at another trip to the playoffs. Like everyone that came before him, however, Anderson was not the long term solution for the Browns.
Key stats: 34 starts, 46 TD, 45 INT, 69.7 rating
Next: Another first round bust.
11. Brady Quinn, 2008-2009
How could Cleveland lose with Brady Quinn? He seemed like a sure thing, an excellent quarterback coming out of an even better program at Notre Dame. The Browns took him with the No. 22 overall pick in 2007, and the results over his two-year stint as a starter were mostly underwhelming: 10 touchdowns, nine interceptions, and a 66.8 passer rating. The team was 3-9 in his 12 starts, and Quinn played his last NFL game in 2012.
Key stats: 12 starts, 10 TD, 9 INT, 66.8 rating
12. Ken Dorsey, 2008
Who can't forget Ken Dorsey? This journeyman came to Cleveland in 2006 with little experience, having started 10 NFL games in the previous two seasons with the 49ers. He didn't actually start a game until 2008, compiling zero touchdowns, seven interceptions, and a brutal 26.1 passer rating. That was bad enough that the former University of Miami star would never again appear in an NFL game.
Key stats: 3 starts, 0 TD, 7 INT, 26.1 rating
Next: A journeyman QB with a 2.8 passer rating.
13. Bruce Gradkowski, 2008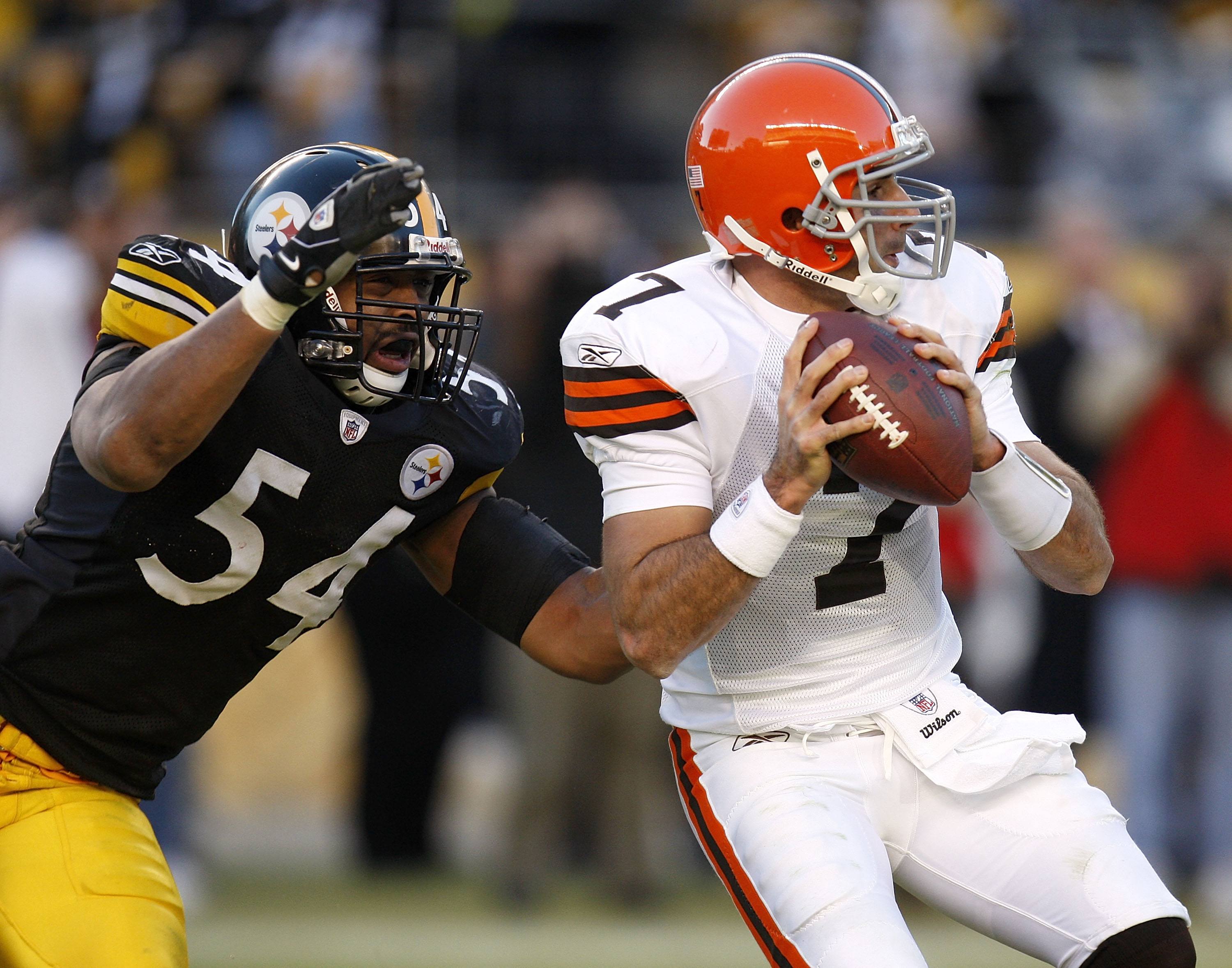 Bruce Gradkowski is yet another journeyman quarterback to make a start for the Browns. He started 11 games as a rookie with the Buccaneers in 2006, and then just a total of nine starts the rest of his career. In his one season in Cleveland, Gradkowski made just one start (two appearances) in the last game of the year against the Steelers. He was 5-for-16 passing with 18 yards and two interceptions, so it's no wonder he didn't get another starting job after his showcase.
Key stats: 1 starts, 0 TD, 3 INT, 2.8 rating
14. Colt McCoy, 2010-2011
Colt McCoy was a third-round pick of the Browns in 2010 and ended up starting eight games as a rookie. He actually was the primary starter for the first two years of his career, but played his way out of the lineup by 2012. McCoy's Cleveland career was one of constant battering behind a porous offensive line, making him the victim of 59 sacks in 24 total appearances. He had 21 touchdowns, 20 picks, and a 74.8 passer rating while there.
Key stats: 21 starts, 21 TD, 20 INT, 74.8 rating
Next: Another former Super Bowl quarterback.
15. Jake Delhomme, 2010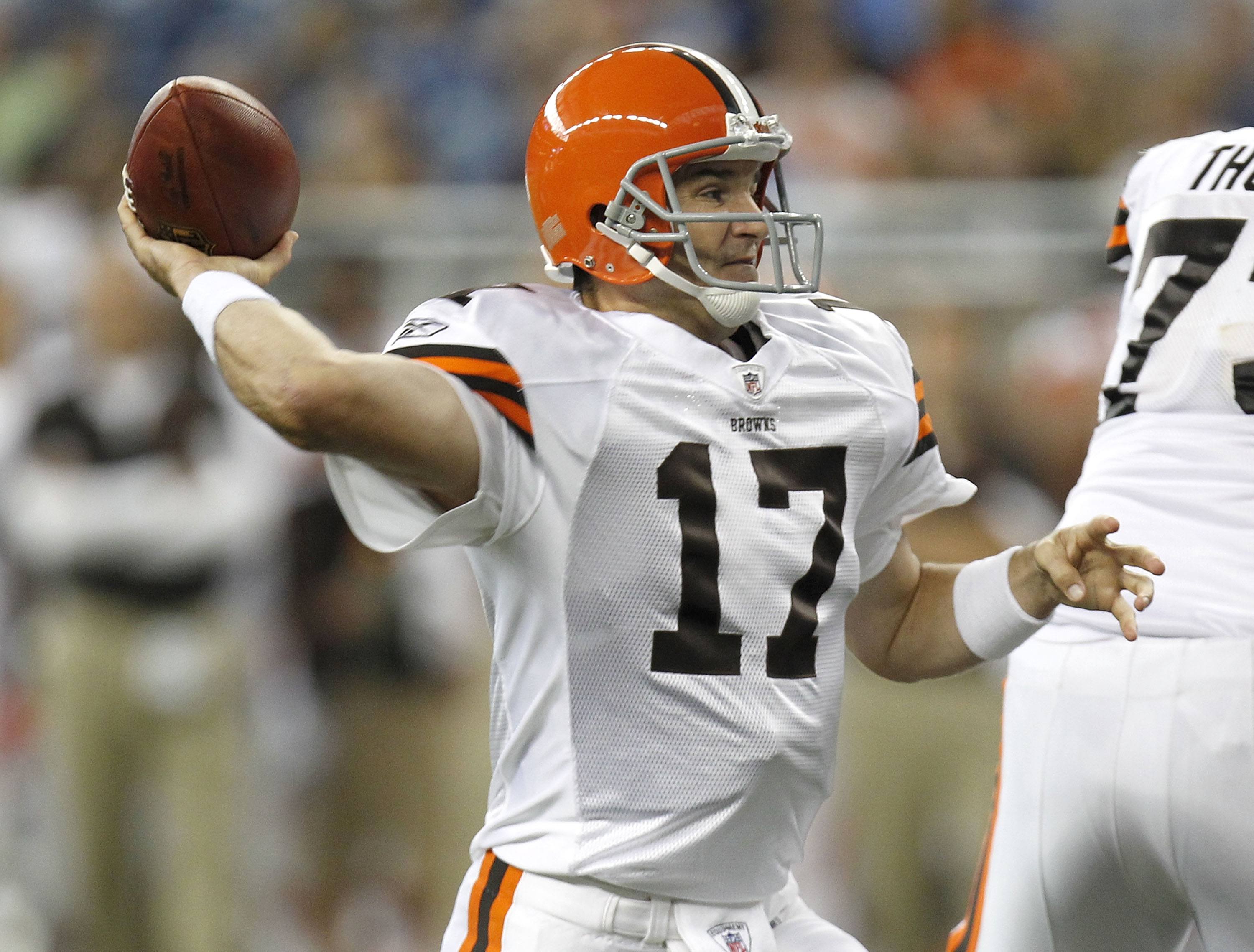 Jake Delhomme is better remembered for his time (and Super Bowl appearance) with the Carolina Panthers, but he did suit up for the Browns late in his career. Delhomme was a bit banged up by the time he rolled into Cleveland, and he ended up making just four starts, throwing two touchdowns and four interceptions. The 35-year-old made his way to the Houston Texans the following year, but he made no starts and just one appearance before retiring.
Key stats: 4 starts, 2 TD, 7 INT, 63.4 rating
16. Seneca Wallace, 2010-2011
Once the Seattle Seahawks had decided they were through with Seneca Wallace, the Cleveland Browns took a flyer on the 30-year-old. He played two uneventful seasons with the Browns, starting seven games and leading the team to a 1-6 record. It might be better to consult his receiving statistics, where Wallace was occasionally used effectively when split out wide. He caught two passes for 30 yards in his Browns career. As far as Wallace's passing numbers with the Browns, however, he was perfectly average: six touchdowns, four picks, and a 76.6 passer rating.
Key stats: 7 starts, 6 TD, 4 INT, 76.6 rating
Next: Maybe the oldest true rookie ever?
17. Brandon Weeden, 2012-2013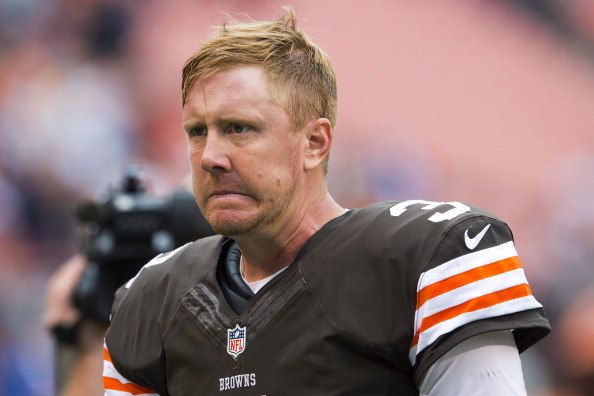 Maybe the oldest true rookie of all time at the age of 29, the prospect of Brandon Weeden catching on as a starting NFL quarterback always seemed dubious. But the Browns drafted him with the No. 22 pick in the first round anyway, and Weeden ended up starting just 20 games over two seasons in Cleveland. He threw 23 touchdowns, 26 interceptions, and posted a 71.8 rating. Also, there was this beauty.
Key stats: 20 starts, 23 TD, 26 INT, 71.8 rating
18. Thad Lewis, 2012
Thad Lewis went undrafted and made his first appearance in the NFL at the age of 27, starting a game for the Browns in 2012. He actually didn't play that poorly in the game, recording a touchdown, a pick, 204 yards passing, and an 83.3 passer rating. That earned Lewis a chance to hang on with the Buffalo Bills the following year, when he made five starts. But that was pretty much it for Lewis' mostly-forgettable NFL career.
Key stats: 1 starts, 1 TD, 1 INT, 83.3 rating
Next: A backup that needed to start.
19. Jason Campbell, 2013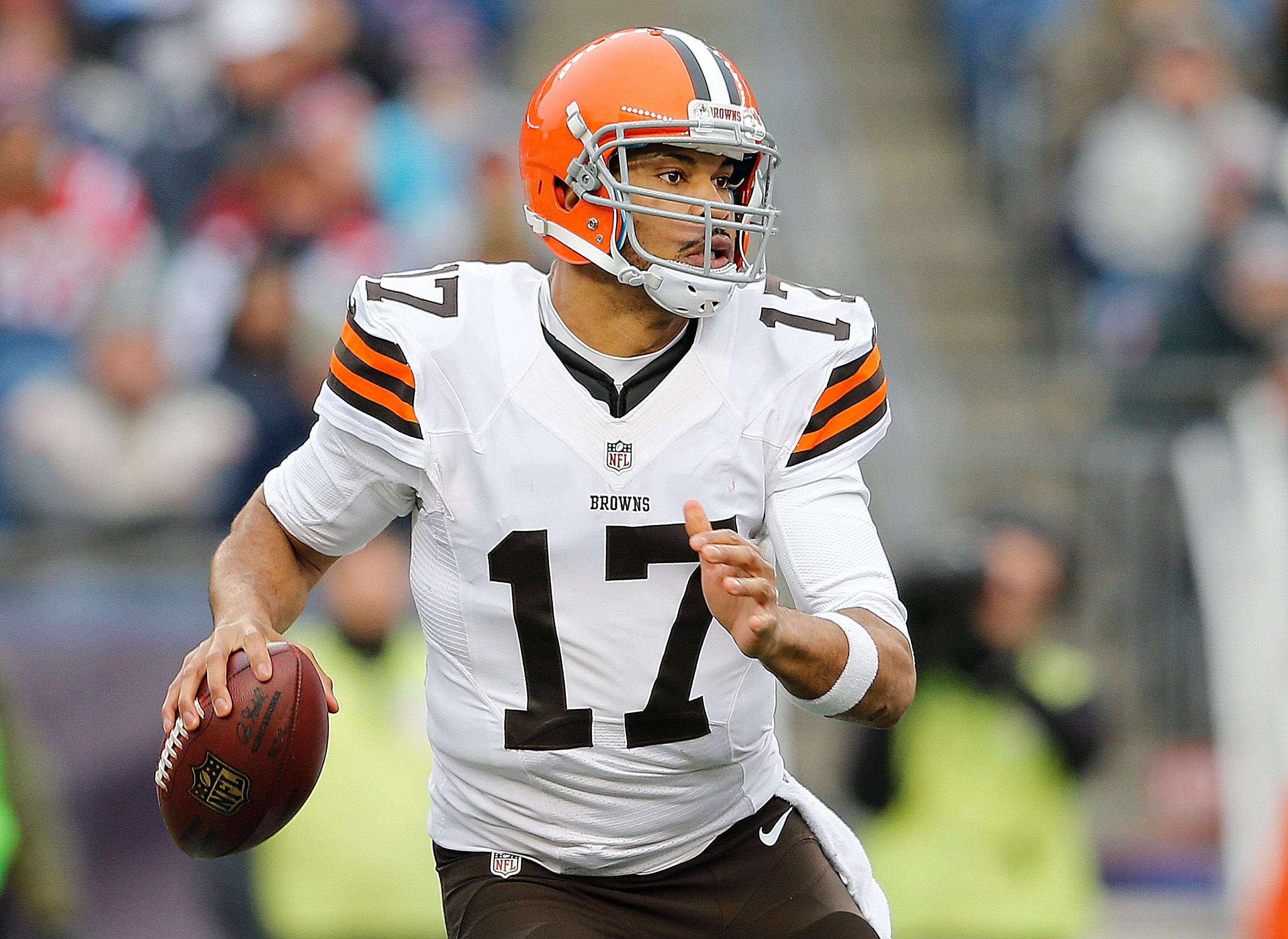 Jason Campbell was a solid quarterback in the NFL. He was good enough to be an unspectacular starter, or at the very least a great backup. He came to the Browns in the starter role at the age of 32 in 2013, but by that time Campbell was definitively a backup and nothing more. His Browns totals reflect that, as Campbell posted 11 touchdowns, eight interceptions, and a 76.9 passer rating in eight starts.
Key stats: 8 starts, 11 TD, 8 INT, 76.9 rating
20. Brian Hoyer, 2013-2014
Brian Hoyer is a local guy, either loved or hated by Browns fans depending on their desire to see Johnny Football take the field. Hoyer started briefly in 2013 and then majority of 2014, ultimately recording 17 touchdowns, 16 interceptions, and a 77.6 passer rating. He left to play in Houston in 2015, backed up Jay Cutler in 2016, and went 0-6 in six starts with the 49ers in 2017. The 32-year-old signed a three-year deal with the Patriots in November of 2017.
Key stats: 16 starts, 17 TD, 16 INT, 77.6 rating
Next: Johnny Football.
21. Johnny Manziel, 2014-2015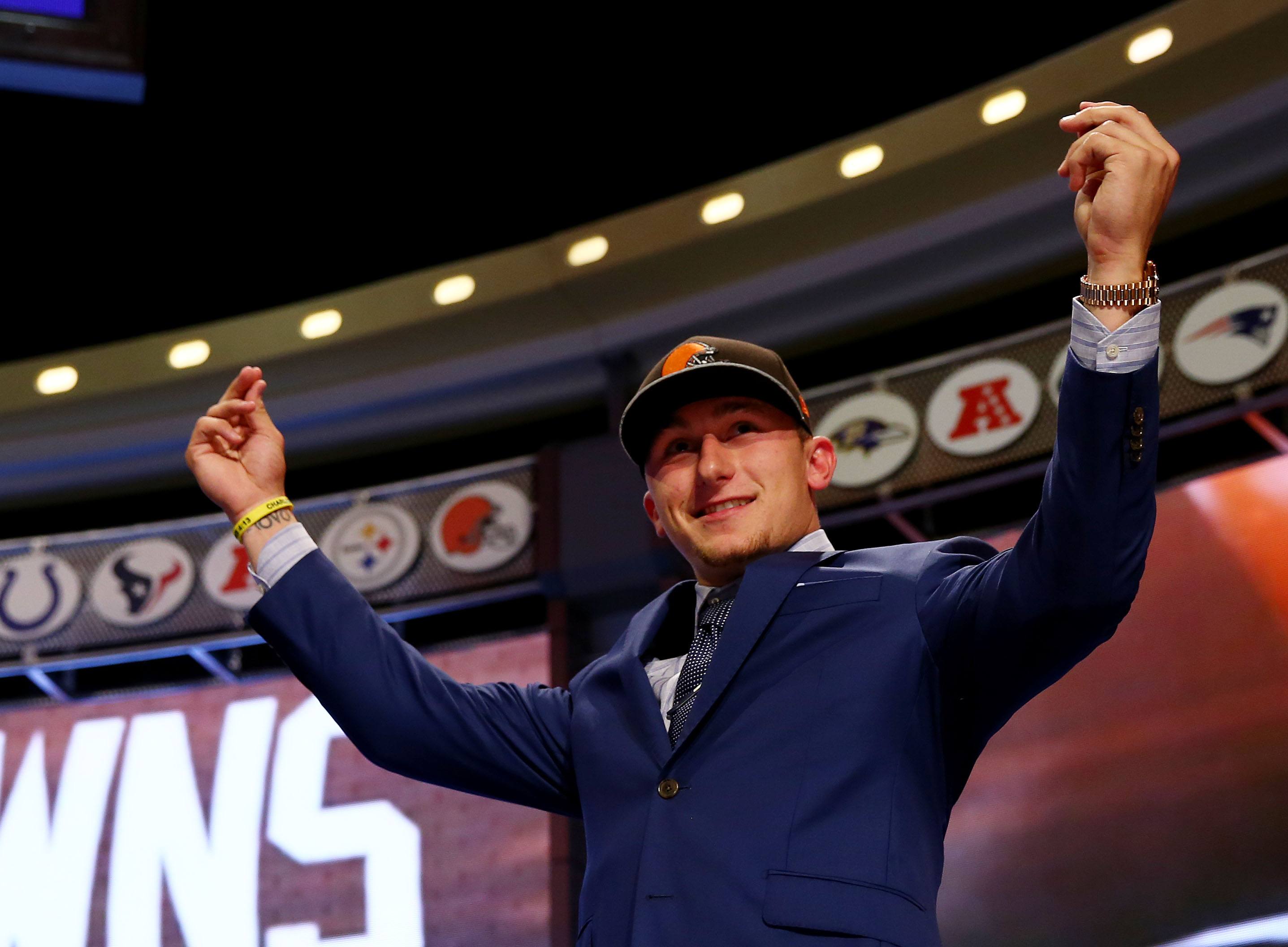 Johnny Manziel (AKA Johnny Football) was an extremely polarizing college football player. Jerry Jones badly wanted to draft him, despite already having Tony Romo in his prime. Jones passed, and the Browns took Manziel with the 22nd pick in 2014. Manziel would unfortunately be just another in a long line of quarterback failures in Cleveland, going 2-6 in his eight starts with seven touchdowns, seven interceptions, and a 74.4 passer rating. Alcohol (and legal) problems have ended his career already, barring a comeback in 2018.
Key stats: 8 starts, 7 TD, 7 INT, 74.4 rating
22. Connor Shaw, 2014
Who? Connor Shaw went undrafted and made one appearance in the NFL, starting a single game for the Cleveland Browns in 2014. The 23-year-old was not good, going 14-for-28 with 177 yards and an interception in a 20-10 loss to the Ravens. Assuming Shaw doesn't come back and play in the NFL again — a possibility, as he's only 26 — he will finish with a 55.2 passer rating.
Key stats: 1 starts, 0 TD, 1 INT, 55.2 rating
Next: The greatest in (modern) franchise history?
23. Josh McCown, 2015-2016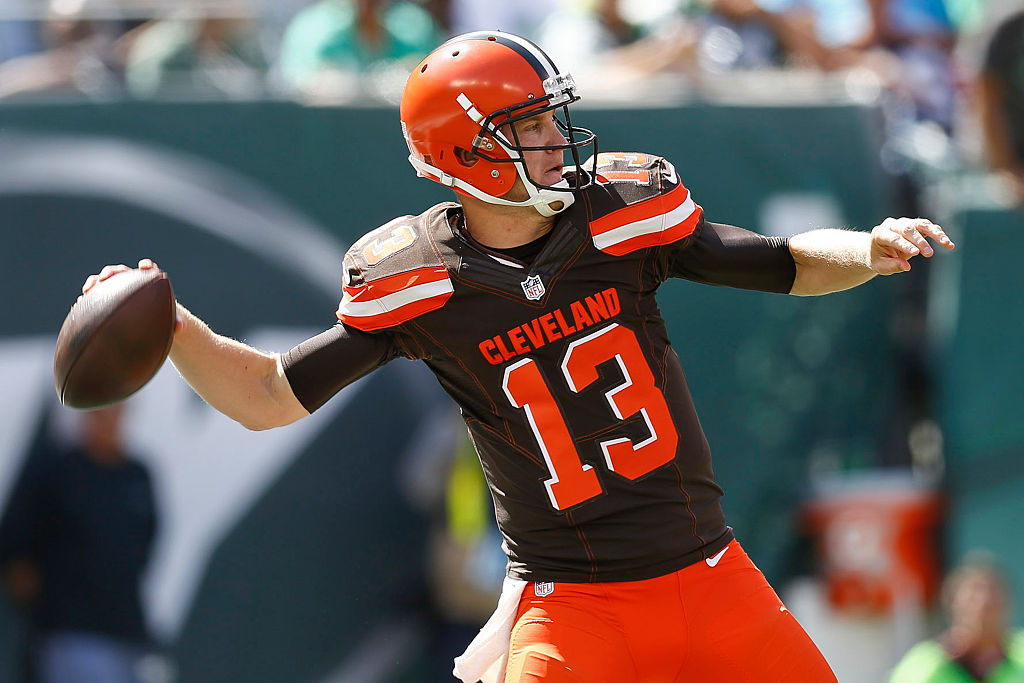 Josh McCown, as sad as this statement is, may just be the best Browns quarterback (since their NFL return in 1999) to start at least 11 games for the team. He started eight games in 2015, posting a 93.3 passer rating with 2,109 yards, 12 touchdowns, and four interceptions. The 36-year-old wasn't quite as good the following year, starting just three games for Cleveland. McCown finished his Browns career with a 1-10 record in his 11 starts but with an 85.7 rating.
Key stats: 11 starts, 18 TD, 10 INT, 85.7 rating
24. Austin Davis, 2015
Austin Davis started eight games for the St. Louis Rams in 2014, compiling an 85.1 passer rating with 12 touchdowns to nine interceptions. So there was some optimism when the Browns picked him up as a backup heading into the 2015 season. The optimism was misplaced. Davis started two games for the Browns, throwing one touchdown, three interceptions, and putting up a 66.2 passer rating. In 2017, he was on the Seahawks' roster as a backup to Russell Wilson.
Key stats: 2 starts, 1 TD, 3 INT, 66.2 rating
Next: An injury-plagued disappointment.
25. Robert Griffin III, 2016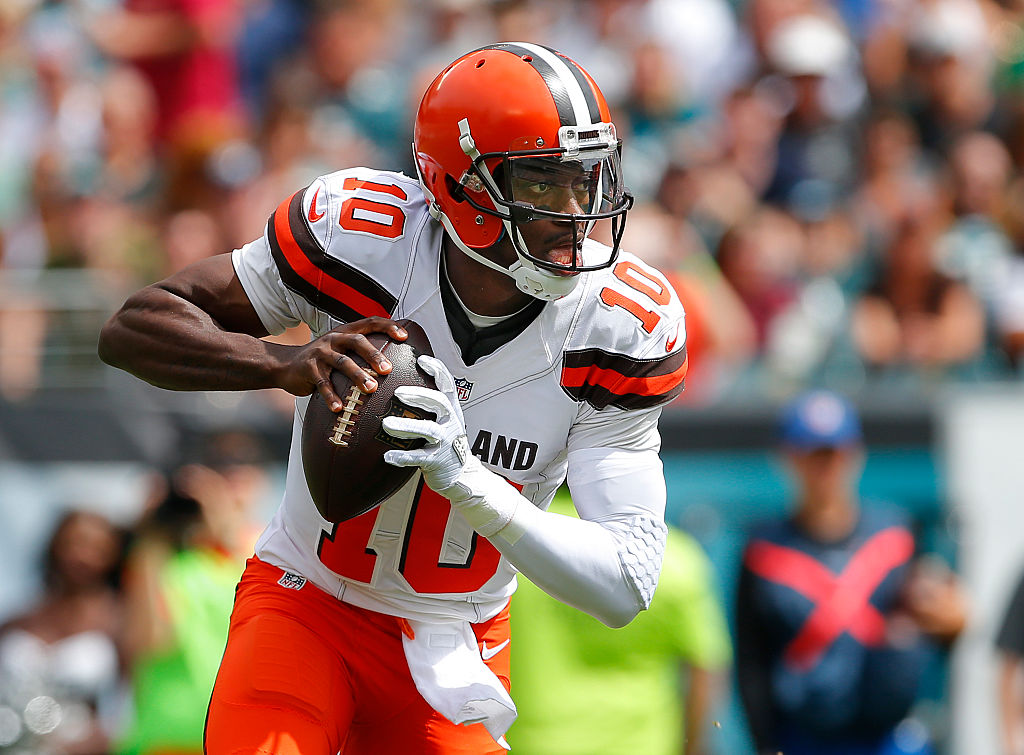 The signing of Robert Griffin III seemed doomed from the start in Cleveland. Although Griffin had been excellent as a rookie with the Washington Redskins, he was injury prone and had started to decline by the time the Browns picked him up. Griffin was healthy for just five games during his stint in Cleveland, going 1-4 with two touchdowns, three interceptions, and a 72.5 passer rating. He did not play in the 2017 season, and it's unknown what the future holds for Griffin in the NFL.
Key stats: 5 starts, 2 TD, 3 INT, 72.5 rating
26. Cody Kessler, 2016
With Griffin missing the bulk of the year, 2016 third-round draft pick Cody Kessler stepped in to start eight games for the 2016 Browns. He actually wasn't bad at all, and in two seasons with the team has thrown six touchdowns with three interceptions and a 87.4 passer rating. Kessler is coming into the final two years of his four-year contract, and time will tell what his future looks like in the NFL.
Key stats: 8 starts, 6 TD, 3 INT, 87.4 rating
Next: An awful second-round pick.
28. DeShone Kizer, 2017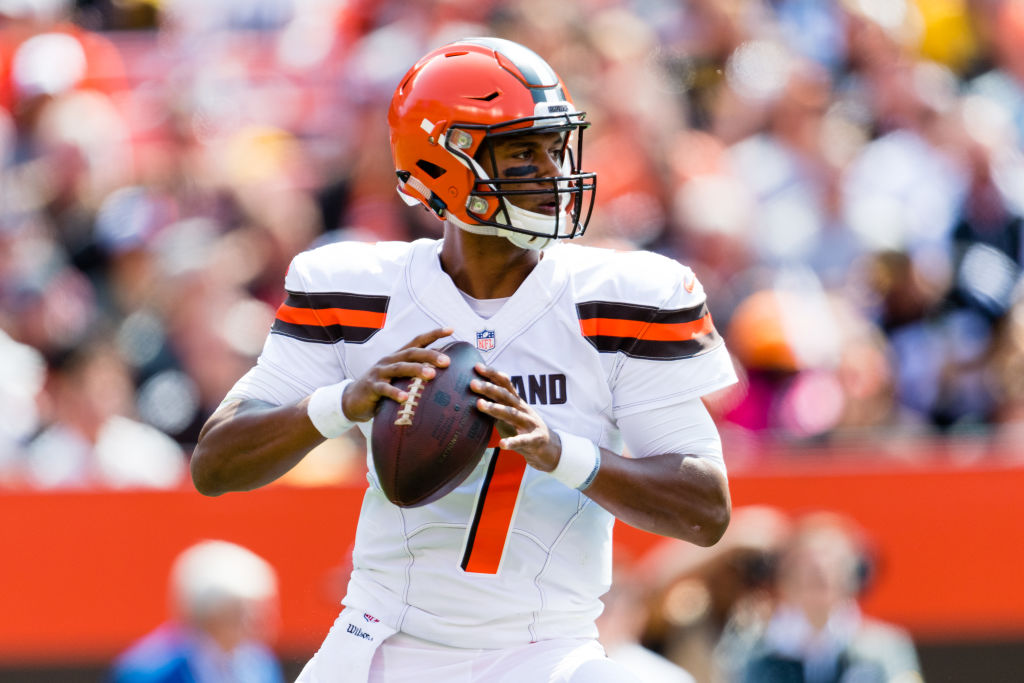 DeShone Kizer was the second-round draft pick of the Browns in 2017, and he started 15 of the team's 16 games in his rookie year. Kizer led the NFL with 22 interceptions, posting a putrid 60.5 passer rating. The experiment with Kizer has likely come to an end, being that Cleveland has traded for quarterback Tyrod Taylor and is expected to draft another QB with the No. 1 overall pick in 2018.
Key stats: 15 starts, 11 TD, 22 INT, 60.5 rating
28. Kevin Hogan, 2017
The other quarterback that spent time under center in 2017 was Kevin Hogan. He started the one game that Kizer didn't play, starting against the Houston Texans in Week 6. That was his last appearance of the season with the Browns, but he did have a solid season. Over his last two games, Hogan was 36-for-56 passing with three touchdowns and four interceptions. It's unclear what, if any, future he has with the Browns.
Key stats: 1 starts, 4 TD, 7 INT, 61.5 rating
Statistics provided by Pro-Football-Reference.
Check out The Cheat Sheet on Facebook!