Every NFL Team's Best Player Ever in the Super Bowl Era
Move aside, you NFL draft busts, there's no room in this conversation for you. We're going around the league and discussing every NFL team's best player ever, and it's an exclusive club. How exclusive? Well, since we're focusing only on the NFL's Super Bowl era, which started with the 1966 season, some of the greatest players of all time don't make the cut. The only question is, if you could build a team around just one of these players, who would it be?
There are some tough choices (including a challenging pick at No. 12), and one crazy number that tells you everything you need to know about the player at No. 8.
1. Arizona Cardinals — Larry Fitzgerald, WR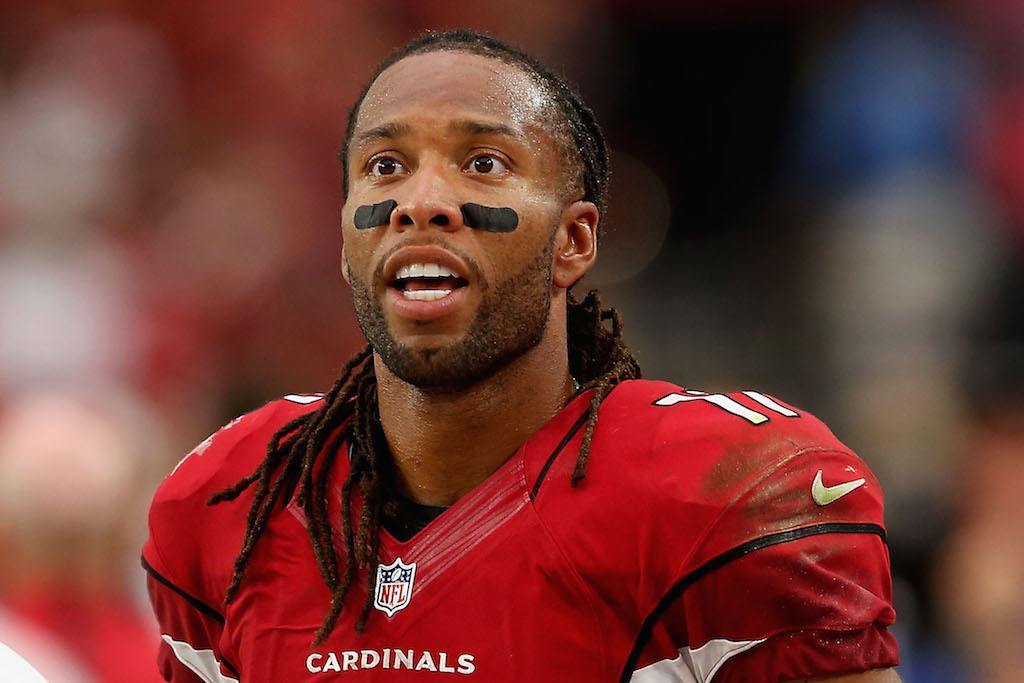 Runner-up: Aeneas Williams, CB
The first player on our list was also one of the easiest decisions to make. Larry Fitzgerald is clearly the best player ever to suit up for the Cardinals, and he'd be in the conversation for any NFL team's best player ever. Between his rookie season and the end of the 2017 campaign, he racked up 1,234 receptions for 15,545 yards, and 110 touchdowns, and he's a Hall of Fame lock whenever he becomes eligible.
Next: His team's best player now, and of all time.
2. Atlanta Falcons — Matt Ryan, QB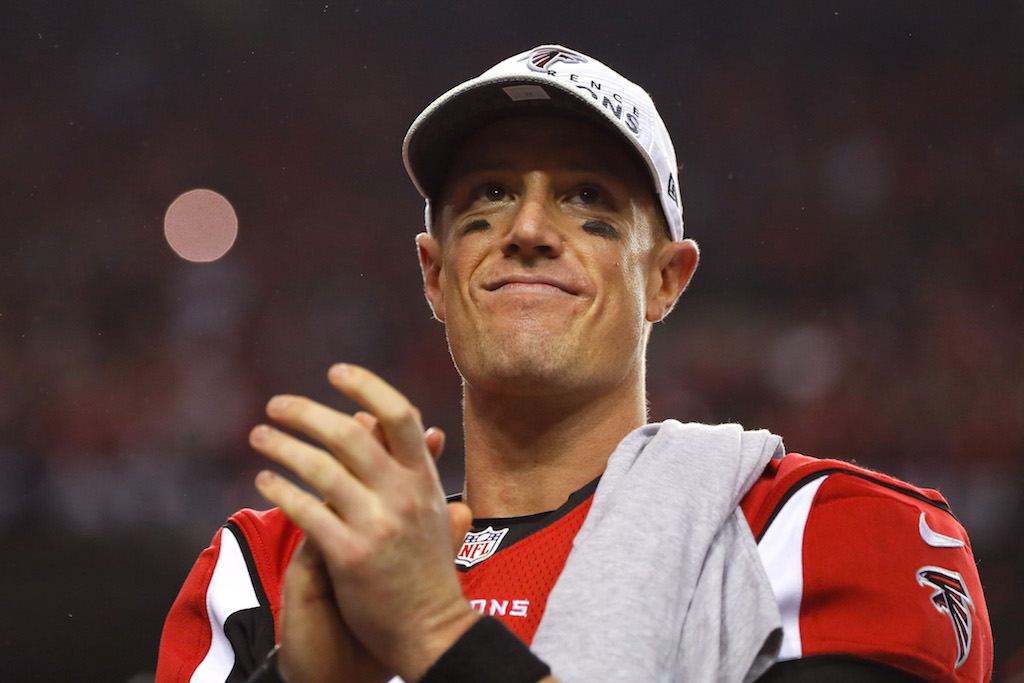 Runner-up: Deion Sanders, CB
Matt Ryan is still active, which means he still has time to cement the fact that he's the best Falcons' player ever. He's definitely the team's best quarterback as his 42,693 yards, 267 touchdowns, and one Super Bowl appearance are nearly double every other passer. Jack-of-all-trades Deion Sanders and linebacker Keith Brooking are two of the greatest Falcons of all time and worthy runners-up to Ryan.
Next: A toss-up among defenders.
3. Baltimore Ravens — Ray Lewis, LB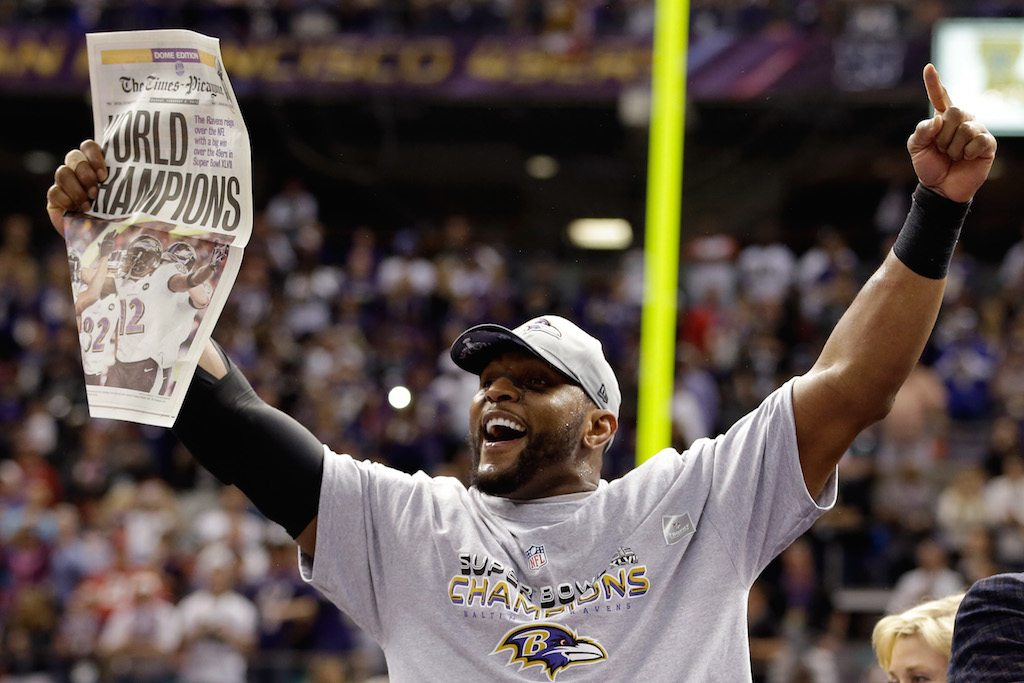 Runner-up: Ed Reed, S
Almost any way you look at it, Ray Lewis is the best Baltimore Ravens player ever, with Ed Reed and Terrell Suggs both in the conversation. Lewis spent his entire 17-year career in Baltimore and owns the defensive records for tackles (1,562) and fumbles recovered (20). Meanwhile, Reed holds the franchise record with 61 interceptions, and Suggs tops the list with 128 career sacks.
Next: One of the best players for any team.
4. Buffalo Bills — Bruce Smith, DL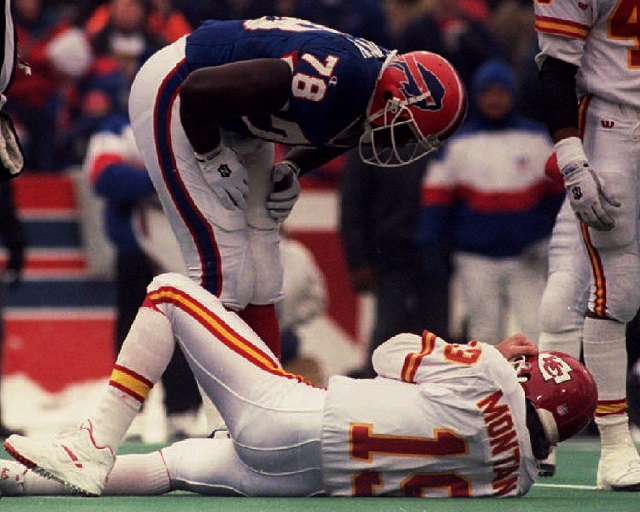 Runner-up: Jim Kelly, QB
Bruce Smith spent the last four seasons of his Hall of Fame career in Washington, but we all remember him as a Buffalo Bill. He'd be in the conversation as any NFL team's best player ever, and he's definitely No. 1 for Buffalo. He's the league's all-time sack leader with 200, according to ESPN, and he's No. 2 in the Bills' record books with 941 tackles, which is pretty impressive for a defensive end.
Next: His stature wasn't big, but his numbers were.
5. Carolina Panthers — Steve Smith, WR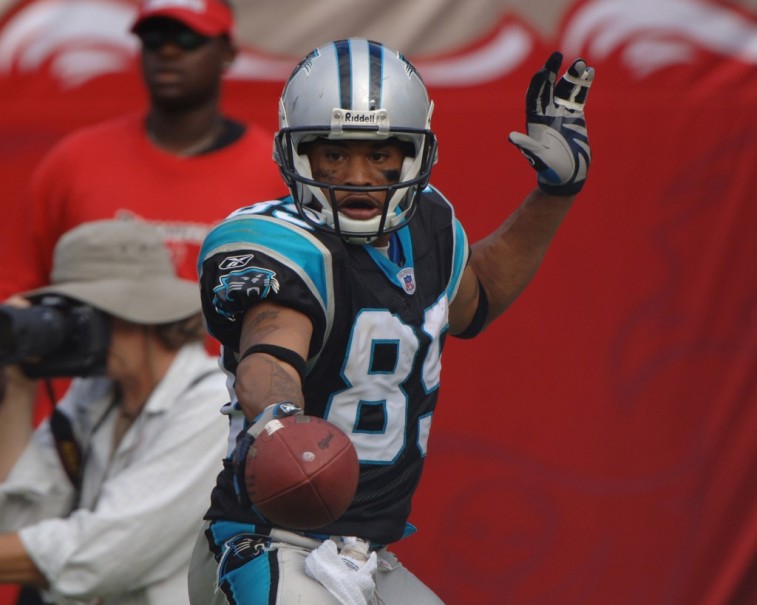 Runner-up: Julius Peppers, DL
Steve Smith was never the biggest player on the field (5-foot-9, 185 pounds), but the receiver put up some huge numbers. He had seven 1,000-yard seasons in his 13 years with the Panthers, and he was on the verge of an eighth with 982 yards another season. He has the most receiving yards (12,197), touchdowns (67), and catches (836) in franchise history.
Next: This choice was tougher than you think.
6. Chicago Bears — Walter Payton, RB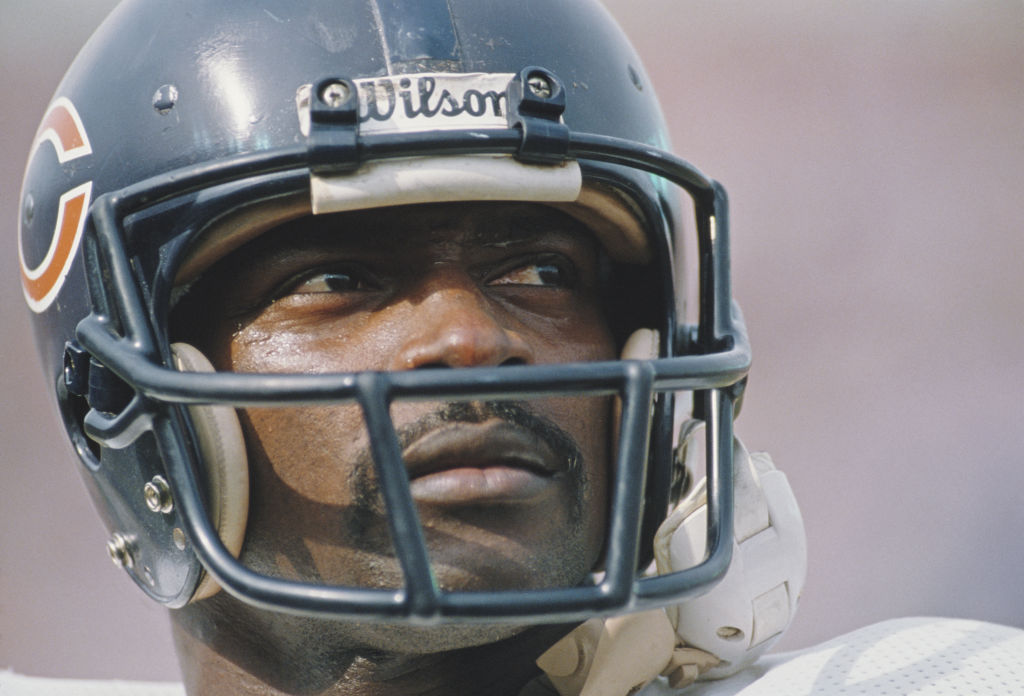 Runner-up: Dick Butkus, LB
Walter Payton is one of the top NFL running backs of all time, so he's the obvious choice, right? Not so fast. The league's flagship team has fielded several standout players over the years, including Dick Butkus, Brian Urlacher, Gale Sayers, Bronco Nagurski, and Mike Ditka. But Walton Payton's 110 rushing touchdowns and 16,726 yards, which set the NFL record for a time, are what make him Chicago's best player.
Next: Is he the best offensive lineman ever?
7. Cincinnati Bengals — Anthony Muñoz, OL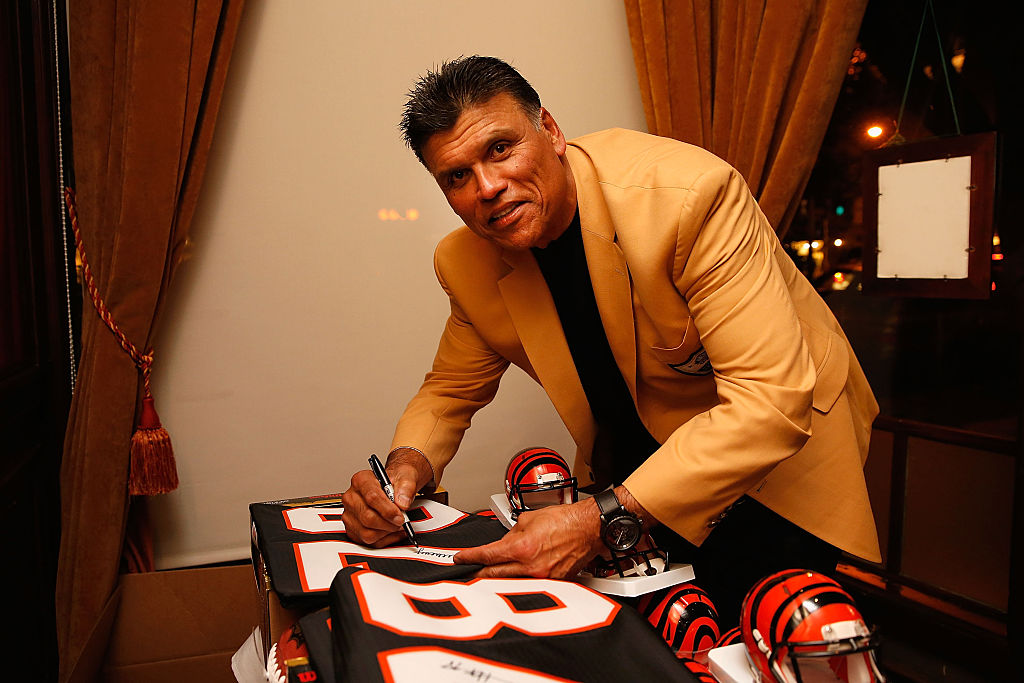 Runner-up: Boomer Esiason, QB
Quarterback Boomer Esiason helped the Bengals make their second Super Bowl appearance in 1989, but there's no question Anthony Muñoz is Cincinnati's best player ever. He might be the best offensive lineman in history, so he'd be in the mix for any NFL team's best player ever. The 11-time Pro Bowl player, nine-time All-Pro, and Hall of Famer was an iron man. Of the 185 career games he played in, only once did he not start.
Next: One crazy number you need to know.
8. Cleveland Browns — Joe Thomas, OL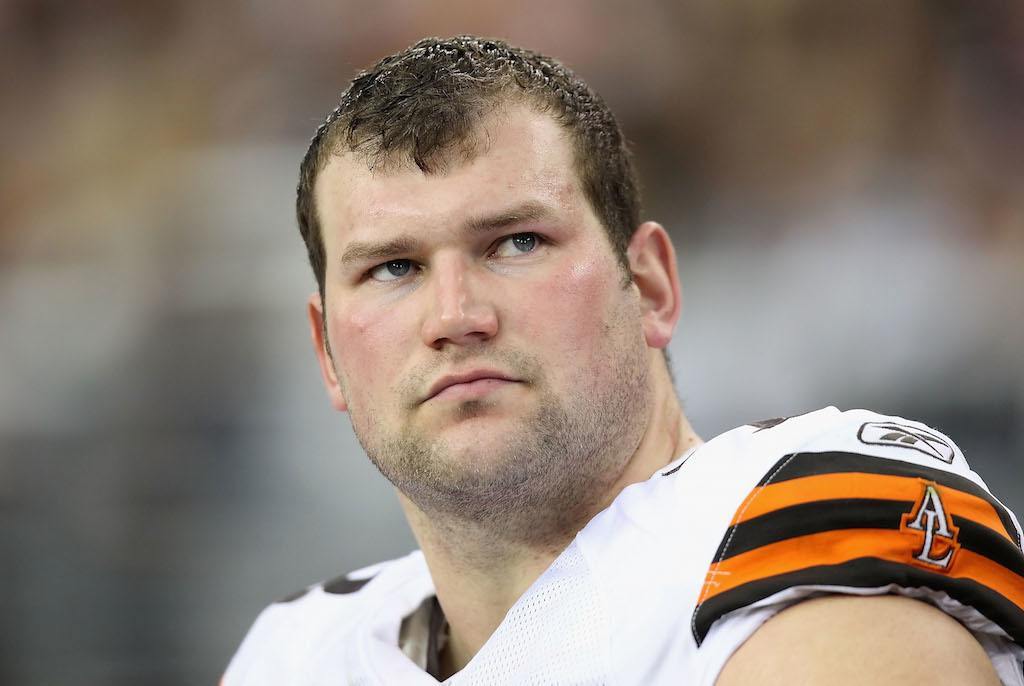 Runner-up: Ozzie Newsome, TE
We never got to see Joe Thomas in a playoff game, and he enjoyed just one winning season (in his rookie year in 2007), but the offensive lineman is one of the best players of all time. Even though he played for an awful franchise, he's a lock for the Hall of Fame, and it's easy to see why.
Thomas started every game of his career from 2007 until Oct. 22, 2017, when he suffered an injury, and that streak includes one crazy number. Not only did Thomas start every game for 10-plus seasons, but he also played 10,363 consecutive snaps, which is believed to be the longest streak ever.
Next: An elite running back is this team's best player.
9. Dallas Cowboys — Emmitt Smith, RB
Runner-up: Roger Staubach, QB
We had a lot of choices for the Cowboys' selection on our list, but we're going with Emmitt Smith as the best in franchise history. After all, his 17,162 rushing yards are the most in NFL history, his 986 points top the Dallas record book, and his 153 rushing TDs are as many as the Nos. 2-4 players in Cowboys history.
Roger Staubach's career ended before the NFL offenses relied on the passing game so much, but he's still near the top of the team record books for yards (22,700) and touchdowns (153).
Next: No one will surpass his standing in the record book.
10. Denver Broncos — John Elway, QB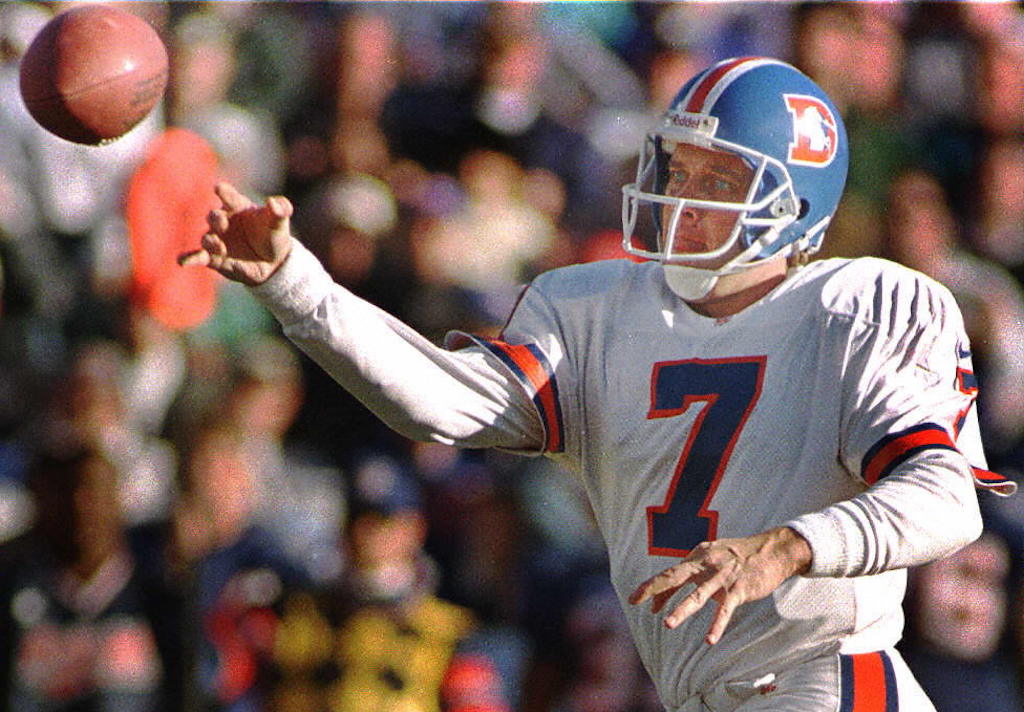 Runner-up: Terrell Davis, RB
John Elway was never an All-Pro selection, but he is Denver's best player ever. With a franchise-best 148 wins, 300 touchdowns, 51,475 yards passing, and two Super Bowl titles, it's going to be a long time before someone surpasses him, if ever. Elway is also No. 7 in Broncos' history with 3,407 yards on the ground. Meanwhile, rushing yards leader Terrell Davis (7,607 yards and 60 TDs) is in the conversation as Denver's best player.
Next: A player running away with the title of his team's best player.
11. Detroit Lions — Barry Sanders, RB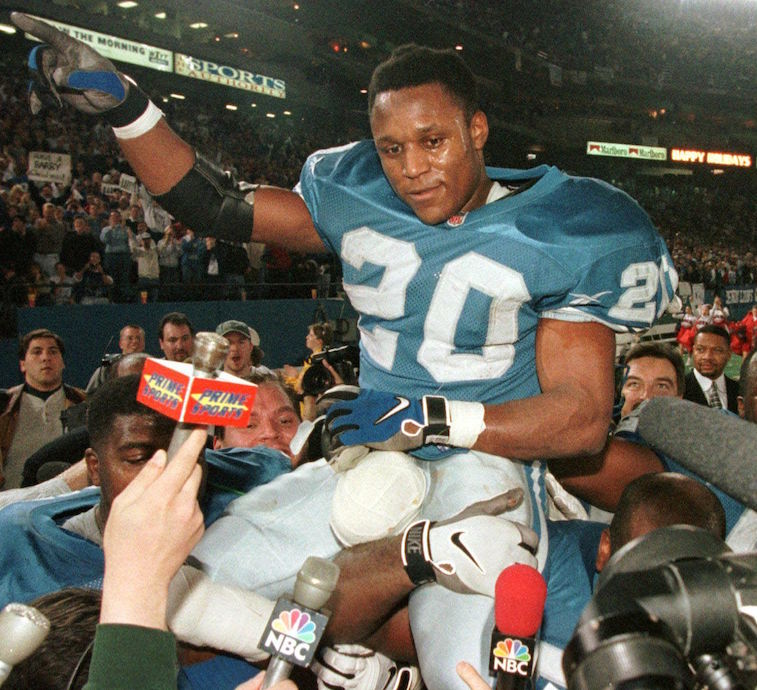 Runner-up: Matthew Stafford, QB
Barry Sanders has the seven best single-season rushing yards totals in Detroit's history and nine of the top 10, and he played just 10 seasons. Sanders never failed to rush for more than 1,000 yards in a season in his career. He made the Pro Bowl every year he played, was a six-time All-Pro, and was the NFL MVP in 1997, when he rushed for 2,053 yards (128.3 per game) and scored 14 total touchdowns (11 rushing). You could say he's running away with the title of Detroit's best player over Matthew Stafford, who is already the top quarterback in franchise history.
Next: This was a real challenge.
12. Green Bay Packers — Brett Favre, QB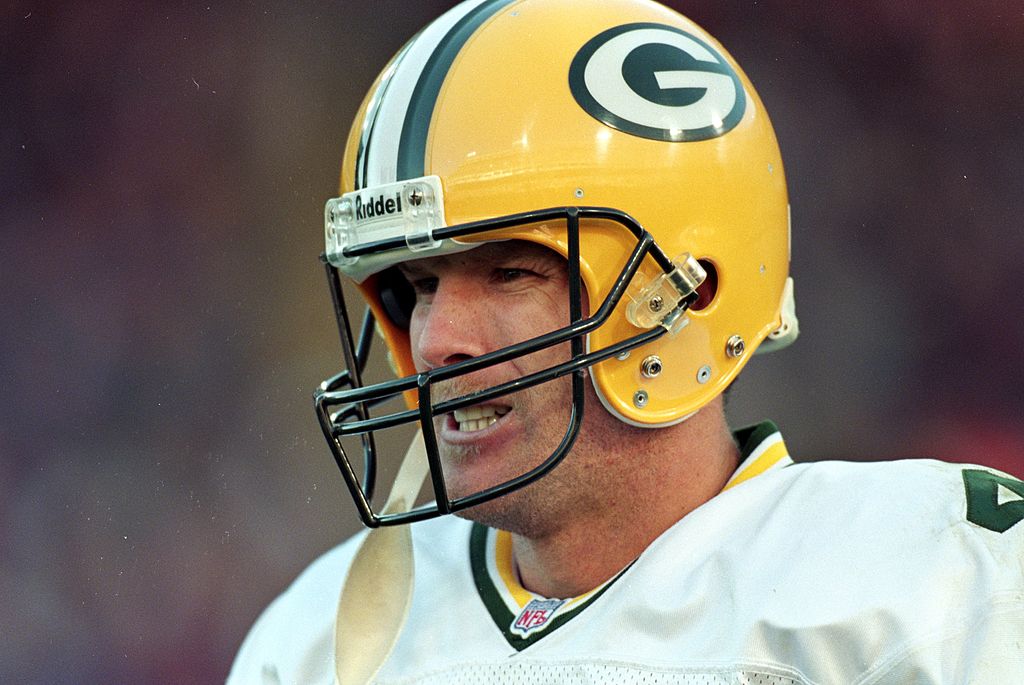 Runner-up: Aaron Rodgers, QB
Picking the Packers' best player was a real challenge. After all, this is the franchise with some of the best quarterbacks (Bart Starr and Aaron Rodgers), wide receivers (Sterling Sharpe and Don Hutson), and defenders (Reggie White and Charles Woodson) in league history. But Brett Favre with his 61,655 yards, 442 touchdown passes, and 297 straight starts, a record that will never be broken, stand out and make him Green Bay's best player ever.
Next: His numbers are more incredible when you consider his teammates.
13. Houston Texans — Andre Johnson, WR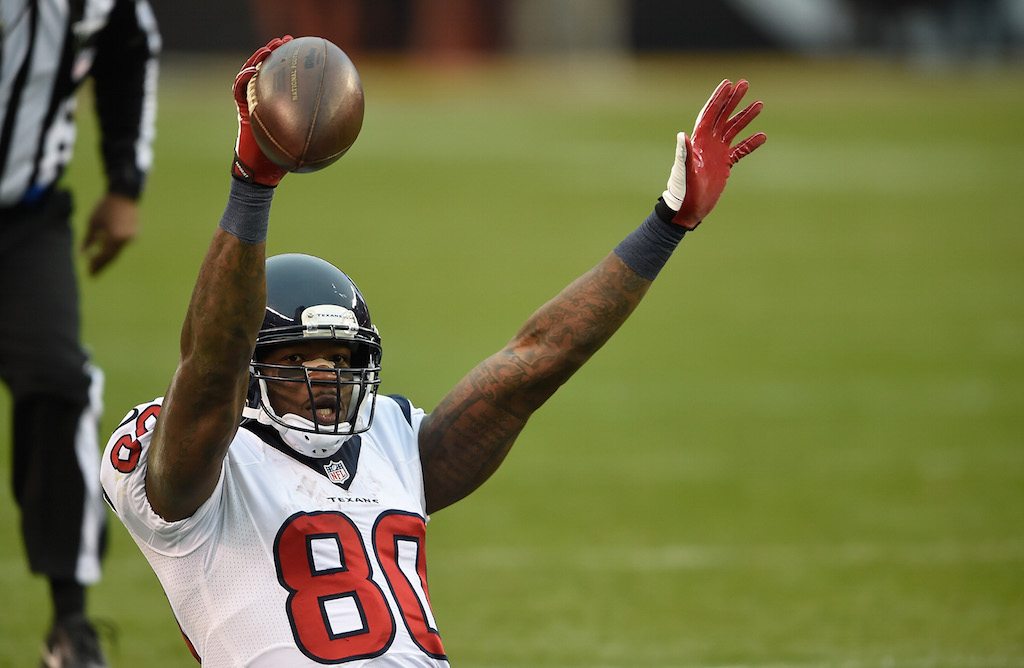 Runner-up: J.J. Watt, DL
Despite two injury-shortened seasons in his first seven years in the league, J.J. Watt is definitely the Texans' best defensive player ever. But this NFL team's best player ever is wide receiver Andre Johnson. In 12 years in Houston from 2003 to 2014, he posted 1,012 receptions, 13,597 receiving yards, and 64 touchdowns. Those numbers are even more incredible when you consider the quarterbacks throwing to him were the average-at-best David Carr and Matt Schaub.
Next: A closer race than you realize.
14. Indianapolis Colts — Peyton Manning, QB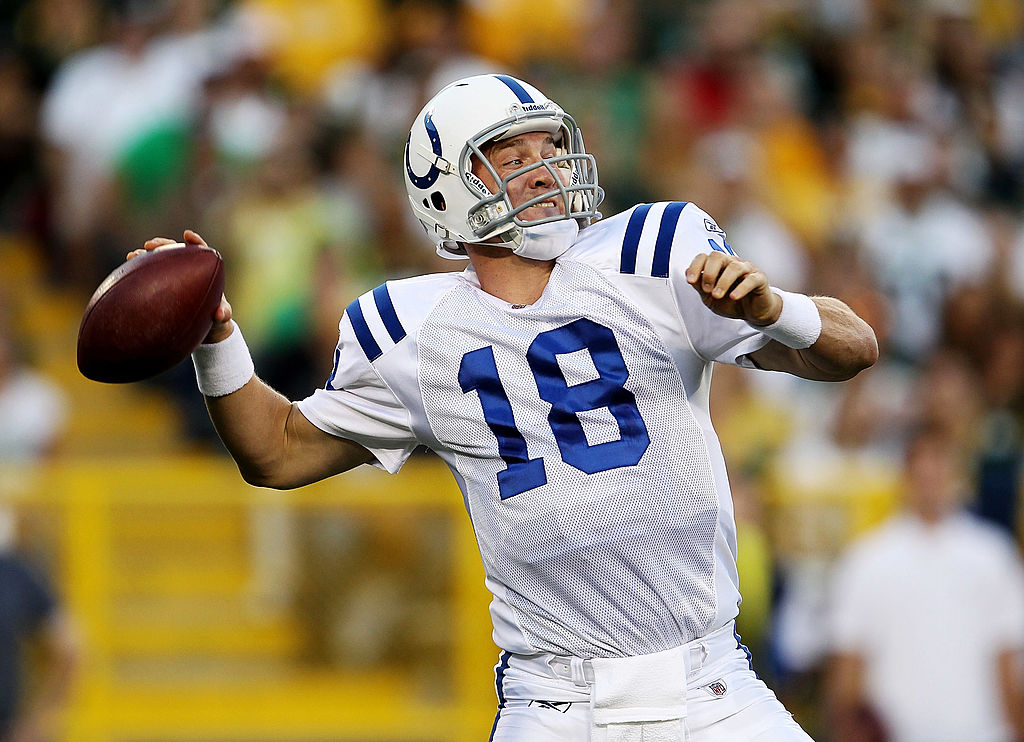 Runner-up: Johnny Unitas, QB
Most NFL fans won't debate that Peyton Manning, with his 54,828 yards and 399 touchdowns, is one of the best quarterbacks in NFL history, so he makes sense as the Colts' best player. Yet Johnny Unitas, who held all the franchise passing records until Peyton came along, excelled throwing the ball back when NFL offenses were more balanced. Unitas makes it a closer race than you realize.
Next: Some tough decisions with this young team.
15. Jacksonville Jaguars — Fred Taylor, RB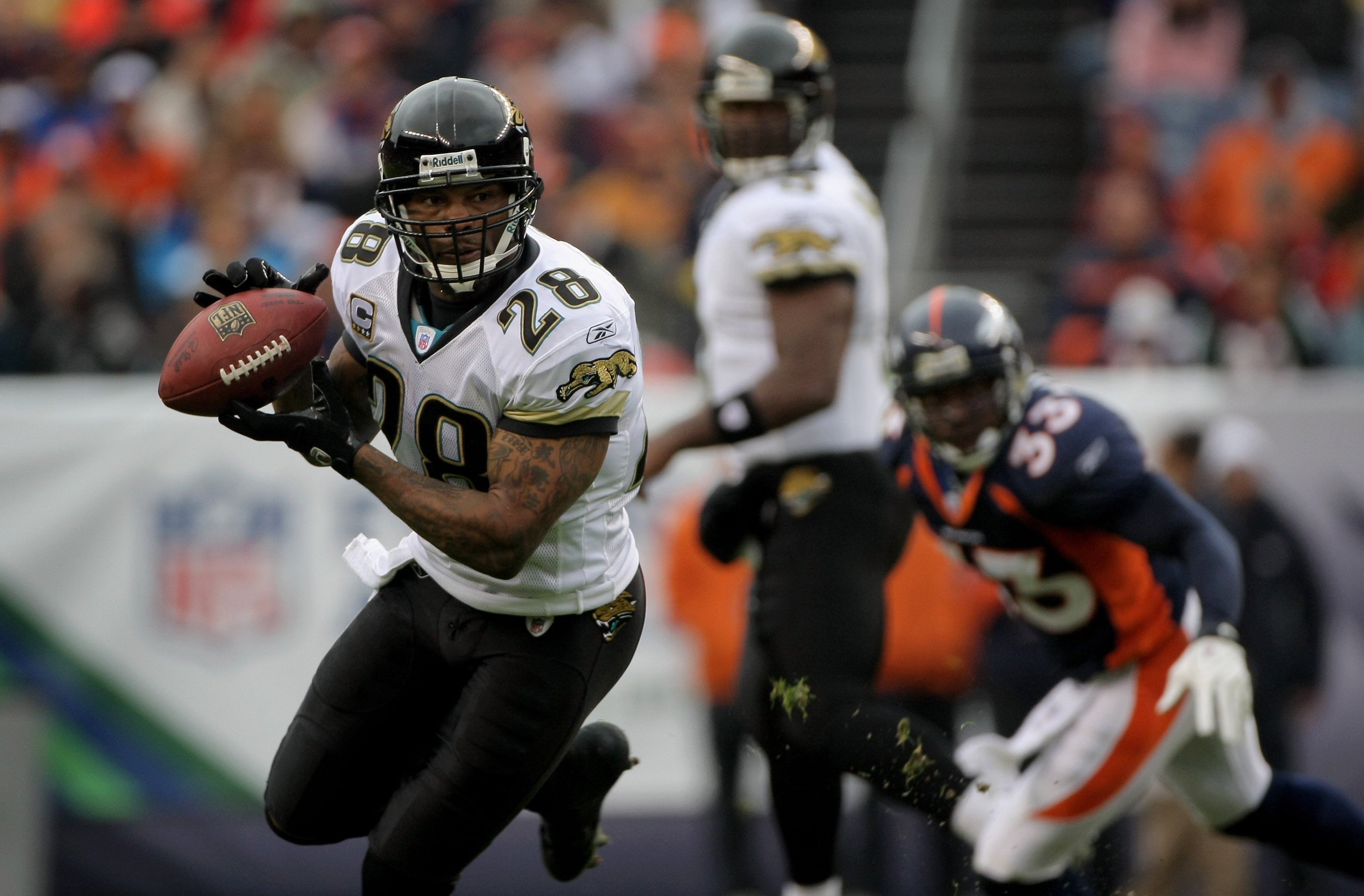 Runner-up: Jimmy Smith, WR
The Jaguars haven't existed for too long (they entered the league in 1995), but there were some tough decisions when picking their best player ever. We thought about lineman Tony Boselli and running back Maurice Jones-Drew, and we heavily considered receiver Jimmy Smith, but Fred Taylor's resume is just too good. The running back posted seven 1,000-yard campaigns in 11 seasons in Jacksonville, racked up 66 TDs, and was a legitimate receiving threat out of the backfield with six seasons of 200 or more receiving yards.
Next: One of the best defensive players of all time is our pick.
16. Kansas City Chiefs — Derrick Thomas, LB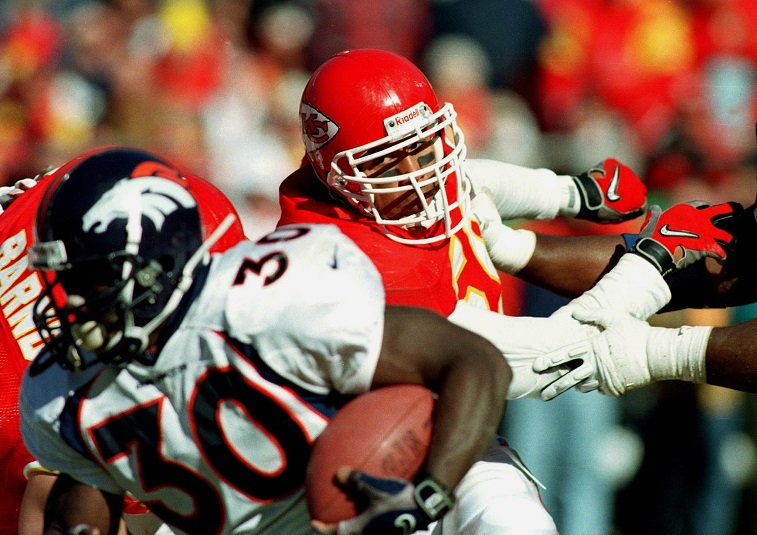 Runner-up: Tony Gonzalez, TE
Tony Gonzalez helped usher in the modern era of tight ends who are dangerous on offense, but Derrick Thomas is definitely his NFL team's best player ever. Not only is he one of the greatest NFL linebackers to ever play, but he also had one of the best rookie seasons by a linebacker in 1989 and won the Defensive Rookie of the Year award because of it.
Next: So many choices from a team that hasn't won a Super Bowl.
17. Los Angeles Chargers —  Junior Seau, LB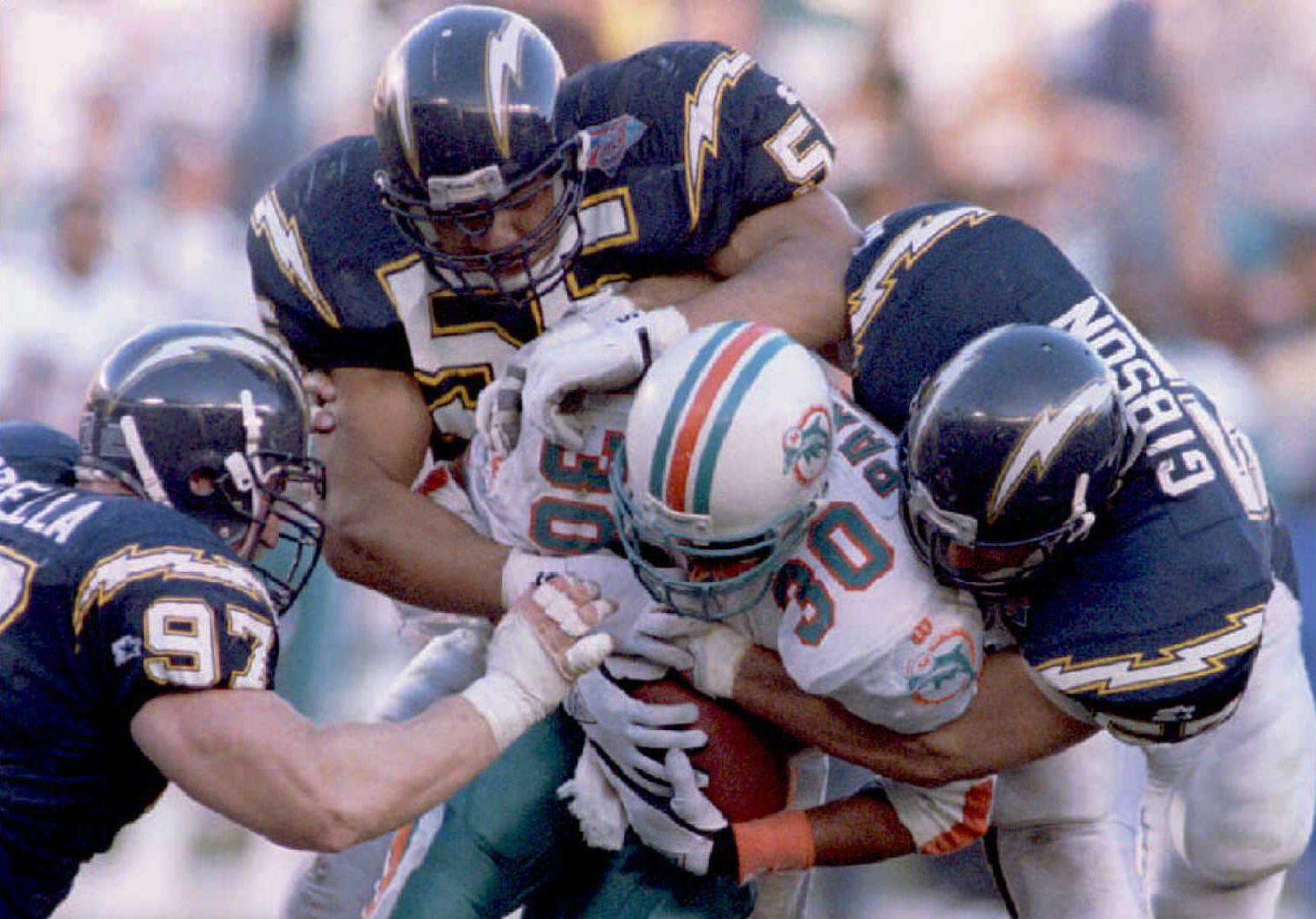 Runner-up: Philip Rivers, QB
The Chargers have never won a Super Bowl, but they have nothing but top-notch choices when trying to pick the best player. Dan Fouts, Antonio Gates, Philip Rivers, and LaDainian Tomlinson make the short list, but we're going with Junior Seau.
The Hall of Fame linebacker had seven seasons of 100 or more tackles during his 13 years with the team, including six straight from 1991 to 1996. Plus, his 1,286 tackles in a Chargers uniform is far and away No. 1 in franchise history.
Next: It comes down to two running backs.
18. Los Angeles Rams — Marshall Faulk, RB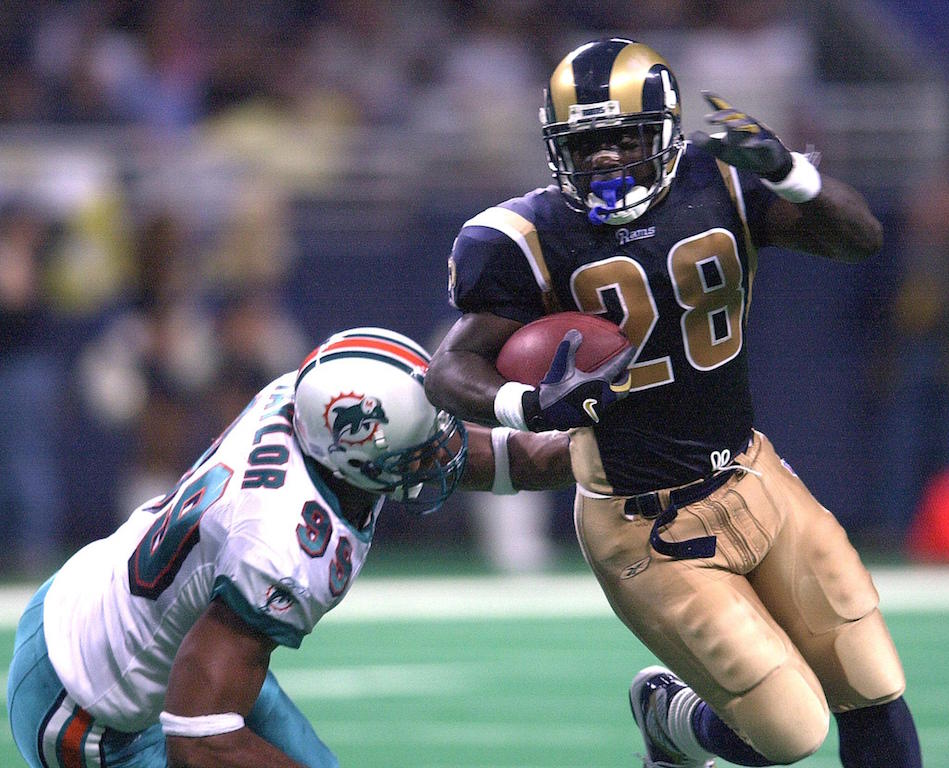 Runner-up: Eric Dickerson, RB
Isaac Bruce, Kurt Warner, and Jack Youngblood are in the conversation for being this NFL team's best player, but it comes down to running backs Eric Dickerson and Marshall Faulk. Even though Faulk's 6,959 rushing yards are about 300 behind Dickerson, we give him the nod because he's also No. 10 all-time for the Rams with 4,071 receiving yards and No. 11 with 27 TDs. Faulk's 58 rushing touchdowns are No. 1 in franchise history.
Next: A clear-cut No. 1 player.
19. Miami Dolphins — Dan Marino, QB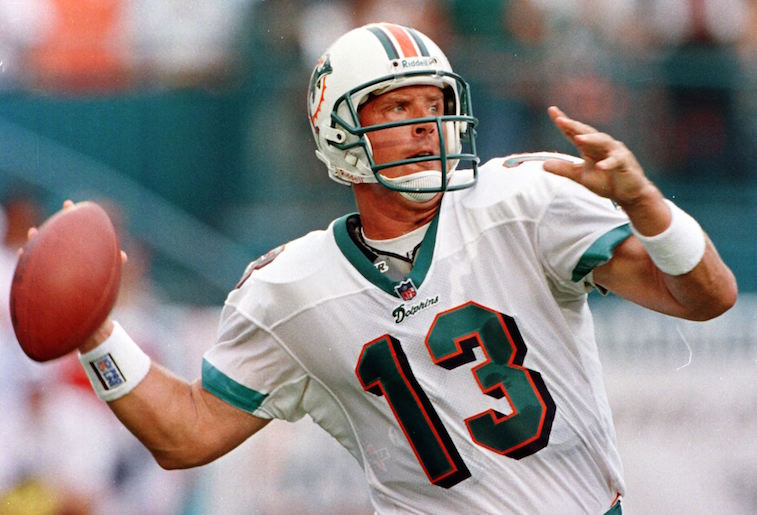 Runner-up: Jason Taylor, DL
Dan Marino is synonymous with the Miami Dolphins; you can hardly discuss one without discussing the other. Quarterback Bob Griese helped the franchise win its only two Super Bowls, and Jason Taylor is one of the top sack men in league history, but Marino is the clear-cut No. 1.
Aside from two games in his rookie season in 1983, Marino started every game in which he played in during his 17 years in Miami. His 61,361 passing yards and 420 touchdowns will top the Miami record books forever.
Next: He holds team records 40 years after retiring.
20. Minnesota Vikings — Fran Tarkenton, QB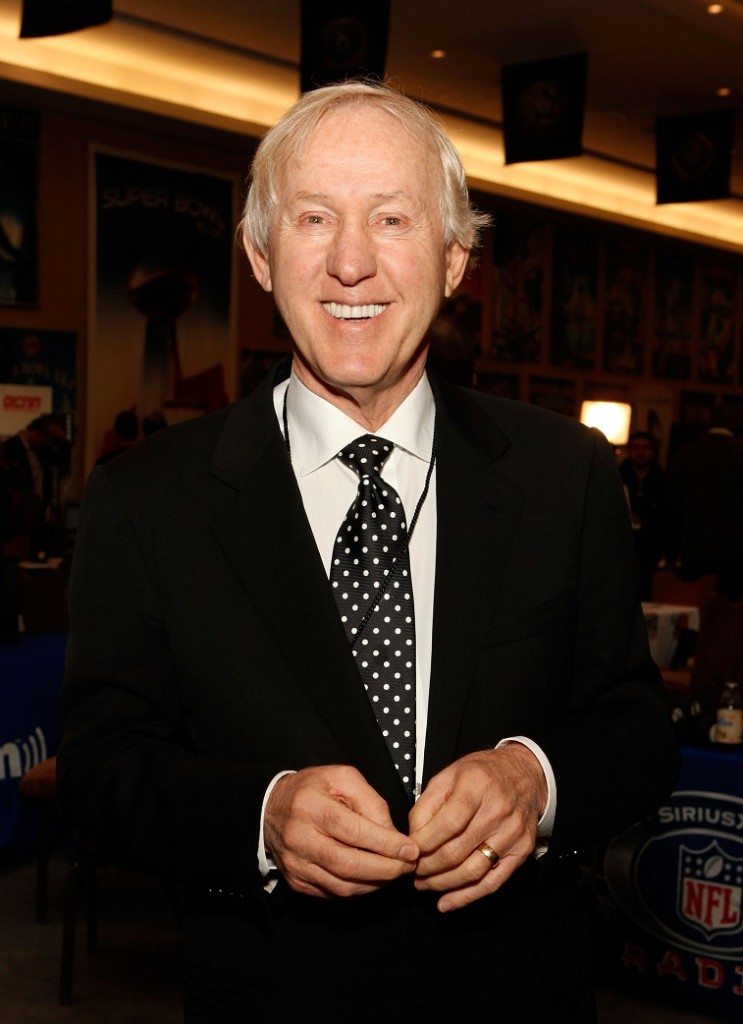 Runner-up: Cris Carter, WR
Neither receiver Cris Carter nor quarterback Fran Tarkenton achieved the postseason success they deserved, but at least Tarkenton played in a Super Bowl. Even though he played before NFL offenses started airing it out all the time, Tarkenton still has a franchise-best 33,098 yards and 239 touchdowns through the air. He also added 2,548 yards and 22 touchdowns on the ground during his Minnesota days.
He was one of the first dual-threat QBs during his playing days, and he ended up being one of the wealthiest NFL players of all time after he hung 'em up in 1978 thanks to some smart business moves.
Next: No other choice for this franchise.
21. New England Patriots — Tom Brady, QB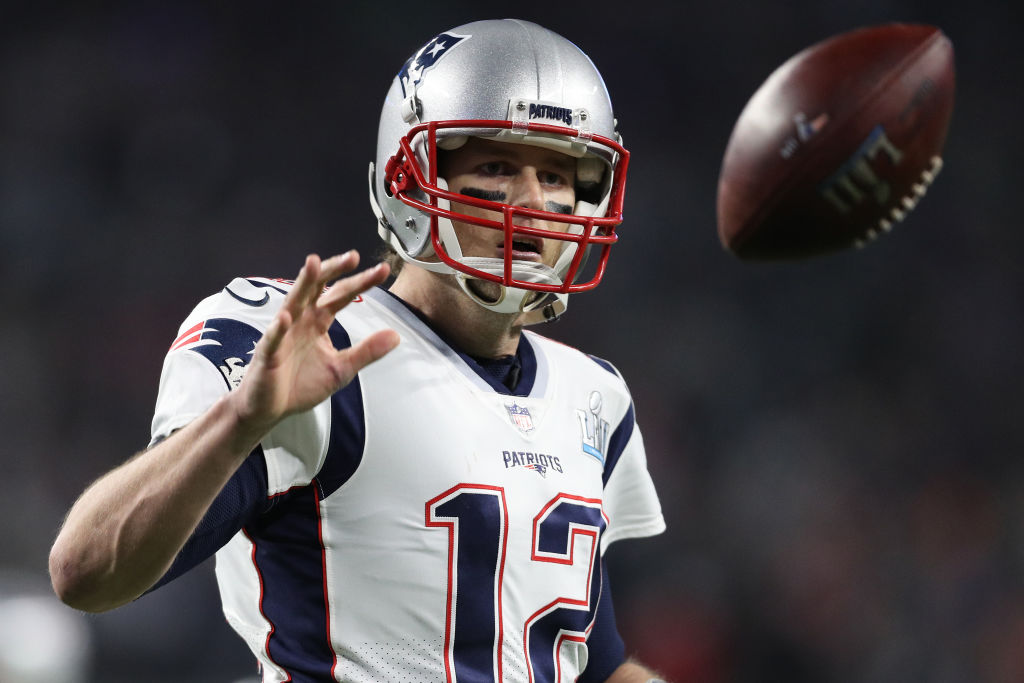 Runner-up: John Hannah, OL
There's no other choice but Tom Brady as the Patriots best player. He owns every major passing record for the franchise. That's to say nothing of the five Super Bowl titles he won with a revolving cast of players around him. Offensive lineman John Hannah started all 183 games of his career, including New England's blowout Super Bowl loss against Chicago, but that's not enough to supplant Brady as this NFL team's best player ever.
Next: Another obvious pick that is head and shoulders above the rest.
22. New Orleans Saints — Drew Brees, QB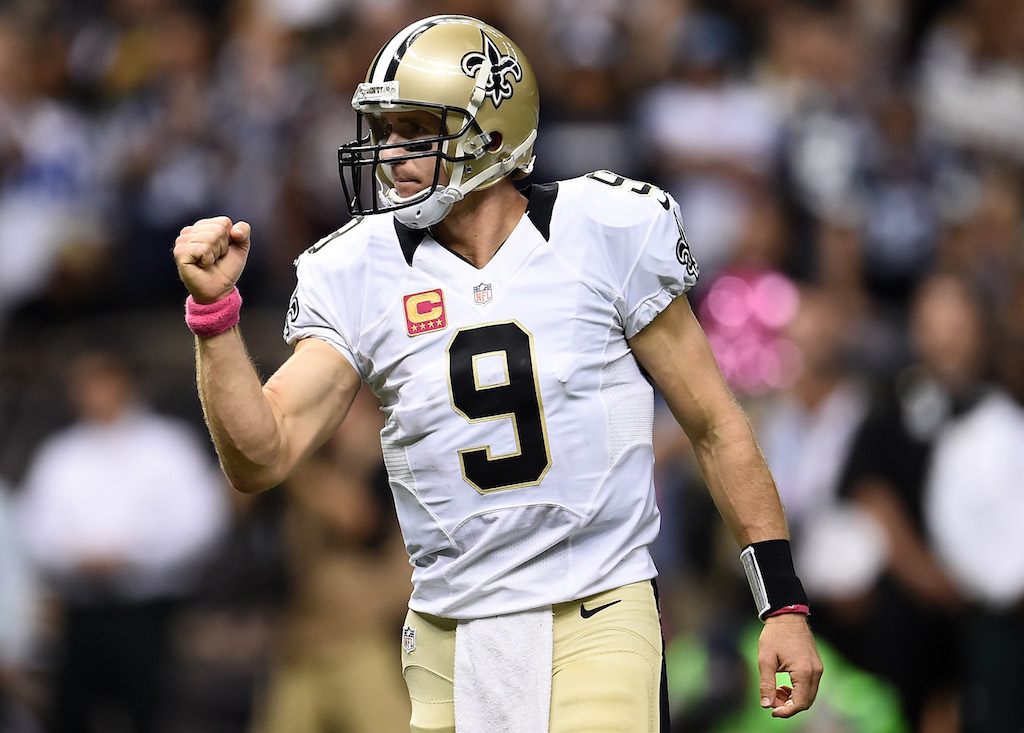 Runner-up: Rickey Jackson, LB
The Dolphins' Dan Marino and Patriots' Tom Brady were obvious picks to be their NFL teams' best player, and so is Drew Brees. Even though he spent the early part of his career playing for the Chargers, the QB is still head and shoulders the best Saints quarterback ever. His 59,000-plus passing yards are nearly three times as many as No. 2 Archie Manning (21,734). His 416 touchdowns are almost four times more than Aaron Brooks' 120. Brees is undoubtedly the best New Orleans player ever, and the Saints showed him the love by making him one of the highest-paid players in the NFL in 2018.
Next: He changed the way they play the game.
23. New York Giants — Lawrence Taylor, LB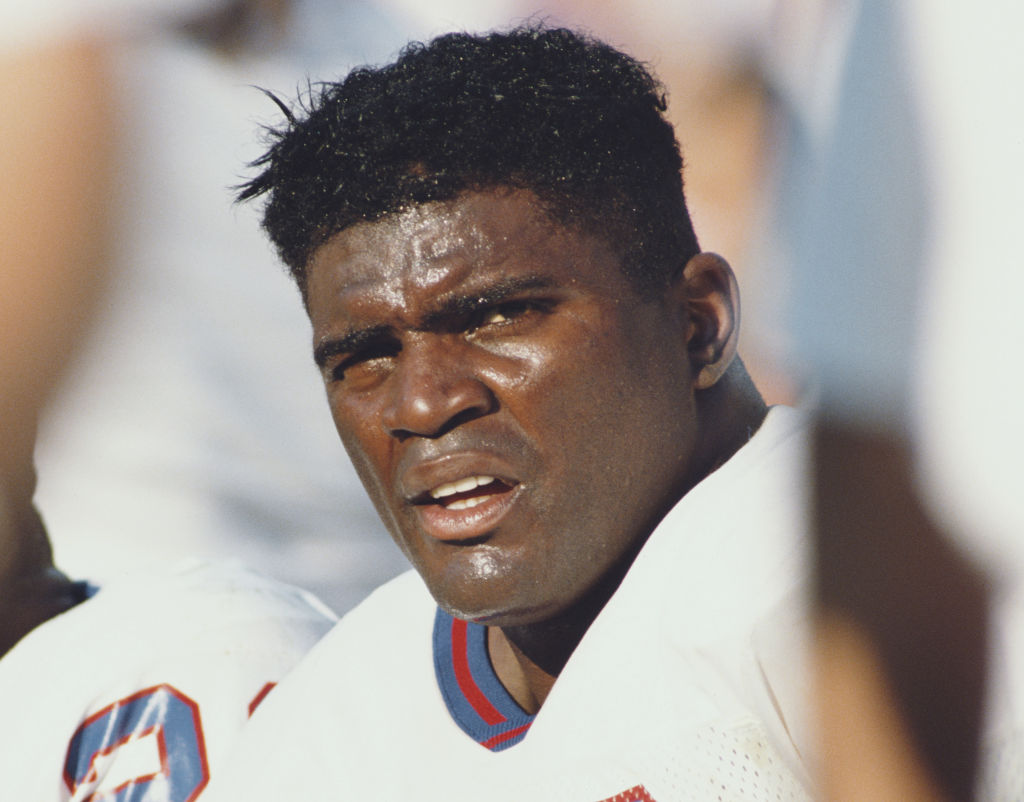 Runner-up: Eli Manning, QB
The Giants have been around forever, but there's no doubt Lawrence Taylor is their best player ever. The versatile linebacker was used in so many different ways that he made a mark on NFL history and changed the way they play the game. Like Eli Manning, Taylor won two Super Bowls, but of the two, only Taylor has an MVP award and three AP Player of the Year awards.
Next: We're off to the island.
24. New York Jets — Darrelle Revis, CB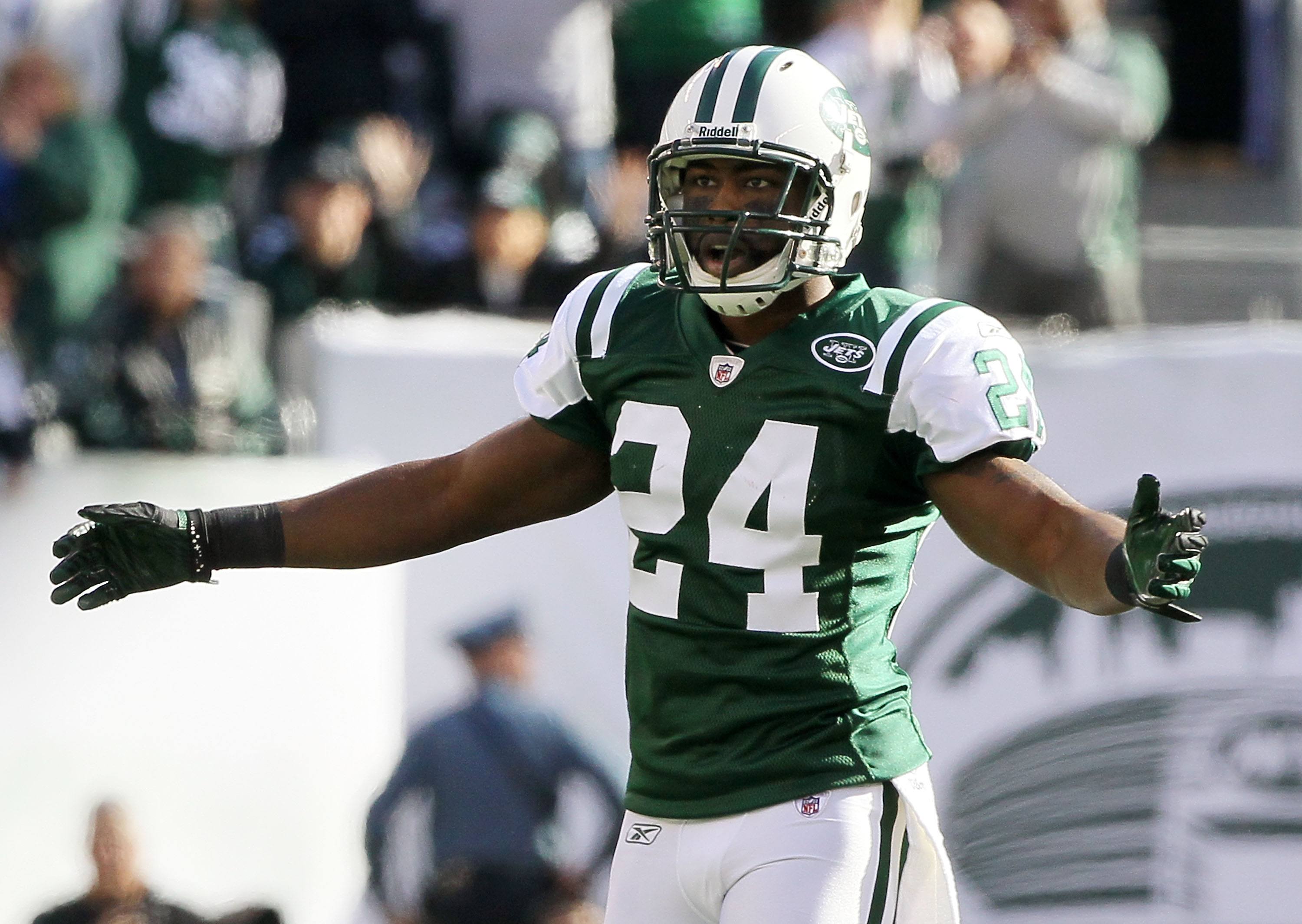 Runner-up: Curtis Martin, RB
Darrelle Revis was one of the best cornerbacks in the league for his era, and he's probably one of the best ever. He earned the nickname Revis Island because he was always able to take away the other team's top receiver and render them useless as if they were on an island. Quarterbacks were afraid to throw his way, yet he still accumulated 25 of his 29 career interceptions and 314 of his 411 tackle in a Jets uniform.
Standout running back Curtis Martin was a close No. 2. Joe Namath, a quarterback with more turnovers than touchdowns, is a distant third.
Next: A Heisman Trophy winner who succeeded in the NFL.
25. Oakland Raiders — Tim Brown, WR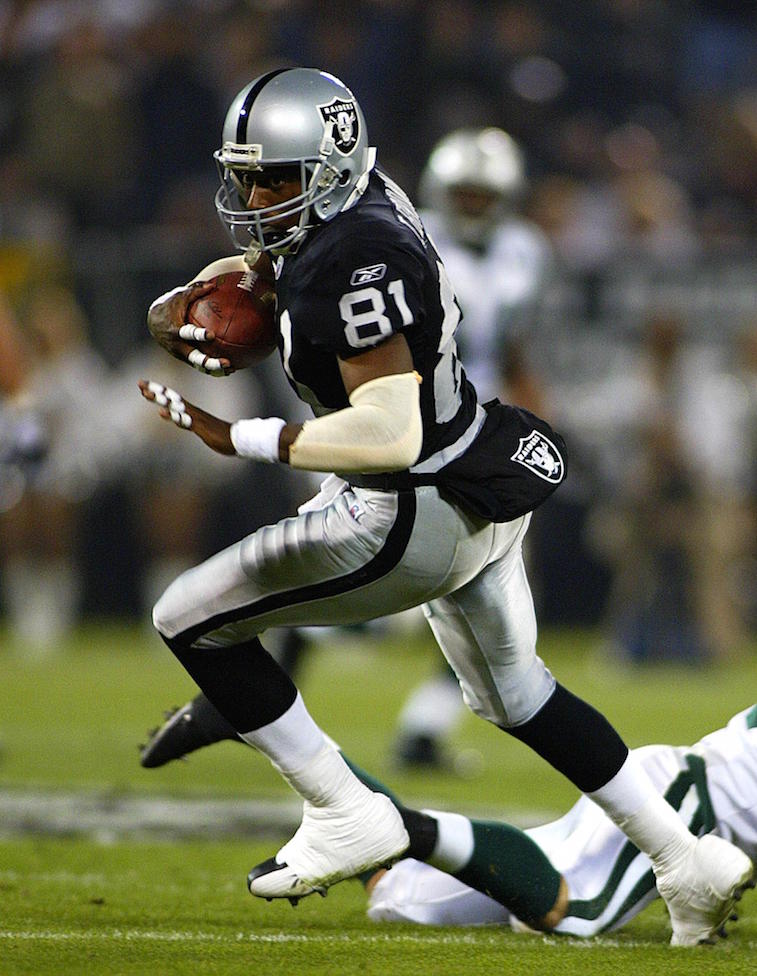 Runner-up: Jim Otto, OL
It's usually a hit-or-miss proposition as to whether a Heisman Trophy winner in college will succeed at the next level, let alone make the Hall of Fame. Tim Brown did both. Aside from a stint in Tampa in his final season, Brown spent his whole career in Oakland, where he hauled in 1,070 receptions for 14,734 yards and 99 touchdowns. He was one of the premier playmakers in his day, and the Raiders' best player ever, though it was close.
Like Brown, ironman lineman Jim Otto, stud running back Marcus Allen, and Super Bowl-winning quarterback Ken Stabler are some of the greatest Raiders players of all time.
Next: One of the best defensive players of any generation.
26. Philadelphia Eagles — Reggie White, DL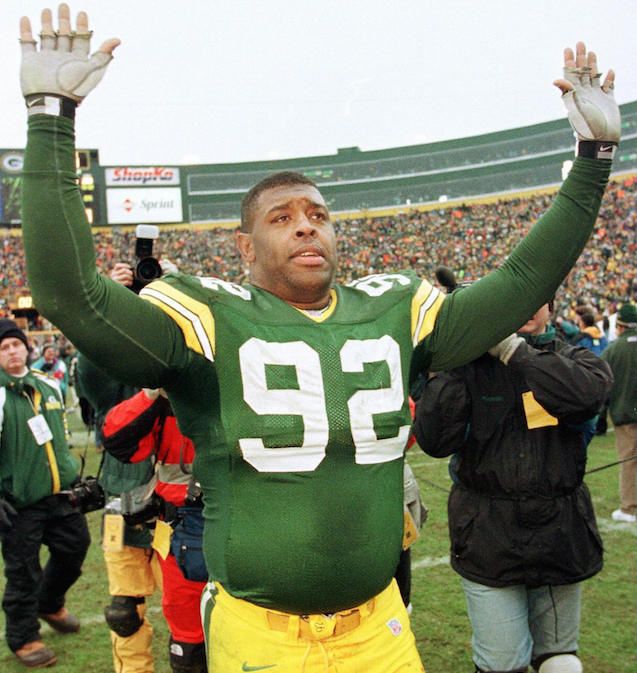 Runner-up: Brian Dawkins, S
We know Reggie White won a Super Bowl with Green Bay, but he played a majority of his career in Philadelphia, and he is that NFL team's best player ever. White posted 124 of his 198 career sacks and 794 of his 1,048 tackles with the Eagles.
Next: No one will wear his number again.
27. Pittsburgh Steelers — Joe Greene, DL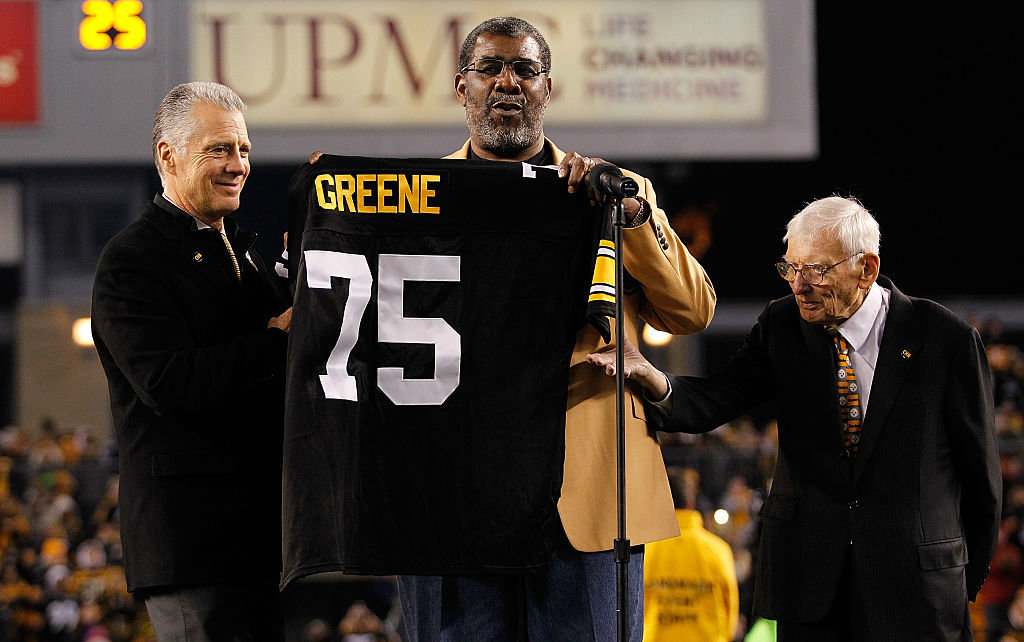 Runner-up: Terry Bradshaw, QB
Pittsburgh is very selective about retiring jerseys. The Steelers have raised just two numbers to the rafters in 86 years, and one of them is Joe Greene's. One of the stars of the Steel Curtain defense of the 1970s, Greene was a two-time Defensive Player of the Year, a four-time All-Pro player, and one of the best defensive players in NFL history.
Next: We pick a player who will hold several league records forever.
28. San Francisco 49ers — Jerry Rice, WR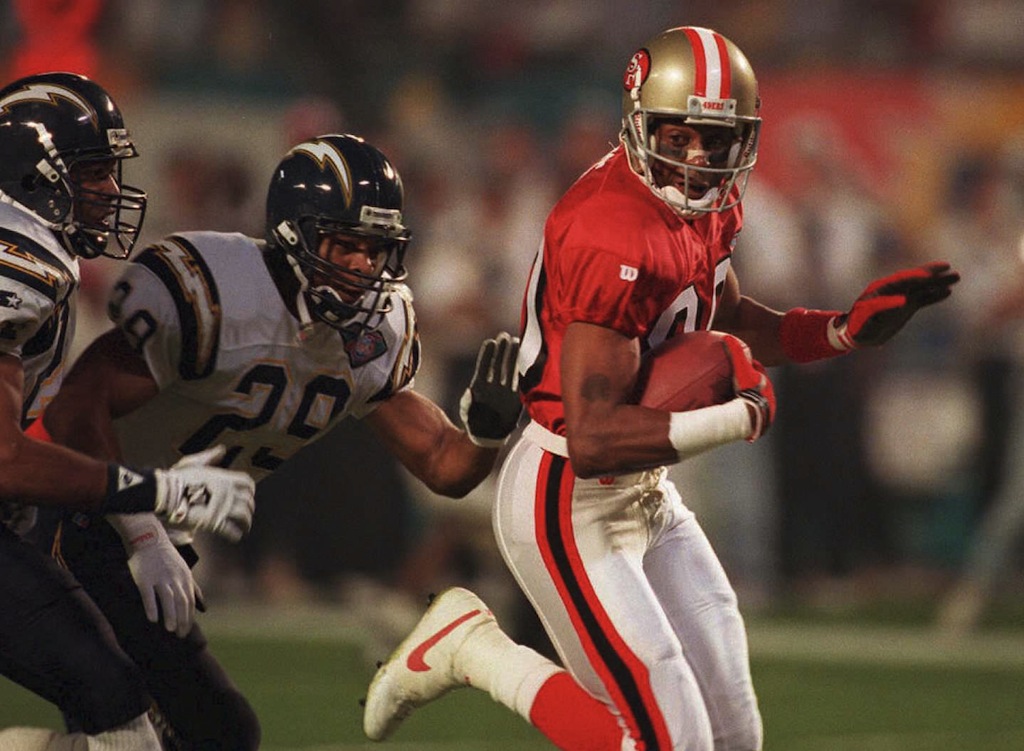 Runner-up: Joe Montana, QB
Look at the NFL's receiving record books, and you're going to see Jerry Rice's name quite a bit. He has the most receiving yards (22,895), receptions (1,549), and touchdown catches (197), all of which are unbreakable NFL records. Quarterbacks Joe Montana and Steve Young are both standout 49ers, but Rice is far and away the best player in franchise history.
Next: The fans still love him decades after he retired.
29. Seattle Seahawks — Steve Largent, WR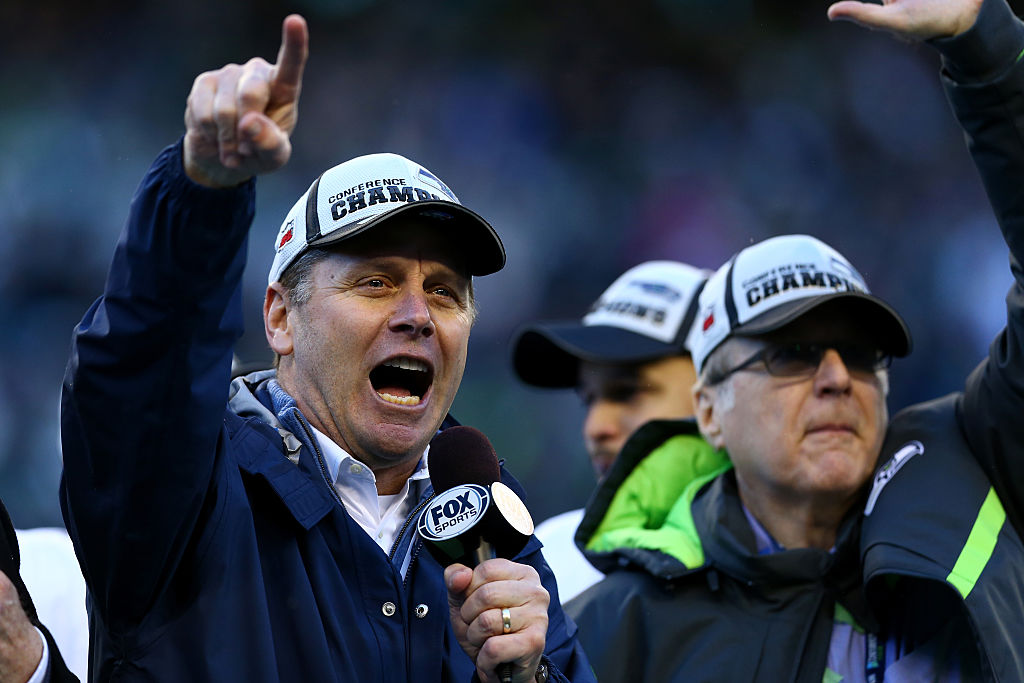 Runner-up: Walter Jones, OL
Steve Largent left football in 1989 to serve in Congress, but Seattle fans still love him. The No. 12 jerseys, representing the Seahawks' 12th Man fanbase, are some of the most popular among fans, but Largent jerseys are right up there as must-buys, too. He remains the top receiver in franchise history with 13,089 yards, which includes eight 1,000-yard seasons in nine years.
Walter Jones started all 180 games of his career, and Shaun Alexander, Marshawn Lynch, and Cortez Kennedy are Seattle standouts, but Largent remains the best player in franchise history.
Next: The best player from a dominant defense.
30. Tampa Bay Buccaneers — Derrick Brooks, LB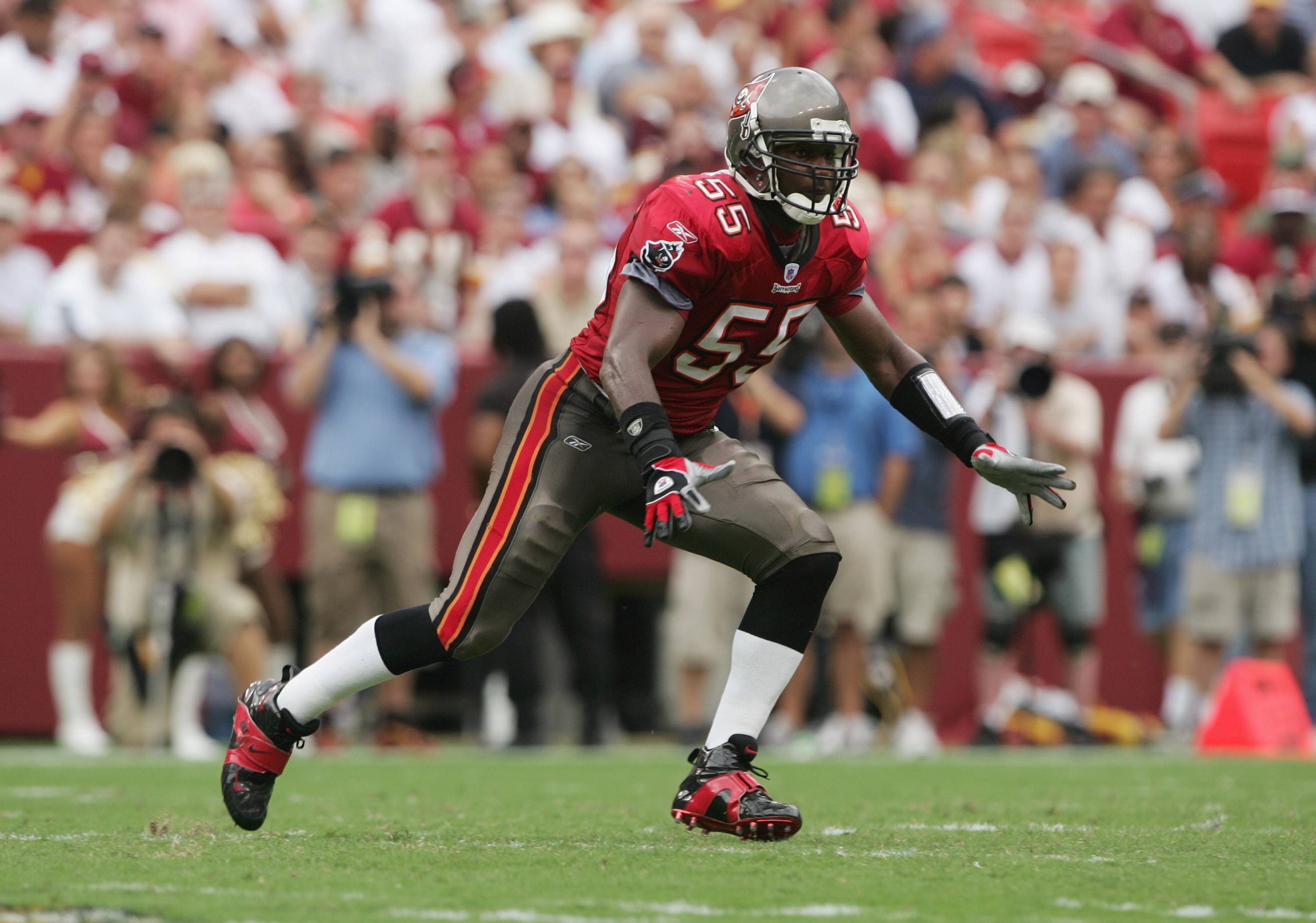 Runner-up: Warren Sapp, DL
On a dominant defense that led Tampa Bay to a win in Super Bowl 37, Derrick Brooks was the best player. In fact, he's probably the best Buccaneers' player of all time. He spent all 14 of his NFL seasons in Tampa and was an 11-time Pro Bowl selection, a five-time All-Pro, and the Defensive Player of the Year in 2002 with 87 tackles and four touchdowns on five interceptions and a fumble recovery. His 1,297 tackles are the most in franchise history, and he tallied a remarkable 25 interceptions as a run-stuffing, pass-route-hounding linebacker.
Next: Remarkable numbers that can't be denied.
31. Tennessee Titans — Earl Campbell, RB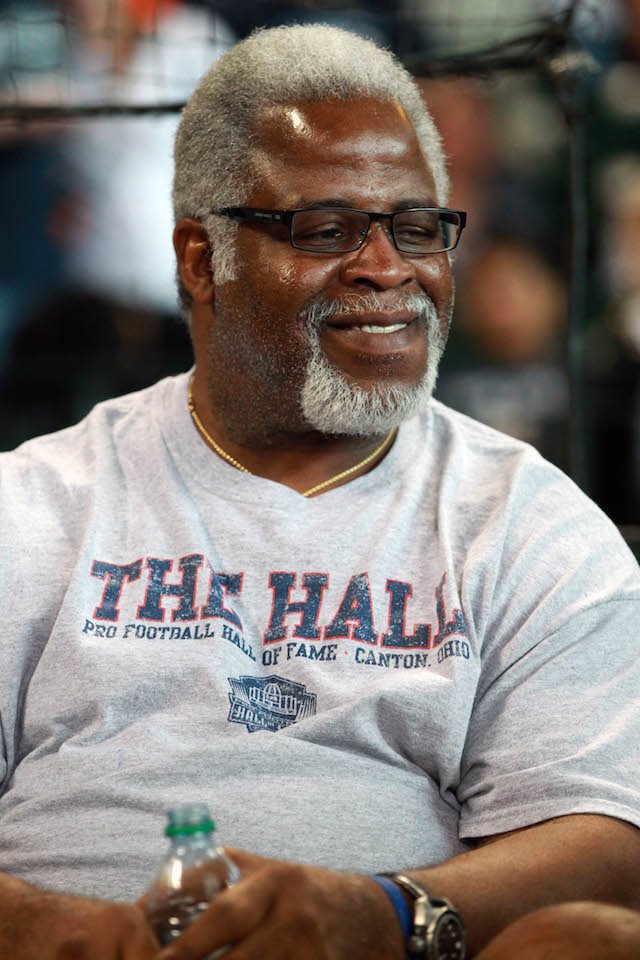 Runner-up: Warren Moon, QB
Even by 21st century standards, what Earl Campbell did in just six and a half seasons with the Houston Oilers (now Tennessee Titans) is flat-out remarkable. He had four straight seasons with more than 1,300 yards rushing and double-digit touchdowns, and then he added another after a one-year hiatus.
Campbell retired in 1984, but he's still the franchise's leader in rushing touchdowns (73) and yards per game (94.2). He's No. 2 to Eddie George in rushing yard (10,009 to 8,574), but George also played nearly 40 more games with the team.
Next: Longevity and amazing make him this NFL team's best player ever.
32. Washington Redskins — Darrell Green, CB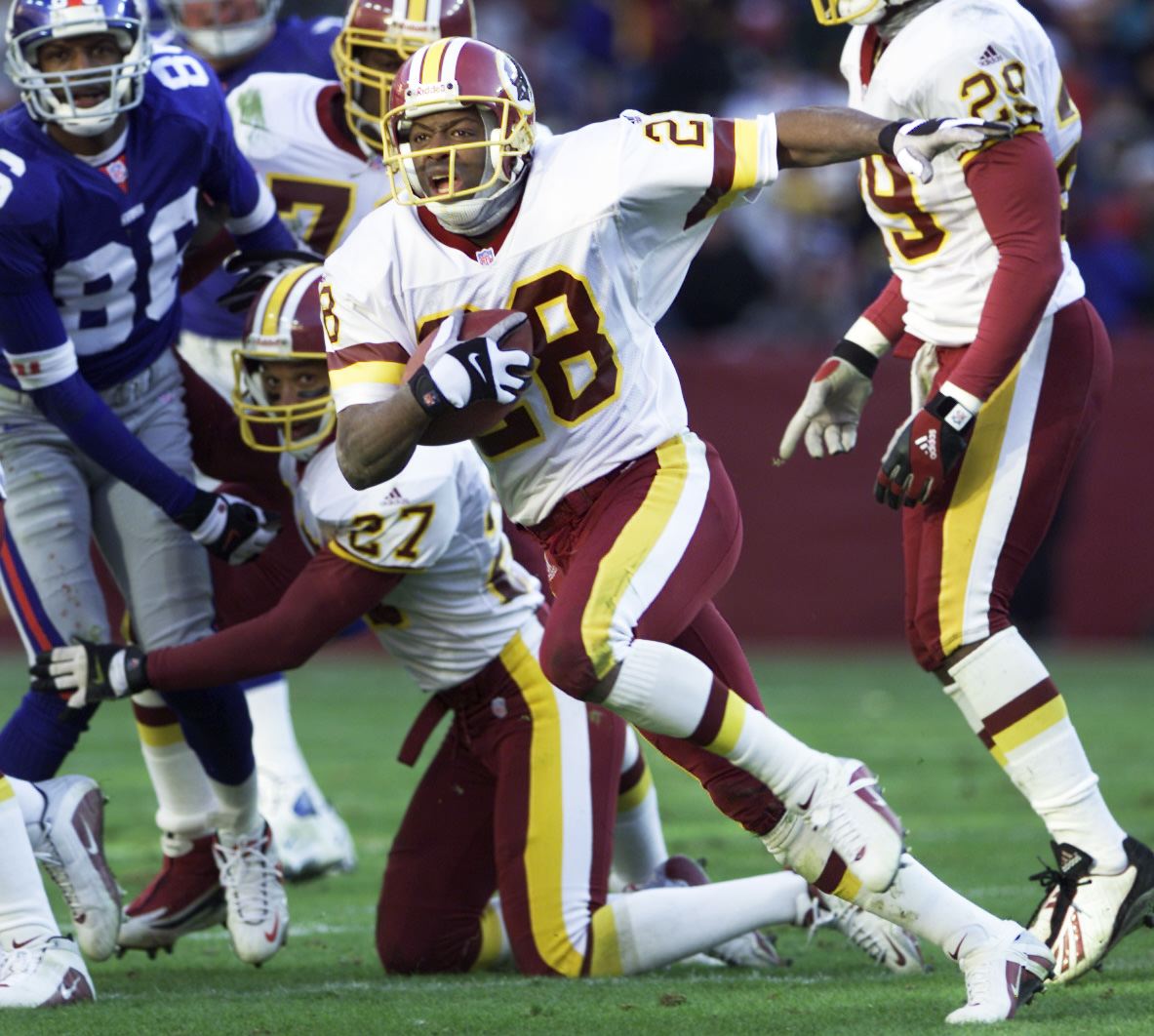 Runner-up: John Riggins, RB
We considered franchise leading rusher John Riggins and passing yards leader Joe Theismann, but cornerback Darrell Green makes a better case than either of them. He played in 295 games over 20 years in Washington, starting 258 of them. The majority of those non-starts came over his finals three seasons after he turned 40. Green is No. 1 team history in tackles (1,163), interceptions (54), and defensive touchdowns (eight).
All stats courtesy of Pro Football Reference.
Read more: David Letterman's Car Collection Will Take Your Breath Away