Every Playoff Game Tom Brady Has Ever Won, Ranked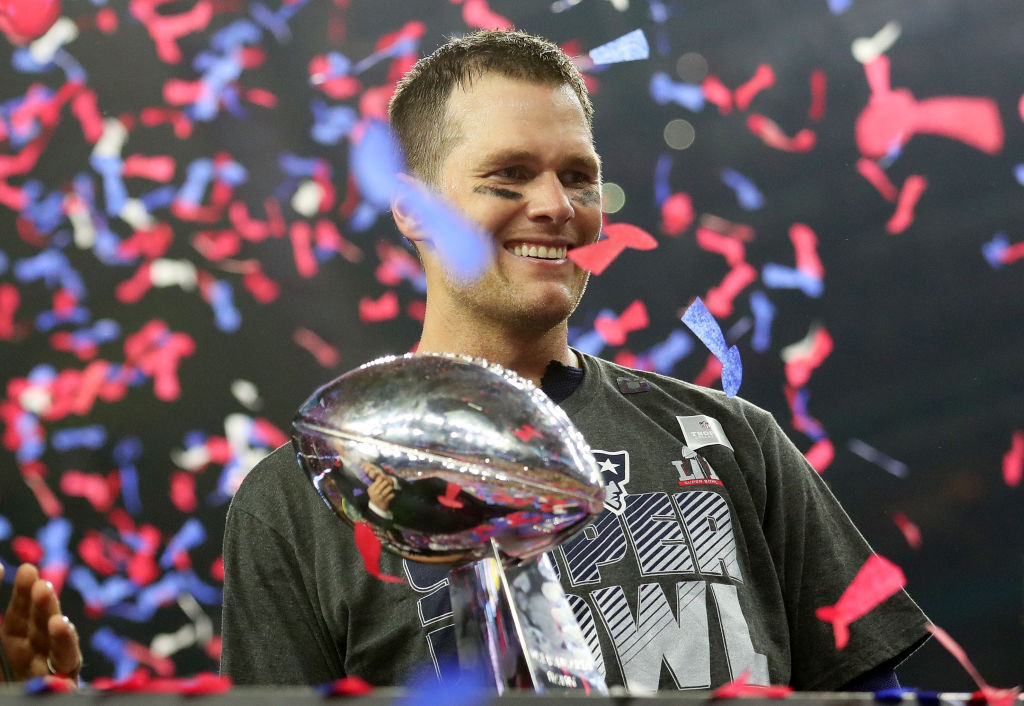 Whether you love him or hate him, you can't deny the facts about New England Patriots quarterback Tom Brady. He has a regular-season record of 183-52; he's led the NFL in passing yards twice and touchdown passes four times; and he's taken his team to seven Super Bowls in 15 full seasons. In short, Brady is the GOAT — the greatest of all time for those who don't know the slang. He's also won 25 different playoff games over the course of his career; here, we rank his performances from "least great" to "most great."
25. 1/22/2012 vs. Ravens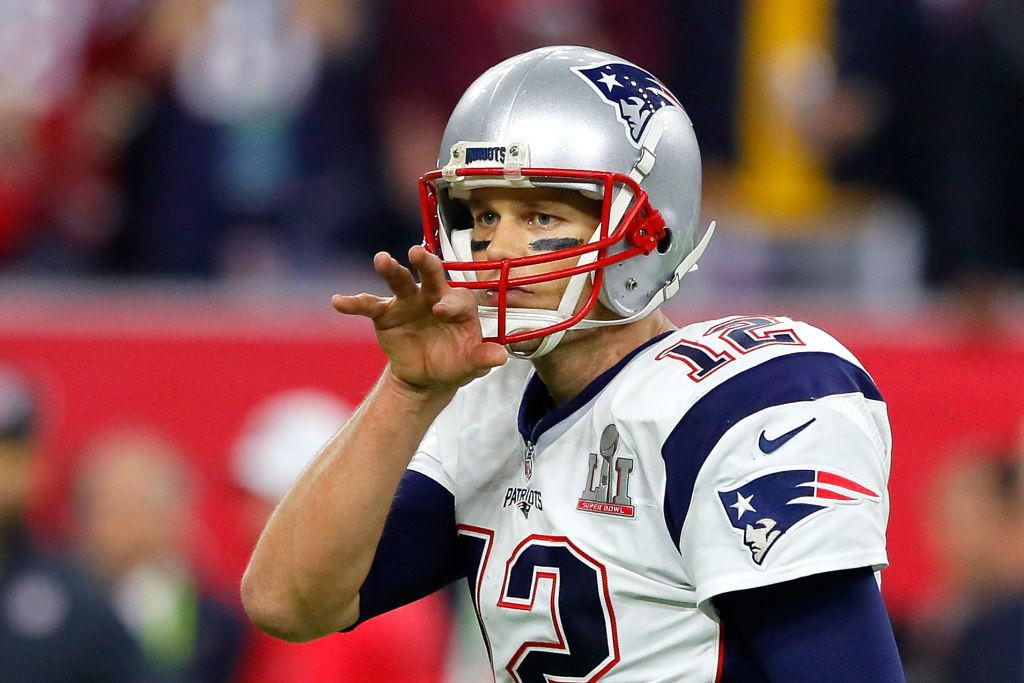 On January 2012, during the AFC Championship game against the Baltimore Ravens, Brady had his very worst playoff game, which ended in a victory. Brady finished the game with a passer rating of 57.5; he threw two interceptions and zero touchdowns with a 61.1% completion rate. But three field goals by Stephen Gostkowski and two rushing touchdowns — one by Brady, himself — was just enough to lead the Pats to a 23-20 victory over Baltimore, pushing New England into the Super Bowl against the New York Giants.
24. 1/14/2007 at Chargers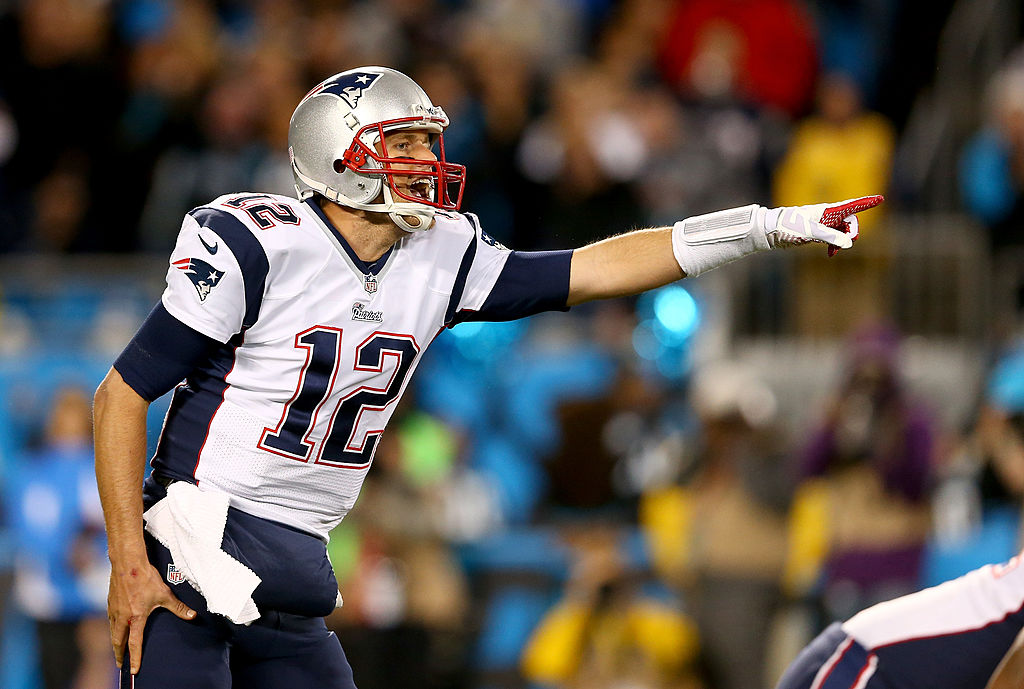 During the AFC Championship matchup against the San Diego Chargers, Brady had another ugly game that resulted in a team victory. He threw three interceptions in San Diego, allowing the Chargers to take a 21-13 lead. But Brady led the team on a late run, as he always seems to do. The Patriots tied it on a late touchdown pass and two-point conversion, and then later won the game on a Gostkowski field goal with just over a minute remaining.
23. 1/20/2008 vs. Chargers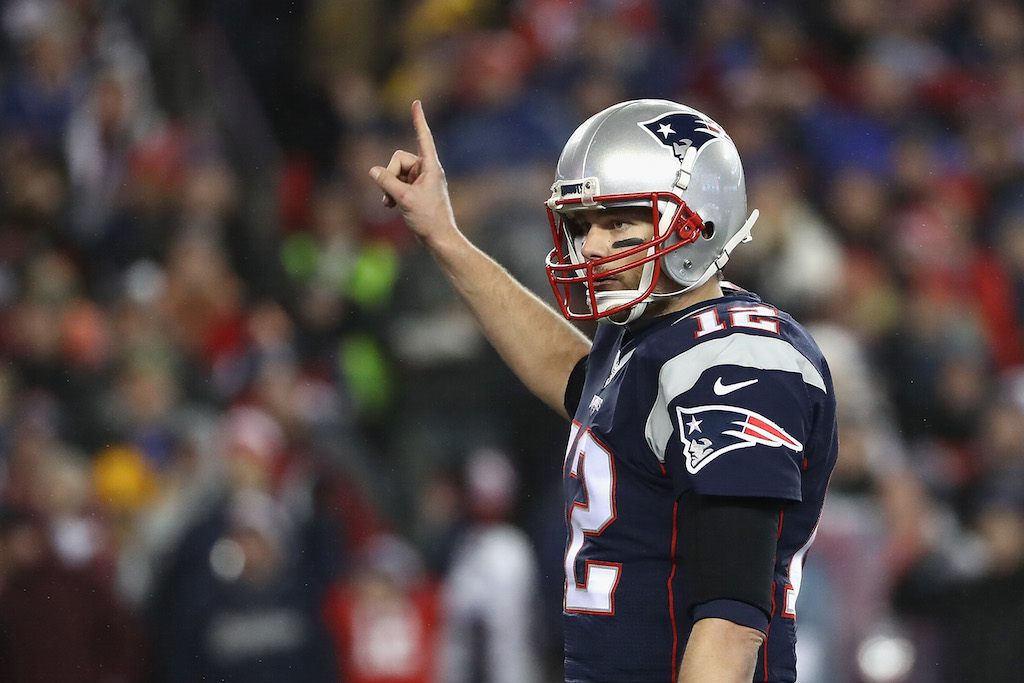 The following year Brady again faced the San Diego Chargers in the AFC Championship; this time on his home turf. Again he threw three interceptions, with a 66.4 passer rating, but again the Pats pulled out a victory. The Chargers could only muster four field goals and 12 total points, making a New England win a little bit easier. The final score was 21-12, and the Patriots advanced, losing to the Giants in the Super Bowl.
22. 1/14/2017 vs. Texans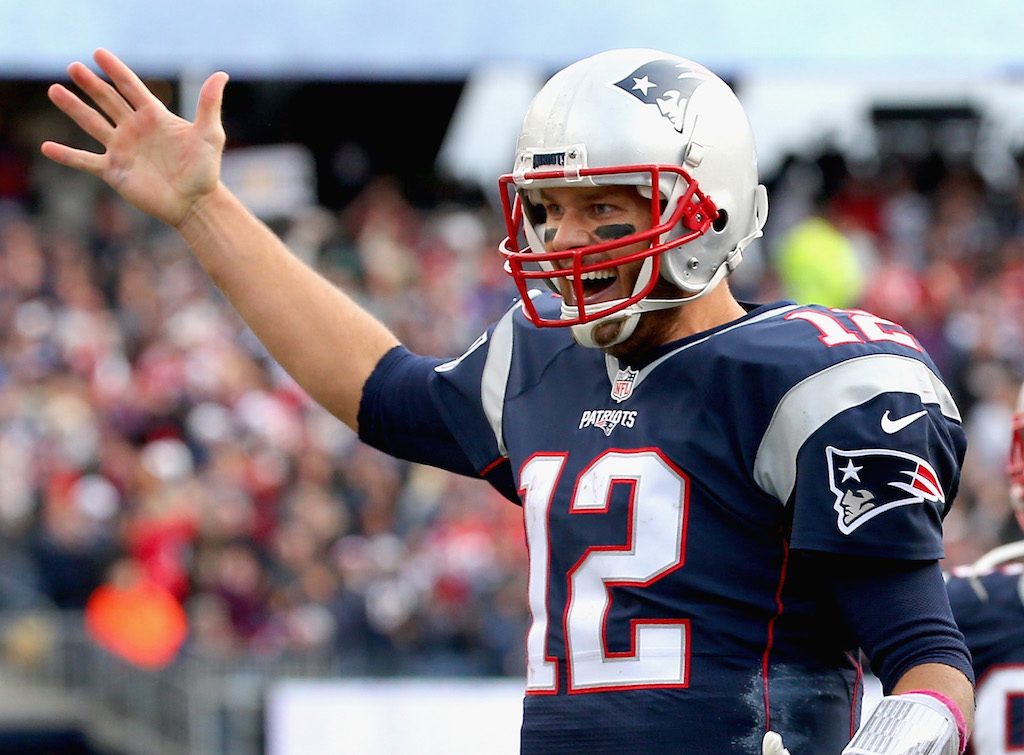 In the opening game of the playoffs for the Patriots this season, they faced an undermanned Houston Texans team. Brady wasn't exactly sharp, completing less than 50% of his passes and throwing two interceptions. However, a second-half surge helped the team pull away. The Pats edged the Texans by a score of 34-16, sending them to the AFC Championship game.
21. 1/27/2002 at Steelers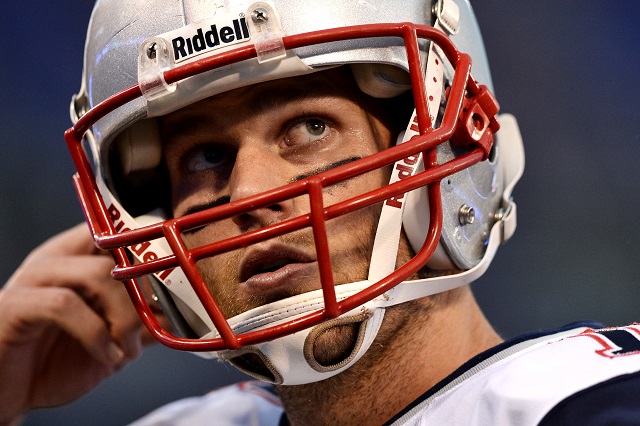 In his very first AFC Championship, Brady matched up against Kordell Stewart and the Pittsburgh Steelers on the road. With a few minutes remaining in the second half and New England ahead just 7-3, Brady left the game due to an injury. He finished with a passer rating of 84.3 and no touchdowns. Luckily, Drew Bledsoe saved the day and finished off the Steelers 24-17. Brady couldn't return from his injury and play in the Super Bowl.
20. 1/19/2002 vs. Raiders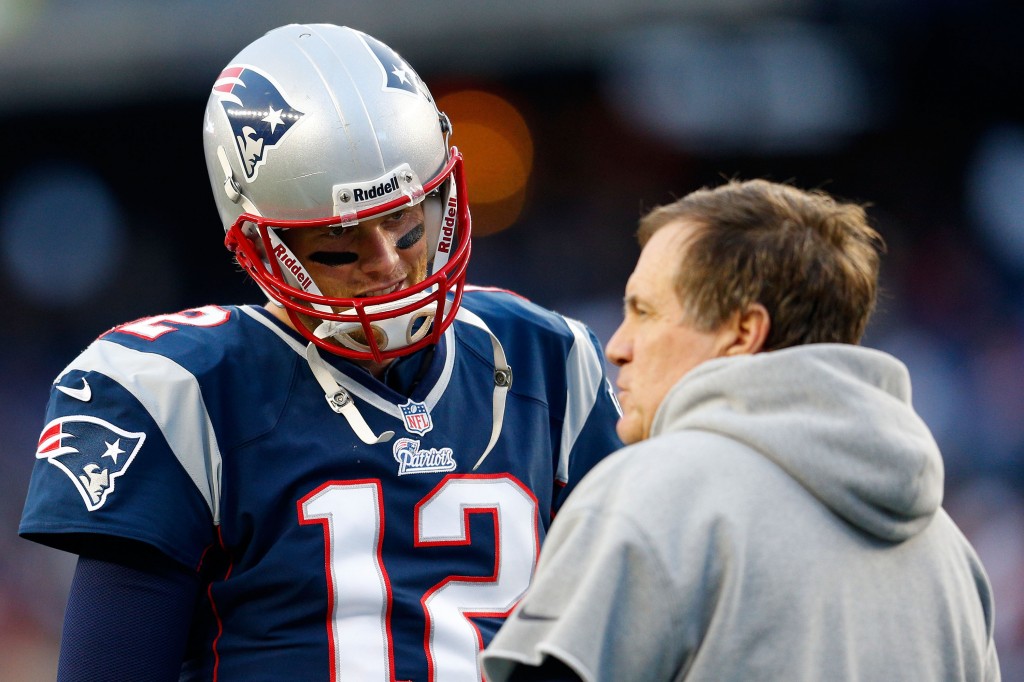 Brady's very first playoff game was back in 2002 against the Oakland Raiders. New England trailed, 13-3, heading into the fourth quarter before Brady led them on his first playoff rally. He rushed for a touchdown, led another drive for a game-tying field goal, and led the Patriots to the game-winning field goal in overtime. They prevailed by a score of 16-13. Brady finished the game with a passer rating of 70.4, with no touchdown passes and one interception.
19. 1/10/2004 vs. Titans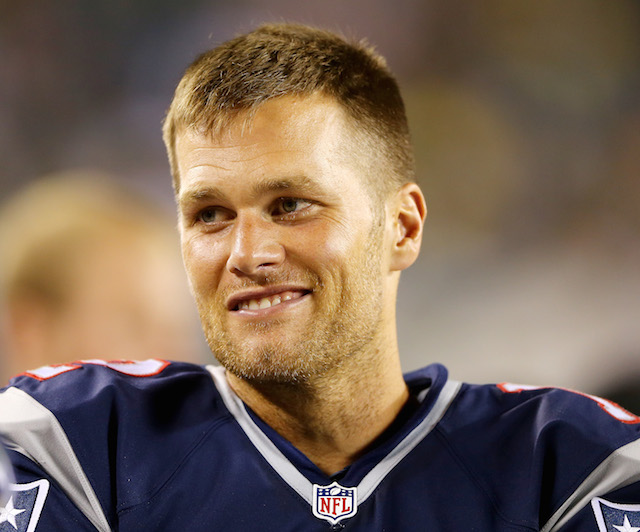 In a game against the Tennessee Titans in January of 2004, Brady led the Pats to an early 14-7 lead before seeing it slip away in the fourth quarter. That was no matter, of course, and Brady led the team down the field to set up an Adam Vinatieri 46-yard field goal with about four minutes remaining in the game. The Patriots won, 17-14, and Brady had a 73.3 passer rating with one touchdown and 201 passing yards.
18. 1/18/2004 vs. Colts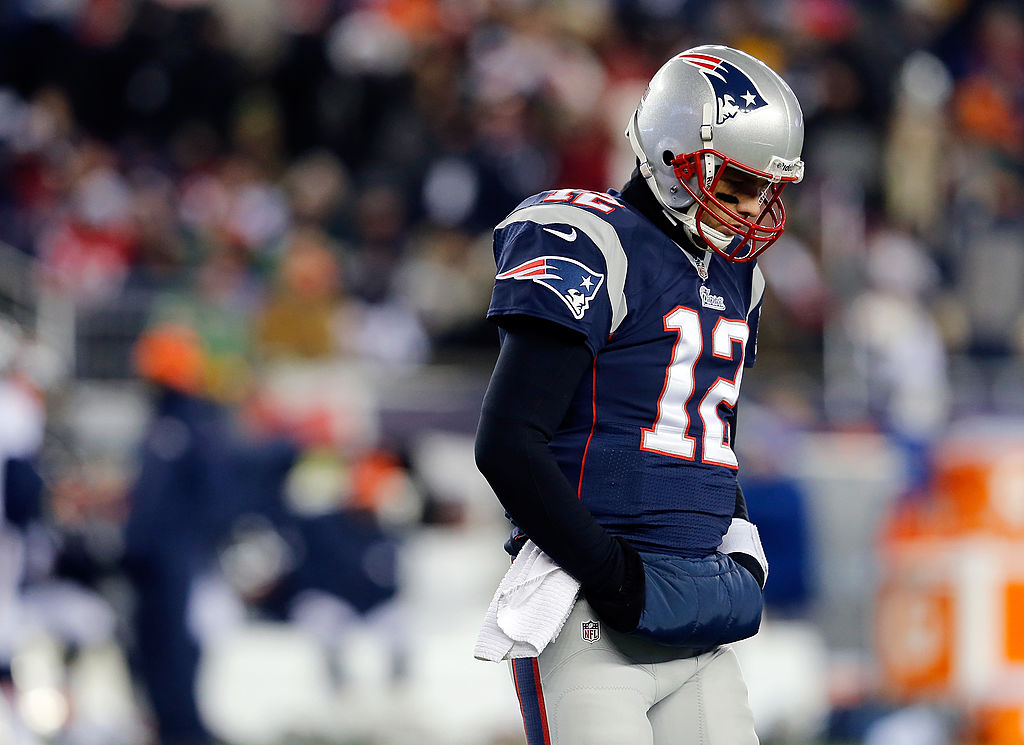 In the AFC Championship game that followed against the Indianapolis Colts, Brady was 22-for-37 passing with 237 yards, one touchdown, and one interception. But New England never trailed in this game, thanks to a four-interception day from Colts quarterback Peyton Manning and five field goals from Vinatieri. The Patriots won by a score of 24-14 and moved on to play the Carolina Panthers in the Super Bowl.
17. 1/11/2014 vs. Colts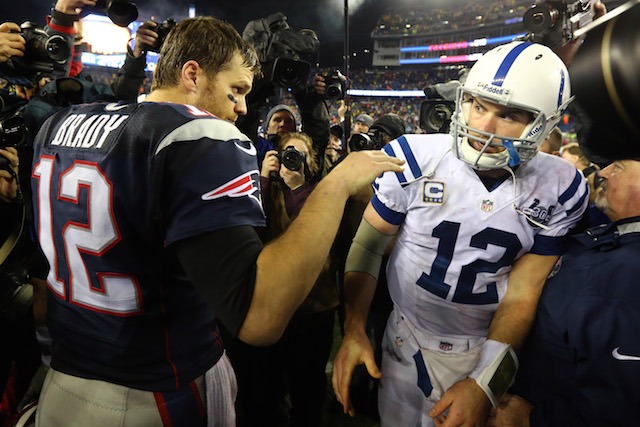 10 years later, the Patriots faced the Indianapolis Colts yet again. This time, the Colts quarterback was a young Andrew Luck, whose performance is best forgotten as well. Luck threw four interceptions, leading to a 43-22 victory for Brady and the Patriots. New England's QB didn't have a great day either, finishing with a passer rating of 78.4 on a day when he was 13-for-25 passing with 198 yards.
16. 2/3/2002 Super Bowl XXXVI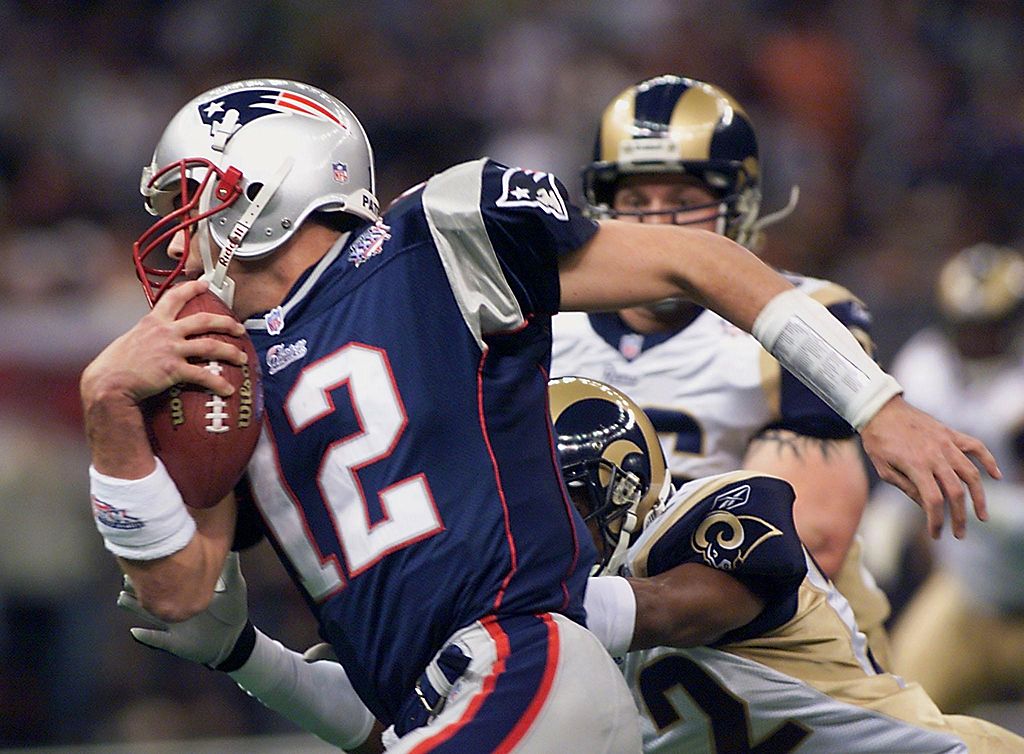 Facing the St. Louis Rams and "The Greatest Show on Turf" in just his first season as a starter, Tom Brady and the New England Patriots were big-time underdogs in Super Bowl XXXVI. The Patriots opened up a 17-3 lead, but the Rams marched back and tied it up in the fourth quarter. As the clock hit zero, Adam Vinatieri's field goal won it all for New England. Brady took home the MVP award with 145 passing yards and one touchdown pass.
15. 1/16/2005 vs. Colts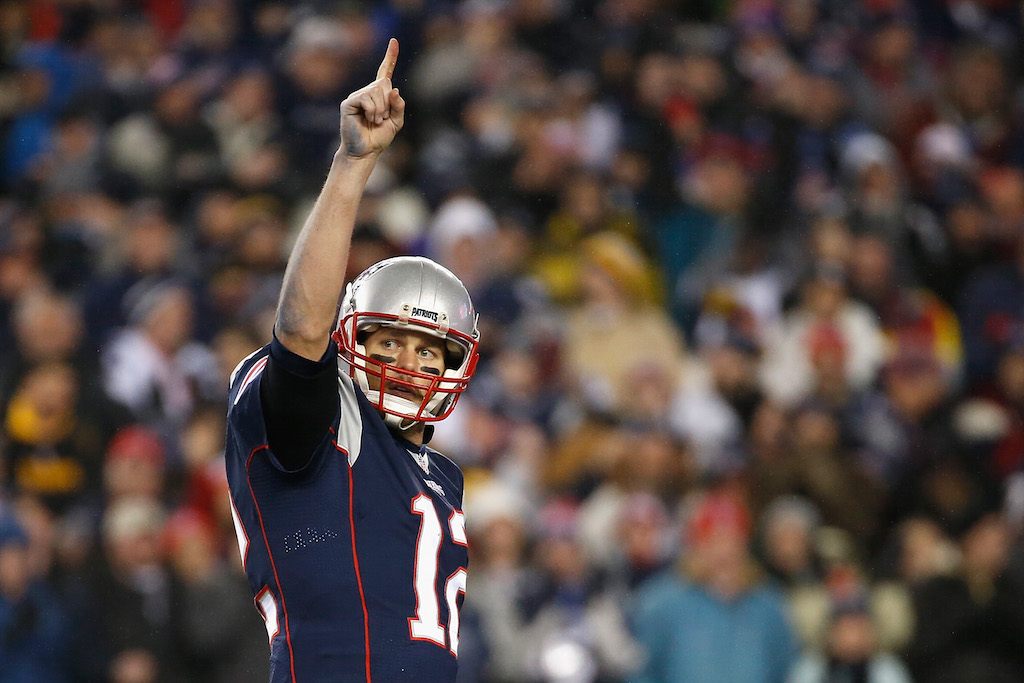 In yet another matchup against the Indianapolis Colts, Brady didn't really have his best game but it didn't matter yet again. The Patriots won the game by a score of 20-3, with a rushing touchdown by Brady in the fourth quarter putting the finishing touches on the victory. The final line for the Patriots quarterback was a passer rating of 92.2, 18-for-27 passing, 144 yards, and one touchdown.
14. 1/10/2015 vs. Ravens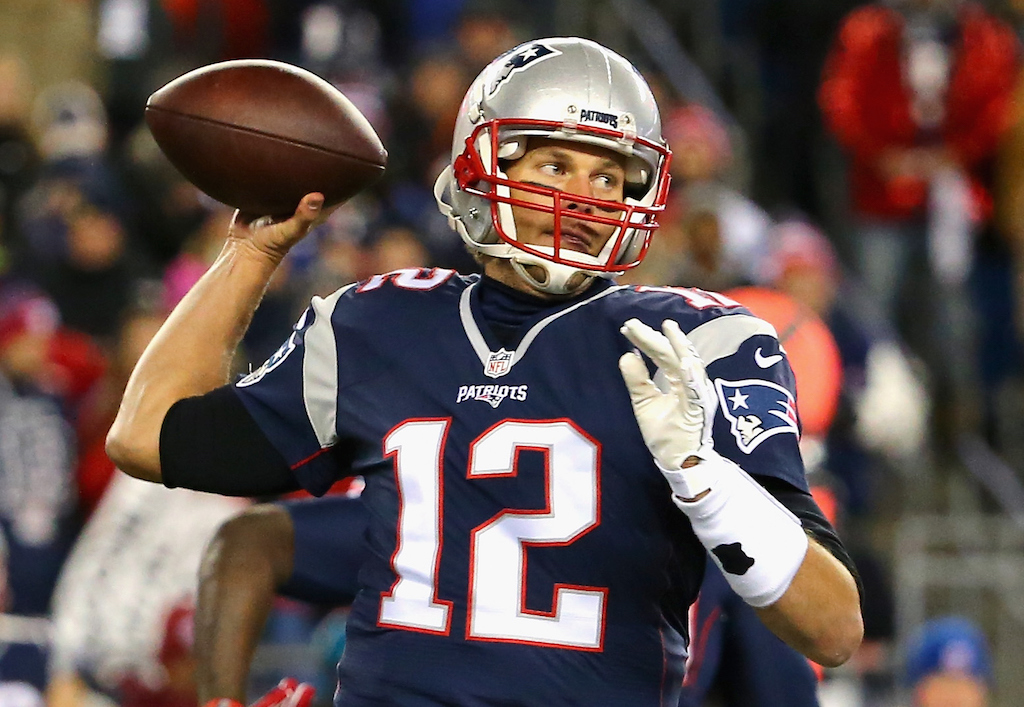 After Justin Tucker's field goal gave the Baltimore Ravens a 31-28 lead with about 10 minutes remaining in this playoff matchup, you knew Brady and the Patriots would put something special together. With just over five minutes left, Brady hit wide receiver Brandon LaFell for a 23-yard touchdown and the go-ahead score. This made it 35-31, which would was the final score in the Pats' win. Brady went 33-for-50 passing with 367 yards, three touchdowns, one interception, and a 99.3 passer rating.
13. 1/18/2015 vs. Colts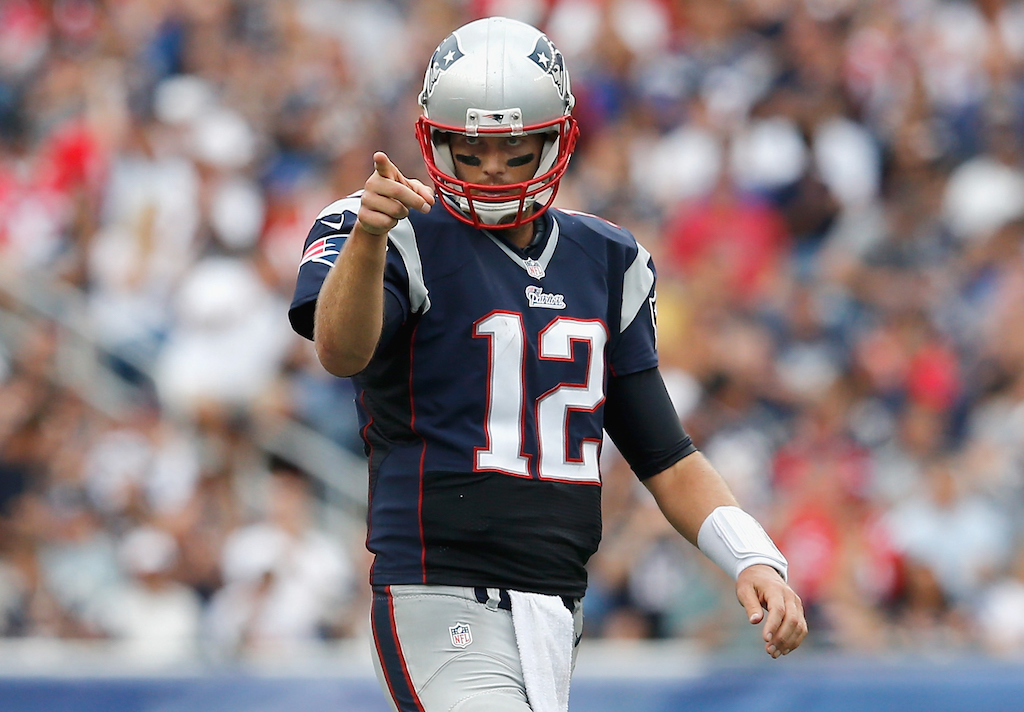 In another matchup against the Indianapolis Colts and Andrew Luck, the Patriots and Tom Brady absolutely beat down their opponent to win the AFC Championship and move on to the Super Bowl. Brady had a 100.4 passer rating with three touchdowns and one interception, leading his team to a 45-7 victory.
Luck, on the other hand, threw two interceptions and no touchdown passes. The game was not without controversy. However, the end result is nothing more than a deflating loss for the Colts. The Patriots moved on to play the Seattle Seahawks in the Super Bowl.
12. 2/1/2004 Super Bowl XXXVIII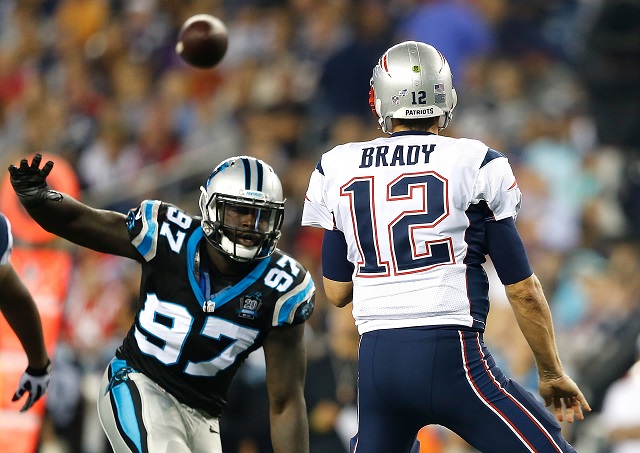 Tom Brady had another strong game; this time to help his team win their second Super Bowl. Playing against the Carolina Panthers, the two teams were deadlocked at 29-29 after a Panthers touchdown with just over a minute to play. But that was enough time for Brady to take the Patriots into field-goal range, leaving it up to Vinatieri to knock through the game-winner with just four ticks remaining on the clock. Brady finished the game with 354 passing yards, three touchdowns, an interception, and his second MVP award.
11. 2/1/2015 Super Bowl XLIX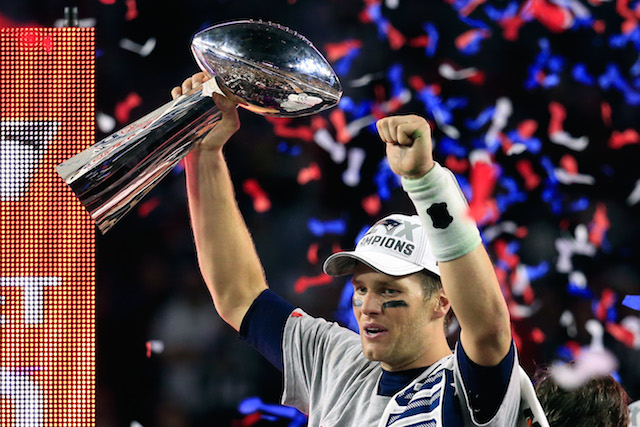 The Patriots actually caught a huge break in the Super Bowl against the Seattle Seahawks. Brady was excellent, as usual, throwing four touchdown passes and leading the Patriots on a fourth-quarter comeback that saw them turn a 24-14 deficit into a 28-24 lead. But key play-calling by the Seahawks, who had the second-and-goal with a chance to pound in the game-winning touchdown with Marshawn Lynch, kept Seattle from winning. Malcolm Butler picked off an ill-advised pass from Russell Wilson to seal the victory.
10. 1/7/2007 vs. Jets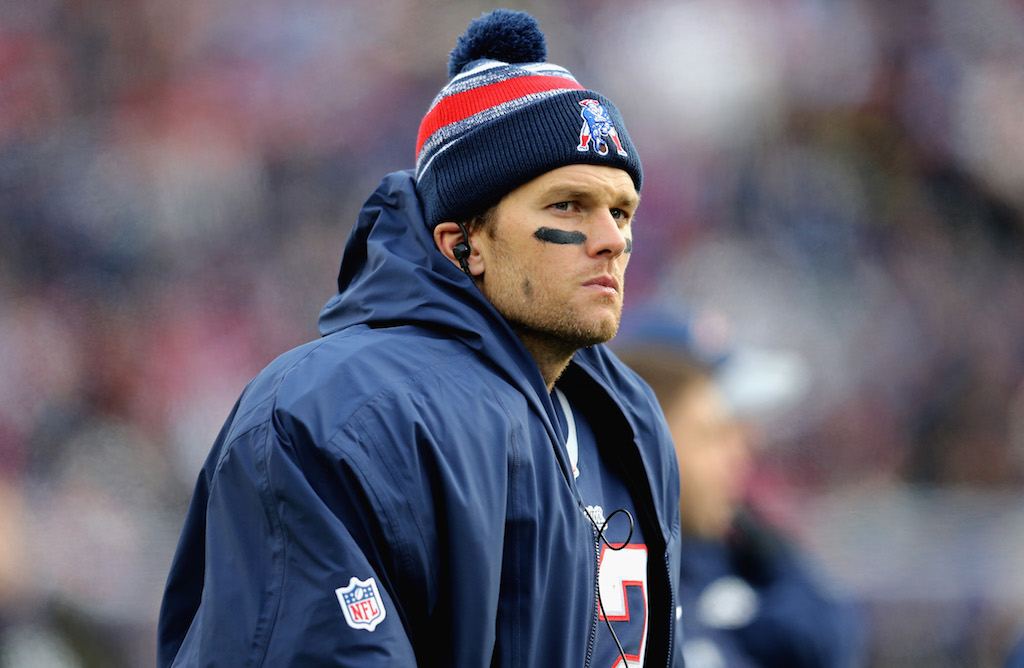 In a playoff against Chad Pennington and the New York Jets, Brady and the Patriots pretty much locked this one up in the second quarter. After the Jets took an early 10-7 lead, the Patriots bounced back for a 17-10 lead at halftime in a game that finished with a score of 37-16 in favor of New England. Brady didn't have to do too much work to get the win, but he was outstanding anyway (22-for-34 passing, 212 yards, and two touchdown passes.)
9. 1/16/2016 vs. Chiefs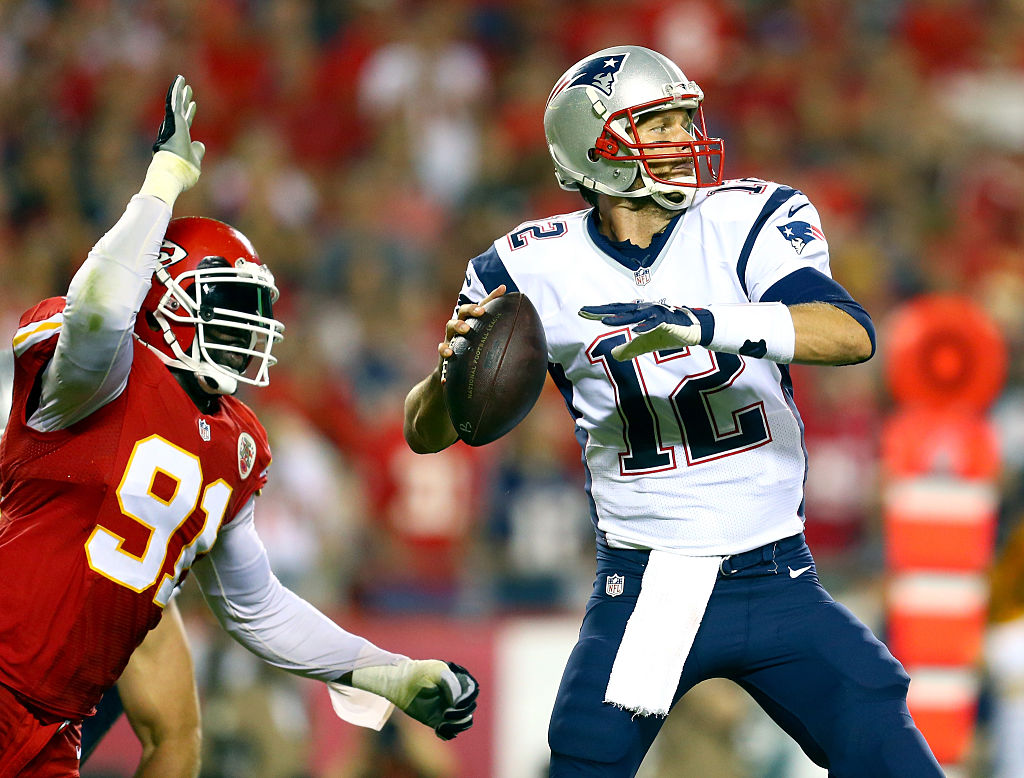 In this playoff battle against the Kansas City Chiefs, Brady was on the top of his game once again. His final stat line tells most of the story: 28-for-42 passing, 302 yards, two touchdown passes, and one rushing touchdown. Brady carried the Patriots to a 27-20 victory over the Chiefs in what was not quite as close of a contest as the final score indicates. This victory took the Pats to the AFC Championship game against the Denver Broncos.
8. 2/6/2006 Super Bowl XXXIX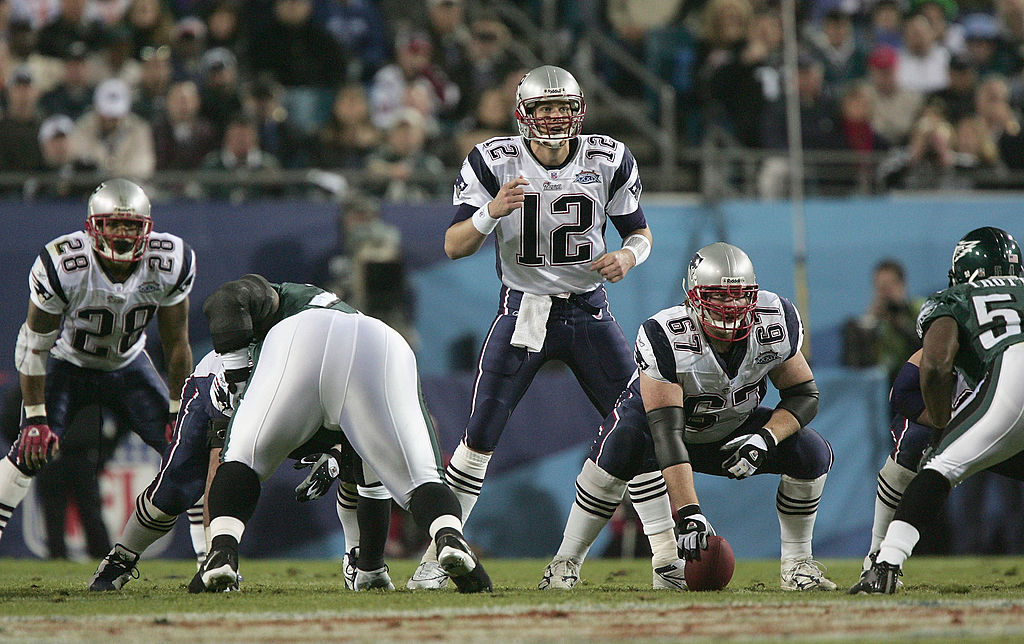 In the Super Bowl against the Philadelphia Eagles, Brady absolutely took over. While Donovan McNabb fed the ball to Terrell Owens all game, Brady calmly passed for 23-of-33 with 236 yards, two touchdowns, and zero interceptions. That was good enough for a 110.2 passer rating for the game in what ended up being a 24-21 victory. Deion Branch ended up with the Super Bowl MVP award, catching 11 passes for 133 yards from Brady.
7. 1/13/2013 vs. Texans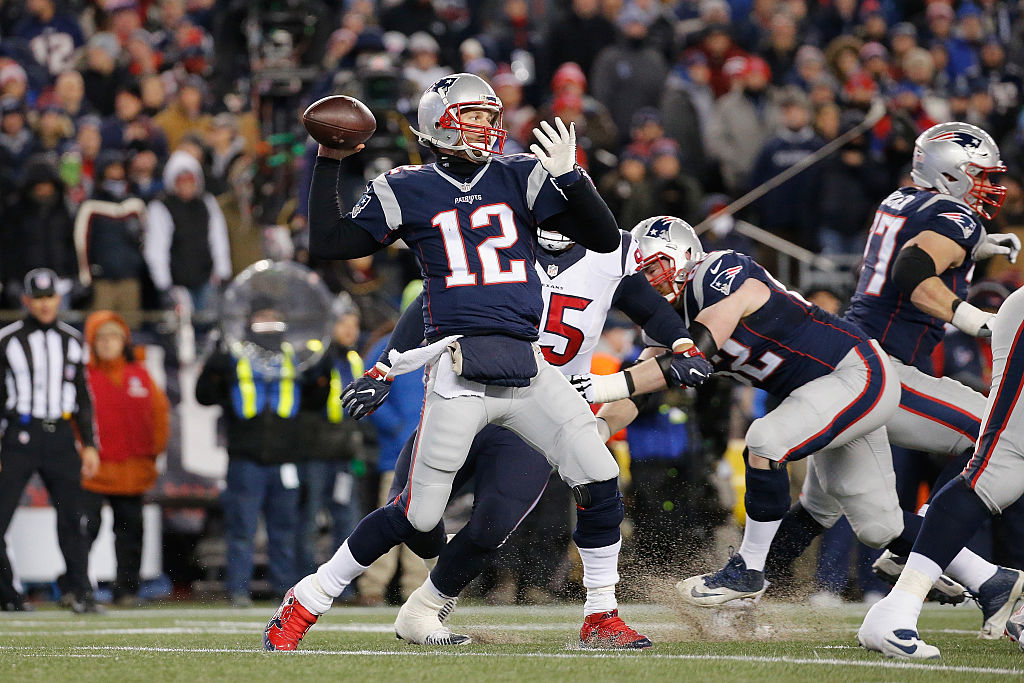 In a matchup against Matt Schaub's Houston Texans in January 2013, Brady dominated the game. The Patriots took a slim lead into halftime and busted the game wide open in the third quarter, taking the game by a score of 41-28. Brady threw three touchdown passes and zero interceptions, posting a passer rating of 115 while going for 344 yards through the air.
6. 1/7/2006 vs. Jaguars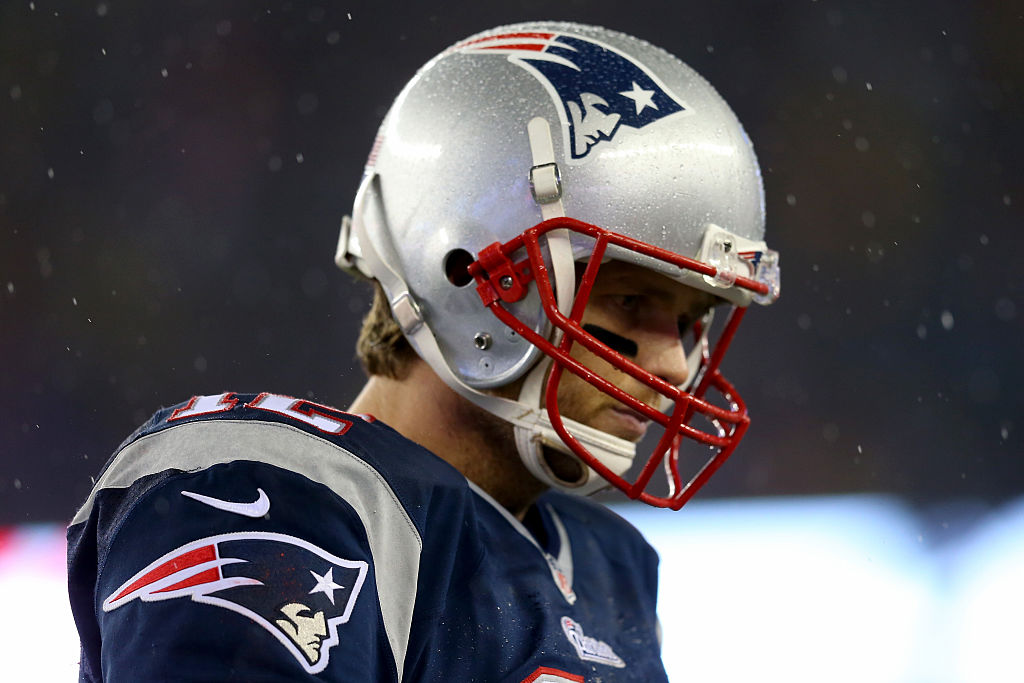 Yet another classic playoff game where Brady was so excellent and precise… He really didn't have to do that much to push his team to victory. The final score in this one was 28-3 over the Jacksonville Jaguars, with Brady only needing to throw 27 passes. He completed 15 of those — three of them for touchdowns — and the Patriots defeated Byron Leftwich to advance and play the Denver Broncos.
5. 1/22/2017 vs. Steelers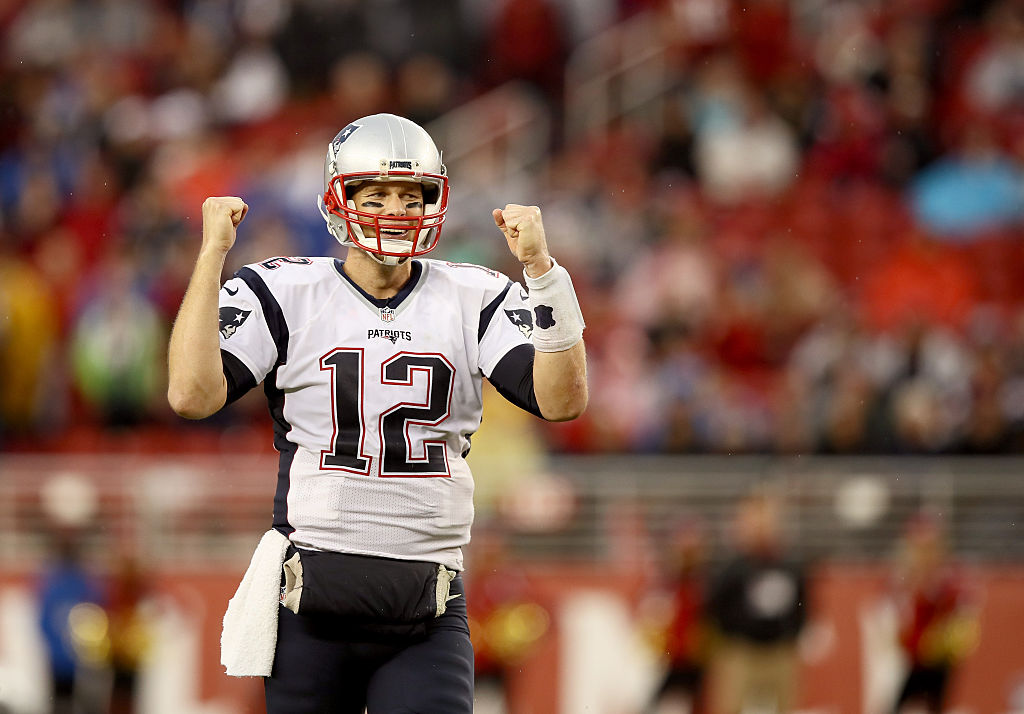 In the precursor to the Patriots' most recent Super Bowl victory, Brady came out victorious against Pittsburgh Steelers quarterback Ben Roethlisberger. Brady was an outrageous 32-for-42 passing — good for 76.1%, with 384 yards and three touchdown passes (two went to wide receiver Chris Hogan, who also had 180 receiving yards). The Patriots won the game, 36-17, to advance to their seventh Super Bowl in 15 years.
4. 1/23/2005 at Steelers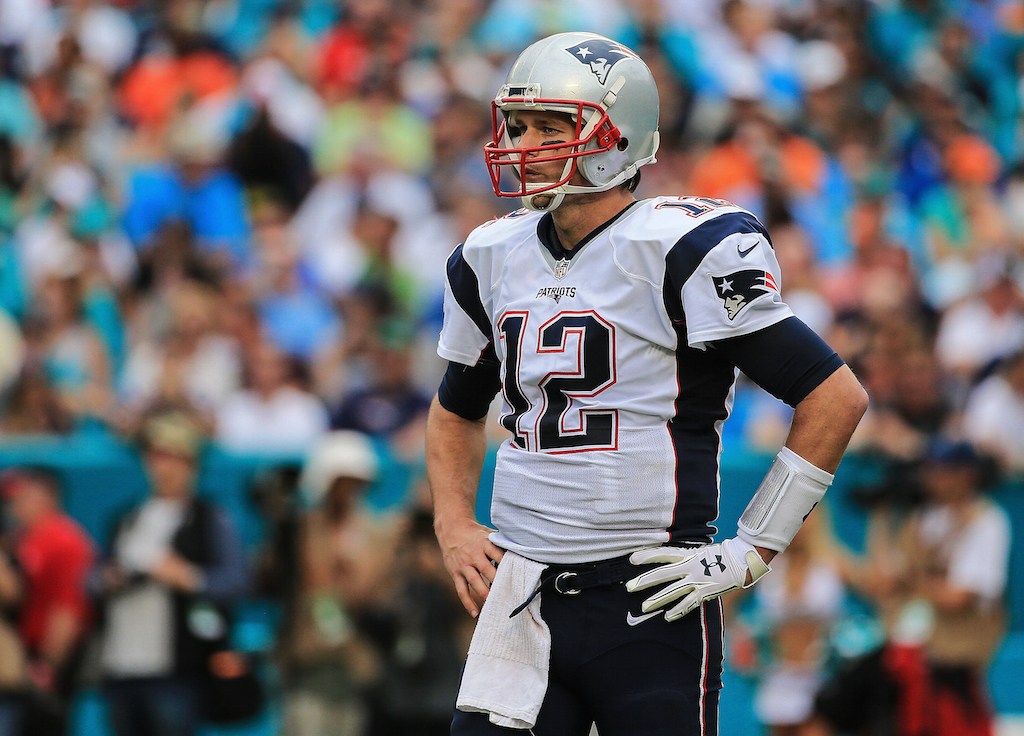 But that's not the only time Brady has bested Roethlisberger in the AFC Championship game. Back in 2005, Brady was a simple 14-for-21 on passes with two touchdowns and 201 yards — for an exceptional 130.2 passer rating — to take down Big Ben and the Steelers. Roethlisberger threw three interceptions in the game, allowing the Patriots to rack up a 24-3 halftime lead that New England never looked back from.
3. 1/14/2012 vs. Broncos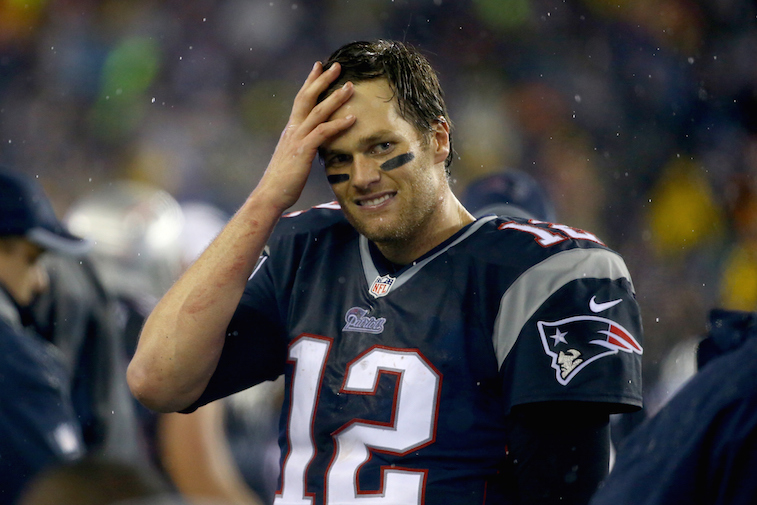 After the Denver Broncos and Tim Tebow pulled out a miraculous win over the Pittsburgh Steelers, they ran into a buzzsaw against the Patriots in January 2012. While Tebow could only muster up 9-for-26 passing with 136 yards, Brady bombed the Broncos' defense for six touchdown passes on 26-for-34 passing and 363 yards — a 137.6 passer rating, for those keeping score at home. The Patriots moved on to play the Ravens in the AFC Championship game.
2. 1/12/2008 vs. Jaguars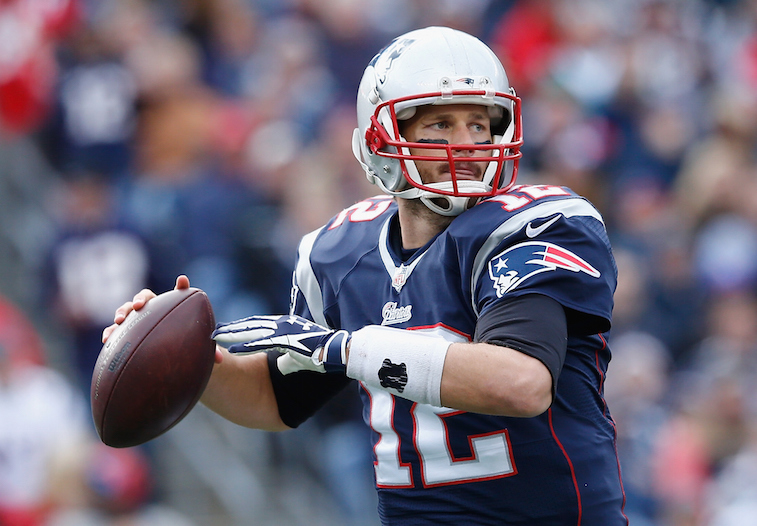 It wasn't a six-touchdown game, but it's definitely the most accurate playoff performance of Brady's career. Against David Garrard and the Jacksonville Jaguars, Brady went 26-for-28 — a completion percentage better than 92 — with three touchdowns and no interceptions to lead New England to a victory. Even more impressive? Randy Moss caught only one of those 26 passes. The final score of this one was 31-20.
1. 2/5/2017 Super Bowl 51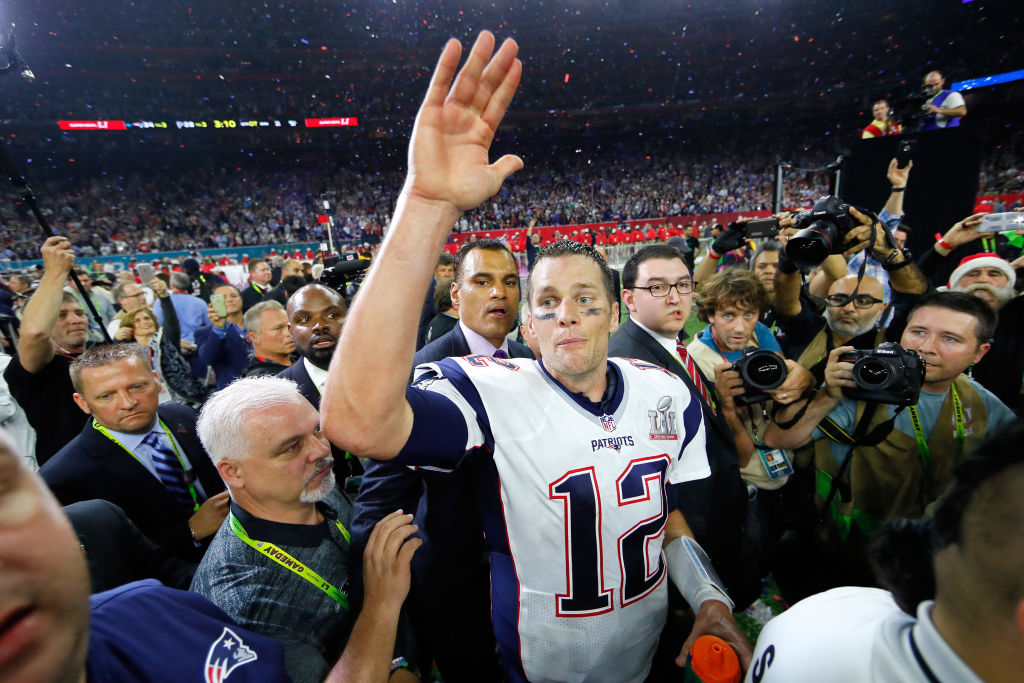 How could any game but this one land in the No. 1 spot? With just over two minutes remaining in the third quarter, the Atlanta Falcons were up 28-3 over Brady's Patriots. It looked dire. But Brady led a furious comeback, helping his team tie the game in the final moment of the fourth quarter and leading the charge downfield for the game-winning score in overtime.
The Patriots scored 25 consecutive points and stole the game from the Falcons. Brady finished 43-for-62 passing for 466 yards — a Super Bowl passing yards record — to go along with two touchdowns and an interception. This game cements Brady's legacy as the greatest to ever play quarterback.
Statistics courtesy of ESPN and Pro-Football-Reference.