Everyone Rory McIlroy Dated Before His Wife, Erica Stoll, Including a Possible Fling With Meghan Markle
Rory McIlroy is known for his golf successes. He has 18 PGA tour wins to his name and a net worth of about $122 million. Although McIlroy is a big name, he chose to marry someone he describes as "living a normal life." After a lot of trial and error, McIlroy settled down with Erica Stoll. The two have been married for two years and have one baby girl named Poppy.
Rory McIlroy was engaged to someone else before Erica Stoll
Back in 2011, McIlroy was engaged to Caroline Wozniacki, reports Heavy. He was actually dating Holly Sweeney when he met Wozniacki, and the chemistry was so strong that he dropped everything to be with her. Sweeney was McIlroy's childhood sweetheart. The two met when he was 16 years old. So Sweeney was somewhat blindsided when he told her he was leaving her for Wozniacki after meeting the tennis star at a boxing match in Germany. 
The couple got engaged in 2013, according to USA Today. But McIlroy and Wozniacki weren't meant to be. Despite trying to make things work, the two were done by 2014, after they had sent out their wedding invitations. In retrospect, McIlroy thinks that dating a fellow athlete was a bad idea.
He told the Irish Independent, "I thought at the time that being with someone that was in a similar position to you was the obvious answer. But it isn't, because you can never get away from it. You can never detach yourself and try to come back to the real world."
Did McIlroy have a fling with Meghan Markle?
Shortly after breaking up with Wozniacki, McIlroy started dating his now-wife, Stoll. But there were rumors that he had a fling with the Duchess of Sussex Meghan Markle. The American actress started dating Prince Harry sometime in 2016 and married him in 2018. Just last year she and Prince Harry left the royal family in an unprecedented act that has been called "Megxit" by the media. Now, she's back in the U.S.
But before all that, around 2014, she may have been involved with McIlroy. The golfer was cozy enough with Markle to nominate her for the viral Ice Bucket challenge in 2014. She agreed, as long as he would be the one pouring the ice. Although the Irish Mirror reported that they were "never more than friends," McIlroy and Markle were seen around town together multiple times before he started dating Stoll. 
Rory McIlroy and Erica Stoll's dream wedding was well-attended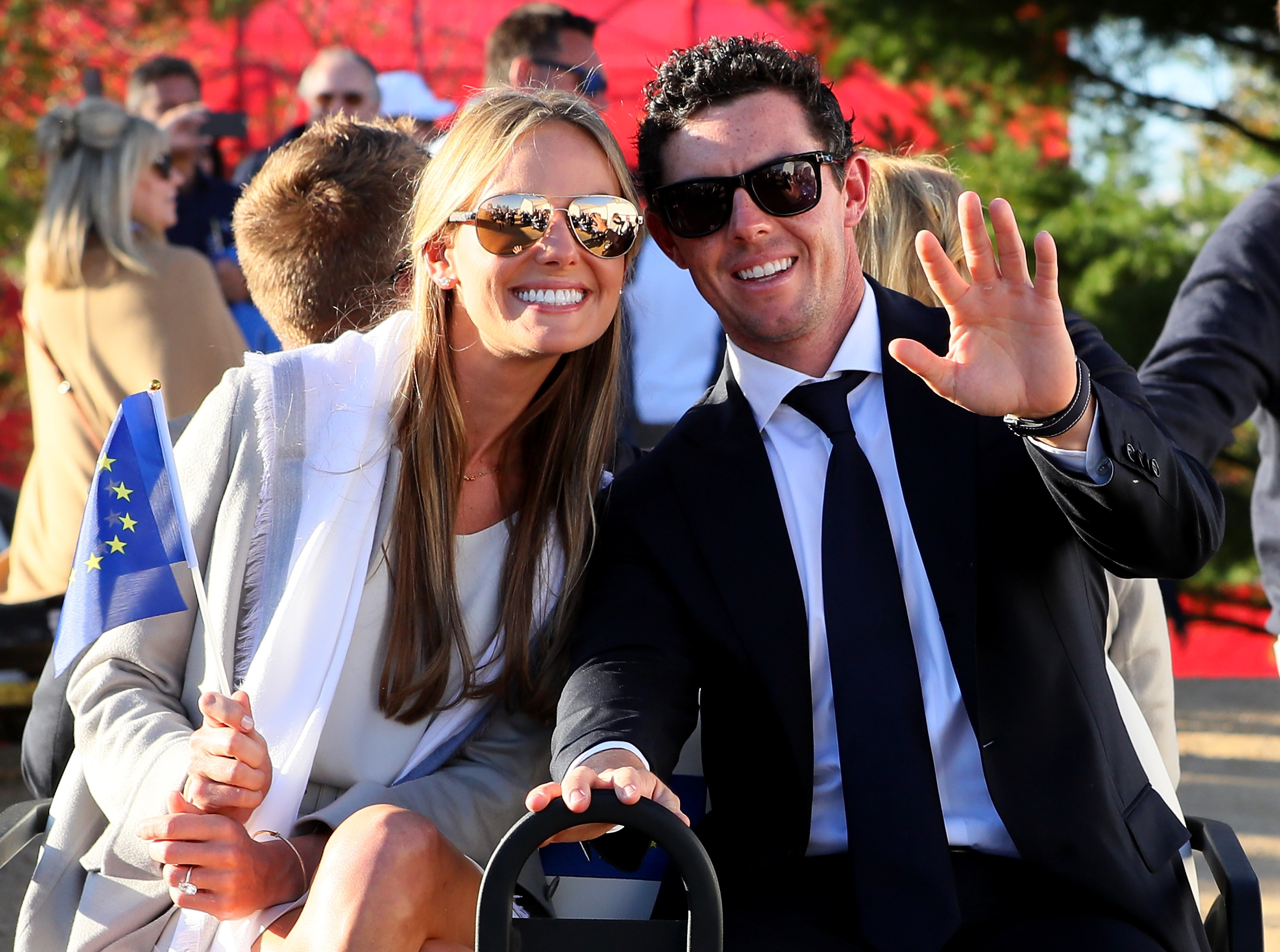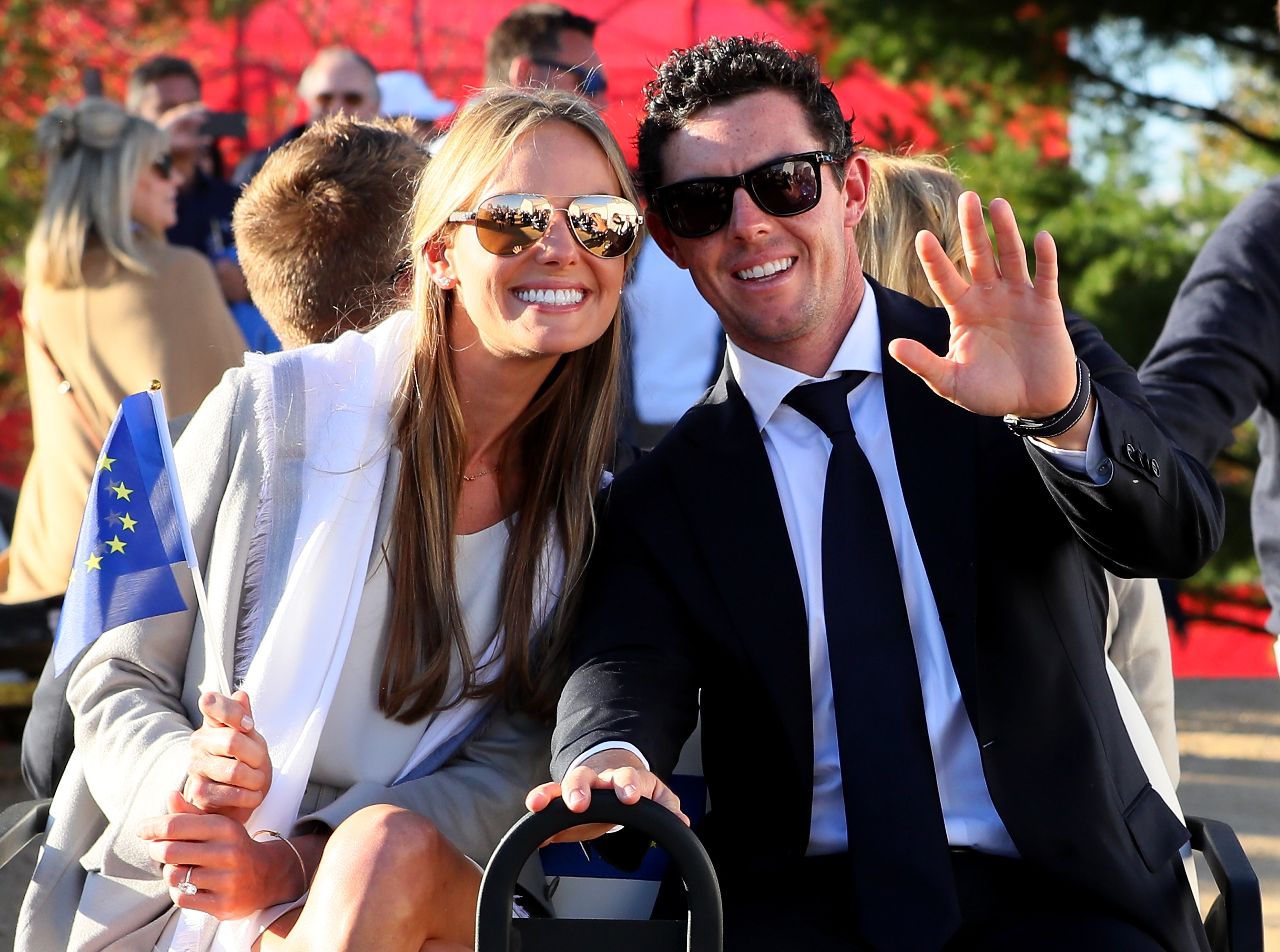 McIlroy married Stoll in 2017. The couple met thanks to golf. Stoll was a PGA employee, and even came to McIlroy's aid when he slept in before a big tournament in 2012. The two didn't start dating right away. In fact, McIlroy was dating Wozniacki at the time. However, the two broke up in 2014, and he was engaged to Stoll by 2015 (although he may have had a fling with Markle in between).
Their wedding was the stuff of fairy tales. It took place in Ashford Castle, an ancient Irish relic turned five-star resort. The wedding was very well attended, by actors, golfers, and singers alike. Stevie Wonder performed on the wedding day, and Ed Sheeran sang the day after, at a post-wedding party.
Singer Niall Horan and actor Jamie Dornan were there. As for athletes, Sergio Garcia, Shane Lowry, and Paul McGinley attended as well. For their wedding night, Stoll and McIlroy stayed in the castle itself. Their royal suite cost them around $4,200 USD. This August, McIlroy and Stoll welcomed a baby girl.