Everything to Know About Trevor Bayne, the Backup Driver for Kyle Busch
Kyle Busch is one of the most popular and successful NASCAR drivers of the past few decades. His skill on the racetrack and occasional fiery interviews have made his No. 18 M&Ms Toyota one of the most recognizable cars in racing. On the off chance Busch can't make it to a race, Joe Gibbs Racing needs a backup driver, and that athlete is Trevor Bayne.
NASCAR fans might recognize Bayne. Before getting tasked with being Busch's backup, his career has gone to some interesting places. This includes winning the biggest race in NASCAR at a record-setting young age and eventually opening a successful coffee shop.
Why does Kyle Busch need a backup driver?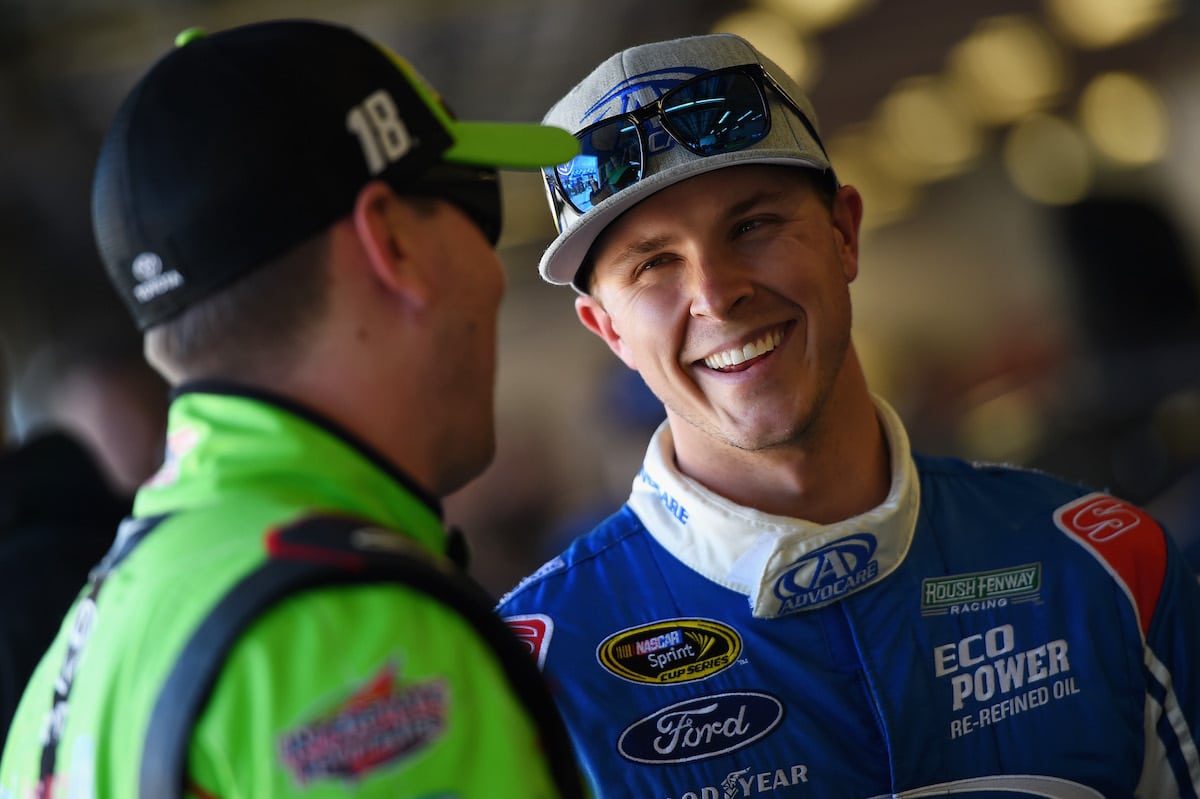 Busch's fans don't need to worry about him; the 37-year-old is not injured or anything like that. Instead, he requires a backup driver because he and his wife are anticipating the birth of their second child. Because Busch could be unavailable at a moment's notice to witness the birth, Joe Gibbs Racing determined that having a backup driver ready was the best option.
Trevor Bayne was ready to drive the No. 18 Toyota at the Cup Series races at Darlington and Kansas, reports NASCAR. Busch has stated he did not select Bayne to be his backup. Instead, the decision was made by Joe Gibbs Racing.
Trevor Bayne found early career success
Trevor Bayne, now 31 years old, has had one of the most unique careers in NASCAR history. Sports Illustrated states that Bayne won the 2011 Daytona 500, the biggest race of the NASCAR Cup Series season. He did this just a day after he turned 20, making him the youngest Daytona 500 winner in history. This would, however, be his only win in the Cup Series.
Bayne's career never quite took hold after his win at Daytona. According to Racing Reference, he won just two Xfinity Series races after his rise to stardom. In the Cup Series, Bayne only drove three complete seasons, being a part-time Cup Series driver every other year.
The Knoxville, Tennessee, native also faced several obstacles that made success much harder to achieve, including a multiple sclerosis diagnosis in 2013, as CNN reports. Eventually, these challenges caught up to him. Bayne found himself out of NASCAR after the 2018 season.
Trevor Bayne is making a NASCAR comeback, but that's not all he's doing
Without a team, Bayne's once-promising NASCAR career seemed to be over. But the Daytona 500 champion had a plan for a second act that would be highly successful. He opened Mahalo Coffee Roasters in his hometown of Knoxville. Now, Bayne operates multiple Mahalo locations.
Even with this  new career, though, the 31-year-old did not give up on resuming his NASCAR career. Bayne got his first shot back in the 2020 Camping World Truck Series where he raced under Niece Motorsports for eight races. His true return to racing was still to come, though.
For the 2022 NASCAR Xfinity Series season, Bayne has signed a deal with Joe Gibbs Racing to drive in seven races, and he's not wasted his opportunities. Out of the three races he's driven in so far, Bayne has claimed two top-five finishes and earned a pole position. He'd done this in the Joe Gibbs Racing No. 18 car, the same number that Kyle Busch drives in the Cup Series. 
RELATED: Trevor Bayne Has Turned Into a Tricky Issue for Joe Gibbs Racing