Everything You Need To Know About Ohio State Coach Larry Johnson Sr.
The Ohio State University has one of the best college football programs in the entire country. It starts with its coaching, too. Of course, they have had stellar head coaches in recent years, like Jim Tressel, Urban Meyer, and now Ryan Day, but they have also had great assistant coaches. One coach who has been extremely valuable for the Buckeyes during the Urban Meyer and Ryan Day eras has been defensive line coach Larry Johnson Sr. So, since he is one of the top assistant coaches in the entire country — here is everything you need to know about him.
Larry Johnson Sr. has been in the Big Ten for over two decades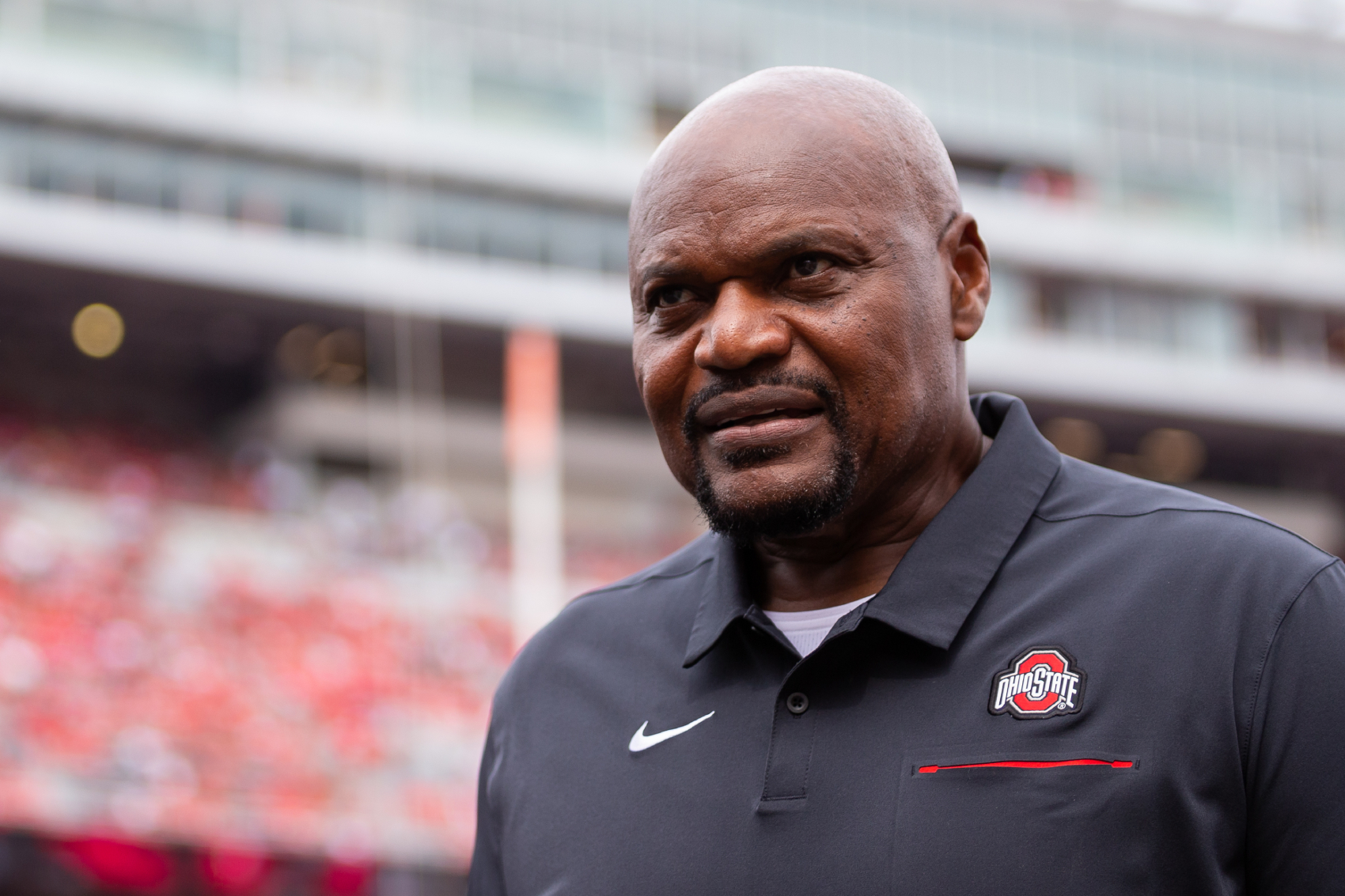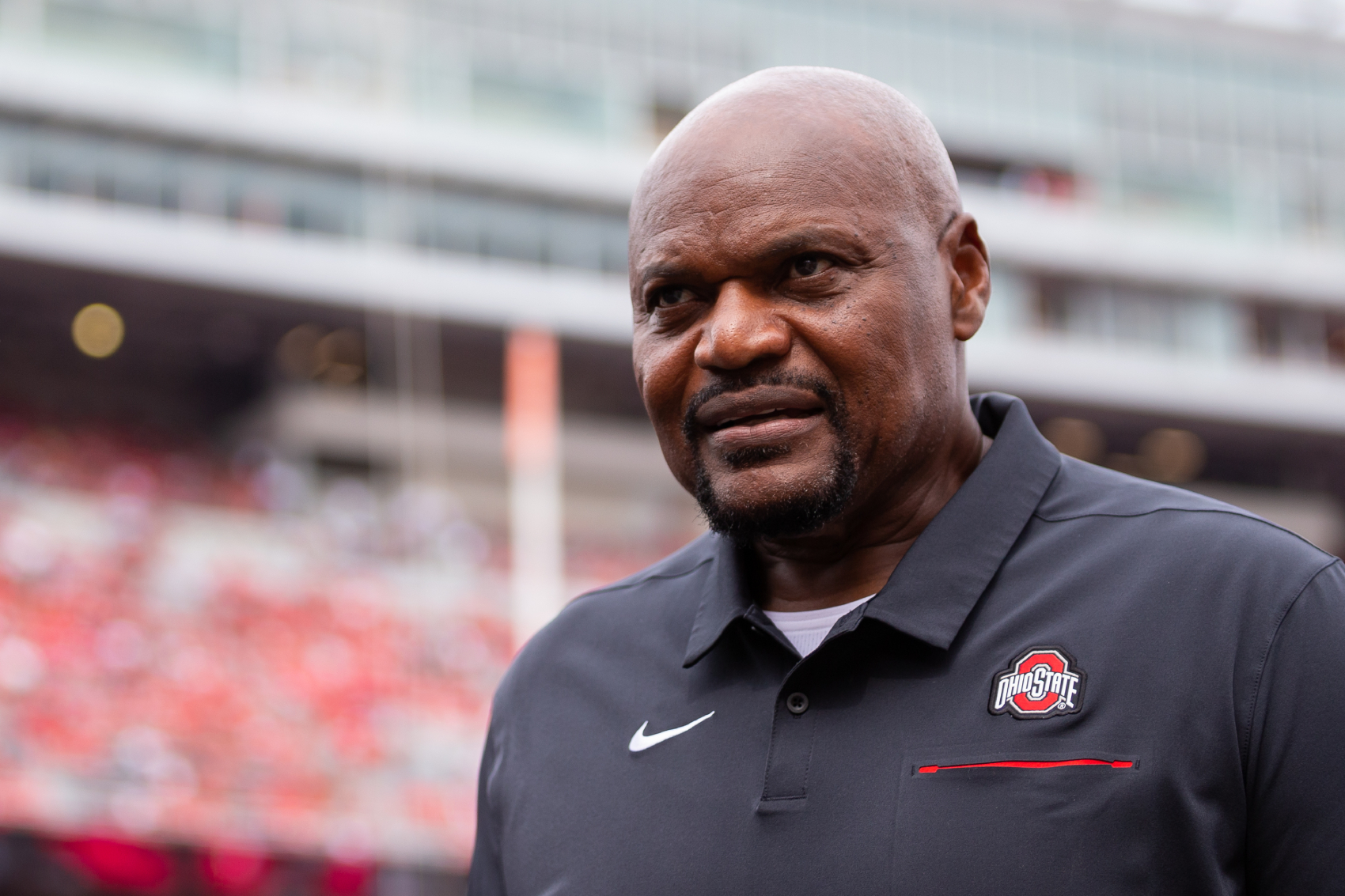 According to his bio on Ohio State's site, Larry Johnson Sr. was an NAIA All-American as a player at Elizabeth City State University. He then played in the NFL for one season in 1973 with the Washington Football Team.
Johnson then coached high school football for 20 years before becoming the defensive ends coach and the special teams coordinator at Penn State University in 1996. Then, from 2000 through 2013, Johnson was the defensive line coach at Penn State.
Johnson then came to Ohio State and joined Urban Meyer's staff in 2014 as the defensive line coach. In his first season with the Buckeyes, Ohio State won the College Football Playoff national championship.
Johnson has been with the Buckeyes since then and even got promoted to associate head coach in 2019. The Buckeyes have made it to the College Football Playoff three times from 2014 through 2019.
In 2020, Johnson became Ohio State's first Black head coach in program history when he had to fill in for Ryan Day, who had COVID-19.
He has developed some great defensive linemen at Ohio State and Penn State
What has made Johnson such a successful coach is that he knows how to develop great defensive linemen. At Penn State, he coached five Big Ten Defensive Linemen of the Year in Courtney Brown, Jimmy Kennedy, Tamba Hali, Jared Odrick, and Devon Still. Brown, Odrick, Still, and Michael Haynes all won the Big Ten Defensive Player of the Year award under Johnson, too.
With Ohio State, Johnson has helped develop superstars. From 2014 through 2017, Johnson had four consecutive Big Ten Defensive Linemen of the Year. Joey Bosa won two consecutive awards in 2014 and 2015, while Tyquan Lewis won it in 2016, and Nick Bosa won it in 2017. Then, in 2019, he developed one of the greatest defensive linemen prospects of all-time as Chase Young won the Defensive Lineman of the Year award that season.
Joey Bosa and Chase Young also won the Big Ten's Defensive Player of the Year award, and Young won the Chuck Bednarik Award in 2019. The Chuck Bednarik Award is given to the best defensive player in college football.
Johnson's Ohio State defensive linemen have also had success in the NFL. Joey Bosa was the No. 3 overall pick in the 2016 NFL draft. He won the 2016 AP Defensive Rookie of the Year award and has been a two-time Pro Bowl selection. He has also had 10 sacks or more in every season he has played in 12 or more games from 2016 through 2019. Nick Bosa was then the No. 2 overall pick in the 2019 NFL draft. He won the 2019 AP Defensive Rookie of the Year award and was a Pro Bowler in that season, as he had nine sacks, 47 total tackles, and 25 QB hits. He also helped lead the 49ers to the Super Bowl that year.
Young was then the No. 2 overall pick in the 2020 NFL draft. Through his first 10 NFL games with the Washington Football Team in 2020, he had 4.5 sacks, 27 total tackles, and five QB hits.
Larry Johnson Sr.'s son was a Pro Bowl selection
In addition to his success as a coach, Johnson's son, Larry Johnson Jr., was also a football star.
During the 2002 season at Penn State, Johnson Jr. ran for 2,087 yards and 20 touchdowns. He also had 2,436 yards from scrimmage and 23 total rushing/receiving touchdowns. 
Johnson Jr. then went to the Kansas City Chiefs in the first round of the 2003 NFL draft. In the NFL, he had two Pro Bowl seasons with the Chiefs. He ran for 1,750 yards and 20 touchdowns in 2005. Then, in 2006, Johnson Jr. was also a First-Team All-Pro as he ran for 1,789 yards and had 41 catches for 410 yards. Johnson Jr. ultimately had 2,199 yards from scrimmage that year and 19 rushing/receiving touchdowns.
By looking at Larry Johnson Sr.'s coaching resume, as well as his son's success, it is clear that he certainly knows a lot about football. The Ohio State Buckeyes and the OSU defensive line are in good hands.
Stats courtesy of Sports Reference and Pro Football Reference