FIFA Corruption Scandal: What Really Happened?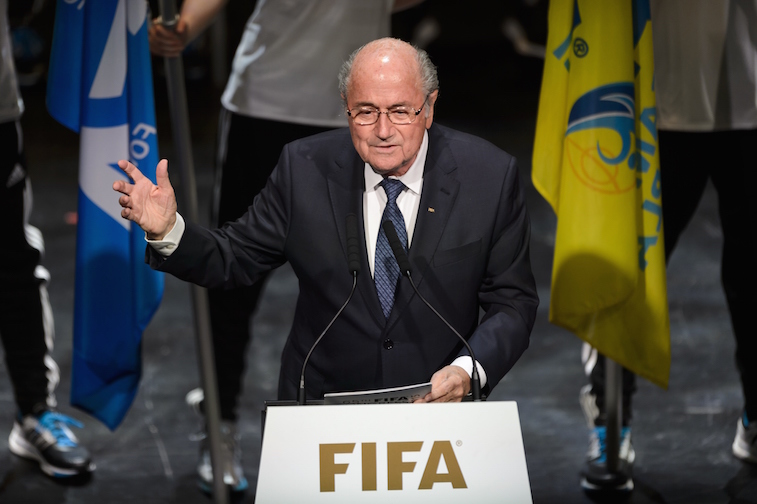 NFL Commissioner Roger Goodell likely spent most of the end of May either dancing around his office or popping bottles of Champagne with his staff. The reason? His league, which many consider to be the most corrupt professional sports league in America, suddenly looks squeaky clean thanks to the recently unsealed 47-count federal indictment charging nine FIFA officials and five corporate executives with racketeering, wire fraud, money laundering and bribery, in addition to a handful of other offenses.
As it turns out, the indictments read more like a list of charges against an organized crime family than it did the governing body of international soccer. At the roots of the corruption charges, which dated back almost 25 years, are claims of bribery, cover-ups, and kick-back payments. As U.S. Attorney General Loretta E. Lynch laid it out while she was announcing the charges, "the indictment alleges corruption that is rampant, systemic, and deep-rooted both abroad and here in the United States. It spans at least two generations of soccer officials who, as alleged, have abused their positions of trust to acquire millions of dollars in bribes and kickbacks." It appears as though the prosecution's case against the 14 defendants was made possible by at least one whistle blower. Charles Blazer, who was a FIFA official from 1996-2013 and has already plead guilty in the case, appears to have served as the one of the prosecution's key witnesses as they built their case. Blazer detailed multiple occasions in which he (and associates) accepted bribes and even went as far as describing six years of personal income tax evasion. As a part of his guilty plea, Blazer, who was once one of the most powerful men in world soccer, was forced to forfeit $1.9 million, and will be making another similar payment at the time of his sentencing.
International soccer has long been considered to be the most corrupt professional sport in the world. Wednesday's unsealing of the federal indictment did nothing but confirm those thoughts. Interestingly enough, longtime FIFA president Sepp Blatter (pictured above) was not one of the 14 individuals charged in the indictment. This will be an ongoing story worth following, especially if it is proven that the alleged corruption truly was systemic. Blatter is arguably the most powerful person in all of sports, and could be the ultimate target in the crack down. As acting U.S. attorney for the Eastern District of New York Kelly Currie put it, Wednesday's indictment "is the beginning of our work, not the end."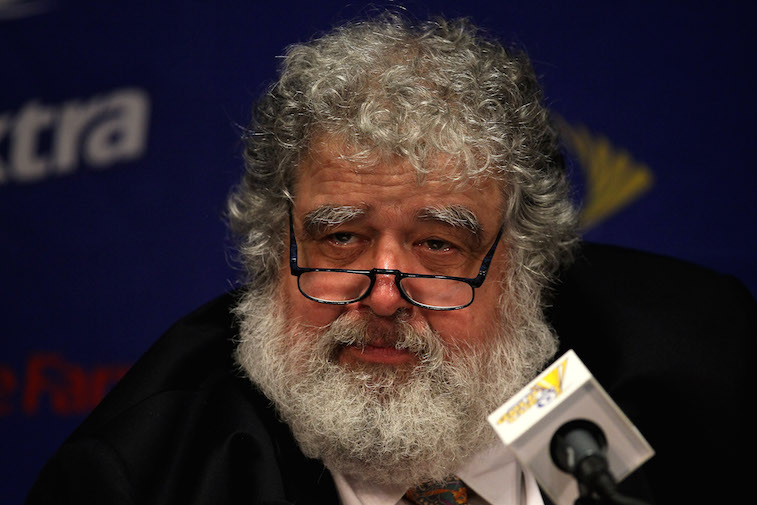 As we previously had mentioned, the core of the corruption within FIFA revolves around bribery. According to excerpt from the indictment document titled United State vs. Charles Blazer, several bribes occurred during the bidding process for potential World Cup host cities. It began with the selection of the host for the 1998 World Cup. The indictment details how Blazer (pictured above) and a co-conspirator traveled to Morocco to meet with the Moroccan bid committee and how bribe payments in exchange for votes were agreed upon. Despite Morocco losing the bid to France, the bribery payments were still made.
The next charge against Blazer and his co-conspirators dealt with their selling of the media and marketing rights for the Gold Cup, a tournament featuring the member nations of CONCACAF. Beginning with the 1996 Gold Cup and continuing on for four more editions of the tournament, Blazer and others accepted hundreds of thousands of dollars in payments from a sports marketing company that was based in South America but had an affiliate in the U.S. The indictment also presents details of how Blazer and his co-conspirators attempted to disguise the kick-back and bribery payments in bank accounts controlled by Blazer.
Lastly, the indictment details exactly how Blazer and two of his co-conspirators sold their votes for the 2010 World Cup host site to South Africa. When it was all said and done, Blazer was left facing charges of wire fraud, racketeering, money laundering, and tax evasion. While the charges against Blazer are significant and eye-opening, the 70-year-old was simply one of several key figures in a $150 million scandal.
Courtesy of the U.S. Department of Justice, here is a look at the 14 individuals who were charged in the indictment Wednesday morning.
Jeffrey Webb

:  Current FIFA vice president and executive committee member, CONCACAF president, Caribbean Football Union (CFU) executive committee member and Cayman Islands Football Association (CIFA) president.

Eduardo Li

:  Current FIFA executive committee member-elect, CONCACAF executive committee member and Costa Rican soccer federation (FEDEFUT) president.

Julio Rocha

:  Current FIFA development officer.  Former Central American Football Union (UNCAF) president and Nicaraguan soccer federation (FENIFUT) president.

Costas Takkas

:  Current attaché to the CONCACAF president.  Former CIFA general secretary.

Jack Warner

:  Former FIFA vice president and executive committee member, CONCACAF president, CFU president and Trinidad and Tobago Football Federation (TTFF) special adviser.

Eugenio Figueredo

:  Current FIFA vice president and executive committee member.  Former CONMEBOL president and Uruguayan soccer federation (AUF) president.

Rafael Esquivel

:  Current CONMEBOL executive committee member and Venezuelan soccer federation (FVF) president.

José Maria Marin

:  Current member of the FIFA organizing committee for the Olympic football tournaments.  Former CBF president.

Nicolás Leoz

:  Former FIFA executive committee member and CONMEBOL president.
Four of the defendants were sports marketing executives:
Alejandro Burzaco

: Controlling principal of Torneos y Competencias S.A., a sports marketing business based in Argentina, and its affiliates.

Aaron Davidson

: President of Traffic Sports USA Inc. (Traffic USA).

Hugo Jinkis:

Controlling principal of Full Play Group S.A., a sports marketing business based in Argentina, and its affiliates.

Mariano Jinkis

: Controlling principal of Full Play Group S.A., a sports marketing business based in Argentina, and its affiliates.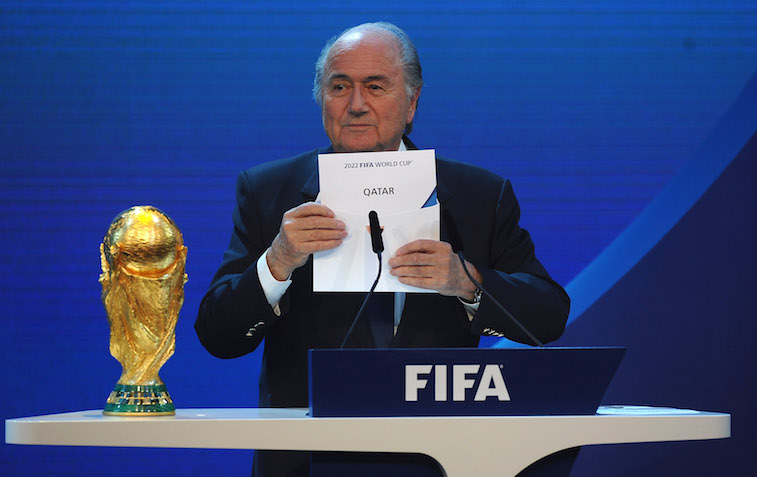 The unsealing of the indictments on Wednesday is merely the first step in what will likely be a lengthy legal battle. For starters, the U.S. is going to have to extradite the defendants from Switzerland. According to a treaty between the United States and Switzerland, the Swiss have the right to refuse extradition on tax crimes, but as a part of the treaty, they have agreed to turn people over for prosecution in criminal cases such as this.
In the coming days and months, we will also likely learn of the bribery payments made by Russia for the 2018 World Cup and by Qatar for the 2022 World Cup. Russia had a legitimate case as a potential host country, but only a fool would believe that Qatar won the 2022 bid based on merit alone. Let's take a brief moment to look at the facts here. Qatar has little-to-no soccer tradition, is roughly the size of Connecticut, has summer temperatures well north of 100 degrees, has been under massive amounts of scrutiny for their atrocious human rights track record, lacks an adequate highway and mass transit system to handle a World Cup, needs to build an airport capable of handling World Cup traffic, and last but not least, they still need to build at least 12 state of the art stadiums equipped with 700,000 seats. Given all of their logistical and geographical limitations and shortcomings, we find it hard to believe that Qatar fairly and legally won the 2022 World Cup bid over the likes of the United States, Japan, South Korea, and Australia. As of now, however, Qatar is in not danger of losing the 2022 World Cup, and it will stay that way as long as Blatter is the acting president of FIFA.
Wednesday's unsealing of the federal indictment was undoubtedly an ugly day for international soccer. The fact that the corruption in question was worldwide, spanned multiple generations, and included well over $100 million in bribery money make this arguably the biggest scandal in the history sports. The legal ramifications of the indictment likely won't be known anytime soon, but it's still safe to say that Wednesday was a great day for international soccer.
The complete 47-count indictment can be found here.