Everything You Need to Know About the NBA's Rookie Coaches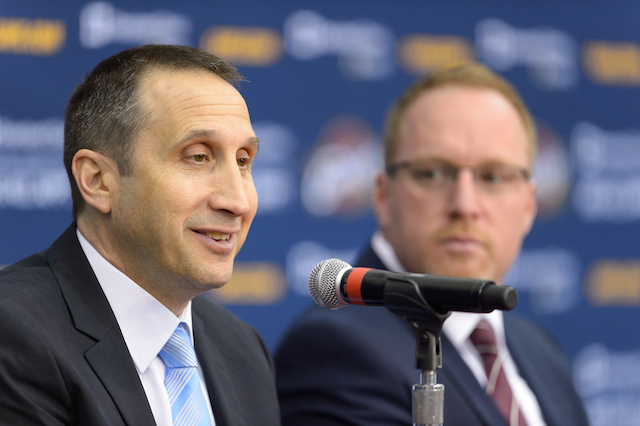 With the 2014-2015 NBA season about to tip off, nine new head coaches will be pacing the sidelines. Of these, Stan Van Gundy, Flip Saunders, Jason Kidd, Lionel Hollins, and Byron Scott have previous head coaching experience in the league, so only four are truly 'new.'
David Blatt (pictured, above) has taken over the Cavaliers, Derek Fisher will be coaching the Knicks, Steve Kerr is in charge of the Warriors, and Quin Snyder will be running the Jazz.
Who are these four men? Where did they come from? Most important: will they win?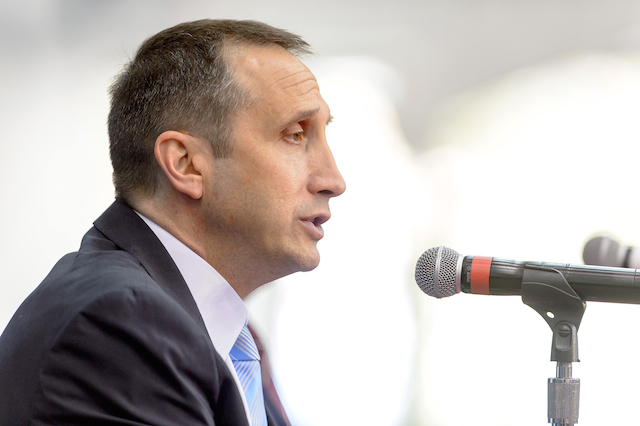 David Blatt, Cleveland Cavaliers
Where he came from:
The former Princeton player has been based in Israel for the past few decades — first as a player, then as a coach. Blatt has been immensely successful, winning championships at a stunning rate (
19 in 21 years, according to CBSSports.com
) and is known as one of the smartest basketball minds in the world. In addition to his years coaching basketball clubs (which includes a Euroleague title in 2014 with Maccabi Tel Aviv),
he also
led Russia's Olympic team to 2012 bronze medal. Blatt becomes the
first coach
to make the jump from an international basketball position straight to an NBA head coaching gig.
Why he'll succeed: LeBron James. Kyrie Irving. Kevin Love. Next question.
Why he'll fail:
There's sure to be an adjustment for Blatt as he gets acquainted on a personal level with the NBA game. Everything from rules to culture will be very different. Blatt will be under a microscope from the get-go because of the super team Cleveland assembled this summer. No matter what LeBron said in his "
Coming Home
" essay about how long it would take the new-look Cavs to win a title, Blatt's a smart guy, and he knows the truth: anything less than an NBA championship will be a disappointing season for a team and a city that's never won one.
Derek Fisher, New York Knicks
Where he came from:
Fisher is making the transition from player to coach after an 18-year NBA career. Fisher spent the majority of his time on the court as a member of the Los Angeles Lakers, where he won five championship rings (2000, 2001, 2002, 2009, and 2010). He also served
as president
of the players association for seven seasons.
Why he'll succeed: Fisher will be working for Phil Jackson as basically an extension of the winningest coach in NBA history. He'll have a proven offensive system to put in — the triangle — and he gets to coach the NBA's second leading scorer, which means the Knicks will never really be out of a game.
Why he'll fail: The triangle isn't easy to teach. The rest of the roster needs serious work (last season's second leading scorer on the team behind Carmelo Anthony averaged less than 15 points per game). The players may not take Fisher seriously with no coaching experience to speak of. Every championship that his mentor Jackson won as a coach had Michael Jordan or Kobe Bryant on the team. 'Melo (10 losses in 13 career playoff series) is not either of those guys, to put it kindly.
Steve Kerr, Golden State Warriors
Where he came from: Kerr was a five-time NBA champion as a player, winning three titles with Jordan's Bulls (1996-98) and then adding two as a member of the Spurs (in 1999 and 2003). He just finished his second stint as an analyst for TNT  with a three-year run as general manager of the Suns (2007-2010) sandwiched between.
Why he'll succeed: Kerr is blessed with one of the best backcourts in the NBA, and USA Basketball stars Stephen Curry and Klay Thompson will shoot this team to plenty of victories. Predecessor Mark Jackson laid the foundation for success with two straight playoff appearances, and Golden State looks to be one of the league's up-and-coming teams for years to come.
Why he'll fail:
Teams that live by the three tend to die by the three. Can the Warriors win games when their shots aren't falling? Also, this franchise isn't exactly known as a perennial winning club. Before the last two years, Golden State had
missed the postseason
in 17 of the previous 18 campaigns.
Quin Snyder, Utah Jazz
Where he came from:
Snyder played on three Final Four teams at Duke and is best known as the former coach at Missouri (1999-2006). Snyder (pictured during his time on the Mizzou sidelines) took the Tigers
to the NCAA tournament
four consecutive years. He was a head coach in the D-League from 2007-2010, and has served as an NBA assistant with
three different franchises
since then (76ers, Lakers, and Hawks, respectively).
Why he'll succeed: Snyder has paid his dues at seemingly every level of basketball and knows what it takes to win. He's part of the Krzyzewski coaching tree and has experience running a ballclub in the spotlight from his time in Columbia. He has a young, talented roster headlined by Gordon Hayward, Derrick Favors, and a pair of top-10 picks from the last two years: Trey Burke and rookie Dante Exum.
Why he'll fail:
The Jazz
have only made
the playoffs once since trading Deron Williams to the Nets, and the bright future on paper for the latest version of this team hasn't yet materialized on the hardwood. Is Snyder the right man to coax stardom out of Hayward, Favors, Burke, Exum, and the rest? Utah has its work cut out for it in the loaded Western Conference, and that won't change anytime soon.