Everything You Need to Know About the NFL's Rookie Coaches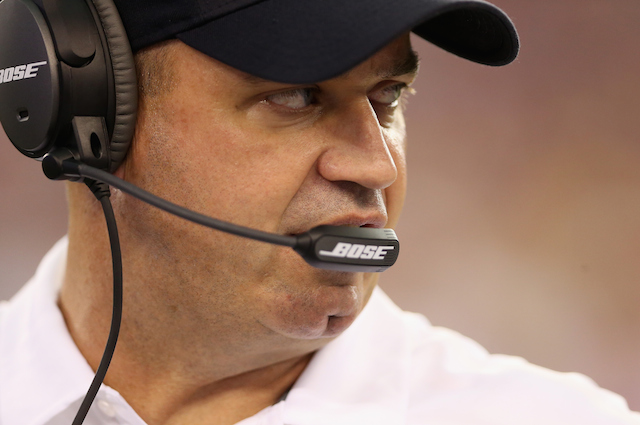 With the 2014 NFL season about to kick off, seven new head coaches will be roaming the sidelines. Of these, Jim Caldwell, Lovie Smith, and Ken Whisenhunt have previous head coaching experience in the league, so only four are truly 'new.'
Jay Gruden is now in charge of Washington, Bill O'Brien is the new Houston Texans coach, Mike Pettine is leading the Cleveland Browns, and Mike Zimmer has taken over in Minnesota.
Who are these four men? Where did they come from? Most importantly: will they win?
Jay Gruden, Washington Redskins
Where he came from: Gruden was the Bengals' offensive coordinator from 2011-2013 before joining Washington. Cincinnati made three playoff appearances in Gruden's three years there, which (knowing the recent history of that franchise) seems to be a major strength of his resume.
The 47-year-old is only the second most famous member of his family, as elder brother Jon Gruden led the Buccaneers to a Super Bowl championship in the 2002 season and currently serves as the color commentator for ESPN's Monday Night Football.
Jay Gruden was an offensive assistant on his brother's Bucs staff last decade while also quarterbacking and later coaching his Arena Football League team, the Orlando Predators.
Why he'll succeed: If you can score points in Cincinnati, can you score points anywhere? In all seriousness, Washington is only one season removed from a 2012 NFC East championship, and if Robert Griffin III returns to his Rookie of the Year form, Gruden's team could challenge for a division crown sooner as opposed to later.
Why he'll fail: RG3 hasn't looked like himself on the field lately, and all of the headlines in Washington have been off-the-field. When seemingly every week another well-known pundit is decrying the team's mascot and name, it's not exactly an ideal, focused situation for winning football games.
Bill O'Brien, Houston Texans
Where he came from: O'Brien spent the last two years as the head coach at sanctions-riddled Penn State. He did a more than admirable job recruiting (and winning at) a university with limited scholarships and no bowl eligibility, and posted 8-4 (2012) and 7-5 (2013) records during his two seasons in Happy Valley. Before he went to PSU, O'Brien was an assistant to Bill Belichick in New England from 2007-2011, including serving as offensive coordinator in 2011.
Why he'll succeed: Houston has to be an easier place to win than Penn State, and O'Brien's team will actually have — or at least dreams of — a postseason to play for. O'Brien inherits current star defensive lineman J.J. Watt and future star defensive lineman (and overall No. 1 pick) Jadeveon Clowney. There are no dominant teams in the AFC South (the Colts are too young and new on the scene under Andrew Luck to claim that distinction yet), and O'Brien has to like his chances to improve quickly.
Why he'll fail: The key word in the previous section is 'improve,' as O'Brien takes over a team that won less than 13 percent of its games a year ago. The Texans got the No. 1 pick for a reason (after finishing 2-14), and it remains to be seen if their best offensive player, star WR Andre Johnson, will fully buy in to the new regime. Oh, and Ryan Fitzpatrick doesn't exactly scream 'franchise quarterback' (which may be why Houston recently dealt for Ryan Mallett).
Mike Pettine, Cleveland Browns
Where he came from: Pettine's background is on the defensive side of the ball with stops in Baltimore (2002-2008), New York (Jets, 2009-2012), and Buffalo (2013) — the latter two as defensive coordinator. Pettine's teams in each of the last five years finished in the top 10 in the league in total defense.
Why he'll succeed: The Browns have some nice pieces on defense and seem to be trending the right direction. The fan base is excited about the Johnny Manziel era, and Pettine could ride the wave to a surprisingly successful 2014 and beyond if the Heisman winner even halfway lives up to the hype.
Why he'll fail: The Johnny Manziel wave could go in a very different direction. It's been said many times that 'if you have two quarterbacks, you have none.' With the off-field questions surrounding Manziel, the potential for drama in Cleveland could get Pettine's head coaching career off to a rocky start. Also, it's the Browns. The team doesn't exactly have an established culture of success.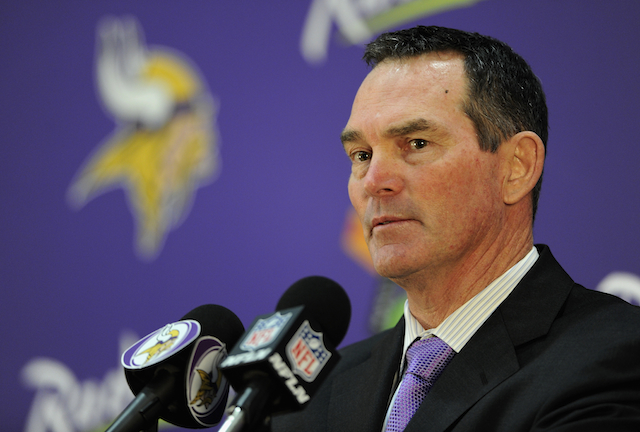 Mike Zimmer, Minnesota Vikings
Where he came from: Zimmer has been waiting for his chance to call the shots for a team after serving the last 21 years as an assistant in the NFL. The 58-year-old Zimmer was a defensive coordinator for the past 14 seasons in Dallas, Atlanta, and Cincinnati and has finally graduated to a head coaching position.

Why he'll succeed: Adrian Peterson gives any coach a chance to win. Zimmer knows defense, and he'll need it in the NFC North against the Cutlers, Rodgers, and Staffords of the world.

Why he'll fail: Matt Cassel doesn't look like the answer under center, and only time will tell if spending a first round pick on Teddy Bridgewater will pay off. Zimmer will need to rely on (and shape) a defense that led the league in points allowed a year ago. Of course, things can only go up from there, right?