Everything You Need to Know About Tori Foles, the Wife of Philadelphia Eagles Quarterback Nick Foles
We remember Nick Foles best for his amazing Super Bowl plays that helped the Philadelphia Eagles conquer one of the best NFL teams in the league, the New England Patriots. And while NFL season ramps up, we're all excited to see what Foles does next. But football aside, behind every great player is a fantastic family cheering him on — and fans are curious as to what his wife, Tori Foles, is really like.
Tori and Nick met when they were both in college
The story of Tori and Nick echoes the sentiment of "love at first sight." Elite Daily notes the two went to the University of Arizona, which is where they first met. Foles, of course, played football at the time, and Tori was on the volleyball team. And when Nick first laid eyes on Tori while heading to a football physical, he reportedly called thinking, "Wow, this might be the most gorgeous person I've ever seen."
They started dating after they both graduated in 2011, but even so, it seems Nick had a feeling they'd end up together.
Her brother played for the Eagles before Nick did
Tori and Nick may not have dated in college, but they certainly became close friends. And they both shared a football connection very early on. Bustle explains Tori's brother Evan started playing for the Eagles in 2012 as a tight end, oddly enough. And Heavy explains both Nick and Evan played for the Eagles briefly at the same time before they were brothers-in-law (Nick and Tori got engaged in 2014).
She was diagnosed with POTS in 2013
Tori's health problems have made media news before. CNN explains she was diagnosed with postural orthostatic tachycardia syndrome, or POTS, back in her mid-20s. When you have POTS, your autonomic nervous system malfunctions, causing your body to function involuntarily. Typically, those with the condition experience extreme fatigue, gastrointestinal problems, and lightheadedness.
Most people with this condition are women, and it affects between 1 and 3 million Americans. One of the most telling symptoms of POTS is a severe jump in heart rate when you go from sitting to standing. Normally, the heart rate will rise by 10 to 15 beats per minute when you get up from a seated position. But POTS patients will experience a rise of 30 to 60 beats, causing them to become faint.
Tori had a heart time getting diagnosed, and the couple even got engaged at the Mayo Clinic. "We've never had a wedding ceremony, we've never had a honeymoon, but … just to see her strength, and to see her determination and her health continue to improve … it's amazing," Nick said. "It gives me strength because I know she deals with it every single day."
Later, Tori also announced she was given an underlying diagnosis of Lyme disease.
Tori and Nick are both very religious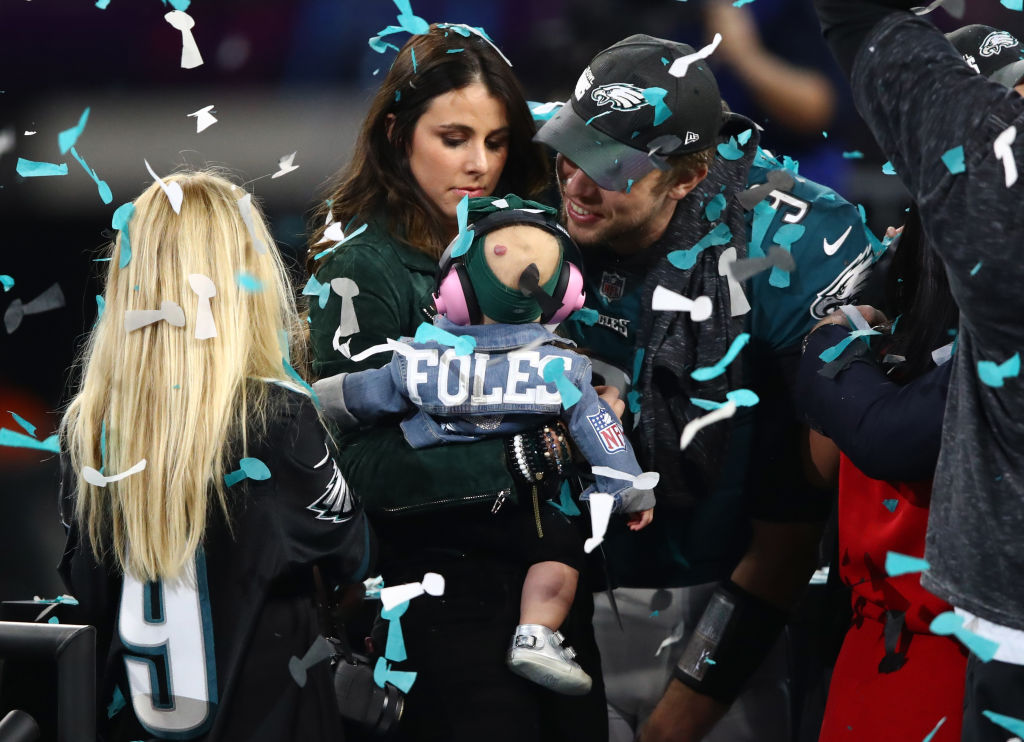 The Christian faith is a huge part of Nick and Tori's life. The Washington Post notes Nick has even said he'd love to become a pastor to high school students once he's finished with football. As he told the Associated Press, "I took a leap of faith last year and signed up to take classes at seminary. I wanted to continue to learn and challenge my faith." And like Nick, Tori is also very much involved with religion.
Bustle notes Tori wrote in a blog post that dealing with her illness has been "a journey of faith, hope, and trust in the process that God has set out for me." Also, in regards to watching her husband succeed on the field, she wrote, "We've learned it is best to just embrace this crazy lifestyle and enjoy the process that God is constantly crafting."
Their daughter was born in 2017
Due to her POTS, CNN notes Tori was unsure if she'd even be able to have children. "I always knew I wanted to have children, but there were days I couldn't take care of myself, so how could I take care of a baby?" she said. Thankfully, after focusing on managing her illness by maintaining a healthy lifestyle, she was able to have a daughter, Lily James, in June 2017.
In regards to keeping her illness at bay and taking care of her and Nick's daughter, Tori said she's "had to be more disciplined" than ever before. "Having a system and routine is important."
For Nick, his daughter and wife are the most important aspects of his life. Before the last Super Bowl, Bustle notes Nick said he feels blessed that he gets to go home to his wife and daughter after all is said and done. And when it comes to his daughter, he mentioned, "I know she is going to grow up and I want her to be proud of her daddy."