Ex-Astros Outfielder Preston Tucker Just Turned a Korean Home Run Into a $30,000 Car
Former Houston Astros outfielder Preston Tucker always had a power bat and flashed it during his three Major League seasons. Now playing in Korea, Tucker realized just how valuable his home run skills can be in the right situation.
A rising star in Korean baseball, here's how Preston Tucker made the Astros proud and turned his home run efficiency into a $30,000 car.
Preston Tucker played three Major League seasons
RELATED: Where Is Nolan Ryan Today and What Is His Net Worth?
Before the Houston Astros won a World Series title and damaged the reputations of everyone involved with that team, they were a rebuilding team hoping to get the most out of any prospects they could.
Preston Tucker was one of those prospects. He debuted with the Astros in 2015 and hit .243 with 13 home runs, 33 RBIs, and 19 doubles in 98 games.
Tucker impressed at times but only had a .297 on-base percentage and struck out 68 times in 300 at-bats.
Tucker hit only .164 with four home runs and eight RBIs in 48 games during the 2016 season. Houston traded him to Atlanta in December 2017.
Tucker hit .256 with four homers and 22 RBIs in 62 games for the 2018 Braves, but they traded him to the Reds midseason. Atlanta brought Tucker back later in the year, though.
Tucker is now playing in the Korea Baseball Organization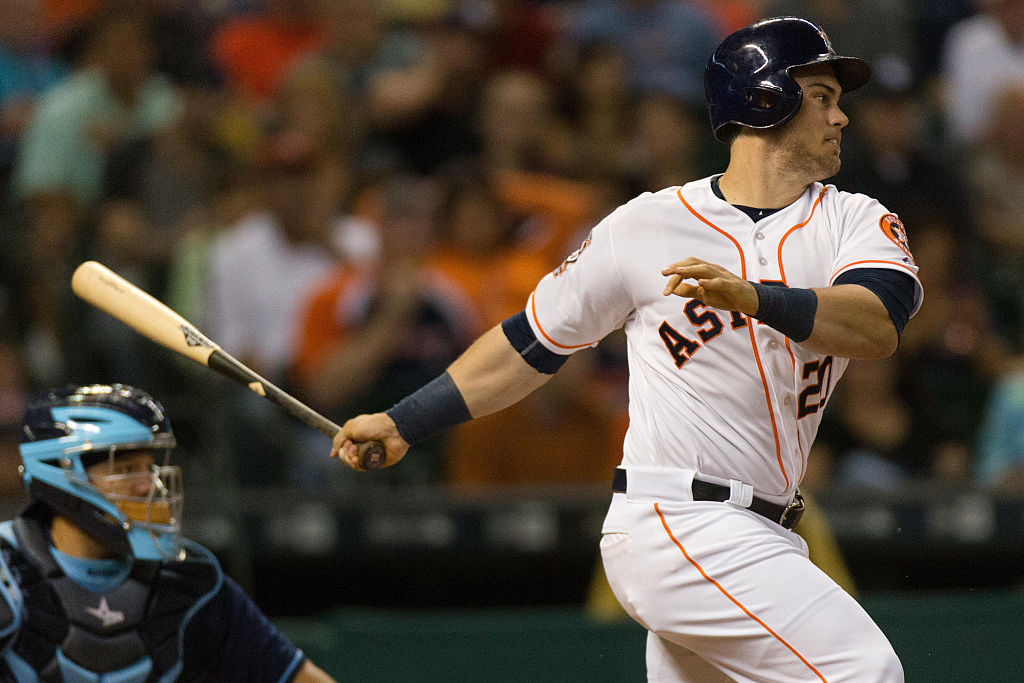 RELATED: Hall of Fame First Baseman Jeff Bagwell Can Say He's the Only Player in the MLB to Do This
Preston Tucker, unlike his former Astros and Braves teammates, is actually playing baseball right now. Tucker signed with the Korea Baseball Organization's Kia Tigers last year and hit .311 in 95 games.
Tucker totaled nine home runs, 50 RBIs, and displayed excellent plate discipline by drawing 38 walks to 44 strikeouts.
The 29-year-old Tucker returned to Korea this season, although the season was delayed because of the coronavirus pandemic. When the season finally opened, Tucker immediately broke out for some of his best numbers at any level.
Preston Tucker hit .475 with four home runs, 19 RBIs, six doubles, and six walks in the first 11 games. He also only struck out twice in his first two plate appearances.
Preston Tucker won a $30,000 car by hitting a home run
RELATED: A Houston Astros Cheating Scandal Ring Will Soon Sell for Thousands of Dollars
The benefit of playing for the Kia Tigers, as Preston Tucker quickly learned, is the potential of earning a car.
Tucker's fifth home run of the season reached the "Home Run Zone," an area just beyond the fence in right-center field at Kia Challengers Field.
The "Home Run Zone" features a Kia Sorrento perched on a small platform and Tucker's home run hit the car. Instead of earning a fine for damaging the car, Tucker received a Kia Sorrento of his own.
The Kia Sorrento ranges in prices from nearly $27 million to almost $40 million, according to US News.
Preston Tucker has found a home in South Korea and he's playing the best baseball of his life. It may be a bit before Tucker returns stateside, but if he does, don't be surprised if he shows up to his new team in a Kia Sorrento.