Ex-Eagles Partners Doug Pederson and Carson Wentz Have Put the Bad Blood Behind Them: 'Let's Be Men About It'
Only three years after winning the Super Bowl, the Philadelphia Eagles parted ways with veteran quarterback Carson Wentz and head coach Doug Pederson following the 2020 season.
A talented partnership that began in 2016 ended with mediocre performances, a lingering feud, and an ugly divorce. However, it appears that the breakup proved to be the best thing for Pederson and Wentz's relationship.
Doug Pederson said he and Carson Wentz put the past behind them
The dismantling of the Philadelphia Eagles happened quickly. The team fired Peterson in January and made Wentz, the second overall pick in 2017, available on the trade market. The Eagles, having already turned the starting quarterback role over to Jalen Hurts, sent Wentz to the Indianapolis Colts — whose head coach, Frank Reich, worked with him in Philadelphia — for two draft picks, including a conditional selection which can become a first-round pick in 2022.
Pederson recently visited Colts training camp and reunited with his former colleagues. A picture emerged on social media of Pederson, Reich, and Wentz — who is recovering from foot surgery — standing together at practice.
The former Eagles head coach spoke with NBC Sports' Peter King and shared that he and Wentz had a "very positive" conversation. Although Pederson — who is not coaching this year — said he primarily wanted to attend Colts camp to see Reich, he felt the thought of hugging Wentz and wishing him well was too much to pass up.
"It was natural; it was real. I saw him and hugged him. Carson and I always had a great relationship, and I have great regard for him, and I didn't want what happened at the end to tarnish that. He moved on, I moved on, and let's be men about it."

Doug Pederson
Pederson said he believed Wentz wanted to make nice with him as well.
Pederson sounds like a man ready for another head coaching opportunity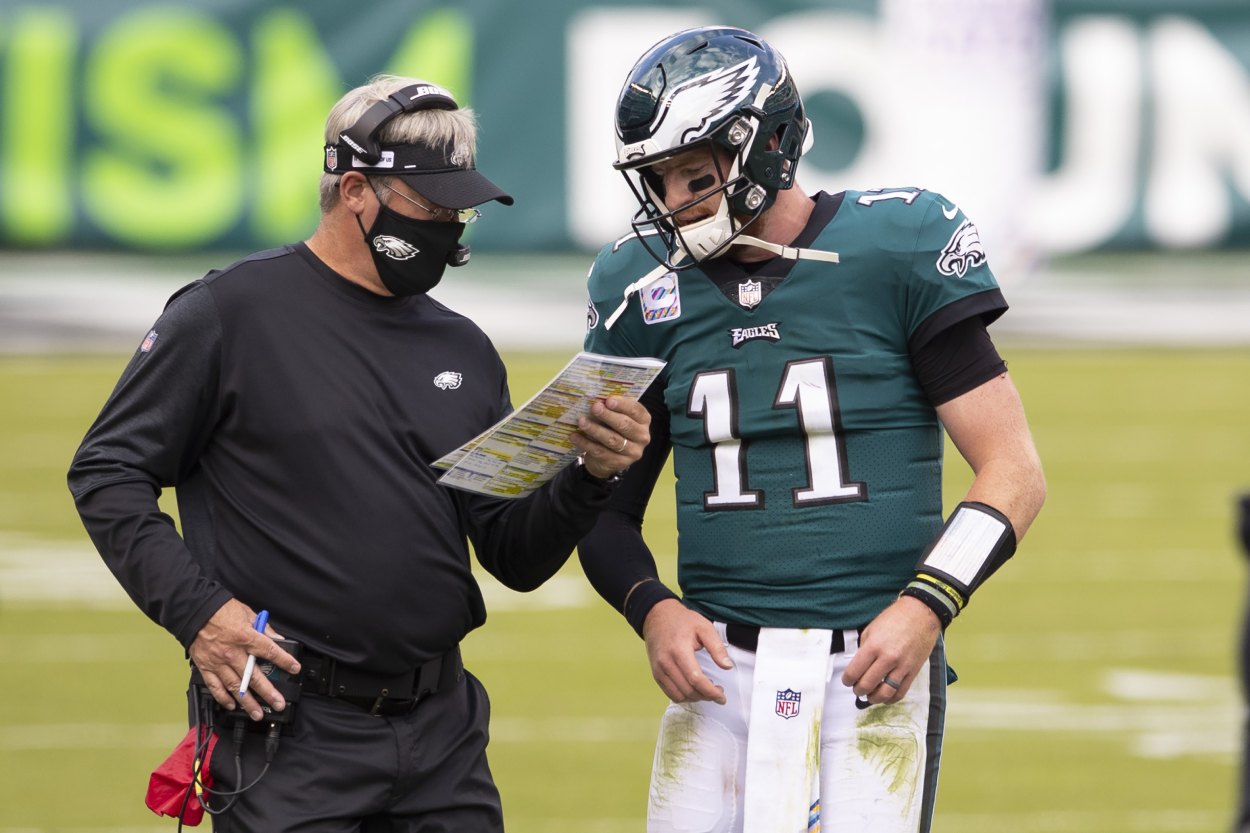 When his second season as an NFL head coach ended, Peterson hoisted the Lombardi Trophy above his head. Less than three years later, he found himself without a job.
In his conversation with King, Pederson reflected on where things went wrong and what he has learned throughout his NFL journey.
"We as coaches are hard on players. We want the most out of players. I've been coached hard when I was a player, and I didn't always like it. There's been times I didn't like my coaches, but now, I'm grateful to them for helping make me the player and the man I am. It's life. Everything's not always smooth, and you've got to adapt and move on."
Those are precisely the words that teams should want to hear Pederson say, and it certainly sounds like he means them. He could have easily visited Colts camp and posed for a photo with Wentz and left before having a meaningful conversation with the 2017 Pro Bowl selection. However, he instead openly made it a priority to try speaking with his former quarterback and seeing where things went from there.
We may never know much of the reported turmoil inside the Eagles' organization when Pederson and Wentz worked together is true. We do know, at least, that the former head coach clearly learned from his time there, both as a coach and a person, and wanted to make things right where he could.
Will Peterson be a head coach again next season?
Although Pederson is sitting out this NFL season, that's not over a lack of offers. He told King that he had at least two opportunities to be an offensive coordinator for the coming season, although he did not disclose which teams contacted him. One must wonder if the Colts, who lost offensive coordinator Nick Sirianni to the Eagles' head coaching vacancy, were among those teams.
It will be interesting to see if the year off and interviews like the one Pederson did with King will help his stock ahead of the 2021-22 coaching carousel. He's an experienced head coach who made the postseason in three of his five seasons with the Eagles despite often dealing with a rash of offensive injuries.
Pederson also has a Super Bowl ring and his membership on the Andy Reid coaching tree working for him. It doesn't sound unrealistic that a team seeking an offensive mind — perhaps the Arizona Cardinals if they fire Kliff Kingsbury — might want to give Pederson an opportunity.
For now, however, he and Wentz have put the past behind them after an ugly divorce. It might not have the same euphoric feeling that defeating Tom Brady in a Super Bowl did, but it's still enough to put a smile on Pederson's face.
Like Sportscasting on Facebook. Follow us on Twitter @sportscasting19.
RELATED: Carson Wentz and His Hopeless Fragility Continue to Haunt the Eagles Months After Being Traded