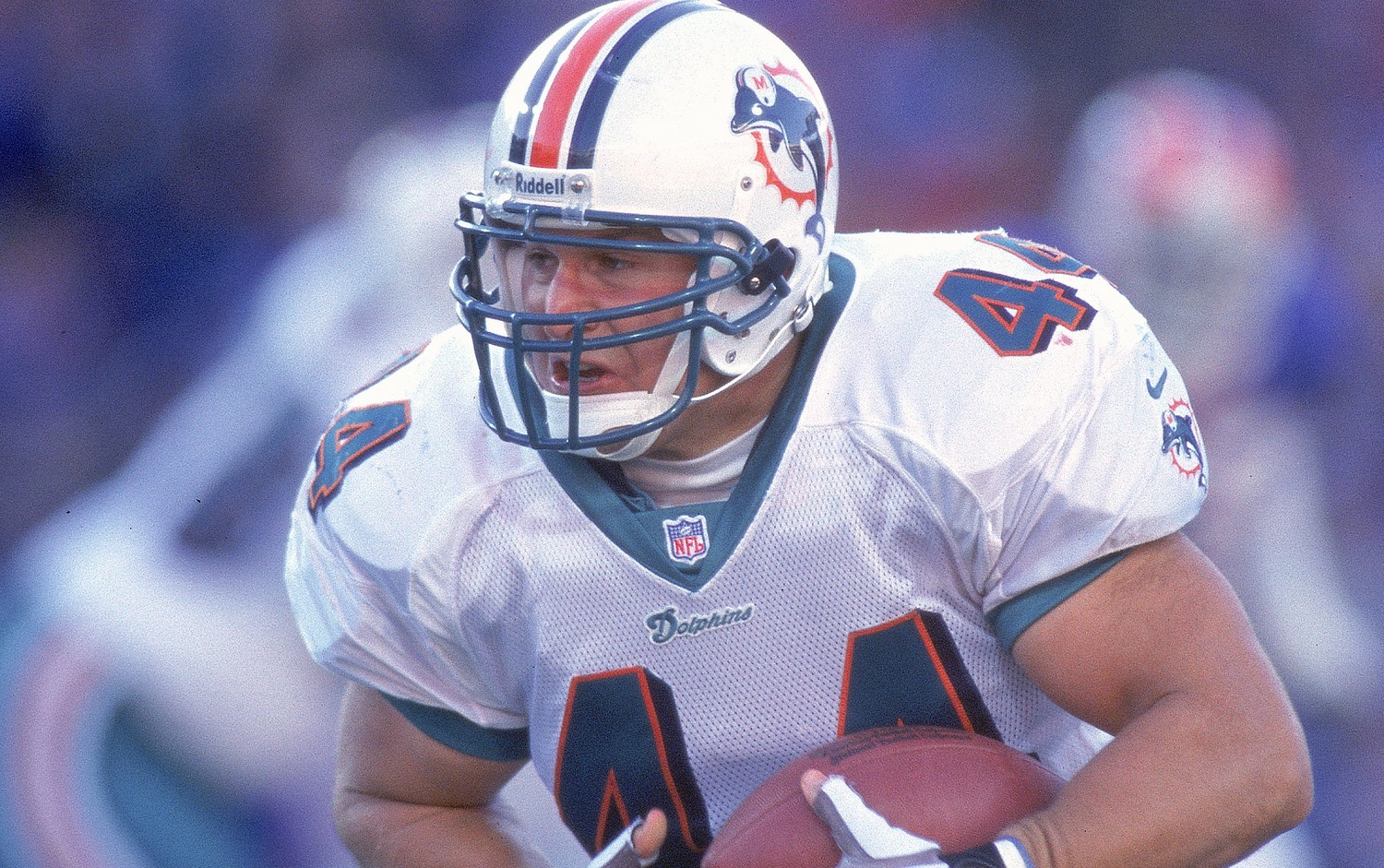 Ex-Miami Dolphins RB Rob Konrad Had to Swim 16 Hours to Shore or Die
Ex-Miami Dolphins running back Rob Konrad had to swim 16 miles to shore after falling from his boat in 2015.
Rob Konrad played six NFL seasons at fullback for the Miami Dolphins, putting his body on the line every game while keeping hard-charging linemen off the quarterback and taking on linebackers after catching passes out of the backfield.
Nothing he endured from the first week of two-a-days in high school to his last NFL game could match what went into his fight on survival on Jan. 7, 2015. He won that battle through sheer determination.
Rob Konrad played six seasons for the Miami Dolphins
Rob Konrad didn't post great numbers in his college or pro football careers, but he was known for his hard work and reliability before an injury ended his NFL career after six seasons.
Konrad was a star tailback and linebacker at St. John's Prep in Danvers, Massachusetts, where he scored 19 touchdowns as a junior and then was selected a Parade All-American as a senior. He was a coveted recruit, but Konrad committed to Syracuse University before his senior year in part because he was offered the honor of wearing the No. 44 jersey.
The No. 44 jersey was previously worn at SU by the likes of Jim Brown, Ernie Davis, and Floyd Little, creating the school's most prominent tradition. The athletic department made the decision to retire the number following Konrad's graduation.
Used primarily as a fullback in college, Konrad rushed for only 1,516 yards in four seasons but scored 23 touchdowns for the Orange. His work attracted the interest of NFL teams, and the Miami Dolphins selected Konrad in the second round of the 1999 draft.
Konrad would go on to start 57 of 82 games over six seasons for Miami. He carried just 38 times but made 111 catches for 854 yards and six touchdowns in his career, helping the Dolphins to the playoffs in each of his first two seasons.
He retired after the 2004 season.
A fluke incident sends him overboard
"I have two beautiful daughters," Ron Konrad told reporters on a January afternoon in 2015. "I was hitting that shore."
Konrad made that statement in reflecting upon how he survived an amazing ordeal at sea days earlier after a mishap on his boat off Florida's east coast. It's a story that was considered questionable at first by some, but the Florida Fish and Wildlife Conservation Commission looked into the incident and deemed Konrad's account of a 16-hour swim to shore credible. 
The ordeal began on the morning of Jan. 7, 2015, when Konrad took his 30-foot boat out of Hillsboro Inlet off Pompano Beach to relax on the water and do some fishing on a day off from work as a financial planner.
Konrad, 38 at the time, was trying to reel in a fish when a wave broadsided the boat, knocking the retired NFL fullback overboard. As recounted to the Miami Herald by investigators, Konrad initially tried swimming back to his boat, but the autopilot was engaged at about 5 mph, and he couldn't catch up.
With the unmanned boat now heading east, Konrad made the decision to turn westward and hope to be spotted by a vessel. If that didn't pan out, he was facing a swim back to shore that would be impossible for most people.
Somehow, he made it all the way back to land, reaching West Palm Beach shortly after 4:30 a.m. the following day. Suffering from hypothermia, dehydration, and rhabdomyolysis, Konrad spent three days in a local hospital.
Rob Konrad's incredible swim to shore
Rob Konrad's 30-foot boat was found in the Grand Bahamas around Dead Man's Reef, 90 miles from where the retired NFL player reached shore, two days after he fell overboard off the Florida coast. It sustained an estimated $70,000 in damage.
 "I have operated and owned boats my whole life, and I ended up in a boater's nightmare," he said.
Possibly the worst part of the nightmare was that Konrad could see Coast Guard helicopters that were sent out to search after he was reported overdue to return home, but the helicopter crewmen could not spot him in the water.
The darkness and waves reaching 10 feet were bad. What else was lurking in the ocean was worse. Konrad sustained multiple jellyfish stings and remembered seeing a shark circle him.
"I shouldn't be here," he told reporters.