Ex-NFL Linebacker Shawne Merriman Is Ready to Make a Drastic Change Involving Bears QB Justin Fields' Future: 'Do Not Destroy My Young Rookie's Confidence'
Article Highlights:
Retired All-Pro linebacker Shawne Merriman believes the Chicago Bears should bench rookie quarterback Justin Fields
Fields, the 11th overall pick in April's NFL draft, had five total turnovers in a Week 7 loss to Tom Brady and the Tampa Bay Buccaneers
The Bears are only asking for trouble if they bench the rookie quarterback right now
Saying the Chicago Bears haven't managed the Justin Fields situation well is like saying Derrick Henry is a good running back. Both observations, while technically correct (the best kind of correct), are grievous understatements.
The 11th overall pick in April's NFL draft, Fields has struggled with turnovers and a porous offensive line in the first two months of his NFL career. Although he's not ready to call the Ohio State product a bust, retired All-Pro linebacker Shawne Merriman is prepared to make a hazardous decision involving the quarterback's short-term future.
Shawne Merriman believes the Chicago Bears should bench Justin Fields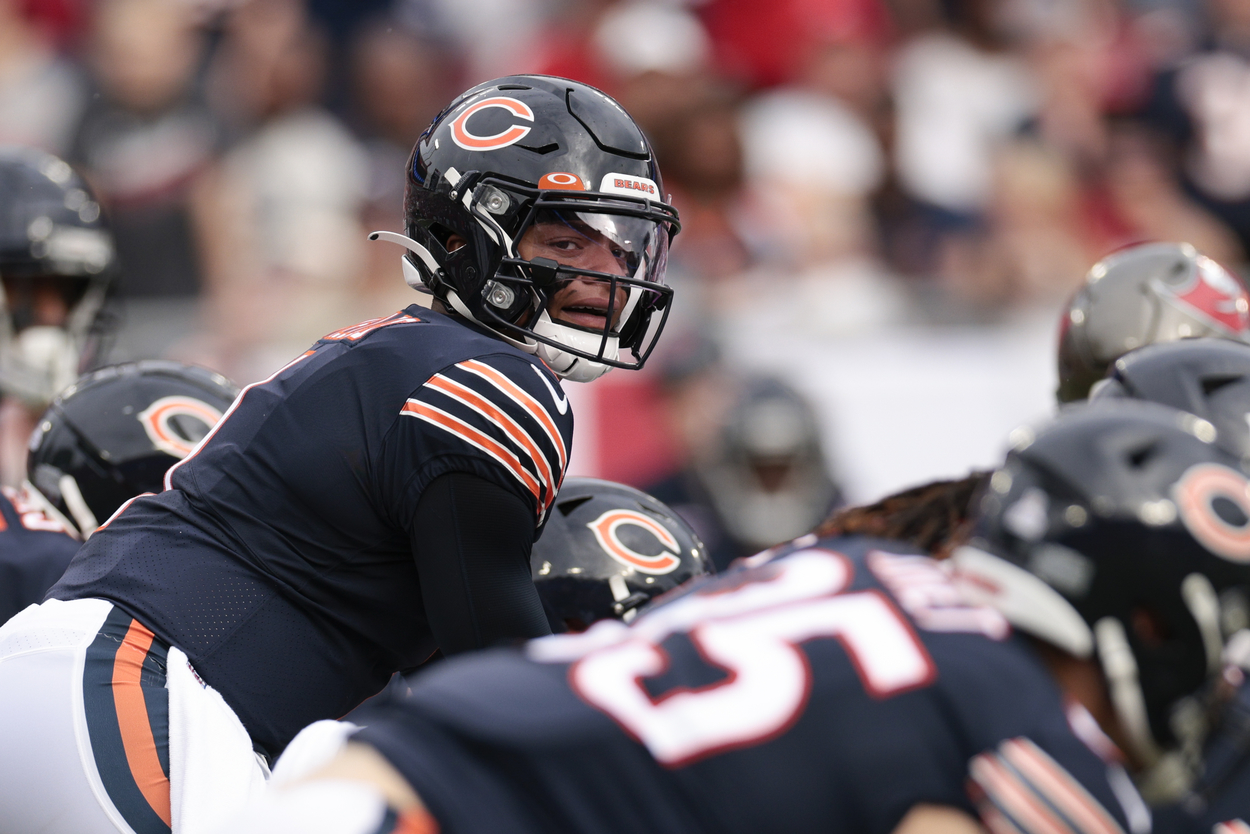 The Bears have worked through the early months of the Fields era like a toddler suffering through vegetables. We're still not sure why Bears head coach Matt Nagy has treated his young quarterback like broccoli instead of brisket.
From not letting Fields work with the starting unit during training camp to insisting offseason signee Andy Dalton would be his starter, Nagy has created the impression he never wanted the two-time All-Big Ten selection as his next quarterback. The end result is a quarterback who threw two touchdowns against six interceptions in his first seven games.
Although the Bears are still alive in the playoff race at 3-4, their season is quickly falling apart. A looming Halloween matchup against the struggling San Francisco 49ers could very well determine how Nagy and his staff should approach the season's second half.
In an interview with Gambling.com, Merriman made it clear how he'd handle things going forward. The three-time Pro Bowl selection said he'd sit Fields, put Dalton — who has thrown a single pass since Week 3 — into the lineup, and keep things that way until Nagy is fired after the season.
"Do not destroy my young rookie's confidence while they are trying to rebuild. I said it in Week 1; I'm against making rookie quarterbacks get out there and go through it when they don't have to. Andy Dalton is a qualified quarterback. You can win some games with him, but if you want to get the rookie in there while he's struggling with a coach that's possibly not even going to be there after this year, you're just asking for it."

Shawne Merriman
The "it" in Merriman's comments refers to trouble, and that's exactly what the Bears will face if they bench Fields.
The Bears risk far too much by benching FIelds right now
There's no excusing Fields' play, especially not after a five-turnover game against Tom Brady and the Tampa Bay Buccaneers in Week 7. He's mostly played like a rookie who is still trying to build chemistry with his teammates … which, given how Nagy handled offseason workouts and training camp, is exactly how things should look.
All of Merriman's points, especially those regarding Nagy's future, are valid. However, let's not forget the Bears traded up to draft Fields in April. An organization that really got nothing out of the Jay Cutler era and blew the Mitchell Tribusky selection invested its future into the former blue-chip prospect.
As unfortunate as this may sound for the Bears, the best solution is to keep letting the quarterback work through his rookie struggles. Chicago needs a miraculous second-half finish to even be a legitimate contender for a second consecutive Wild-Card Game appearance. Is starting Dalton so he can possibly be the seventh seed and lose to Tampa Bay or Arizona on the road worth it?
The Bears should only bench Fields in one of two instances, the first being if his play becomes so poor that the team feels he needs a mental health break. Similarly, we could forgive Nagy if he sat the rookie, who leads the NFL with 22 sacks taken, to ensure he avoids injury given the offensive line's repeated issues.
If neither of those scenarios comes to fruition, though, the Bears need to keep Fields out there. No one said life in the NFL is easy.
Merriman is correct, however, in noting the Bears need to move on from Nagy
Of all the points Merriman made about Fields' future, there's one that the Bears organization needs to accept if they haven't already done so. Nagy, who has reached the playoffs twice since taking over in 2018, cannot return as the head coach in 2022 if the team intends to move forward with Fields at quarterback.
Nagy has shown zero desire to build Fields up or groom him as his long-term quarterback. The veteran head coach spent months insisting Dalton, an offseason signee who has been a mostly middling player in recent years, was his starter.
Perhaps Nagy, who served as the Kansas City Chiefs' offensive coordinator from 2016-17, wanted to replicate the Chiefs' transition from Alex Smith to Patrick Mahomes. We suggest you compare the four quarterbacks involved in such a hypothetical instance of history repeating itself.
Our suggestion? The Bears need to replace Nagy with someone who's been a head coach, whether it's Doug Pederson or Jim Caldwell, and has experience working with quarterbacks. For Fields' sake, let's just hope his confidence isn't destroyed by the time they first walk into Halas Hall.
Like Sportscasting on Facebook. Follow us on Twitter @sportscasting19.
RELATED: Bears WR Allen Robinson Gets Real About Justin Fields' Slow Start, and It Should Have Fans Furious