Ex-Patriots Star Believes Bill Belichick Motivated to Win Without Tom Brady
Tom Brady and Bill Belichick have a long history together. The legendary quarterback-coach duo turned the New England Patriots into a bonafide dynasty. The franchise served as a perennial Super Bowl contender for nearly two decades. But like all good things, the run eventually came to an end.
Brady moved onto the Tampa Bay Buccaneers and helped lead them to a Super Bowl victory in his first season with the team. Meanwhile, Belichick and company posted their first losing season since 2000.
Former Patriots running back LeGarrette Blount believes TB12's success elsewhere put a massive chip on his former coach's shoulder.
LeGarrette Blount says Bill Belichick wants to keep coaching to win without Tom Brady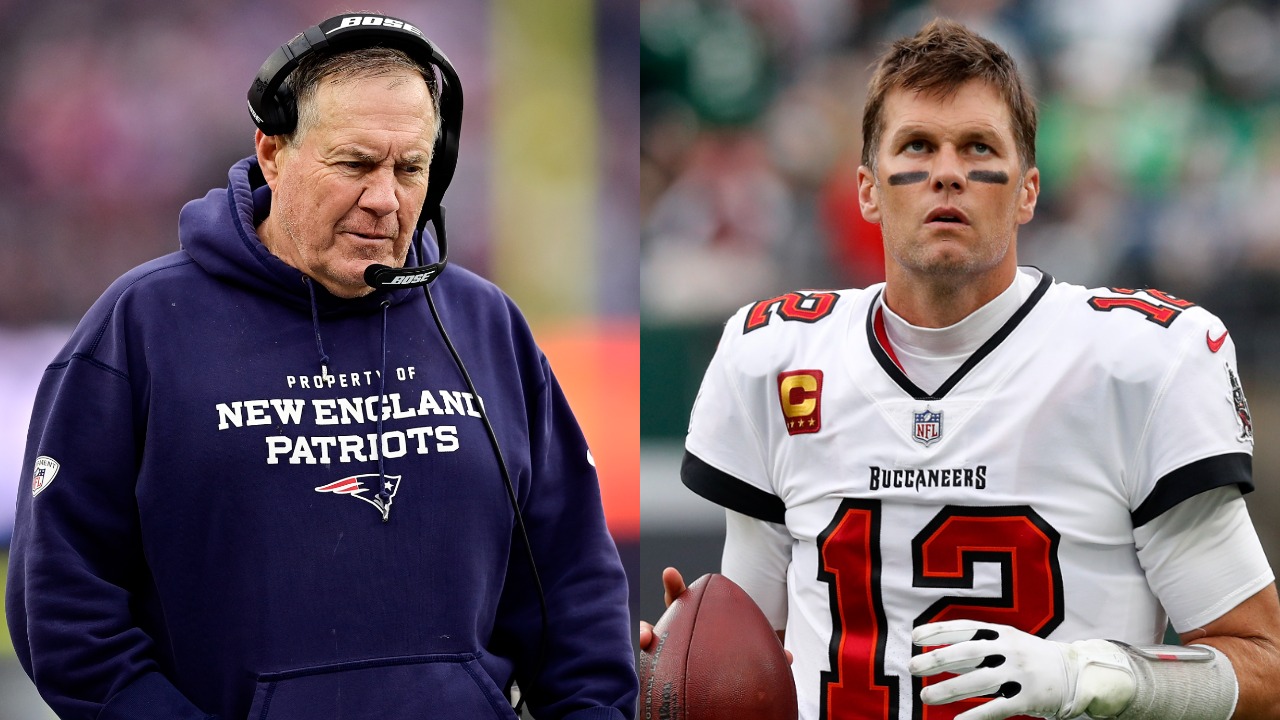 Many people love a good narrative in sports. In the case of Tom Brady and Bill Belichick, the public couldn't agree on which party was most responsible for New England's success over the years. However, Brady definitively proved his value when he took the Buccaneers to the 2020 Super Bowl.
As for Belichick, the post-Tom Brady era didn't get off to the greatest start. The Patriots signed Cam Newton before the 2020 season. Many were interested to see how Newton would fit in the system. Ultimately, it turned out to be a failed experiment. Things fared much better in 2021, but the season ended in disappointment.
Former Patriots star running back LeGarrette Blount recently weighed in on Belichick's coaching future in New England.
"I think Bill is locked in, and he's going to be locked in for as long as he can," Blount said per NBC Sports Boston's Darren Hartwell. "As long as he needs to be to find someone he's comfortable with taking over the reins. I know he's not the person to hire the next head coach, but I know they're definitely going to involve him in that process. They would be dumb not to."
Blount also shared why he thinks his old coach is highly motivated to keep coaching at 69 years old.
"I think he's going to be going for a while," added the Super Bowl champion tailback. "At least until he proves that he doesn't need 12 [Brady]."
Brady proved his greatness by thriving in Tampa Bay
Tom Brady surprised many people when he signed with the Tampa Bay Buccaneers before the 2020 season. After he gave so much to Bill Belichick and the New England Patriots for 20 seasons, it was safe to assume he'd be a lifer. The three-time MVP had other plans, though.
Brady helped the Bucs post an 11-5 record in the regular season. Tampa Bay then ran through the Washington Football Team, New Orleans Saints, and Green Bay Packers en route to the Super Bowl. TB12 outdueled Kansas City Chiefs quarterback Patrick Mahomes, throwing for 201 yards and three touchdowns.
The future Hall of Famer could've called it quits and went out on top, but his competitive drive compelled him to run it back for one more season.
At 44 years old, Brady put together one of the most productive campaigns of his career. He racked up 5,316 passing yards, 43 touchdowns, and just six interceptions while completing 67.5% of his passes. The 15-time Pro Bowler led the league in completions, passing yards, and touchdowns.
Even though Tampa Bay failed to repeat, Tom Brady defied Father Time, cementing his legacy by getting another franchise to the mountaintop.
How far can the Patriots go with Mac Jones?
LeGarrette Blount suggests that even though Tom Brady is retired from football, his success with the Buccaneers still motivates Bill Belichick.
Brady enjoyed more success than his former coach after the breakup. However, the New England Patriots seem to be heading in the right direction. After the 7-9 finish in 2020, Belichick's squad posted a 10-7 record, good for second place in the AFC East.
The Patriots clinched a wild-card berth, but their season ended in a 47-17 beatdown by the Buffalo Bills in the Wild Card Round. Still, the 2021 season gave Belichick some things to be excited about moving forward, including rookie quarterback Mac Jones.
Jones threw for 3,801 yards, 22 touchdowns, and 13 interceptions in his first season in New England. He had a legitimate shot at winning the Rookie of the Year Award at one point. However, he hit the rookie wall down the stretch. Still, the Alabama product was by far the best rookie quarterback in 2021.
Pro Football Focus gave Jones a grade of 79.3 on the season. The Patriots fielded a dominant defense and solid rushing attack, so Bill Belichick didn't ask too much of the 23-year-old. He showed signs of promise, though.
Playing in New England, Jones won't be able to escape the Tom Brady comparisons. There will never be another guy like the seven-time Super Bowl champion. Still, this is the perfect opportunity for Belichick to develop another young quarterback and hopefully win with him.
All stats courtesy of Pro Football Reference. 
RELATED: New Raiders Coach Josh McDaniels Waxes Poetic About Tom Brady, Bill Belichick, and Robert Kraft: '3 GOATS?!? What a Collection of Talent I Was Privileged to Work With Here'