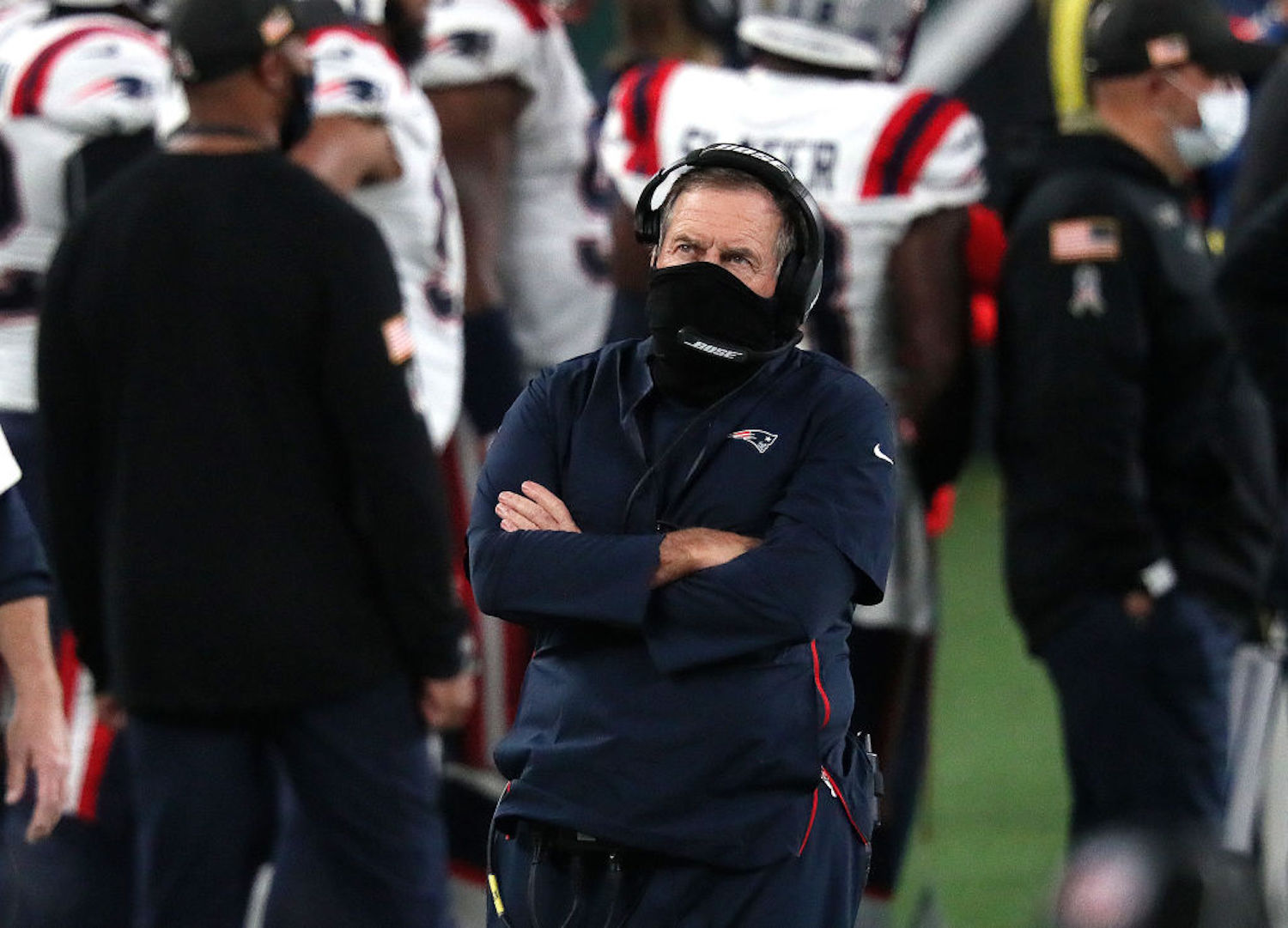 Ex-Pro Bowler Is Convinced Bill Belichick Is Leaving the Patriots: 'It Sounds Like a Swan Song'
Ex-Jet Bart Scott believes Bill Belichick as as good as gone from New England after hearing the head coach's most recent comments.
New England head coach Bill Belichick is synonymous with the Patriots. He's built the franchise into one of the greatest dynasties in professional sports history, and nearly every fan thinks of his cutoff hoodie and baggy khakis when they think of the Patriots.
But one of Belichick's ex-competitors is convinced he's on his way out of New England. Bart Scott, who played in the NFL for 11 seasons, says Belichick's departure is imminent, and he even has a new team in mind for the Hall-of-Fame coach.
Bart Scott played against Bill Belichick for 11 years
If you were a player or coach in the NFL during the 2000s and 2010s, there's a good chance the Belichick dynasty in New England steamrolled your hopes and dreams at some point. Belichick and Tom Brady led the Patriots to nine Super Bowl appearances and six titles during their incredible run, and they left numerous franchises in the dust in the process.
Bart Scott was not immune to the Patriots disease during his career. He played 11 years in the NFL, and Belichick was a blockade to his success the entire time.
Scott played his first seven seasons in Baltimore with the Ravens, and the team failed to make a Super Bowl during his career there. Then, Scott got even closer to Belichick by joining the Jets in 2009. He faced off against the Patriots two times a year for four straight seasons and finished his career with no Super Bowl appearances.
Scott thinks Belichick is as good as gone
Scott has since moved on from the NFL to become an analyst for ESPN. He appeared on ESPN Radio's Keyshawn, JWill & Zubin on Wednesday to talk about his former rival.
Scott was asked about Belichick saying leaving the Jets for the Patriots was "one of the greatest moments" of his career, and he believes it was a sign of things to come.
To me, it sounds like a swan song. Now, when you start reflecting on some of the greatest decisions that you've ever made, that's when I think you're getting ready to leave And you think about Josh McDaniels, a couple of years ago he had an opportunity to go to Indianapolis and to be the head coach. All of a sudden, he reversed field, came back to the Patriots and all of a sudden Bill Belichick says, 'I'm gonna give you my world.' First of all, of course, I would ask if I was Josh McDaniels, 'What the hell have you been giving me since I've been here all this time if you ain't giving me your world? Now you want to give it to me? I think he's going to give Josh McDaniels his world pretty soon. I just think the world is gonna be on fire without a franchise quarterback because this is the perfect time for Bill Belichick to ride off into the sunset.

Bart Scott
Could this be the last season for Belichick in New England?
Scott already has Belichick's next team in mind
Scott doesn't just think Belichick will be moving on from the Patriots soon. He even believes the legendary head coach could join one of his biggest rivals — the New York Giants.
He's always, always loved the Giants. He's got a soft spot for the Giants. I could see Bill Belichick coming and pulling a Phil Jackson and being the general manager for the New York Football Giants, replacing [Dave] Gettleman and working with Joe Judge, his young protégé.

Bart Scott
It's almost impossible to imagine Bill Belichick in anything other than a Patriots hoodie, but with the state of New England's team right now, he could very well jump ship for a contender to finish his career in style.