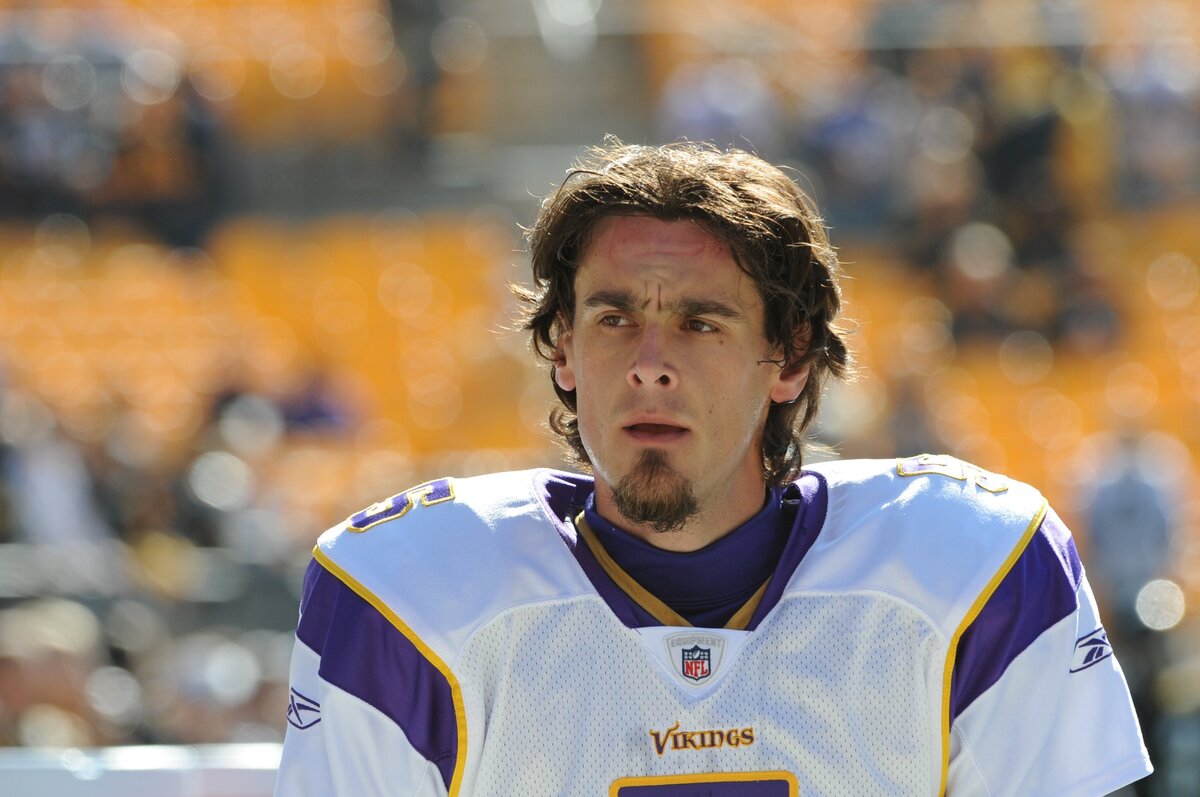 Ex-Vikings Punter Chris Kluwe Believes Suporting Same-Sex Marriage Cost Him His Spot in the NFL
Chris Kluwe impressed as the Minnesota Vikings' starting punter. Kluwe believed his support for same-sex marriages cost him his spot in the NFL.
If the NFL's culture wanted specialists to keep quiet, former Minnesota Vikings punter Chris Kluwe never got the memo.
A standout punter during the early years of the Adrian Peterson era, Kluwe proved to be an invaluable asset for the Minnesota Vikings. Kluwe understood the platform that came with his position in the NFL, and used it to his advantage.
One of Kluwe's pillars of support was same-sex marriage, a hot-button issue at the time. Kluwe believes that supporting the LGBT+ community cost him his spot in the NFL.
Chris Kluwe was the Minnesota Vikings' standout punter
Chris Kluwe proved to be a model of consistency in his eight NFL seasons.
Kluwe averaged 44.4 yards per punt in 127 games with the Minnesota Vikings and only had one of those blocked. The former UCLA Bruin also had a 27-yard pass in 2007.
Kluwe's highlights appearance on the NFL All-Rookie team in 2005 and a 70-yard punt two years later.
Kluwe has long been an advocate of same-sex rights
Chris Kluwe didn't only become a household name for his punting.
Kluwe was a unique character, someone who played World of Warcraft and tweeted about everything and anything on his mind.
By 2012, Kluwe used his social media feed to spread his personal beliefs. Kluwe endorsed same-sex rights, including marriage, and sometimes feuded with NFL players who felt differently.
Kluwe felt comfortable in his role as a punter and activist. His desire to do both at the same time led to problems with the Minnesota Vikings.
Chris Kluwe believes those views cost him his spot in the NFL
The Minnesota Vikings drafted UCLA punter Jeff Locke in the spring of 2013 and released Kluwe shortly thereafter.
Despite averaging 45 yards per punt in 2012, Kluwe didn't catch on anywhere for the 2013 season. In fact, he never played another NFL game following the Vikings' wild-card round loss to Aaron Rodgers and the Packers in January 2013.
In January 2014, Kluwe penned an essay for Deadspin. Kluwe recalled Vikings coaches, including special teams coach Mike Priefer, telling him to stop speaking out.
According to Kluwe, Priefer used homophobic remarks during the 2012 season. The NFL later suspended Priefer for the first three weeks of the 2014 campaign.
Kluwe concluded the piece with this assessment.
"It's my belief, based on everything that happened over the course of 2012, that I was fired by Mike Priefer, a bigot who didn't agree with the cause I was working for, and two cowards, Leslie Frazier and Rick Spielman, both of whom knew I was a good punter and would remain a good punter for the foreseeable future, as my numbers over my eight-year career had shown, but who lacked the fortitude to disagree with Mike Priefer on a touchy subject matter."
The Vikings fired Frazier after the 2013 season for performance reasons. Frazier is now the Buffalo Bills' defensive coordinator.
Priefer remained the Vikings' special teams coordinator through the end of the 2018 campaign. He now holds the same position for the Cleveland Browns.
Rick Spielman has been the Vikings' general manager since 2012, and he still held that role at publication.
Like Sportscasting on Facebook. Follow us on Twitter @sportscasting19.