Examining the Realities of a Potential Chase Young for Aaron Rodgers Trade
It would be a blockbuster trade; there's no about it. The newly minted Washington Commanders would be trading their best player, defensive end Chase Young, to the Green Bay Packers for their best player, quarterback Aaron Rodgers.
It would be out of left field. It would break the internet.
According to a Washington beat reporter, though, trading Young for a quarterback of Rodgers' ilk is on the table for the Commanders. 
Could it work?
Absolutely.
Washington has been a safe haven for average quarterback play 
The NFL is a quarterback-driven league. If you've got a great one, there's a good chance you can compete for a playoff spot on a yearly basis or even compete for a Super Bowl.
If not…Washington knows all too well what that looks like. 
Taylor Heinicke is an A-plus NFL backup, and he can win you games in a crunch, but he's not the type of quarterback who can win you a Super Bowl unless you've got a world-class defense on the other side. Washington tried to build that with the likes of Young, Jonathan Allen, and Montez Sweat, but injuries severely hampered the unit in 2021. Washington finished in the bottom half of the league defensively, and they were the eighth-worst defense in the league in terms of points given up per game, with 25.5.
Washington hasn't won a playoff game since 2005 when Mark Brunell was the quarterback. 
Washington has been a safe haven for mediocre or over-the-hill quarterbacks since that time. From Jason Campbell to the shell of Donovan McNabb. From Kirk Cousins to Alex Smith, to Heinicke. 
It doesn't take an expert football analyst to see mediocrity.
The Washington Commanders need an Aaron Rodgers-level quarterback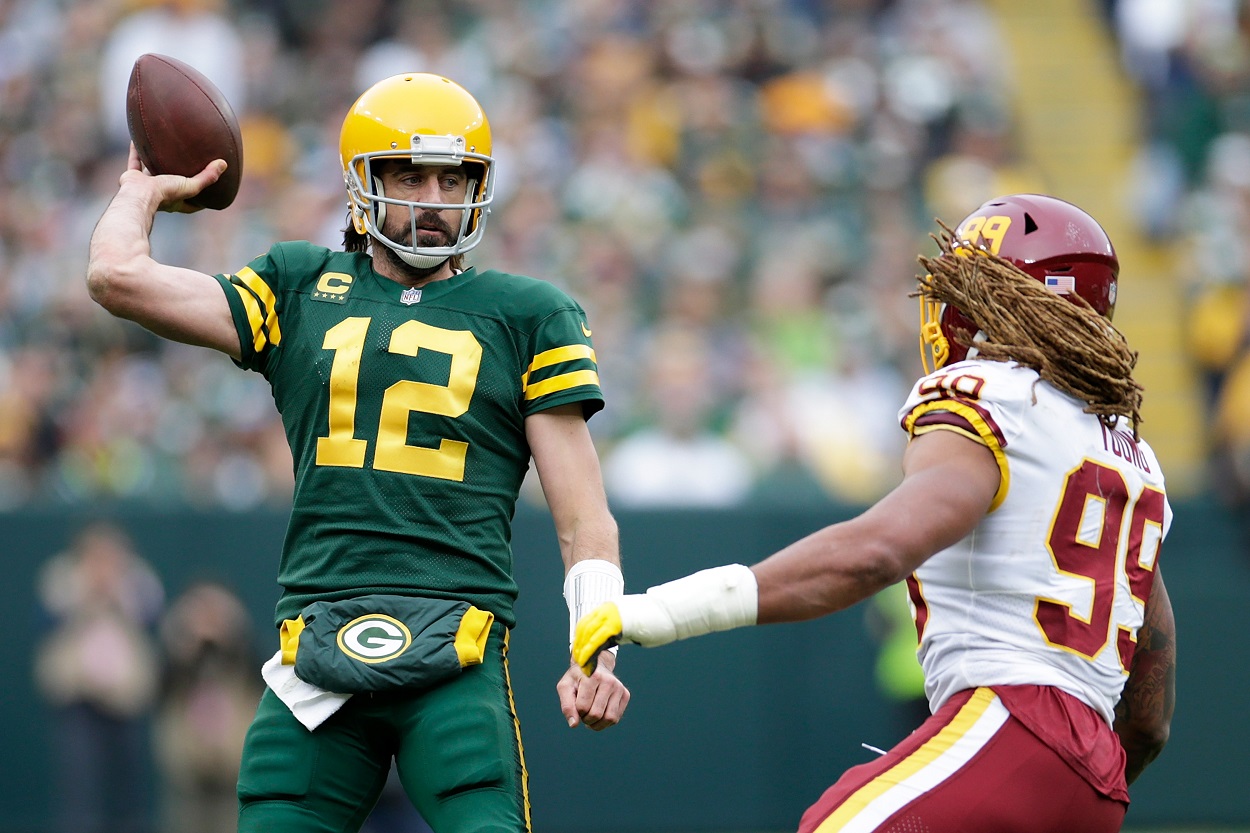 The last time Washington won the Super Bowl was the conclusion of the 1991 season. Joe Gibbs and Washington beat the Buffalo Bills, 37-24, in Super Bowl 26.
Mark Rypien was the quarterback at the time, and he was not only named the Super Bowl MVP, but he received votes for league MVP as well that season.  Washington went to back-to-back Super Bowls in 1982 and 1983, winning the franchise's first Super Bowl with a 27-17 win over the Miami Dolphins in Super Bowl 17. Joe Theismann was Washington's quarterback during that stretch. Though Washington lost the second Super Bowl appearance, Theismann was named NFL MVP in 1983 after throwing for 3,714 yards and 29 touchdowns with just 11 interceptions. 
The proof is in the pudding, and Washington knows it just as well as any other franchise. In order to take the next step, the Commanders need a high-level quarterback.
That's why it makes sense to hear that Washington may even be willing to part ways with Young to get that player. This, despite the fact that the franchise took him No. 2 overall just two drafts ago.
"I think almost anyone on the roster is available if the result is Washington improving at quarterback," beat writer Ben Standig of The Athletic recently wrote (h/t Sports Illustrated). "In Young's case, that would mean the Aaron Rodgers or Russell Wilson level."
Would a Young for Rodgers trade even make sense?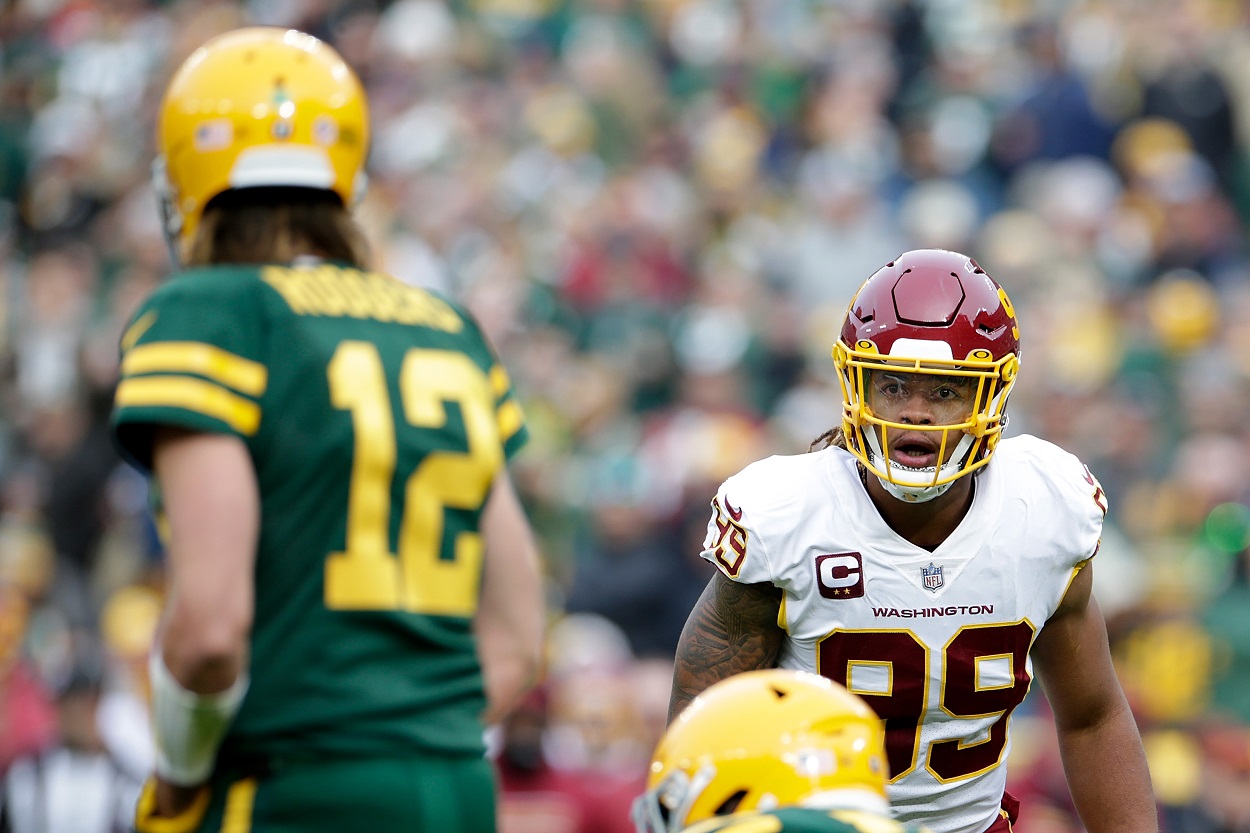 It seems likely that Rodgers will return to the Packers in 2022 and beyond. The next most likely option is that he decides to retire.
Green Bay would be foolish to not at least take calls on potential trades for the four-time MVP, though, and a straight-up swap for Young could be extremely appealing.
The big problem for the Packers this offseason is that they have no cap room. They're expected to be right around $50 million over the cap and have some big decisions to make. Superstar wideout Davante Adams is a free agent and could be franchise tagged, though even that will be expensive. The Packers also have several other key players like De'Vondre Campbell and Rasul Douglas they'll likely want to bring back in order to keep the team competitive.
Green Bay needs cap room. There's no doubt about it.
Rodgers is understandably expensive. He has a cap hit of $46.6 million, which is 22.1% of Green Bay's total cap in 2022. If the Packers can trade him before June 1st, though, his dead cap number will be just $26.8. Assuming they want Chase back in return (who wouldn't?), they'd be getting a player back who's under contract through 2023 and still on his rookie deal, meaning he'll be super cheap. In fact, Young's cap hit in 2022 is just $9.4 million.
Green Bay would essentially be saving around $10 million in cap room while getting back one of the more explosive pass rushers in the league to pair alongside Rashan Gary.
The Commanders are expected to have $30.3 million in cap space, so they should be able to afford Rodgers, especially if they extend his contract and move money into the future. More importantly, Washington would finally have an elite quarterback.
Would it rock the NFL landscape? Yes.
Is it highly unlikely? Yes. 
But does it make sense?
Yes.
Stats courtesy of ESPN and Pro Football Reference. Contract information via Spotrac
RELATED: Aaron Rodgers: The Pros and Cons of the Green Bay Packers Mortgaging Their Future and Going All-in