An Exasperated Chris Simms Is Ready to Go to War for Lamar Jackson and Take On the Haters Himself
Chris Simms is prepared to trade his microphone for a sword and fight and maim in defense of Baltimore Ravens star quarterback Lamar Jackson.
The sports media world is pulling out the same cliches about Jackson, the 2019 NFL MVP and a dynamic dual-threat quarterback. Simms, the controversial NBC Sports analyst, has heard enough.
Chris Simms is ready to fight for Lamar Jackson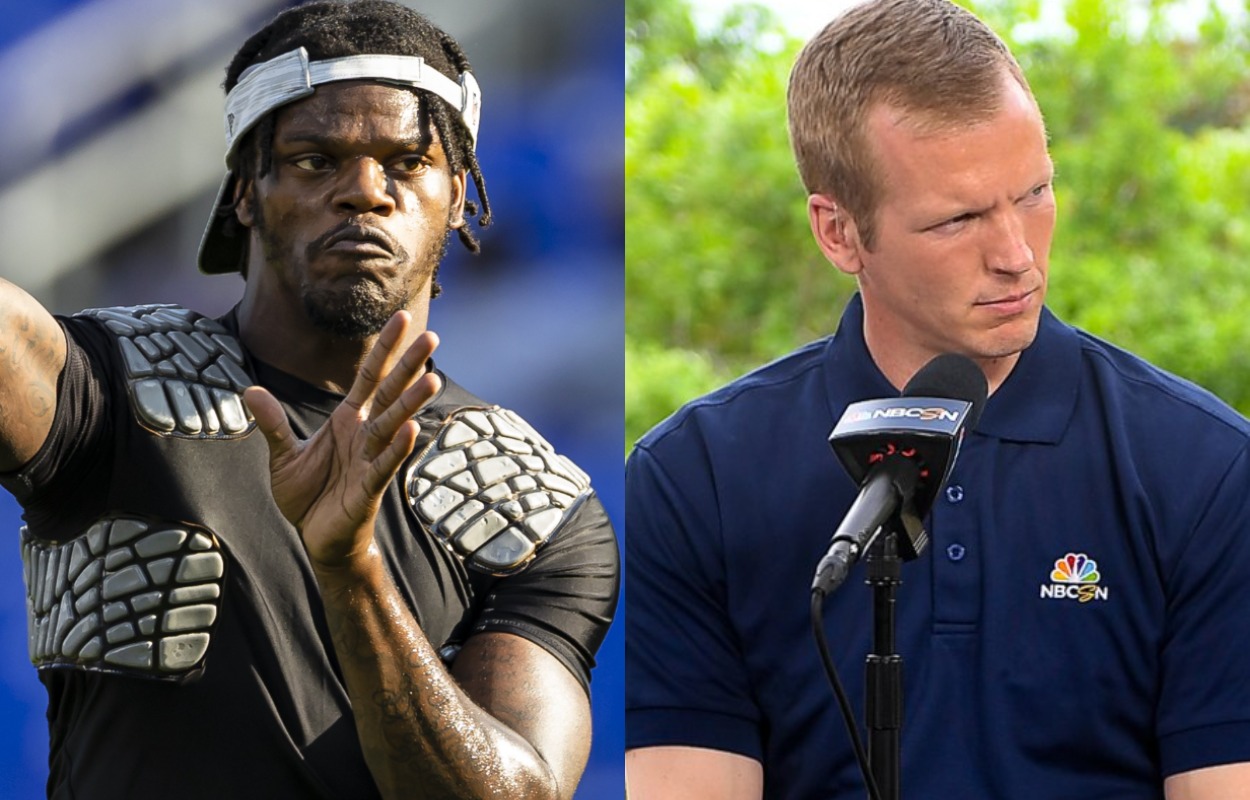 Considering his reputation for bold quarterback-related takes, some football fans might have expected Simms to be on board the train of anti-Jackson critics.
That's far from the case. During the Aug. 25 episode of PFT Live, the retired quarterback said people need to "back the eff off" in doubting Jackson. 
"I was shocked by some of the stuff I saw on social media, even comments on your article, everything about it," Simms told co-host Mike Florio, who operates ProFootballTalk. Florio immediately responded, "Don't read those."
Simms then declared, "I almost want to become a member so I can comment on some of these comments," and fired off an inspired rant defending the Ravens' standout quarterback. The ex-Denver Broncos signal-caller ripped those who continuously suggest teams are going to "figure out" Jackson and learn how to stop him.
"Lamar Jackson is still fast as hell; he's as hard to tackle as anybody in football in the open field. There's nothing to figure out there. It's on the Ravens to continue to evolve the offense and stay one beat ahead of defenses and what they're doing, and that's on them. I get sick of that. … Everybody's gotta stop putting everything on Lamar Jackson for the Ravens."

Chris Simms
Simms said people have become "way too critical" of Jackson and should turn some of that negativity to the Ravens' defense for winning only one playoff game over the last three years.
Critics keep finding new ways to target Jackson
Simms has every reason to be frustrated with the narratives surrounding Jackson. Despite winning the MVP Award two seasons ago and playing well in 2020, the fourth-year quarterback is seemingly the victim of a new critique each week.
First, there was former Indianapolis Colts general manager Bill Polian's argument that Jackson should switch to wide receiver upon entering the NFL. After going 32nd overall in the 2018 NFL Draft, the Heisman Trophy winner took over the Ravens in midseason and carried them to an AFC North division title.
Then came the complaints that Jackson couldn't perform well in the playoffs. He at least made progress in that area after defeating the Tennessee Titans on the road in the AFC Wild Card Round earlier this year.
Now, the narrative is that teams have an opportunity to figure Jackson out. Forget the fact that most starting quarterbacks, if not all, can be "figured out" at any point. As Simms said, it's on the Ravens to build a complete team around their starting quarterback.
Yes, Jackson threw a career-high nine interceptions last year and didn't look sharp as a passer during the postseason. But how much of that is on him, and how much is on the Ravens for failing to surround him with reliable receivers? The talented quarterback has done enough so far to warrant a bit more faith and trust.
Jackson has another great opportunity to prove the doubters wrong
There's a segment of football fans who will never like Lamar Jackson. Some believe teams will figure him out, another group dislikes his personality, and then there are Pittsburgh Steelers fans.
Some of those critics may have an open mind, however. For those who remain skeptical of Jackson but are willing to potentially change their mind, it's not like he plays most of his games at 10 p.m. ET on a regional sports network like Los Angeles Angels phenom Shohei Ohtani.
According to Odds Shark, the Ravens had +1400 odds to win Super Bowl 56 as of Aug. 27, 2021. The two-time Super Bowl champions are tied with the Los Angeles Rams and San Francisco 49ers for the fifth-highest odds.
Simms will have every reason to grin if this season ends with Jackson hoisting the Lombardi Trophy above his head. Now, if the critics come out of the woodwork with a new argument involving the Ravens' star quarterback next season, the NBC Sports analyst may have to upgrade his weapon of choice.
Betting odds courtesy of Odds Shark as of Aug. 27, 2021. How to get help: In the U.S., contact the National Council on Problem Gambling helpline at 1-800-522-4700.