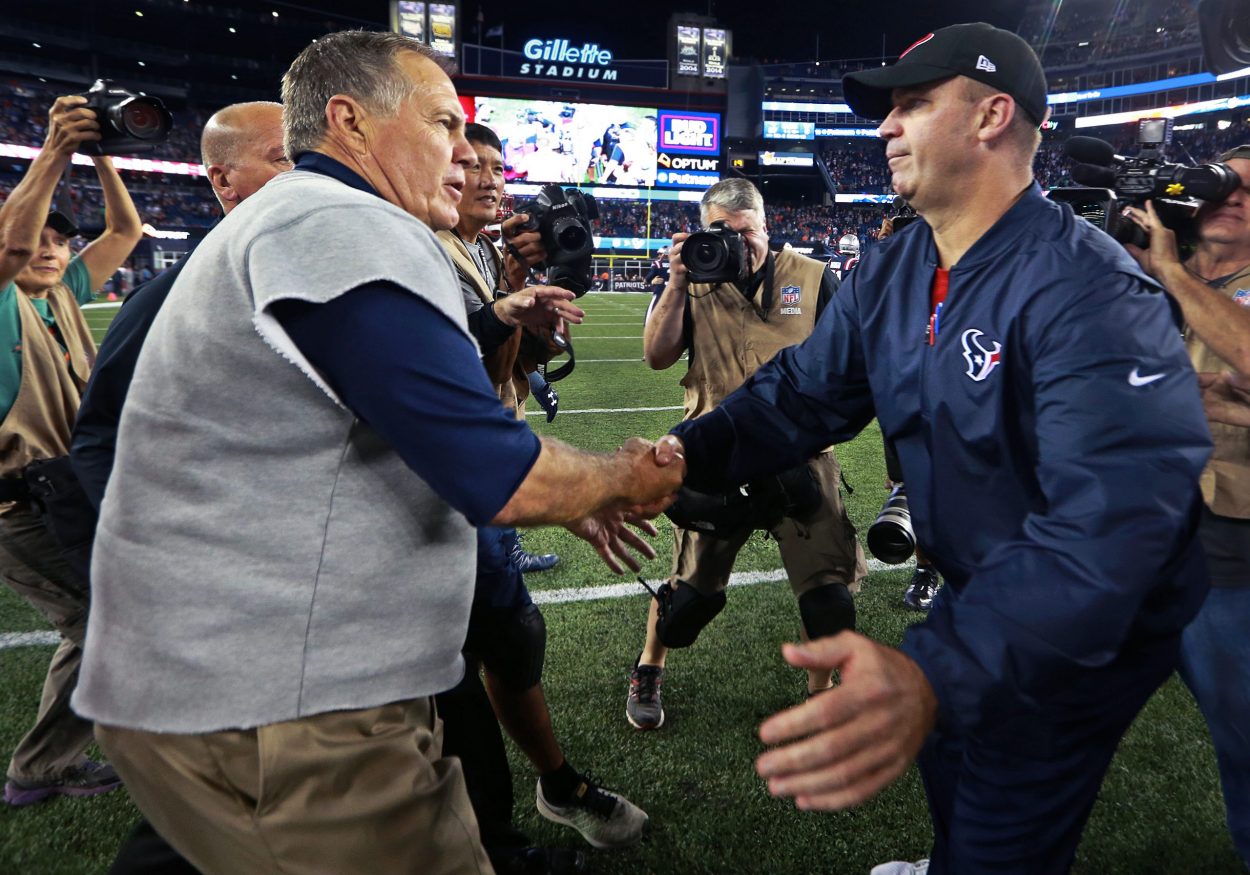 Expect Bill O'Brien to Return to Patriots as Offensive Coordinator
Bill O'Brien appears to be the top choice to return to the Patriots as Bill Belichick's offensive coordinator.
Since 2006, only two men have held the title of offensive coordinator for the New England Patriots. One of them just left to become head coach with the Las Vegas Raiders. The other appears on the fast track to make a return to Foxboro.
Josh McDaniels, in his second stint as Patriots offensive coordinator, stepped down after a decade to become the head coach of the Raiders, paired with close friend and former Patriots director of player personnel Dave Ziegler, now the general manager of the Raiders.
And that leaves Patriots head coach Bill Belichick in the rare position of having to hire an offensive coordinator. In his 22 seasons in New England, Belichick has only had three offensive coordinators.
Charlie Weis was Belichick's first OC with the Patriots, and he developed Tom Brady into the Hall of Famer who retired on Tuesday after his own 22 seasons.
After winning his third Super Bowl with the Patriots in 2004, Weis left to coach Notre Dame. Belichick did not replace Weis until 2006, when he tabbed McDaniels. And when McDaniels left in 2009, Belichick eventually tabbed Bill O'Brien for the job.
Now, a decade later, it appears O'Brien, now the offensive coordinator at Alabama, is poised to make his return. Multiple media reports have suggested O'Brien is Belichick's preferred choice to reprise his role from 2011.
With McDaniels now in Las Vegas, the Patriots might take a gamble on an old friend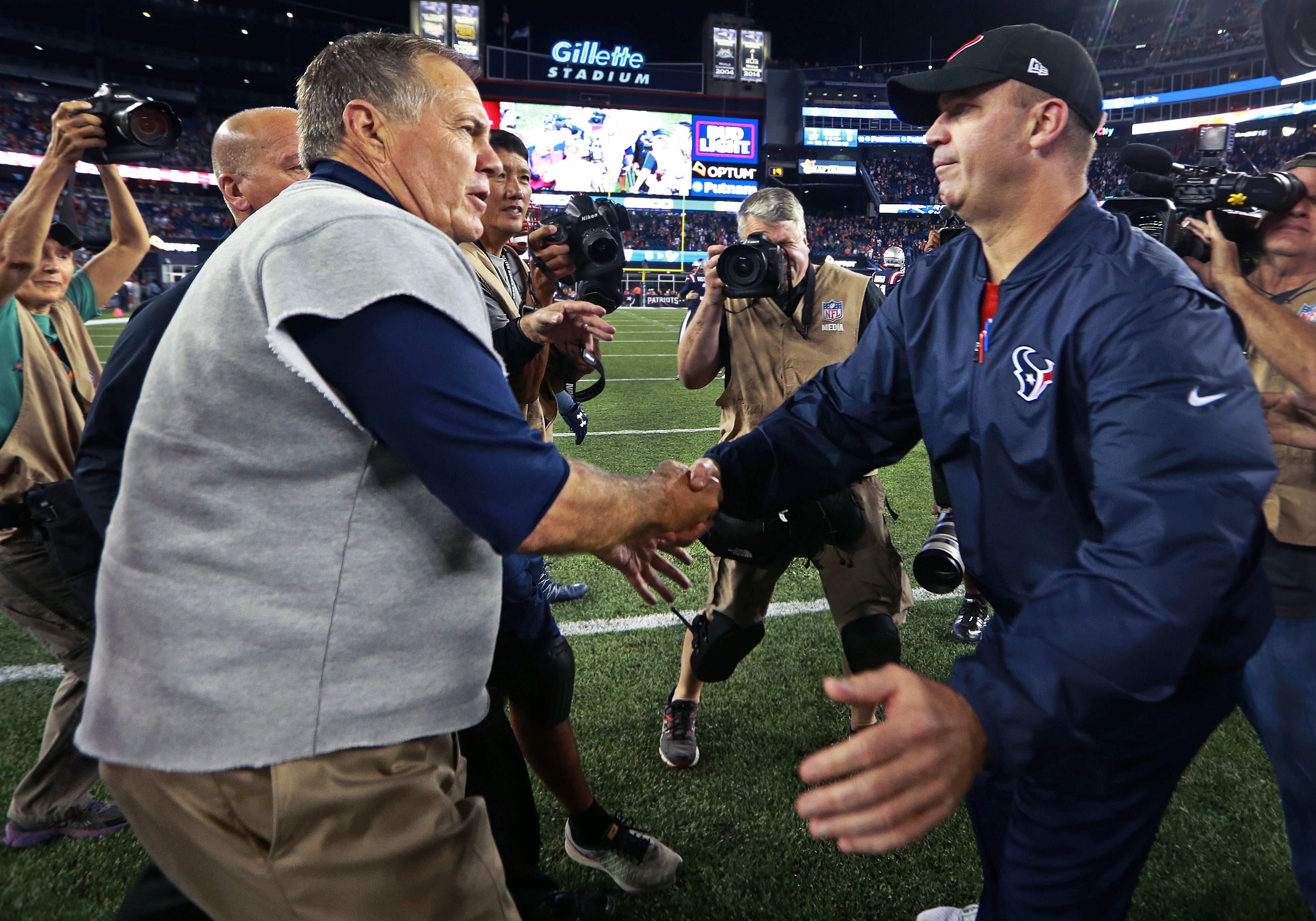 McDaniels had been with the Patriots organization for 18 of the past 21 seasons, with just his two years as Broncos head coach from 2009-10 and one year as Rams' offensive coordinator in 2011 breaking up his two decades with the Patriots.
McDaniels and O'Brien only overlapped on the Patriots' staff for two seasons. O'Brien first arrived in New England in the fateful 2007 season that came within a victory over a perfect 19-0. McDaniels was offensive coordinator for that 50-touchdown season for Brady, while O'Brien, having spent the previous two seasons as Duke University's offensive coordinator, took a job in New England as an offensive assistant.
In 2008, O'Brien was promoted to wide receivers coach, then moved to quarterbacks coach for the two seasons McDaniels was a head coach in Denver and essentially served as co-coordinator with Dante Scarnecchia.
But after early playoff exits, Belichick put O'Brien in charge alone for the 2011 season, and the result was a return to the Super Bowl.
O'Brien's lone season as Patriots offensive coordinator ended with a Super Bowl appearance
Belichick knows exactly what O'Brien is capable of when given the reins to his offense. In O'Brien's lone season as Patriots' offensive coordinator in 2011, before taking over the Penn State football program in 2012, Brady threw for over 5,200 yards and 39 touchdowns.
O'Brien utilized a two tight-end set, with Rob Gronkowski blowing up for 90 catches, 1,327 yards and 17 touchdowns, while the No. 2 tight end, Aaron Hernandez, had 79 catches for 910 yards and seven scores.
And then there was Wes Welker, out from under the shadow of Randy Moss, catching 122 passes for 1,569 yards and nine touchdowns. Only a great pass-and-catch by the New York Giants' Eli Manning and Mario Manningham prevented a Patriots victory in Super Bowl 46.
The Patriots' tight ends in 2021 were vastly under-utilized in Mac Jones' first season, but Hunter Henry and Jonnu Smith are accomplished pass-catchers who could emerge under O'Brien's system.
O'Brien developed a relationship with Mac Jones as pupil to Jones' teacher at Alabama
There is perhaps no deeper friendship in football than between Belichick and Alabama head coach Nick Saban. It is a relationship that goes back decades, even before Belichick had Saban on his staff when he coached the Cleveland Browns in the early 1990s.
Their shared philosophy and value systems undoubtedly led Belichick to select Jones from Alabama in the first round of the 2021 NFL Draft, and it will likely be no small factor if Belichick brings O'Brien back into the fold.
But it's not the Belichick-Saban relationship that is the most relevant in this scenario. As it happens, it is Jones and O'Brien who have now worked together and have a level of comfort and trust that would serve both well in an official collaboration. For when Saban brought O'Brien on board last year to become Alabama's offensive coordinator, he had Jones give O'Brien a crash course in how Alabama runs its offense before Jones departed for New England and the start of his NFL career.
Now it could be O'Brien's turn to help Jones build off a successful rookie season and take the Patriots back to the level O'Brien achieved in New England a decade ago.
Stats courtesy of Pro Football Reference