Explaining the New York Knicks Miserable First Half of the NBA Season
The New York Knicks are one of the NBA's most storied franchises. They were a consistent winner at different points in the 1950s, '70s, and '90s. But they've reached a lengthy lull as of late.
The last time the Knickerbockers had any real postseason success came during the Carmelo Anthony era when the team made it to the second round of the Eastern Conference playoffs in 2012-13 — at least until last year, when the Knicks earned the No. 4 seed in the East and hosted a playoff series at Madison Square Garden.
Big things were expected from a 2021-22 team that had appeared to upgrade its roster over the summer, but it hasn't played out that way at all.
Why have the Knicks regressed so significantly after such a promising 2020-21 season??
The New York Knicks made the NBA playoffs for the first time in eight years in 2020-21
The franchise made some much-needed changes leading into the 2020 season.
Leon Rose — a former agent with CAA — was hired as the Knicks president. Rose brought aboard William Wesley, aka World Wide Wes, to be the team's new Executive Vice President, per NBA.com.
The two were a relatively odd pairing to run a franchise, but New York desperately needed to shake things up, and they finally did.
In another relatively odd turn of events, the team had a quiet offseason. Obi Toppin and Immanuel Quickley were first-round selections, and Austin Rivers, Alec Burks, and Nerlens Noel were minor signings in free agency. The Knicks didn't just chuck money at second-tier free agents.
New York's most significant move was bringing aboard former Chicago Bulls and Minnesota Timberwolves head coach Tom Thibodeau to — forgive the overuse of the phrase — change the culture. But that's exactly why Thibs was hired.
That all came together and morphed into the team's first home playoff series in eight years, and I daresay a glimmer of hope. The Knicks lost to new Garden villain Trae Young and the Atlanta Hawks, but by all accounts, it was considered a successful season.
Another step forward was expected in 2021-22. But yikes.
What's caused New York to take a leap back this season?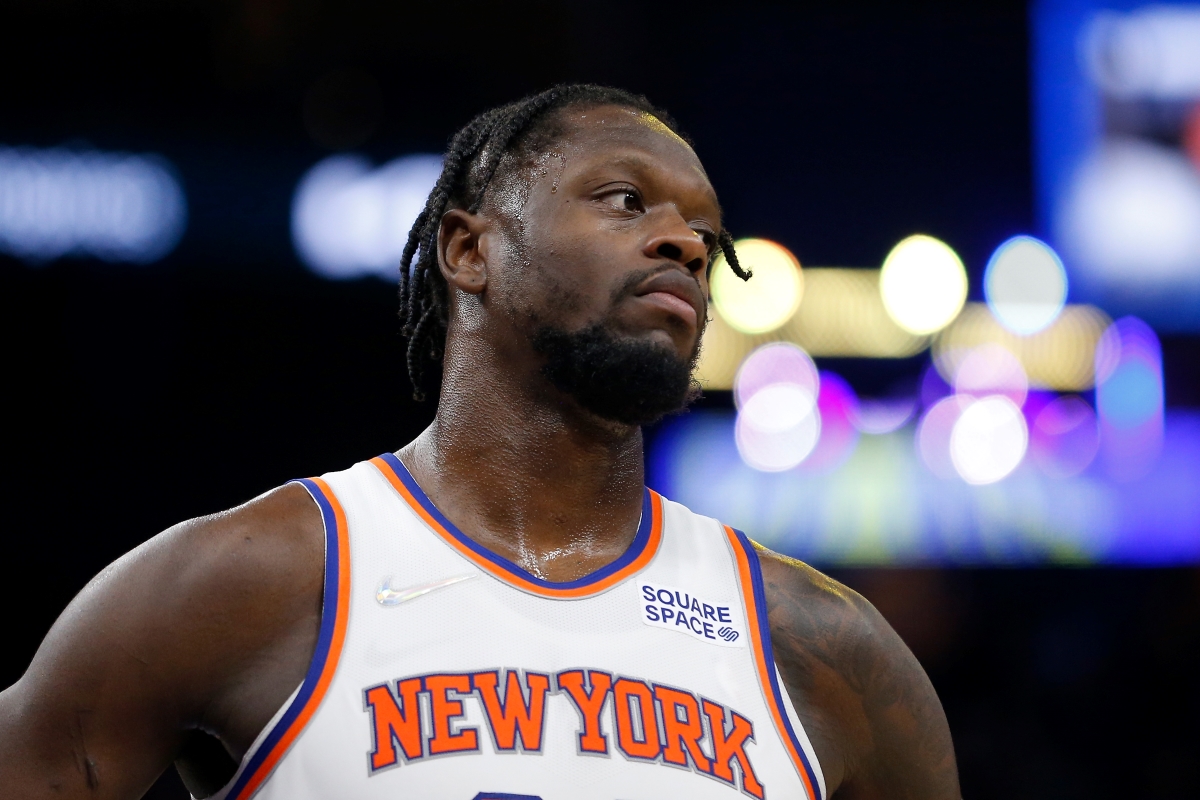 Heading into the All-Star break, the Knicks blew a 28-point lead to the Brooklyn Nets with no Kevin Durant, Kyrie Irving, James Harden, or Ben Simmons. Rookie Cam Thomas scored 16 fourth-quarter points and hit a clutch three with 7.7 seconds remaining.
It was the perfect ending to an incredibly underwhelming first half of the season.
New York is 25-34 and in 12th place in the East. The loss to the Nets capped off a 2-8 final 10 games heading into the break.
Several things have caused the Knicks' downslide:
Julius Randle had a career year at age 26 and New York re-signed him to a four year, $117 million deal. His numbers have declined across the board
Kemba Walker was signed to a low-risk deal in free agency and has played so poorly he was benched at one point
Evan Fournier was signed to add a scoring punch but has averaged just 14.5 points
Burks is the team's sixth-leading scorer
Toppin hasn't yet developed into what the franchise hoped he would be as the eighth overall pick
Potential franchise centerpiece RJ Barrett hasn't been able to take a consistent leap in his third season
Fournier, Walker, Barrett, and Randle were supposed to lead the offense. Well, New York is 27th in the league in points per game and 29th in assists. The ball hasn't moved or gone in the basket.
Even as the eighth-best team in points allowed, the Knicks are giving up more (106.6) than they're scoring (105.1). The answer to what's gone wrong is "essentially everything."
The franchise will likely have to reset for next year
Barring some miraculous turnaround, there isn't much hope for the remainder of this season. New York just doesn't have the pieces to compete.
ESPN's Stephen A. Smith — a Knicks fan himself — went off on the organization on NBA Countdown.
In part, Smith said, "The New York Knicks are a national disgrace, ladies and gentlemen." Not a great start.
Then, after laying into Thibodeau, he switched gears to Randle. And then Rose.
"Leon Rose, I mean we got inmates in state penitentiaries more visible than this man. He's the president of basketball operations. We can't find this man. They are trash! Horrible!"
Smith can be hyperbolic and overzealous at times, but I'm sure Knicks fans wouldn't necessarily disagree with him.
Rose and Wes now need to reshape the roster again this summer. A one-season return to the playoffs isn't bringing this franchise back to respectability.
Things have to change — again — at MSG.
All statistics courtesy of NBA.com.
RELATED: Who Owns the New York Knicks and Should He Sell the Team?