Why Extending Doc Rivers' Contract was 1 of the Clippers Smartest Decisions in Years
Truly legendary coaches are not only few and far between, sometimes they're mentored by a master from their past. In Doc Rivers (given name Glenn Rivers), his received his Doc nickname from his college coach Rick Majerus, who is a legend in his own right. When Rivers showed up to training camp wearing a Dr. J (for Julius Erving) T-shirt, Majerus gave Glenn the title which has stuck with him throughout his basketball career both as a player and a successful head coach.

When Majerus died in 2012 at the age of 64, a very emotional Rivers revealed to ESPN that he learned Majerus wasn't likely to make it through the night just before a game he eventually lost to Milwaukee on December 1. Choking back tears, Rivers told a reporter, "That's a tough one for me, I mean, he's the one who gave me my name."

The Los Angeles Clippers recently signed Rivers to a long-term extension, and it might be one of the best decisions in franchise history.

Award-winning ways
Doc Rivers is very near the top of his game when it comes to the most wins among active NBA coaches. Although the Clippers lost to the Warriors in the first round playoffs, they still battled through six games, which means they enjoyed two quality wins against a championship-worthy foe.

Similar to making it to the playoffs without actually winning, it's still an honor to make an appearance there despite the outcome. Another accolade Doc Rivers recently received was being a finalist for the Rudy Tomjanovich Award that honors a coaches' performances both on-and-off the court, including professionalism when interacting with fans and the media.

Overall stats
When you look at Doc Rivers coaching record over the last two decades with the Orlando Magic, Boston Celtics, Los Angeles Clippers, his statistics are certainly nothing to sneeze at when you consider his career numbers:
Nearly nine hundred games won in the NBA
More than 1,500 games coached
.576 win/loss percentage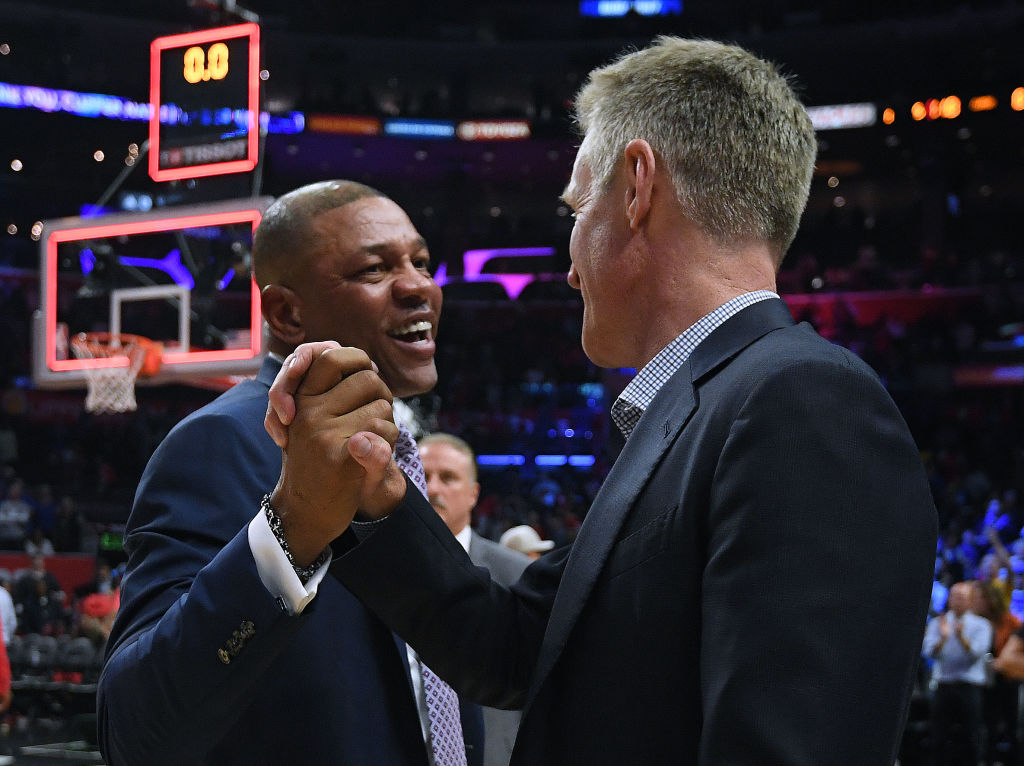 His figures in the playoffs are equally as impressive. He led the Boston Celtics to their most recent NBA championship in 2008, and he later took Boston to the 2010 NBA Finals.

Speaking of the playoffs, 2019 marked the 15th time one of Doc's teams made it the postseason, compared to just five times his players have failed to reach that plateau. When bringing his team to the end of a season, Rivers record includes:
His lowest division finishes were 7th place in 2004 and 5th in 2007
Guided his teams 3rd and 4th in the division three times each over the years
Finished first or second in the division 12 of 20 years as a coach
Led Boston to five consecutive division titles from 2007-08 to 2011-12
Helped the Clippers finish first in 2014
To put it simply, Doc Rivers is the best coach the Clippers have ever had. He took them to the playoffs four straight years from 2013-14 to 2016-17, which is something no coach in franchise history has ever done. With his 307-185 record, Rivers is the winningest coach in Clippers' history, too.
Closing credits
When it comes to awards, we'll have to wait and see if Rivers will take home the Rudy Tomjanovich title, but he is already an accomplished coach. Some of his other credits over the years include being named Eastern and Western Conference Coach of the Month an astonishing six times and five times, respectively.

In 2000, Doc won Coach of the Year for Orlando in his first season as a head coach. The Magic went 41-41 that season.

Doc Rivers is clearly a talented coach, and the Clippers have a spotty history at best, so locking up Rivers with a long-term extension is perhaps one of the wisest decisions made by L.A. management in recent years.