NFL: Ezekiel Elliott and 4 Other Cowboys Players With the Biggest Contracts
One Dallas Cowboys player was in the news recently for his big contract: Ezekiel Elliott, who ended his holdout. But Elliott isn't the only player the Cowboys have locked up for a big deal. In fact, he's not even the team's highest-paid player.

Let's take a look at Ezekiel Elliott and the four other Cowboys players with the biggest contracts on the team. (All contract figures based on total money and courtesy of Spotrac).

5. Jaylon Smith, LB
At the 2016 Fiesta Bowl, Jaylon Smith tore both his ACL and LCL. Despite his seemingly limitless potential, it put his career in doubt.

He's come a long way since then.

The Cowboys selected Smith at No. 34 overall in the second round of the 2016 NFL draft. He has five career sacks, 202 combined tackles and was just named as a team captain for 2019. The NFL also named him one of the league's top 100 players this season.

His pro career may have gotten off to a rocky start, but it's clear he's now ensconced as one of the Cowboys' best players.

4. Zack Martin, OL
Zack Martin is one of the most important cogs in a Cowboys' offensive line that allows Ezekiel Elliott to run so effectively. One concern the team has is the disc irritation in his back this preseason. Martin, drafted by the team in 2014, is a five-time Pro Bowler.

Martin is the team's fourth-highest player for good reason. While Elliott grabs the headlines, it's the Dallas offensive line that does a lot of the grunt work that opens up running lanes for him.

3. Ezekiel Elliott, RB
Ezekiel Elliott's new deal is somewhat controversial due to his position. Advanced stats say he's not worth a big contract. But it's hard to look at Elliott's production over the last few seasons and conclude the Cowboys can be the same team without him. In his three seasons, he's played all 16 games twice. Both times, he led the league in rushing.

If Elliott plays an entire year, he'll likely make his deal look more than worth it. The question is how long he'll be able to produce at his current rate before suffering injury or fatigue? 

2. Tyron Smith, OL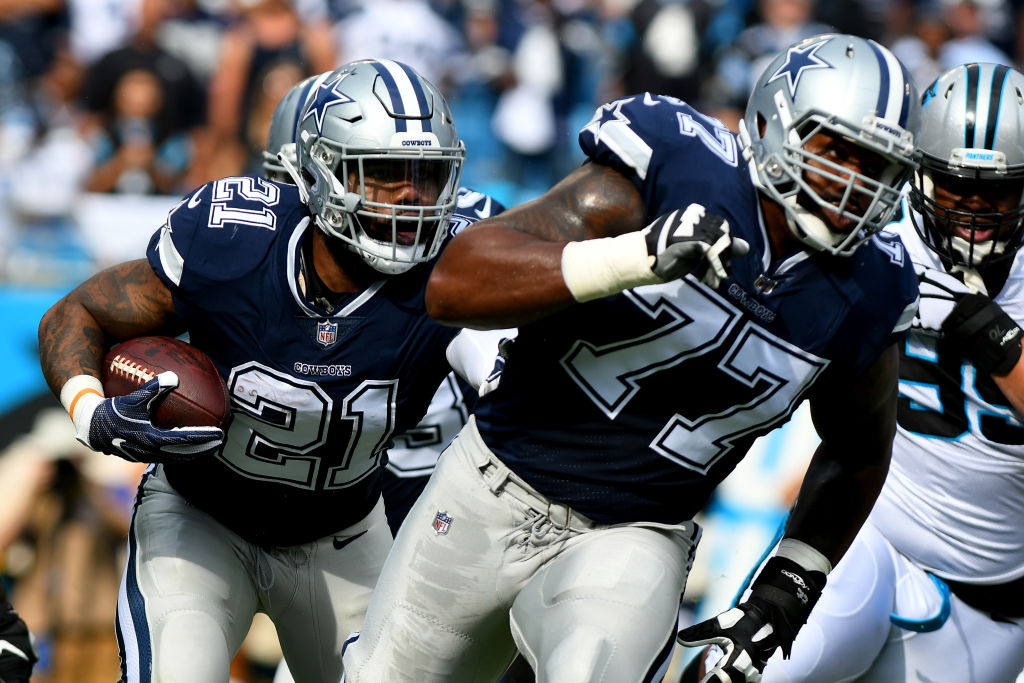 Eight years, $97.6 million
Along with Martin, Tyron Smith makes up another component of the Cowboys' fearsome offensive line. A 2011 first-round draft pick, Smith has six Pro Bowl and two All-Pro selections to his name. 

Smith is an elite offensive lineman. Pro Football Reference compiles "similarity scores" to show which players an NFL player compares favorably to. Here are some of the linemen who Smith stacks up with:
Jonathan Ogden
Randall McDaniel
Joe Thomas
Gary Zimmerman
Jim Otto
Willie Roaf
Dermontti Dawson
Kevin Mawae
All of those players are either in (or in the case of Joe Thomas) will be in the Pro Football Hall of Fame. Smith has the track record and the results. His megadeal is well-earned, and his presence is crucial to the Cowboys' offense.

1. DeMarcus Lawrence, DL
DeMarcus Lawrence signed his deal, the highest on the team, before his April shoulder surgery. It's deserved — he had 25 sacks combined in 2017 and 2018 — but he's now under a lot of pressure to produce.
Lawrence is healthy and ready to go, but he'll have to continue to make a big impact on defense to justify his contract. Lawrence may be the only player with as big a target on his back as Elliott. Here's our prediction: if the Cowboys have trouble re-signing QB DakPrescott or WR Amari Cooper, and if Lawrence doesn't at least equal his sack totals from years past, he'll hear it from the media and fans.