Ezekiel Elliott Deflects Blame Off Dak Prescott Amid Cowboys Surprising Offensive Woes
America's Team hasn't looked the same as it did a few weeks ago. The Dallas Cowboys were right in the thick of the Super Bowl conversation, and Dak Prescott was also in the talks of the NFL MVP candidates. However, things have looked a bit iffy around Jerry World lately.
The Cowboys have gone 2-2 in the past four games and Prescott has thrown for just four touchdowns over that stretch. Skeptics have come out regarding Prescott's recent play, but running back Ezekiel Elliott cooled down those talks with his own take on the team's state.
Dak Prescott's struggles have been a big talking point for the Dallas Cowboys
The fearsome Cowboys offense has been surprisingly quiet over the past four games. They have scored only six total touchdowns in that span, less than the four NFL teams.
Furthermore, Prescott has interceptions in three of those four and two games with a pair of picks. It's surprising and concerning, even with Dallas finding ways to win the past two weeks and remain atop the NFC East.
For now, it isn't the most worrisome fact, but this isn't exactly what you want to see in the final stretch. If it weren't for the talented Cowboys defense, this team might not even be on top of the lowly NFC East.
Jerry Jones had some interesting comments about Prescott's recent play, but Elliott had his thoughts.
Ezekiel Elliott gives Dak Prescott a ringing endorsement as the playoffs approach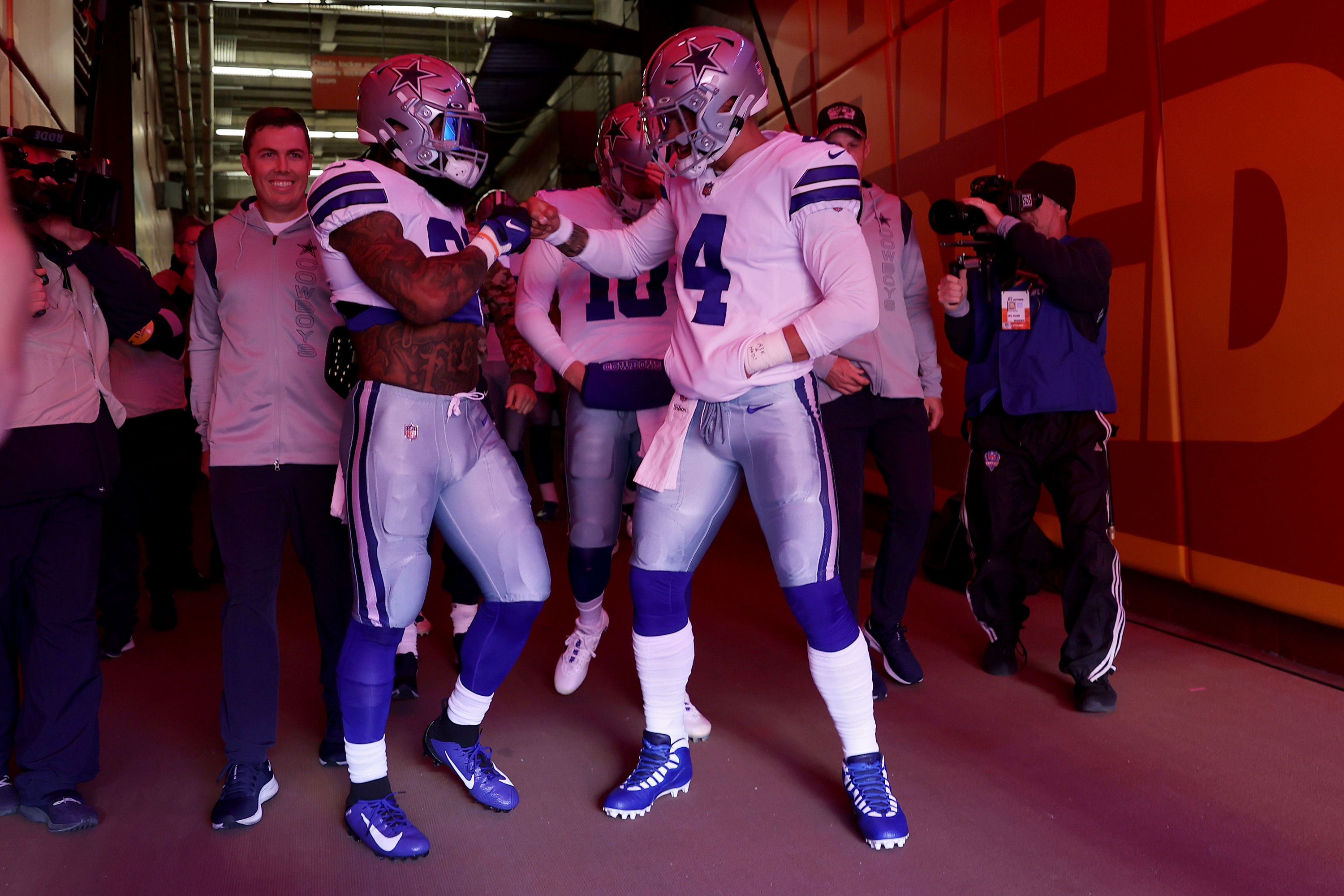 The takes surrounding Prescott are plenty. Yes, he hasn't looked like himself the past few weeks, yet the Cowboys have somehow found a way to go 2-2 in that stretch.
But, Elliott is backing his quarterback and placing the blame on the entire offense (h/t Jon Machota of The Athletic).
"I mean, there's 11 of us out there, so I wouldn't say you could put anything on one player because it takes 11 guys to make a play. And I think we all need to play better. The whole offense collectively."

Ezekiel Elliott on Cowboys struggles
Look, everybody knows the Cowboys' offense is struggling. But, placing all of the blame on Prescott is interesting, and Elliott knows that.
There are 11 guys out there, not to mention the Cowboys have dealt with injuries and COVID-19 issues, including Amari Cooper missing time after dealing with protocols.
The offense is bound for a bounce-back performance, and everybody knows it's coming. With all of the talk about Prescott's recent performance, it is refreshing to see Elliott deflect the blame and put it on everybody.
The Cowboys have a perfect bounce-back opportunity against the New York Giants in Week 15
The good news for Dallas?
They face the New York Giants on Sunday. Daniel Jones is out again, and the Giants are another team ravaged by COVID-19 issues.
New York has eight players dealing with the protocols, and the NFL has no plans of moving the game.
If this isn't the perfect week for Prescott and the Cowboys' offense to bounce back, then what is?
Elliott is ready to roll — although there could be some long-term issues with his health. Tony Pollard is officially listed as questionable, and the Giants secondary has been demolished due to COVID-19 issues. All signs point to Prescott getting back on track with another tremendous performance, just in time to gain some momentum toward the final few weeks of the season.
But, the Giants made an interesting addition by adding former Cowboys linebacker Jaylon Smith just days before, and he is expected to play.
Is this some gamesmanship going on? Or are the Giants that hampered by the recent turn of events? It is probably a bit of both, but it is still an interesting nugget to watch.
Nonetheless, Prescott and the Cowboys' offense should explode against a battered, beat-up Giants team. If they don't, the pitchforks just might come out in full force.
Stats Courtesy of Pro Football Reference