Ezekiel Elliott Is in an Exclusive Club With Hall of Fame RB LaDainian Tomlinson
For some reason, many people have been critical of Ezekiel Elliott's play on the field for the Dallas Cowboys. He, however, has led the NFL in rushing yards in two of his first four seasons and was still fourth in the NFL in rushing in 2019. Additionally, Elliott has done something that only one other player in the NFL has ever done. That other player is Hall of Fame running back LaDainian Tomlinson.
Ezekiel Elliott has had an excellent start to his career with the Dallas Cowboys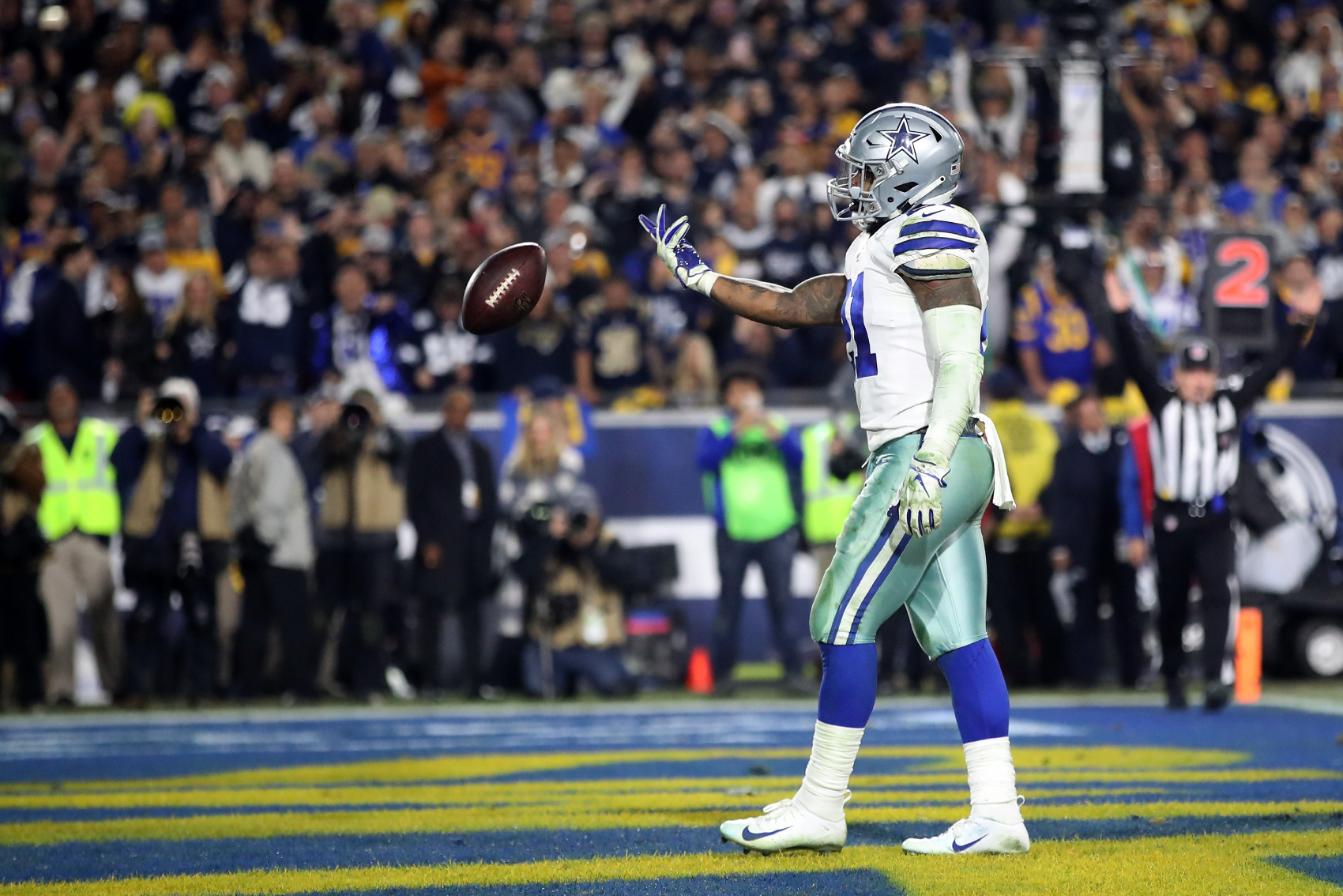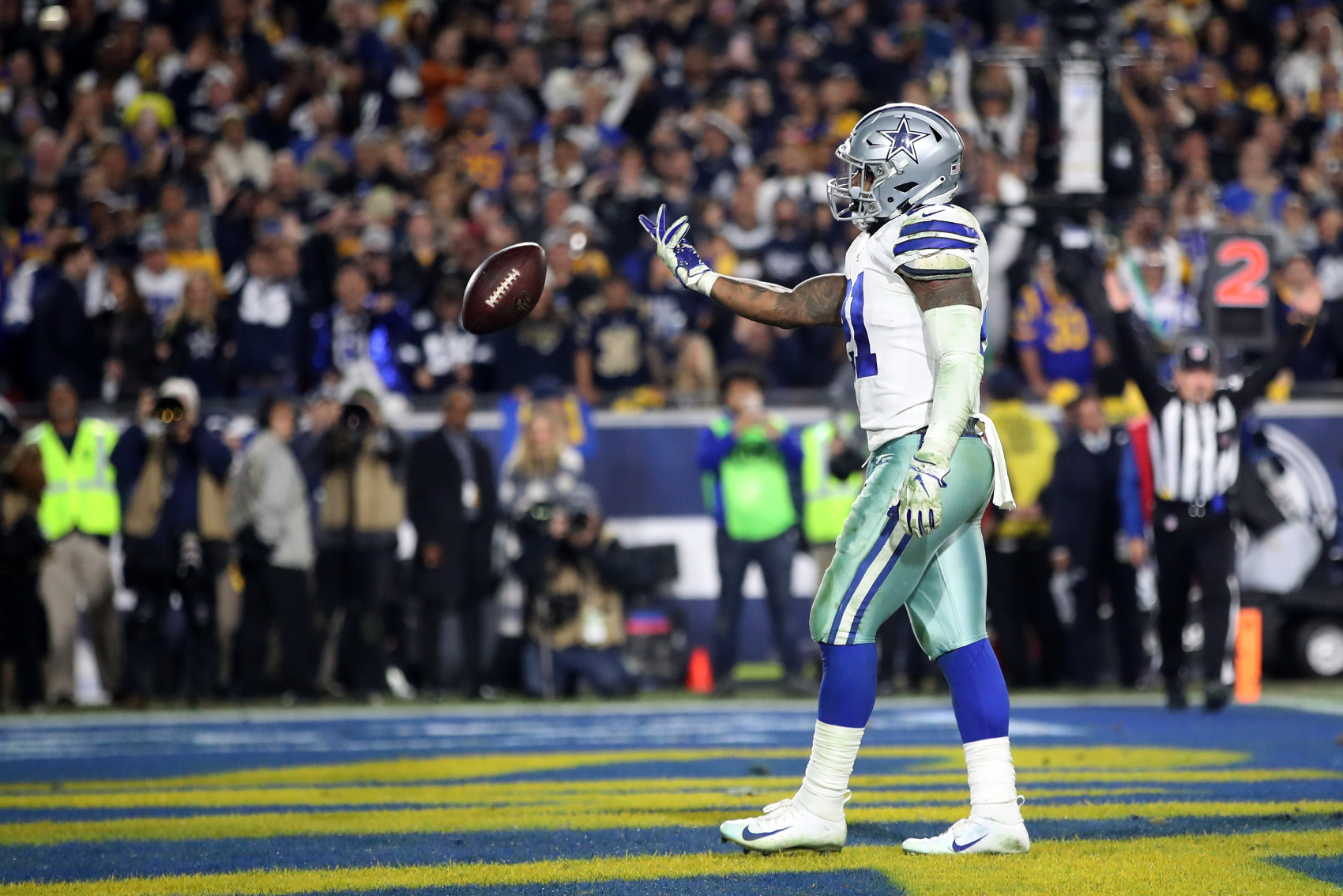 Before entering the NFL, Elliott had a legendary career for the Ohio State Buckeyes. He ran for over 1,800 yards in two consecutive seasons in 2014 and 2015.
Additionally, he helped lead the Buckeyes to a national championship win during the 2014 season. Elliott ran for 230 yards and two touchdowns in the College Football Playoff Semifinal game against Alabama. He also ran for 246 yards and four touchdowns in the National Championship game against Oregon. 
Elliott's play led to him going to the Dallas Cowboys with the fourth overall pick in the 2016 NFL draft, and he has been excellent for the Cowboys ever since. 
In his rookie season in 2016, Elliott earned a Pro Bowl selection, and First-Team All-Pro honors as he led the NFL in rushing yards with 1,631 yards to go with 15 rushing touchdowns.
Elliott only played in 10 games in 2017 and ran for 983 yards and seven touchdowns in those games. However, in 2018, he earned a Pro Bowl selection again, and led the NFL in rushing yards again with 1,434. He also had a career-high 567 receiving yards. 
Elliott missed training camp in 2019 as he was holding out for a new contract, but the missed time did not affect him. He ran for 1,357 yards and 12 touchdowns in 2019. He also caught 54 passes for 420 yards. 
For his career so far, Elliott has gained 5,405 rushing yards to go with 40 rushing touchdowns. He has also caught 189 passes for 1,619 yards and eight touchdowns. 
LaDainian Tomlinson had a Hall of Fame career in the NFL
Like Elliott, Tomlinson also had a stellar college career. In 1999, he ran for 1,974 yards and 20 touchdowns at TCU. He then ran for 2,158 yards and 22 touchdowns in 2000.
The San Diego Chargers ultimately selected Tomlinson with the fifth overall pick in the 2001 NFL draft. Tomlinson came in and was immediately a star. He ran for 1,236 yards and 10 touchdowns in his rookie season, and he ran for over 1,100 yards in each of his first eight seasons. 
In 2006, Tomlinson earned his second and the first of two consecutive First-Team All-Pro selections as he led the NFL in rushing yards with 1,815, and in rushing touchdowns with 28. His 28 rushing touchdowns in a season are the most in a single season in NFL history. Tomlinson ultimately earned the MVP award in 2006.
In addition to being great on the ground, Tomlinson was effective in the passing game. He caught 100 passes for 725 receiving yards in one season in 2003.
For his career, Tomlinson ran for 13,684 yards (seventh all-time) and 145 touchdowns (second all-time). He also caught 624 passes for 4,772 receiving yards and 17 touchdowns.
Ezekiel Elliott and LaDainian Tomlinson are the only two players in this club
Elias Sports Bureau tweeted out a trivia question recently, asking who (in addition to Elliott) is the only other NFL player in history to have at least 5,000 rushing yards and 1,500 receiving yards in his first four seasons. As mentioned above, Elliott has 5,405 rushing yards and 1,619 receiving yards so far in his career.
The question gave Tomlinson, Marshall Faulk, Herschel Walker, and Marcus Allen as options for the answer. However, they later came back and said that Tomlinson was the only other player to do so. Through his first four seasons, Tomlinson had 5,899 rushing yards and 2,022 receiving yards.
Compared to the other three players in the poll, Allen had 4,638 rushing yards and 2,304 receiving yards through his first four seasons; Walker had 4,057 rushing yards and 2,480 receiving yards, and Faulk had 4,001 rushing yards, and 1,896 receiving yards. 
So, does this mean Elliott will ultimately become a Hall of Fame running back? Not quite, he needs to continue to sustain this success, but he is certainly in great company with Tomlinson.
Stats courtesy of Sports Reference and Pro Football Reference