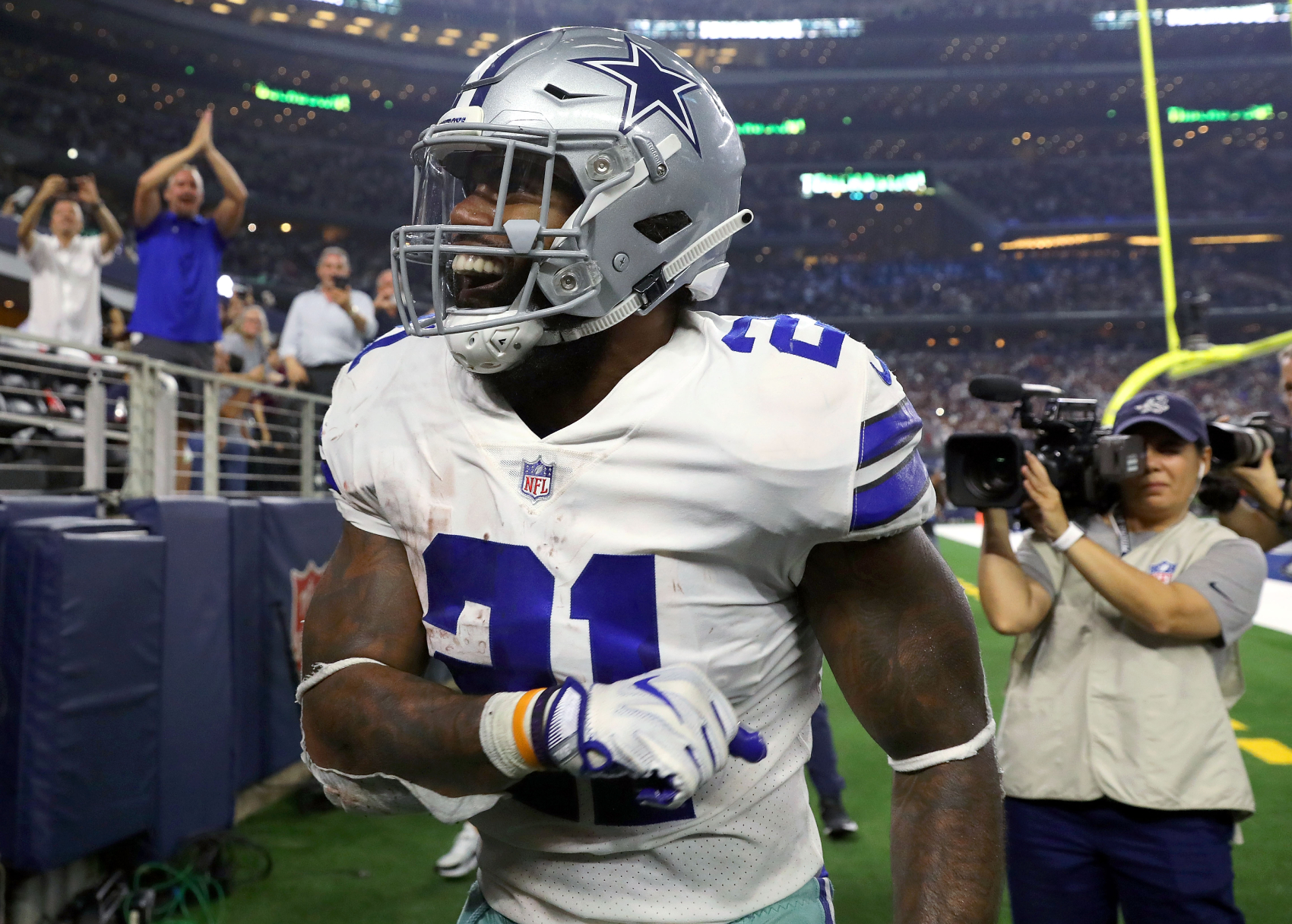 Ezekiel Elliott Is in Awe of a QB Not Named Dak Prescott
Ezekiel Elliott plays with a pretty talented quarterback on the Dallas Cowboys in Dak Prescott. He, however, is in awe of someone else.
Ezekiel Elliott and Dak Prescott have done some special things together on the Dallas Cowboys since being drafted by the team in 2016. The Cowboys' offense was fifth in scoring in 2016, and then sixth in 2019. However, Elliott is in awe of an NFL quarterback that isn't Prescott. That quarterback is reigning NFL MVP Lamar Jackson. 
Lamar Jackson was dominant for the Ravens in 2019
Jackson went to the Baltimore Ravens with the 32nd overall pick in the 2018 NFL draft. He then had a decent season in his rookie year with the Ravens. Jackson appeared in 16 games, starting in seven, and threw for 1,201 yards, six touchdowns, and three interceptions. He also ran for 695 yards and five touchdowns. 
However, in 2019, Jackson became an absolute star in the NFL. 
He threw for 3,127 yards, an NFL-leading 36 touchdowns, and only six interceptions. Jackson was also dominant on the ground as he ran for 1,206 yards and seven touchdowns. His play helped him earn a Pro Bowl selection, First-Team All-Pro honors, and he was the NFL MVP. The Ravens were one of the best teams in the NFL too, as they went 14-2.
Jackson and the Ravens ultimately lost to the Tennessee Titans in the Divisional Round of the playoffs, but he let everyone know that he is the real deal. 
Ezekiel Elliott is in awe of the reigning MVP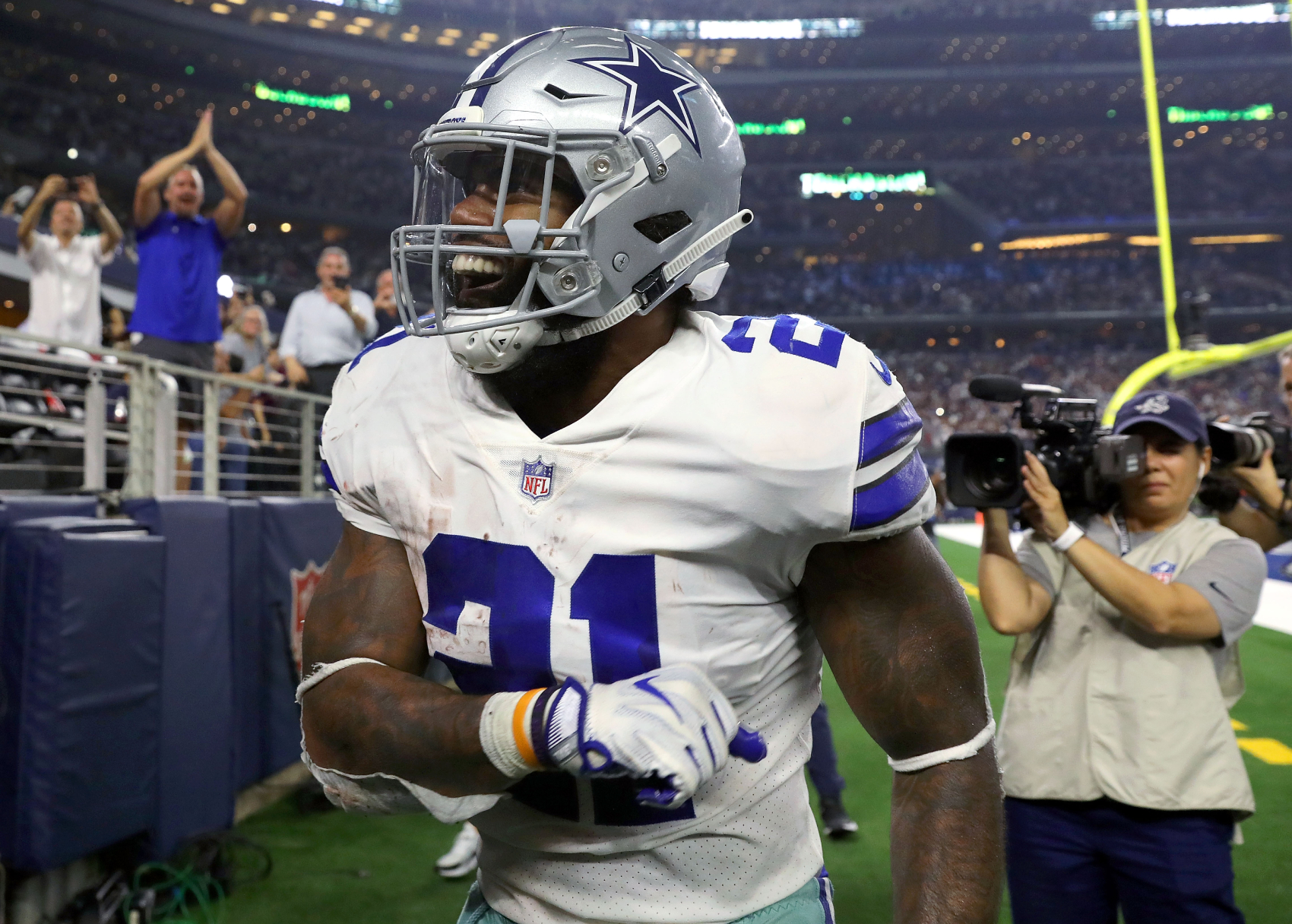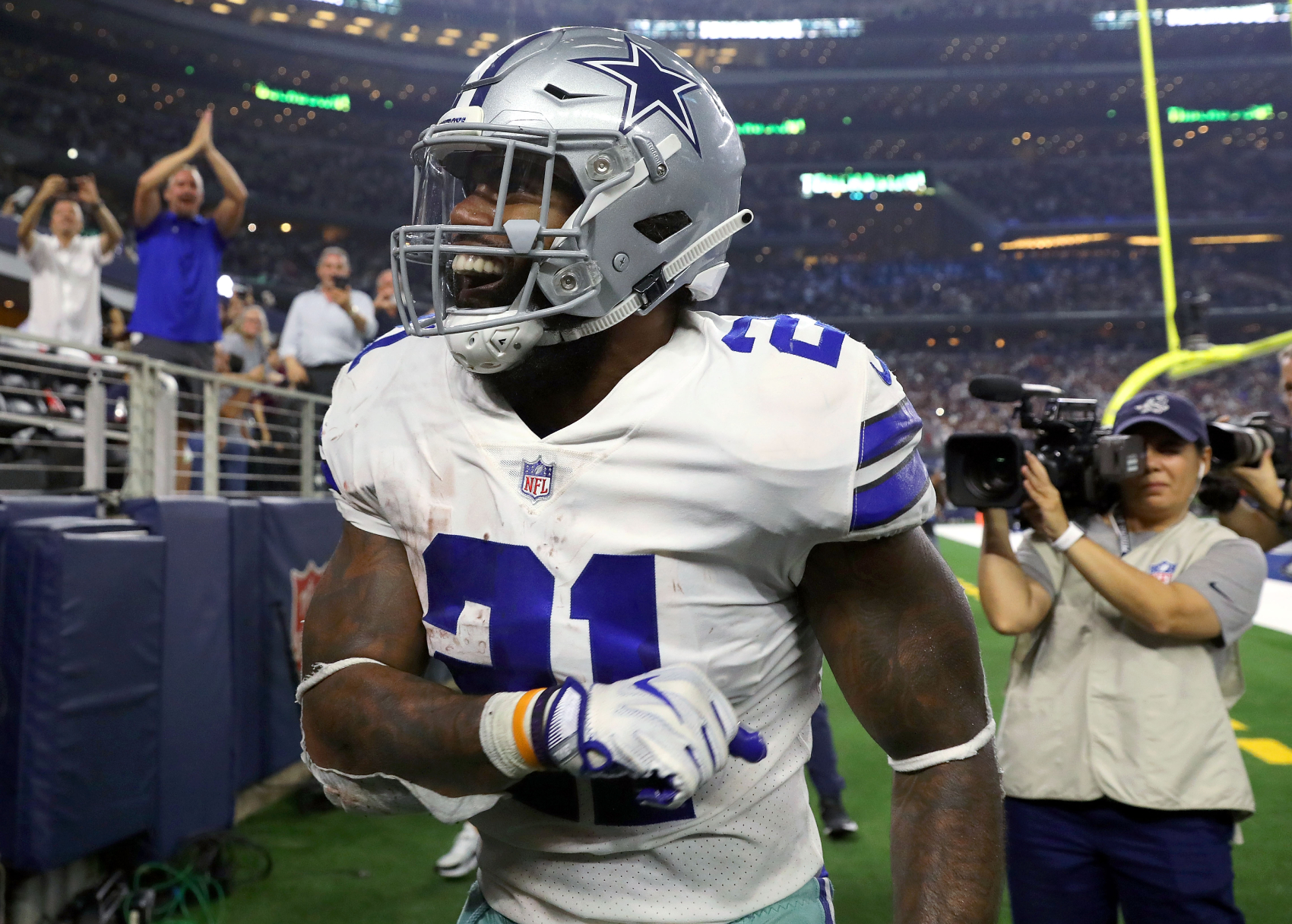 The official NFL Films Twitter account tweeted out a video about Jackson for their NFL Top 100 campaign. 
Elliott, when referring to the 2019 season, had high praise for Jackson. 
"Did you not see what he was doing? I mean, he made pro football look like high school highlights," Elliott said in the video.
He was, however, not the only running back to praise Jackson in the video.
"When I seen that spin move, I said, 'You know what that's what [former Vikings running back] Chuck Foreman used to tell me,'" said former NFL MVP Adrian Peterson. "For Chuck Foreman, that was his specialty — that spin move. I asked him about it, and he was like, 'You got to spin like you're getting somewhere.' [Jackson's] spin was perfect. The ball was tight. He didn't lose any momentum."
An Ezekiel Elliott-Lamar Jackson duo would be unstoppable
Jackson and Elliott will probably never play on the same team together, at least during their primes. Elliott is locked up with the Cowboys through the 2026 season, and the Ravens will most likely sign Jackson to a long-term deal within the next couple of seasons. 
However, if the two were to ever play on the same team — they would be absolutely unstoppable. The Ravens had a solid running back in the backfield to complement Jackson in 2019 in Mark Ingram. He ran for just over 1,000 yards. As for Elliott, he has had a really talented quarterback in Prescott, who threw for 4,902 yards, 30 touchdowns, and 11 interceptions in 2019.
Ingram, however, is not of the same caliber as Elliott. Last season, Elliott ran for 1,357 yards and 12 touchdowns. He has also led the NFL in rushing yards twice in 2016 and 2018.
Additionally, compared to Jackson's production on the ground, Prescott has never gained over 357 rushing yards in a season in his career. 
With Jackson and Elliott both being able to use their legs to dominate defenses, teams would have to focus on stopping both of them — not just one elite runner. Because of the defenses being so worried about the run game, this would ultimately open up the passing game for Jackson. How do you stop that?
Jackson amazed Elliott and many other players during the 2019 season. Both of these guys, though, have a chance to dominate in the NFL for a long time.
Stats courtesy of Pro Football Reference