Ezekiel Elliott Just Sent Out an Encouraging Message About the Dallas Cowboys' New QB
There were some high expectations for Ezekiel Elliott and the Dallas Cowboys for this 2020 NFL season. Everything has gone wrong for the Cowboys this year, though, as they are just 2-5 through seven games so far. A reason they have struggled so much is that star quarterback Dak Prescott went down with a season-ending injury earlier this year. Now, it appears that backup quarterback Andy Dalton is going to miss time. Fear not, though, Cowboys fans. Elliott just sent out an encouraging message about the team's new quarterback — Ben DiNucci.
The Dallas Cowboys have been awful during the 2020 NFL season
RELATED: Jerry Jones' Recent Comments Just Proved He's Pissed off and Clueless About the Dallas Cowboys
Dallas Cowboys fans had high hopes for their team heading into the 2020 season. The Cowboys had one of the best young quarterbacks in the NFL in Dak Prescott. Dallas also had some of the best weapons in the league surrounding him in running back Ezekiel Elliott and wide receivers Amari Cooper, Michael Gallup, and CeeDee Lamb.
However, in addition to having one of the NFL's worst defenses (the Cowboys are allowing 34.7 points per game, which is last in the league), Dallas has dealt with a ton of injuries.
Gerald McCoy suffered a torn quadriceps tendon before the season began, linebacker Leighton Vander Esch also missed some time this season, and linebacker Sean Lee started the season on IR.
This is all in addition to some injuries on the offensive line, and one of the most devastating injuries in the NFL so far this season — Dak Prescott's. During Week 5 against the New York Giants, Prescott suffered a season-ending injury. Prior to getting hurt, he had been leading the NFL in passing yards.
Andy Dalton then became the Cowboys' starting quarterback, but in the Cowboys' Week 7 game against Washington, he ended up getting hit hard by linebacker Jon Bostic and had to leave the game. Ben DiNucci ended up coming into the game and is now expected to play in Week 8 as Dalton isn't expected to clear concussion protocol by then.
Ezekiel Elliott sends out an encouraging message about Ben DiNucci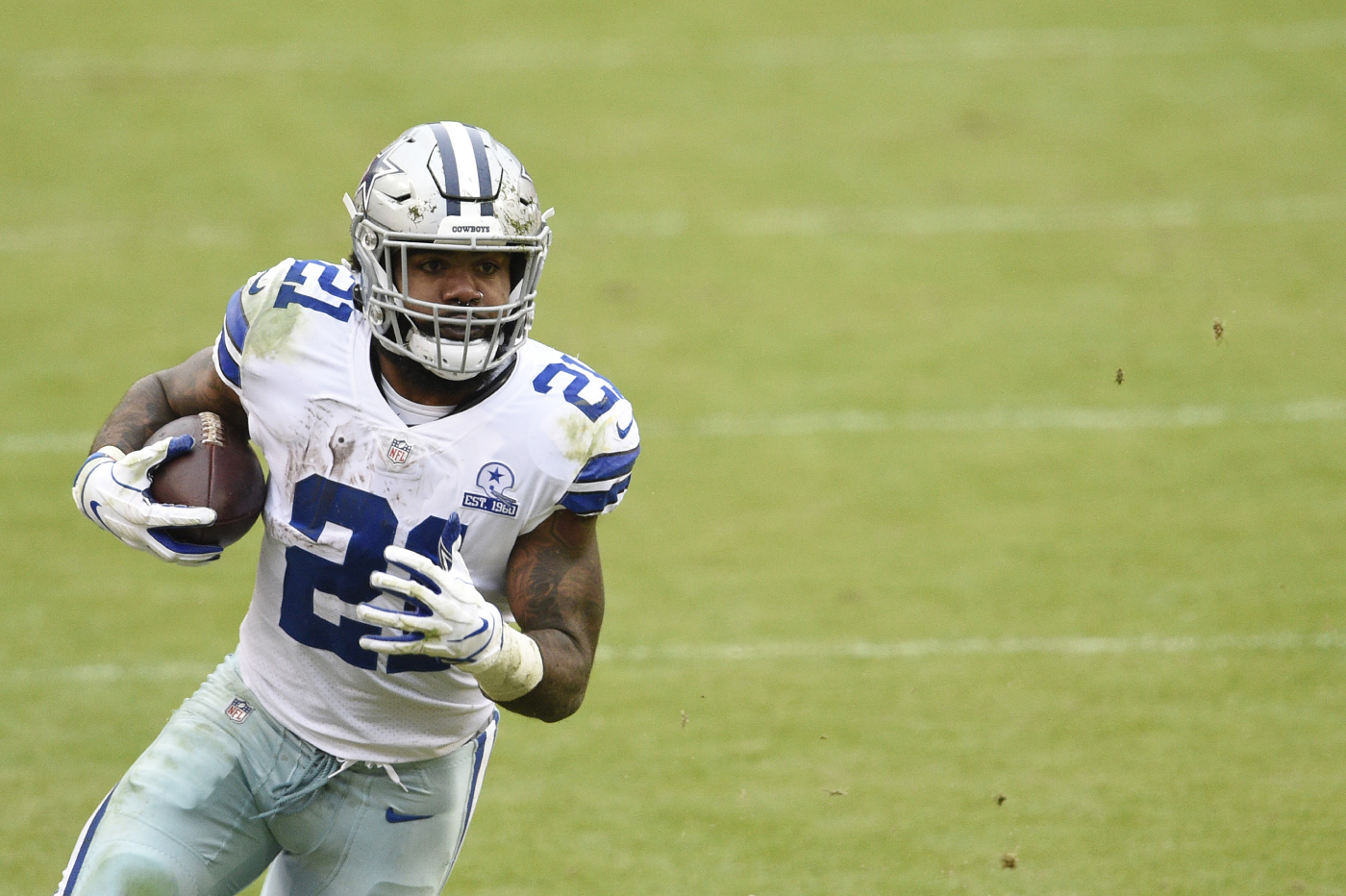 RELATED: Emmitt Smith Is Forgetting About the Cowboys' Struggles by Getting Involved in NASCAR
Ben DiNucci is a rookie, and not many people know much about him. However, so far, Elliott is pretty impressed by the young quarterback.
"He definitely has a little s*** to him, confidence," Elliott said, according to The Dallas Morning News' Calvin Watkins.
Elliott continued, per The Dallas Morning News: "He takes command of the huddle and that's great, especially coming from a young guy since you honestly don't know, he hadn't played any snaps in this league up until last week. So you don't know what you're going to get but it definitely is a big, big, big help that he's in that thing confident."
Cowboys fans certainly don't want the team to be down to its third-string quarterback, but Elliott's comments about DiNucci are definitely encouraging.
Who is Ben DiNucci?
RELATED: Everything You Need to Know About New Dallas Cowboys Backup Quarterback Ben DiNucci
DiNucci came into the NFL out of James Madison University.
He had spent three seasons at Pitt before going to James Madison. According to his bio on James Madison's site, after redshirting during his true freshman season at Pitt, he played in 12 games over the next two seasons there.
He then transferred to James Madison and started in all 13 games in 2018 as a redshirt junior. DiNucci threw for 2,275 yards, 16 touchdowns, and 12 interceptions that year. He also ran for 433 yards and nine touchdowns.
DiNucci then came back and became a star as a redshirt senior in 2019. He threw for 3,441 yards, 29 touchdowns, and six interceptions, in addition to running for 569 yards and seven touchdowns. His play helped him earn the Colonial Athletic Association's Offensive Player of the Year award, too.
It also helped him get selected in the draft as he went to the Dallas Cowboys in the seventh round of the 2020 draft.
Ben DiNucci proved that he has talent, but at a low level in college. It will be interesting to see how he plays at the highest level. At least, the Cowboys' biggest star, Ezekiel Elliott, is impressed with him so far.
Stats courtesy of Pro Football Reference