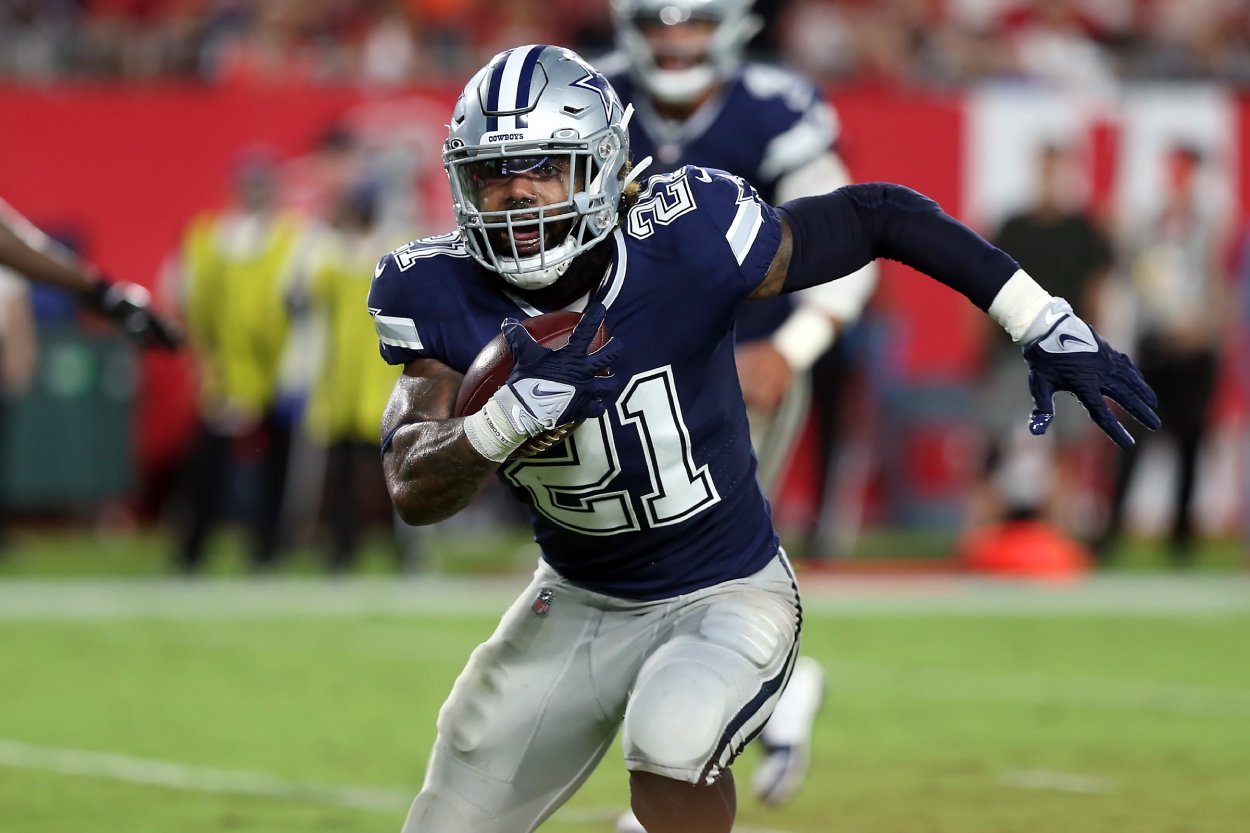 Ezekiel Elliott's Mother and a Practice Squad Safety Are Only Highlighting His Ugly Downward Spiral
Things just keep getting worse for Dallas Cowboys star running back Ezekiel Elliott.
We'd ask if you remember when Dallas Cowboys star Ezekiel Elliott still ranked among the NFL's top running backs, but there's still likely a contingent of football fans who'd say he's still in that category.
Well, we have bad news for those who root avidly for the Ohio State product or who have him on their fantasy football teams. As his mother and a practice squad safety just proved, things keep getting worse for the three-time Pro Bowl selection.
Ezekiel Elliott had a Week 1 to forget, and his mom didn't help at all
Even if you're against the idea of moral victories, it's hard to criticize the Cowboys if they felt somewhat optimistic after a Week 1 loss to Tom Brady and the Tampa Bay Buccaneers. Star quarterback Dak Prescott returned from last season's ankle injury and nearly led America's Team to an upset victory on national television.
Alas, Elliott didn't have much to smile about on the flight home. He picked up only 33 rushing yards on 11 carries and added two catches for six yards against the Buccaneers' stout run defense.
Still, there's a major difference between being unable to pick up yardage because of Vita Vea, the Buccaneers' imposing defensive tackle, and running into issues (pun only somewhat intended) against safety Andrew Adams. If you're unfamiliar with Adams, he's a 28-year-old safety who Tampa Bay called up from its practice squad before kickoff.
Yet it was the former UConn Huskie who stuffed Elliott for a one-yard loss on 3rd-and-2 at the Buccaneers' 2-yard line. The Cowboys trailed 21-16 at the time and settled for a field goal. Considering the team lost by five, we can all agree a touchdown would have considerably helped in that scenario.
Things got worse after the game. A non-verified account seemingly belonging to Elliott's mother, Dawn, tweeted an inappropriate comment in defense of her son. The Pro Bowl running back had previously responded to the account on Twitter, calling her "Momma E" earlier this year.
As of publication, Elliott had not addressed his mother's tweet.
Elliott has had numerous issues since the 2019 season ended
No matter what the excuse is or how you slice it, the reality is that the last 20 or so months have provided nonstop frustration for Elliott and the Cowboys.
The veteran running back tested positive for COVID-19 in the summer of 2020. Although he started 15 games last year, his 979 rushing yards and four yards per carry each marked career lows.
The dangerous running back has only topped 100 rushing yards in a game twice since the start of the 2020 season. Some of that blame falls on his offensive line, but we can all agree Elliott has failed in his goal of carrying the Cowboys to victory. The great running backs can overcome a below-average offensive line, even in the modern game.
In his last 16 games, Elliott has rushed for 1,012 yards and six touchdowns on 3.97 yards per attempt, which we can round up to four yards. Most teams would take those numbers from their starting running back. However, the Cowboys require more from a player who is in the third season of a six-year, $90 million contract.
Cowboys fans shouldn't give up on Elliott just yet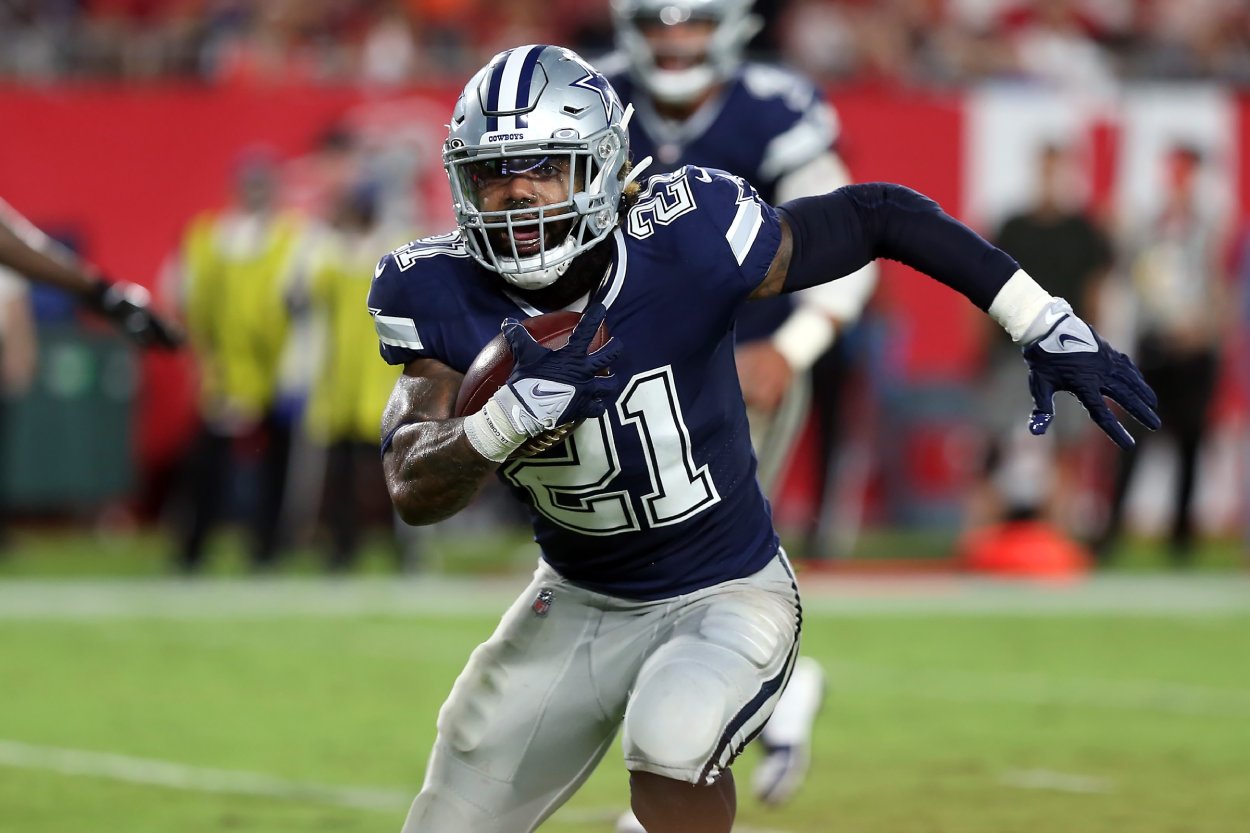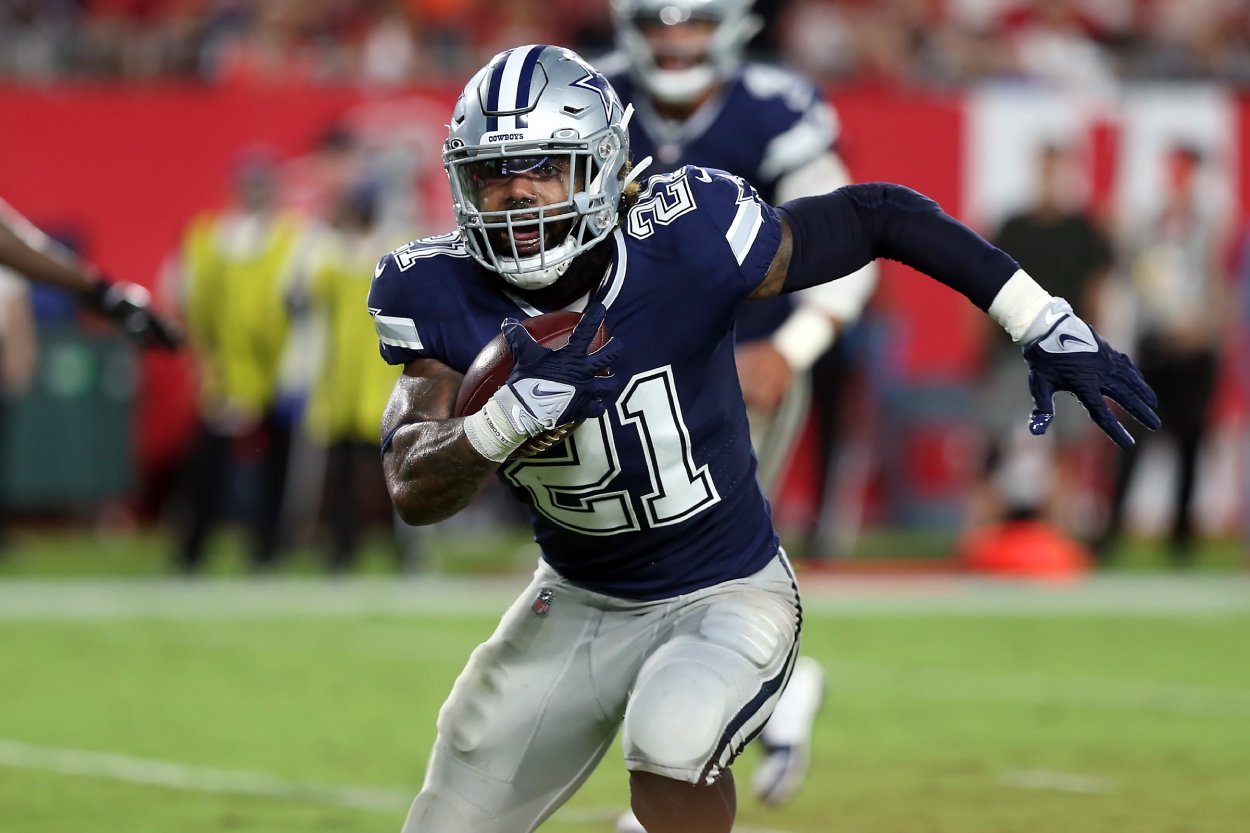 Pundit artists and the so-called Twitter experts might advise the Cowboys to start preparing to part ways with Elliott or turn things over to backup Tony Pollard, who ran for 29 yards on four carries in Week 1. Remember, the second-string player is always the better option.
We're not going to go that far.
Elliott played the opener without right guard Zack Martin, who missed the game for COVID-19 reasons, and against an excellent Buccaneers front seven. Few, if any, expected him to rush for 150 yards and two touchdowns on national television.
There's still ample time for Elliott to get back on track. The Cowboys play against Justin Herbert and the Los Angeles Chargers in Week 2 before hosting the rival Philadelphia Eagles on Monday Night Football later this month. The veteran running back had a season-high 105 rushing yards in a Week 16 victory over the Eagles last year.
If it turns out that Elliott's struggles are a long-term problem, then the Cowboys will need to deal with that in the coming months. But for now, the team's hopes of winning a sixth Super Bowl are still alive, and Elliott is a crucial part of reaching that goal.
Who knows? The season may end with Elliott's mother tweeting a photo of her and her son jubilantly holding the Lombardi Trophy. That'd certainly be a better use of her social media time than angrily engaging with fans.