Why Ezekiel Elliott Could Win the NFL MVP Award as a Rookie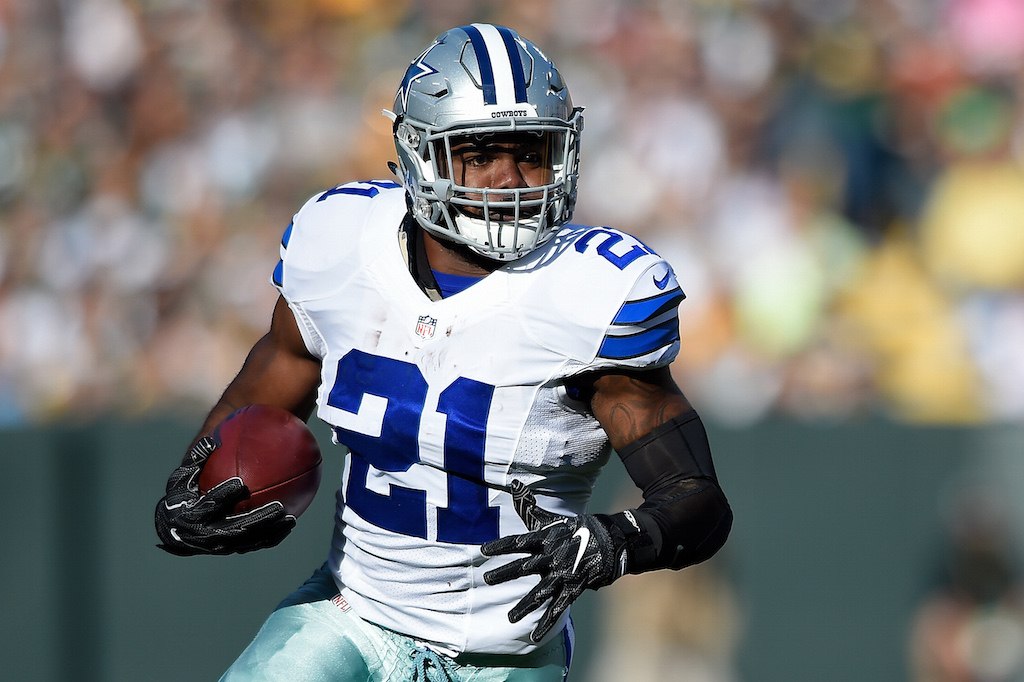 Despite their needs on the defensive side of the ball (and there were several), the Dallas Cowboys used the No. 4 overall pick in the 2016 NFL Draft to take an athlete who plays a position (running back) that front office executives largely devalue. Strangely enough, most fans, media outlets, and NFL analysts across the country applauded the move. The reason? This player is former Ohio State running back Ezekiel Elliott.
The Cowboys' decision to select a running back so high in the draft clearly showed that they were committed to reestablishing themselves as the premier rushing offense in the league. For the last couple seasons, they have been the proud owners of the best offensive line in the NFL. However, Dallas has lacked explosiveness at running back position ever since DeMarco Murray bolted during free agency. As the Cowboys proved throughout 2014, they are quite capable of contending in the NFC when they have a dominant running game.
Many people have compared Elliott to NFL stars such as Todd Gurley, Marshawn Lynch, and Le'Veon Bell among others. Some fans even went as far as calling the Ohio State product the best running back to enter the league since Adrian Peterson in 2007. Needless to say, the 2015 Big Ten Offensive Player of the Year faced sky-high expectations from day one of his professional career.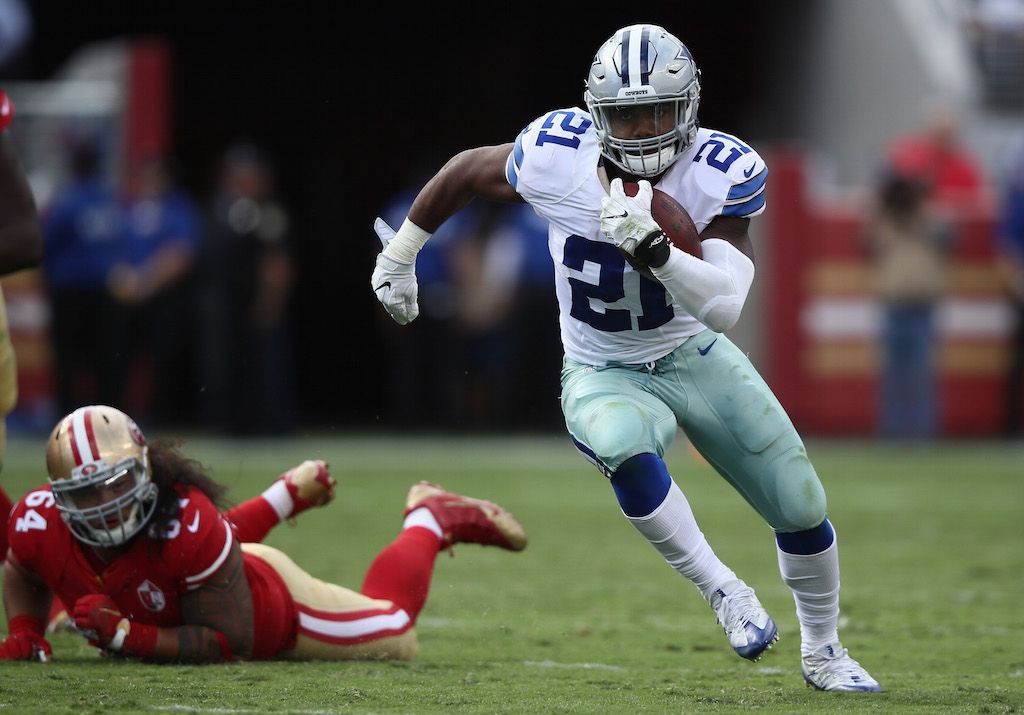 If the majority of the 2016 season is any indication, Elliott is every bit as talented as people advertised him to be coming out of college. The 21-year-old has proven to be a perfect fit in Dallas's offensive scheme, and after 12 games, it looks like he is well on his way to becoming the next great Cowboys running back.
As of right now, Elliott and fellow Dallas rookie Dak Prescott are head and shoulders above the competition (according to the odds in Vegas) in the race for the 2016 NFL Offensive Rookie of the Year award. And based on their performances as of late, Elliott is pulling away in that race. Bottom line: If he stays healthy, Elliot is a near for this award.
Speaking of Elliott staying healthy, a serious injury is really the only thing we see slowing down the 6-foot, 225-pounder in 2016. He has proven that he can handle a heavy workload throughout an entire season (he averaged 281 carries per season during his final two years at Ohio State), which is good news for the Cowboys seeing as how Elliott is on pace for a whopping 354 carries in his first professional season.
While Big Ten football can be physical, it's still child's play compared to the physicality of the NFL. But for now, this is a moot point (but something to think about as the season progresses), as Elliott has shown no signs of wear and tear, and seems to improve with every week.
Through 12 games Elliott has, in our eyes, become the best running back in the league in 2016. He is posting big-time numbers and is without a doubt one of the main reasons the Cowboys are off to a 11-1 start. Knowing this, it's time to consider the explosive rookie as a potential candidate to win the 2016 NFL MVP award in January 2017.
As we previously mentioned, Elliott has posted elite-level numbers through the first eight games of his NFL career. He leads the league in rushing yards, rushing attempts, rushing yards per game, and rushing attempts that resulted in a first down. Here is a quick rundown on Elliott's total statistics to date:
263 carries
1,285 rushing yards
4.9 yards per carry
107.1 rushing yards per game
12 rushing touchdowns
28 receptions
322 receiving yards
1 touchdown reception
Those numbers put him on pace to finish the season with:
351 carries
1,714 rushing yards
16 rushing touchdowns
38 receptions
430 receiving yards
2 touchdown receptions
If he indeed posts numbers such as those, it will virtually guarantee that Elliott earns All-Pro and Pro Bowl honors.
However, if he can catch fire over the next month and rush for around 175 yards per game, then it's possible Elliott could become just the eighth running back in NFL history to rush for 2,000 or more yards in a single season. If this becomes the case, and the Cowboys continue to consistently win games as a direct result of his performance, the rest of the NFL has to consider Elliott the favorite to take home the 2016 MVP award as a rookie. (For the record, four of the seven running backs in the 2,000-yard club won MVP honors.)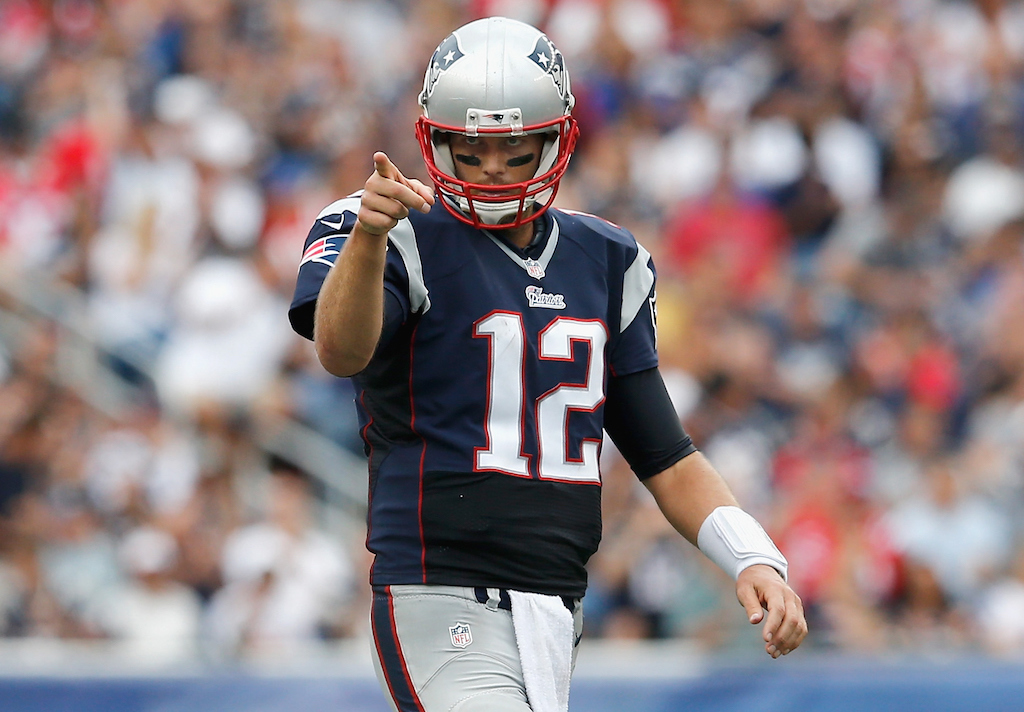 As of today, the oddsmakers in Las Vegas are giving Elliott 3-1 odds at winning the MVP award in 2016. So, who is currently the rookie's top competition for the prestigious honor?
His top competition in Vegas is none other than New England Patriots quarterback Tom Brady (4-1 odds), which should come as no surprise seeing as how he has been on an absolute tear since returning from his four-game suspension to start the season. In addition to Brady, the player with the next highest odds in Vegas is Atlanta Falcons quarterback Matt Ryan (3.5-1 odds). From there is gets somewhat convoluted. Here is a quick rundown of the top remaining contenders:
Dak Prescott: 6-1
Derek Carr: 8-1
Matthew Stafford: 12-1
Russell Wilson: 12-1
Aaron Rodgers: 20-1
Drew Brees: 25-1
If Brady and Ryan maintain their current pace, Elliott will find it difficult to overtake them. But as we previously mentioned, if he finishes with 2,000 or more yards and the Cowboys win 14 or 15 games after winning just four games in 2015, it will be really, really hard for MVP voters to overlook Elliott — even if he is a rookie who still has to carry his teammates' pads after practice.
Statistics courtesy of Pro-Football-Reference and ESPN. Odds courtesy of Bovada.