Ezekiel Elliott Sends an Emotional Message To Dak Prescott Following the QB's Horrific Injury
Many hearts were broken around the NFL world on Sunday as Dak Prescott went down with a horrible injury and will most likely miss the rest of the Dallas Cowboys' season. Prescott received many messages of love and support after the play, as everyone is hoping that he can get back on the field soon. Among those to send him an emotional message, though, was Prescott's best friend on the Cowboys — running back Ezekiel Elliott.
Dak Prescott suffered a heartbreaking injury against the New York Giants
RELATED: Before Dak Prescott Went Down With a Gruesome Ankle Injury, He Did Something No Dallas Cowboys QB Has Done Since 1985
During the third quarter of Sunday's game between the Dallas Cowboys and New York Giants, the Cowboys ran a quarterback draw. Then, as Giants defensive back Logan Ryan was tackling Prescott, his ankle got caught underneath Ryan. After the play, video showed Prescott's foot facing the wrong direction.
According to ESPN, the Cowboys eventually announced that Prescott suffered a compound fracture and dislocation of his right ankle. This means that the bone penetrated the skin. Adam Schefter of ESPN reported that Prescott underwent surgery on Sunday evening.
He is expected to miss the rest of the season.
"I know this young man very well," Cowboys owner Jerry Jones said in a statement, according to ESPN. "I know the personal hardship and strife that he has faced, dealt with and overcome in his young life. And I know of no one who is more prepared, from the perspective of mental and emotional toughness and determination, than Dak Prescott to respond and recover from this challenge that has been put in front of him." 
Jones went on to say: "He is an inspiration to everyone he touches. He has all of our love and support. And we have no doubt that he will return to the position of leadership and purpose that he brings to our team."
Ezekiel Elliott sent an emotional message to Dak Prescott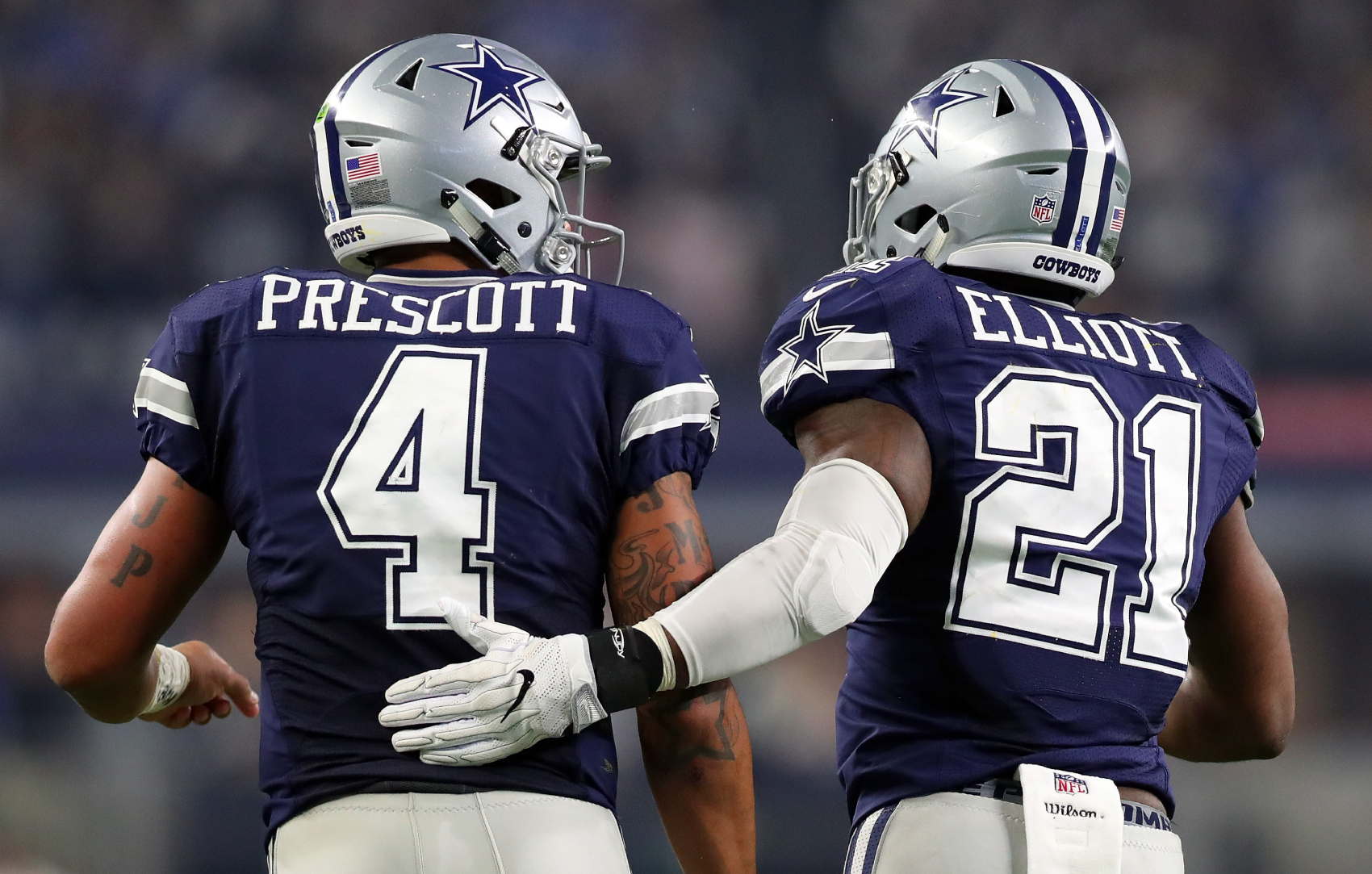 RELATED: Are Cowboys Stars Ezekiel Elliott and Dak Prescott Friends off the Field?
In the game, Andy Dalton ended up replacing Prescott and leading the Cowboys to a 37-34 win. After the win, Ezekiel Elliott discussed how much it hurts to lose Prescott.
"It sucks. Yeah, it sucks," Elliott said, according to ESPN. "I know we won; it just sucks to lose Dak, our leader. And I was talking to the guys and it's going to take all of us. It's going to take all of us to fill that void that we're going to be missing from 4. Just gotta go out there and play for him."
Elliott and Prescott have been close friends since the Cowboys drafted both of them during the 2016 NFL draft. They have mentioned their friendship in the past too, and have been seen hanging out off the field multiple times.
That connection was evident on Sunday night, when Elliott tweeted this.
"We love you 4."
Can the Dallas Cowboys still have a good year?
RELATED: Dak Prescott's Gruesome Injury Shows Why NFL Players Hold Out
The Dallas Cowboys have struggled this year, especially defensively, but being that they are in a weak NFC East division, they are in first place with a 2-3 record. What are they going to do without Prescott, though?
Dalton came in and played well for the Cowboys on Sunday. He went 9-of-11 through the air for 111 yards, and he helped lead the Cowboys to the win, per ESPN. Dalton is more than a serviceable backup too, as he is a three-time Pro Bowl selection and led the Cincinnati Bengals to five consecutive playoff appearances.
No, Dalton won't give them as potent of a passing attack as Prescott would. Prescott was having an MVP-caliber season. With the weapons that Dalton has to throw to, though, and with him having Elliott in the backfield, the Cowboys still certainly have a chance to play well this year.
It's awful to see a player like Prescott get hurt. The Cowboys' season is far from over, though.
Like Sportscasting on Facebook. Follow us on Twitter @sportscasting19.