Ezekiel Elliott Sends Strong Message About Dez Bryant
There have been many great wide receivers to play for the Dallas Cowboys. Dez Bryant was certainly one of the best of them, too. Bryant now plays on the Baltimore Ravens, but the impact he left on the Dallas Cowboys is still seen through his former teammates. This includes star running back Ezekiel Elliott. In fact, Elliott recently sent a strong message about Bryant.
Dez Bryant was a star wide receiver for the Dallas Cowboys
Dez Bryant was a pretty talented wide receiver in college at Oklahoma State. This led to the Dallas Cowboys selecting him in the first round of the 2010 NFL draft.
Bryant then had an OK rookie season, as he caught 45 passes for 561 yards and six touchdowns in 12 games. He took a nice step production-wise in 2011, though, as he caught 63 passes for 928 yards and nine touchdowns.
In 2012, Bryant then became one of the best wide receivers in the NFL. He ultimately recorded his first of three consecutive 1,000-yard seasons, as he caught 92 passes for 1,382 yards and 12 touchdowns. Bryant then became a Pro Bowler in 2013, as he caught 93 passes for 1,233 yards and 13 touchdowns. He then earned another Pro Bowl selection in 2014 and even earned First-Team All-Pro honors, as he had 88 catches for 1,320 yards and an NFL-leading 16 touchdown catches. The Cowboys were pretty good that year, too, as they went 12-4 and won a playoff game.
During the 2015 season, Bryant only played in nine games, but in 2016, he earned Pro Bowl honors again. He ultimately caught 50 passes for 796 yards and eight touchdowns in 13 games that year. Again, the Cowboys were pretty good that season as Bryant, Dak Prescott, and Ezekiel Elliott led them to a 13-3 record.
He then played in his final season with the Cowboys in 2017 and caught 69 passes for 838 yards and six touchdowns.
After getting released by the Cowboys in April 2018, Bryant ultimately signed with the New Orleans Saints in November 2018. He then tore his Achilles tendon, though, and didn't play in a game. Bryant did not play in 2018 or 2019.
He now plays for the Baltimore Ravens
After not playing the last two seasons, Bryant signed with the Baltimore Ravens earlier this year. He initially signed to their practice squad, but Bryant ultimately signed to the Ravens' 53-man roster on Nov. 28.
Bryant is now on a team that just had the No. 1 seed in the AFC last season after going 14-2, and has reigning NFL MVP Lamar Jackson. Bryant has ultimately played in three games this season and has caught four passes for 28 yards.
In Week 13, though, Bryant plays a familiar foe as the Ravens take on the Dallas Cowboys.
"For the most part, it's water under the bridge," Bryant said of his release from the Cowboys after the 2017 season, according to ESPN. "That's two years. I had time to get myself together. You got to go forward with life because life isn't going to wait on you. Time waits on no one. I had to get myself together and move forward."
It seems like there aren't really any hard feelings between Bryant and the Cowboys.
"It's cool. I'm excited. I'm looking forward to it," Bryant said, according to ESPN. "A lot of those guys on that team, I know [and] I'm real good friends with. I think when we line up across from one another, it's going to be fun. It's going to be an exciting moment."
Ezekiel Elliott sends a strong message about Dez Bryant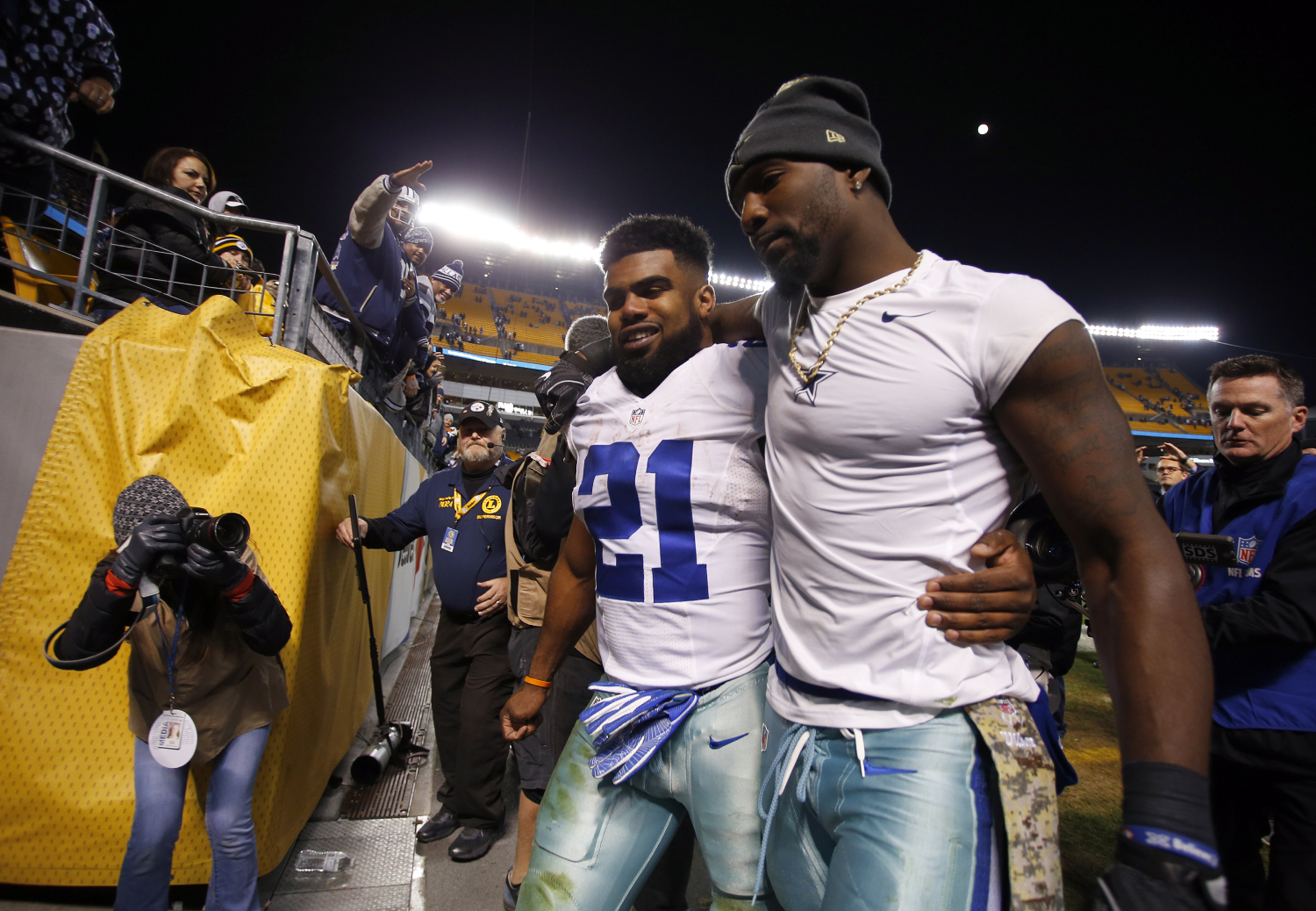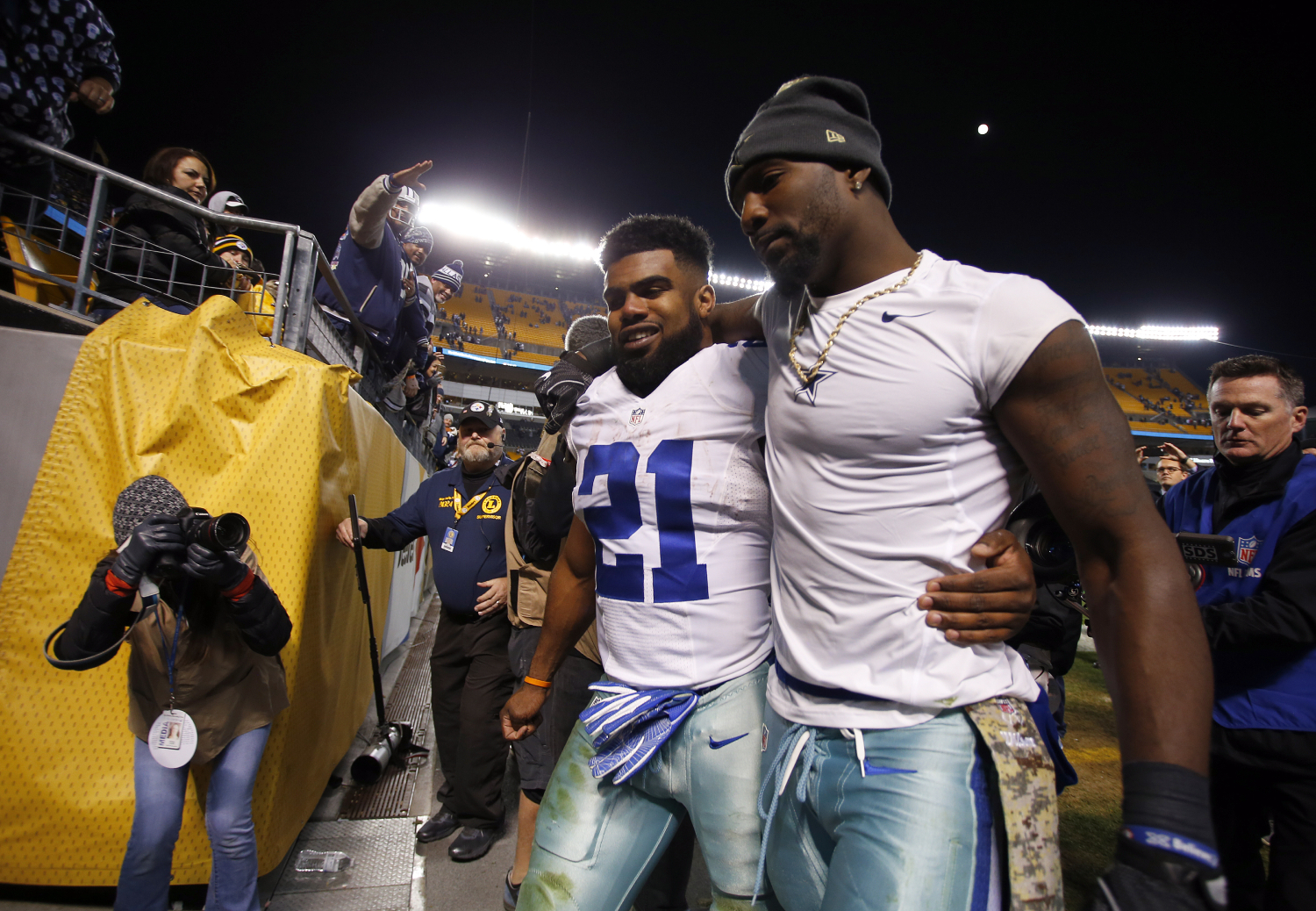 Ezekiel Elliott's first season with the Cowboys was in 2016 after he went to Dallas with the No. 4 overall pick in that year's draft. So, he ultimately played with Bryant for two seasons in 2016 and 2017. He was extremely successful in those seasons, too, as he led the NFL in rushing yards in 2016 with 1,631, and he then had 983 rushing yards in 10 games, and led the NFL in rushing yards per game, in 2017.
So, how does Elliott feel about his former teammate? He said that the way Bryant went up and attacked the ball was unmatched, according to ESPN.
"I think it's going to be fun," Elliott said, according to ESPN. "Dez was a great teammate. One of my favorite teammates of all-time. Even better player. I think it's definitely great to see him getting his shot again. I wish him the best."
Despite the Cowboys being 3-8 and the Ravens being 6-5, both teams have a lot to play for in Week 13. Ahead of any Week 13 games, the Cowboys were only one game behind the New York Giants for first place in the NFC East. The Ravens, on the other hand, were just one game back from a Wild Card playoff berth.
It should be a fun game when the Cowboys play the Ravens on Tuesday.
Stats courtesy of Pro Football Reference