Ezekiel Elliott's Latest Update on Lingering Knee Injury Should Have the Cowboys Seriously Worried About His NFL Future
Despite the Dallas Cowboys' impressive 9-4 record, their 2021 issue has not been without issue and drama. Dak Prescott is slumping hard at the moment, critical pass-rusher Demarcus Lawrence missed multiple weeks with an injury, and highly-paid running back Ezekiel Elliott hasn't looked quite right all year.
Elliott has been battling a knee injury all year long, something the Cowboys internally feared would cause him to miss game time earlier this season. Elliott ultimately played through the pain. However, that doesn't mean his injury magically healed. In fact, Elliott's latest update on his knee is one that only caused more concern.
Ezekiel Elliott gave a concerning update about his knee
After recording a measly 45 yards on 12 carries against the Washington Football Team in Week 14, Elliott was asked about his knee injury, if it's something that's still holding him back on the field.
According to ESPN's Todd Archer, Elliott will continue to wear a knee brace on his right knee. The Dallas Cowboys All-Pro running back explained that the protective mechanism gives his injured knee increased stability.

"It just kind of holds me in place," Elliott said of the brace, per Archer. "A lot of times when I'm kind of getting gimpy or banged up is when I kind of get rolled up, rolled on, or just land on my knee. I think the brace gives me more stability."

Elliott's update makes it sound like his knee isn't improving, which isn't exactly what Cowboys fans were hoping to hear. However, the injury won't stop the 26-year-old ballcarrier from playing

Zach Koons, The Spun
On the outside looking in, an update like this spells trouble for the future of the Cowboys' running back room. Lingering knee issues in the NFL are never a good sign, especially at the running back position. Several incredibly talented running backs were forced out of the NFL due to bad knees (Todd Gurley, for example). It's not a position that tends to treat players with dodgy knees too well.
Do the Cowboys need to consider moving on from their star RB?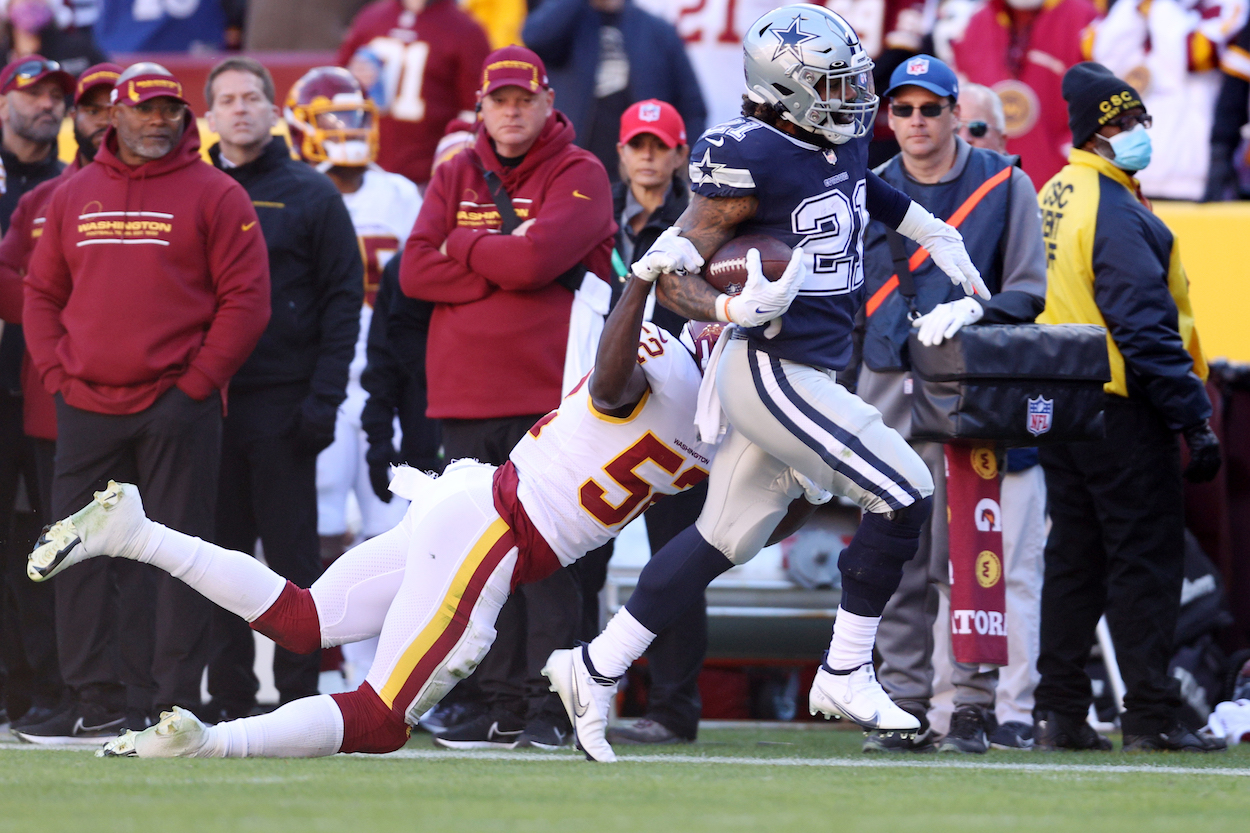 It's been an ongoing conversation since mid-October — Elliott doesn't look like the same player the Cowboys drafted in the first round back in 2016. His overall speed and acceleration have both rapidly declined, and the Cowboys are slowly handing more and more responsibilities to backup RB Tony Pollard (who is currently injured as well).
With Elliott now sporting a knee brace moving forward, it's hard to imagine him magically waking up one morning with his explosiveness regained. It feels like Elliott will be battling these nagging pains for the rest of his NFL career.
If this is the case, the Cowboys will presumably start exploring moving off Elliott and his hefty contract sometime soon. It's hard to imagine any NFL team jumping at the opportunity to trade for Elliott. However, weirder things have happened. It's certainly possible.
Ezekiel Elliott is doing his best to reassure Cowboys fans
Despite his injury, Elliott is still doing his best to reassure everyone that his knee won't be an issue moving forward.
He told ESPN earlier last week, "you are going have to drag me off the field" — a testament to his desire to remain on the field for the Cowboys moving forward.
With Dallas nearing a postseason appearance this winter, only time will tell if Elliott can be a viable weapon during those crucial playoff games. Either way, a team never wants to see their franchise RB sporting a knee brace full-time.
All stats courtesy of Pro Football Reference.