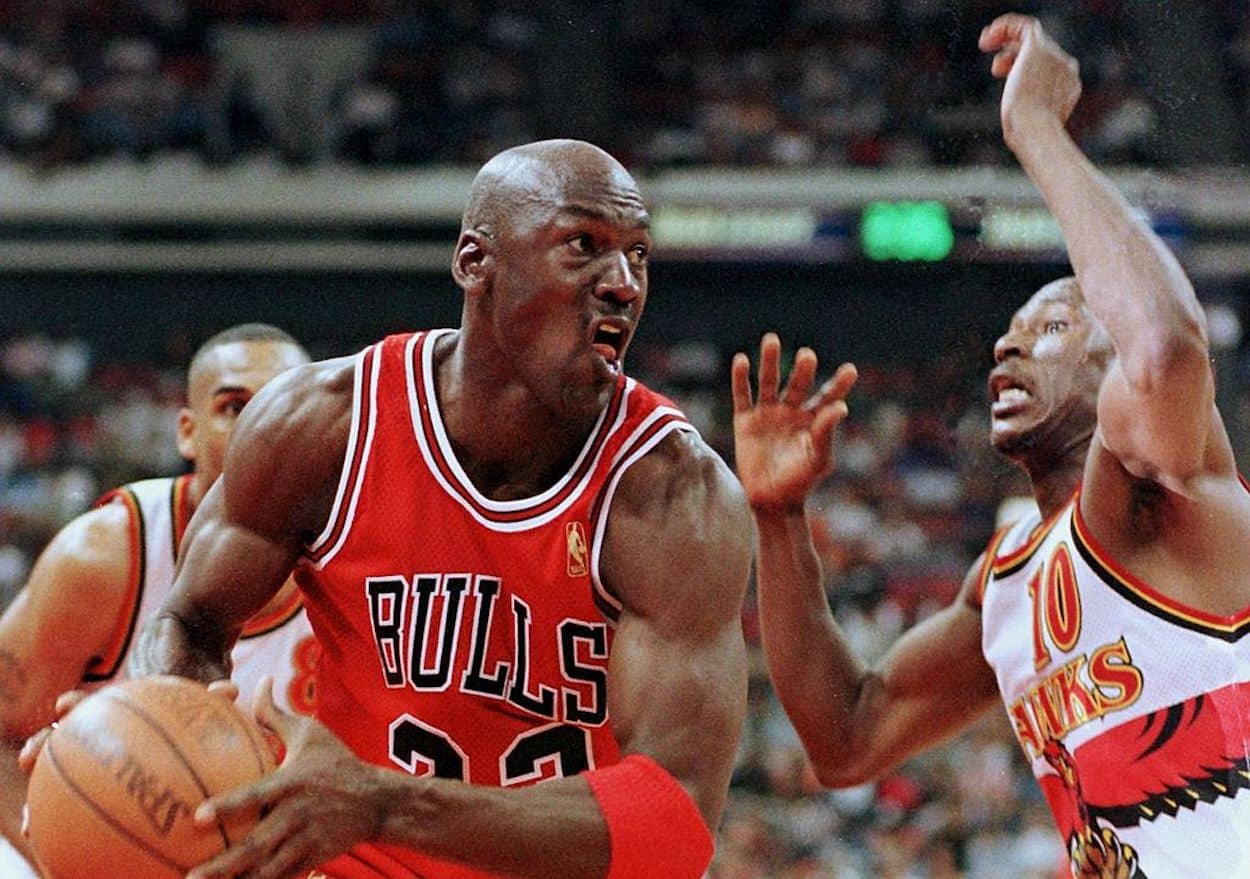 Facing Michael Jordan in Chicago Stadium Was Like 'Gladiator,' Says Tim Legler
Facing Michael Jordan was bad enough. Playing against the Bulls in Chicago Stadium was like something out of a nightmare.
Even though he retired almost 20 years ago, Michael Jordan still looms large in popular culture. For an entire generation of basketball fans, His Airness was the alpha and omega of NBA action. Stepping onto the hardwood to face the living legend would be both exhilarating and terrifying in equal measure.
Tim Legler, however, did just that, and he lived to tell the tale.
That doesn't mean facing His Airness was easy, though. In fact, Legler recently compared the experience of preparing to face Jordan in the old Chicago Stadium to something out of Gladiator. He and the Washington Bullets were simply lambs being led to the slaughter.
Tim Legler compared his playoff encounter with Michael Jordan to the movie 'Gladiator'
If you've watched playoff sports for any amount of time, you've probably heard plenty of talk about home-court advantage. While it's easy to write that off as a cliche — how much do players really care about fans waving rally towels? — Tim Legler certainly felt the heat when he was preparing to meet Michael Jordan and the Chicago Bulls.
"The electricity, going to the arena, for Game 3 [of the first round of the 1997 NBA Playoffs] in Washington, what that felt like," Legler explained on JJ Redick's The Old Man & the Three podcast. I had been there now for two seasons, and it was [like] every other game combined, times 10. Walking into the building even. It was like The Beatles. I would describe it like that. It was like that when we were going to play them."
While that sounds like quite the atmosphere, that was a Bullets' home game. When it came time to face Jordan in the Windy City, the tone was less exciting and more intimidating.
"Playing them in Chicago Stadium during that time," the former guard continued. "The iconic music. MJ being introduced last. You'd be standing on the court, and you and I could be teammates, [and] there's no possible way you could hear a word I was saying by the time they got to his name for starting lineups. Not to mention the fact you're down in the locker room below the court. Dimly lit hallway. Puddles on the ground. That's the locker room they gave you. You'd be down there, and, like, you'd hear what's kinda starting up and going on upstairs. It really did feel a lot like the movie Gladiator. Like you're being led out there. You're like marching down the hallway, you know? It's like we're about to go off, we're being fed to slaughter. That's what it felt like, you know? You walk out there and just like .. to this day, I've never experienced an environment like playing against Michael Jordan in Chicago Stadium."
While it's worth noting that the timeline is a little off — Chicago Stadium closed in 1994, a few years before the Bullets-Bulls series in question — the sentiment rings true. The Bulls weren't a team to mess with, especially on their home turf.
In fairness to Michael Jordan, he really didn't need any help intimidating the competition
If Chicago Stadium was even half as intimidating as Legler made it sound, it's easy to see why the Chicago Bulls held a home-court advantage. With that being said, though, Michael Jordan was all the club really needed to shine, even when they relocated to the United Center.
As noted above, that Bulls-Bullets series took place during the 1997 NBA Playoffs. While MJ was no longer at the height of his powers, he was still a dominant force. His Airness played all 82 regular-season games that year, averaging 29.6 points per outing. In the postseason, though, he took things to the next level.
That year, the Bulls cruised to the championship, only losing four games en route to the title. Jordan led the Association with 590 total points during the postseason, with 55 of those coming in a single game against the Bullets; his closest competition was Karl Malone, who potted 519. And, in case you're concerned about sample size — the Bulls did advance all the way to the title, after all — His Airness also led the postseason in points-per-game. To further underscore his dominance, MJ took home his fifth NBA Finals MVP crown, averaging 32.3/7.0/ 6.0 during the deciding series.
If you combine that individual talent with a roster boasting the likes of Scottie Pippen and Dennis Rodman, plus the coaching of Phil Jackson, it's easy to see how the Bulls became an unstoppable force. Add in an intimidating home environment, and you've got a recipe for postseason greatness.
Stats courtesy of Basketball-Reference