This NBA Player Got Drug Tested After Fake Pictures Went Viral
In today's high-tech world, it seems like everyone has a camera and a social media account. This means that for all of us, there are times when we may unknowingly have our picture taken and plastered all over the internet for the world to see.
This is especially bad when you consider the fact that almost every person with a camera also has access to Photoshop or some other kind of video editor. The old saying that goes: "A picture does not lie," is definitely not true anymore.
Most of the time, Photoshopping a picture can be innocent enough. However, L.A. Lakers shooting guard, Alex Caruso, found out the hard way that sometimes a seemingly innocent photoshopped picture can sometimes be career-threatening. Keep reading to find out more about a viral fake photo that almost landed Caruso in some serious hot water.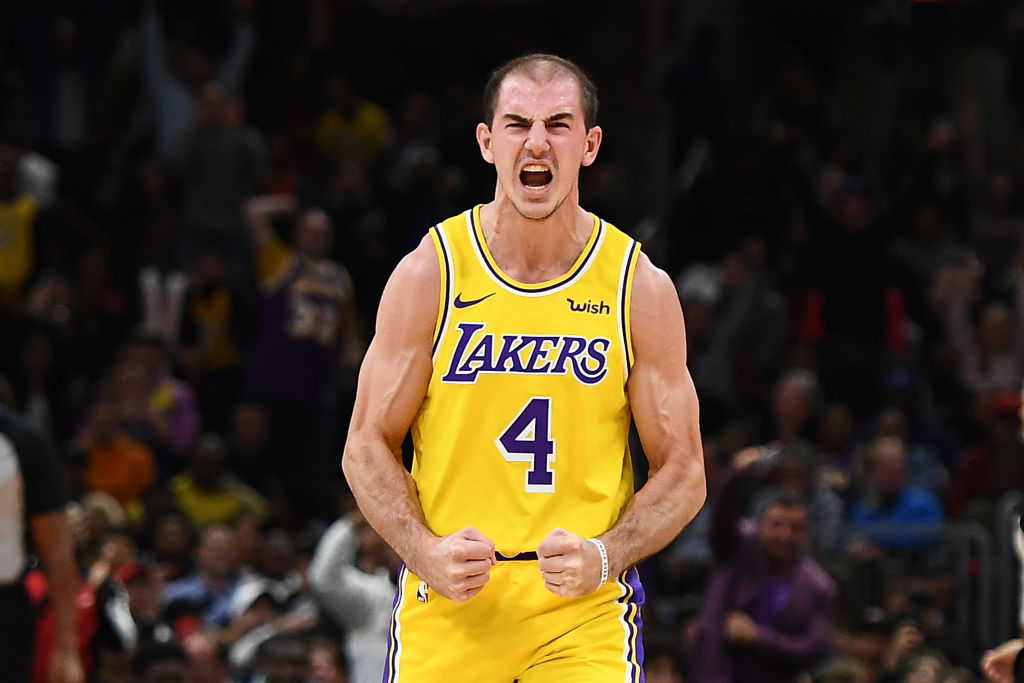 Alex Caruso's viral fake photo
Since joining the Lakers in 2017, Caruso has been known as a lean, mean, scoring machine. Physically speaking, Caruso has always had a slender, yet athletic build. When you look at the Lakers' shooting guard, you can tell that he works out regularly and is in top physical condition. He may not have the bulging biceps like some of the other NBA stars do, but that doesn't take away from his exceptional athletic ability.
On September 1 of this year, however, many fans were shocked to see that Caruso's slender physique had somehow doubled in size. A picture that had been shared several times showed Caruso in the gym working out, and apparently, entering "Beast Mode" for the upcoming NBA season.
In the picture, you can visibly see that Caruso's arms, chest, and stomach muscles were much bigger than fans had seen them in the previous season. It looked almost as if the young NBA player had turned into The Hulk overnight.
As soon as fans saw the picture, they immediately assumed that Caruso had been taking steroids or some other kind of performance-enhancing drug during the off-season.
However, soon after the picture went viral, it was discovered that the picture had been altered to make Caruso's muscles look bigger. In reality, he was still pretty much the exact same size that he was when the NBA season ended earlier this year.
Did the fake picture get Alex Caruso into any trouble?
The picture caused many to think that Caruso was now taking some type of illegal drug. It wasn't just the fans that were thinking this, but apparently, the NBA officials were suspecting foul play as well. A few days after the picture went viral, Caruso received a letter in the mail from the NBA requesting that he be drug tested.
This could have been a big deal to Caruso, but he knew the picture was fake and that he had not been taking any type of illegal drugs, so he wasn't too worried about it.
He had posted a picture of the letter with the caption: "Last Week: Photoshopped weight room pic of me surfaces on social media. This Week: Random offseason drug test." Caruso posted a laughing face emoji after the comment, so it looks like he found the news pretty amusing.
A promising future for this young NBA player
Caruso isn't letting the random drug test get him down. If our future looked as bright as this NBA player, we wouldn't be too concerned about the fake photo either.
He is scheduled to enter his third season with the L.A. Lakers next year. And will once again, be playing right beside iconic NBA star, LeBron James. The Texas native has only appeared in 62 games so far in his career, yet he has already scored almost 400 points during his short career. With his extraordinary amount of talent, we see great things in the future for Caruso and his career.