Falcons Owner Arthur Blank Is Eyeing Matt Ryan's Potential Successor
Article Highlights:
Atlanta Falcons owner Arthur Blank said the team is already eyeing a succession plan for veteran quarterback Matt Ryan
The 2016 NFL MVP, who turns 37 in May, has two years remaining on his current contract
If the Falcons intend on a succession plan, don't be surprised if Ryan remains in Atlanta through the end of next season
The Atlanta Falcons faced a pivotal, franchise-defining decision in the 2021 NFL Draft. Would the two-time use the fourth overall pick on a quarterback prospect, one who would eventually replace Matt Ryan, or was the selection best suited for a young skill player the Falcons could build around?
As we now know, the Falcons opted to draft Florida tight end Kyle Pitts rather than devote their future to Alabama quarterback Mac Jones or Ohio State signal-caller Justin Fields. Perhaps in hindsight, the football world should have realized from the getgo the Dirty Birds were never going to do Ryan dirty and select a quarterback that early.
However, Atlanta could witness a changing of the guards soon. Falcons owner Arthur Blank recently acknowledged that nothing is forever, and that mindset applies to the best quarterback ever to don the Red and Black.
Arthur Blank admitted the Falcons are eyeing a succession plan for Matt Ryan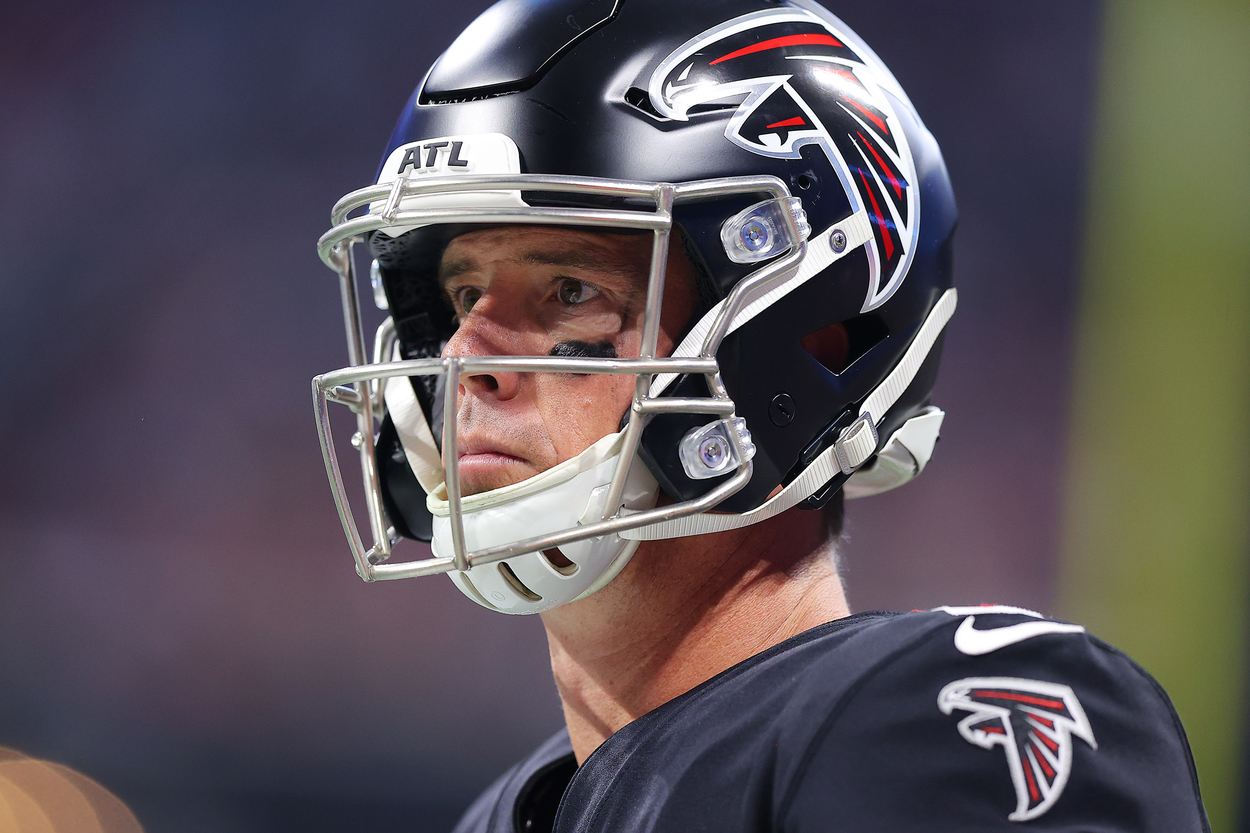 Pop quiz: When did the Falcons last select a quarterback in the NFL Draft?
Answer: 2013, when the Falcons used the 249th overall pick (out of 254 total selections) on Duke's Sean Renfree.
Interestingly, Renfree is the only quarterback the Falcons have drafted since Ryan arrived in 2008. Atlanta hasn't used a late-round pick on a developmental prospect even as Ryan has gotten older.
In a recent interview with The Atlanta-Journal Constitution's D. Orlando Ledbetter, Blank admitted the Falcons know they'll eventually need to break the trend. Although the thought of a team going nearly 10 years without drafting a quarterback is remarkable, Ryan won't be the man in charge forever.
"It's just the way it works. [The] human body isn't designed to live to 150. So, Matt has given us [a] great 14 years since 2008. Still playing at a very high level. … I think it's a credit to Matt and coach [Arthur] Smith that they work very well together."

Arthur Blank
Could the Falcons draft a quarterback this year? Blank didn't say exactly that, but he also didn't hide from reality.
"Our fans should look for a succession plan," Blank said. "And I think that's not improper. It doesn't show a lack of confidence in Matt, but, you know, I mean, Father Time will get to all of us."
Ryan turns 37 on May 17 and has two years remaining on his current contract. As of publication, there had been no credible reports suggesting the Falcons would trade Ryan during the 2022 offseason.
The obvious question becomes who could emerge as Ryan's successor
By referring to a "succession plan," Blank created the impression the Falcons will not simply dump Ryan and scramble to find a replacement. The New England Patriots tried that following Tom Brady's departure in 2020 and lucked out into selecting Jones 15th overall last spring.
If the Falcons aren't intending on parting ways with Ryan this spring, that should, at least for now, rule out the likes of Deshaun Watson and Russell Wilson replacing the four-time Pro Bowler. Other, lesser starters, including the Cleveland Browns' Baker Mayfield, are probably off the table, too.
The Falcons have four options, the first being grooming Feleipe Franks, who went undrafted in 2021, to replace Ryan. Franks, who turned 24 in December, did not complete his only pass attempt last year; he also rushed for six yards on three carries and saw significant action in the preseason.
The next option is signing someone like Jameis Winston or Teddy Bridgewater to sit on the bench for at least a year before competing for the starting quarterback job whenever Ryan leaves. That would be a waste of time and money. 
Could the Falcons trade for a buried quarterback, such as the Green Bay Packers' Jordan Love? Theoretically, they could, but that won't solve much, especially if Ryan intends to return in 2023. It doesn't make sense for Atlanta to give up significant assets to acquire a young quarterback — at least, one who is already in the league — who might not play until 2025.
Then, there's the upcoming draft. Barring a trade, Atlanta will have the No. 8 pick and could potentially use that selection on a quarterback. However, this year's quarterback class is widely considered to be the weakest in several years.
The reported concerns about this year's prospects could work in the Falcons' favor, though. If Atlanta selects Liberty's Malik Willis eighth overall, they could use the next year or two to groom him behind Ryan and allow him to develop as an NFL quarterback.
It's not the sexiest plan, but Blank doesn't care about sexy. That's why he said "succession plan" and not a "replacement."
Are the Falcons better off waiting until Bryce Young and the 2023 NFL Draft's quarterback?
As of March 1, 2022, Ryan had not suggested he would retire or leave Atlanta after the 2022 season. If the Falcons don't like what they see in this year's quarterback prospects, the organization could always wait until the 2023 draft.
As of publication, Alabama's Bryce Young and Ohio State's C.J. Stroud ranked as the 2023 draft's top two quarterbacks. Young, the reigning Heisman Trophy winner, completed 66.9% of his passes in 2021 for 4,872 yards, 47 touchdowns, and seven interceptions. Stroud recorded a 71.9 completion percentage, 44 touchdowns, and six interceptions last season.
Although both are incredibly talented, neither has the generational label that Andrew Luck and Trevor Lawrence held within the last decade. However, neither did Patrick Mahomes or Josh Allen, and they've turned out fine.
Forget the "Suck for Luck" movement. Would the Falcons lose loud for Stroud? Eh, we don't like how that sounds.
What about losing is fun if it means Bryce Young? We like that one.
RELATED: NFL Free Agency: 5 Best Destinations for Saints QB Jameis Winston