Falcons Owner Arthur Blank Suggests Roger Goodell Take More Initiative if Teams Don't Hire Minority Candidates: 'Bring Them to the Principal's Office'
Article Highlights:
Atlanta Falcons owner Arthur Blank wants NFL Commissioner Roger Goodell to exert more influence regarding a lack of minority candidates
Blank recently suggested the commissioner call teams "into the principal's office" if they are not hiring people of color
Even if Goodell doesn't call teams into his office yet, he has publicly committed to re-evaluating the league's hiring practices
If Atlanta Falcons owner Arthur Blank gets his way, NFL Commissioner Roger Goodell will turn meetings at 345 Park Avenue into a visit to the principal's office.
Unlike high school, there would be no jokes or noises involved upon learning of such an invite. Blank desperately wants to see the league's oft-criticized hiring practices improve, and he believes the key may involve Goodell taking more initiative with any teams that aren't living up to what could be the new standard.
Falcons owner Arthur Blank suggested Roger Goodell take more initiative if teams aren't hiring more minority candidates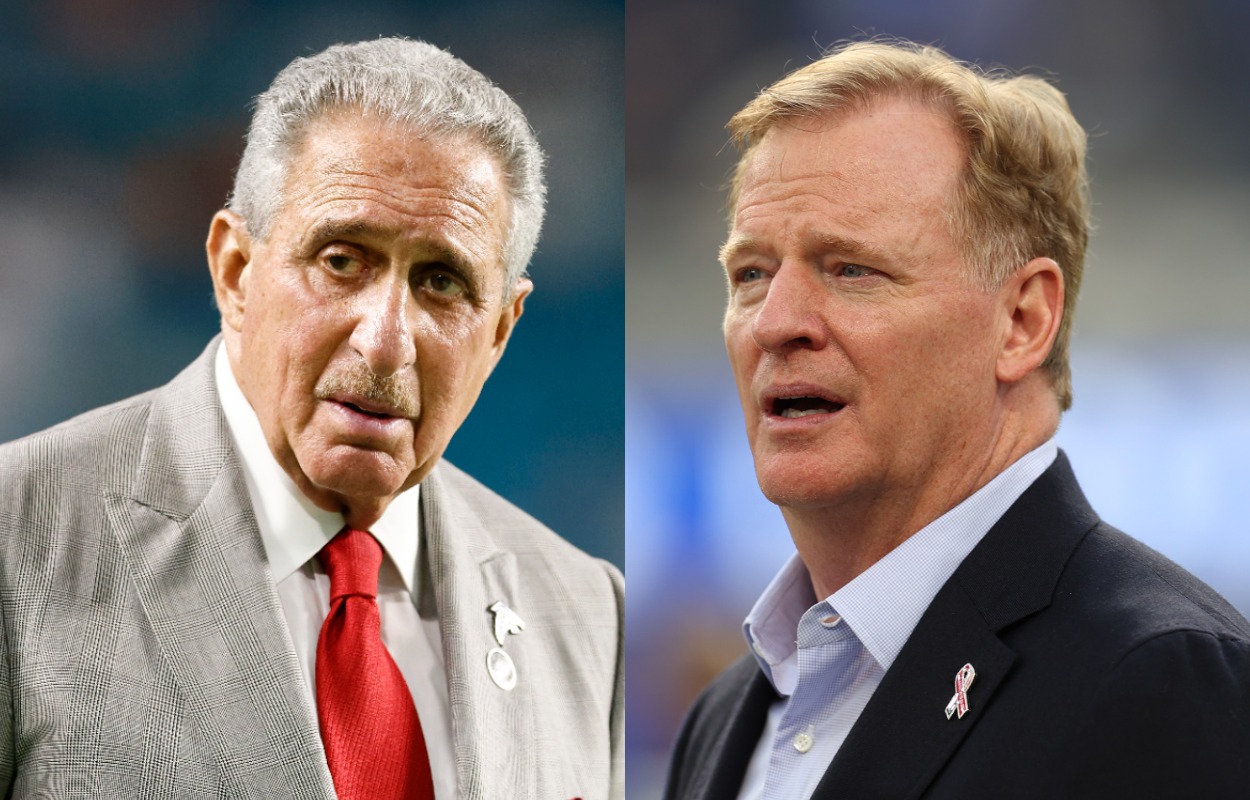 Barring any unexpected coaching changes in the coming months, 27 of the league's 32 head coaches at the start of next season will be white. Two head coaches, the Houston Texans' Lovie Smith and Pittsburgh Steelers' Mike Tomlin, are Black; Miami Dolphins head coach Mike McDaniel is biracial. Washington Commanders head coach Ron Rivera is of Puerto Rican and Mexican heritage, while the New York Jets' Robert Saleh is of Lebanese descent.
Blank, who is white, isn't pleased with the league's lack of minority head coaches. According to The Athletic's Daniel Kaplan, the 79-year-old owner made his frustration clear at the Bloomberg Power Players Summit in Los Angeles on Friday, Feb. 11.
When discussing possible improvements to the league's hiring practices, Blank said he wants Goodell to exert more influence and ensure all 32 teams are openly considering diverse candidates.
"If you have a club that is not performing at levels that most people would say are reasonable, based on today's standards, and what the expectations are for … the leading professional sports league in the world, you know, bring them to the principal's office. And bring the owner, bring the executives, etc. And talk about what, why isn't this working? Tell me what your issues are, share with you some best practices from a few other teams."

Arthur Blank
Blank said he believes Goodell could use his power to have serious discussions with teams that don't have minorities in high-profile positions. Atlanta hired longtime New Orleans Saints executive Terry Fontenot, who is Black, as its general manager following the 2020 season.
"We've seen a lot of changes at the club level as well with coordinators and executives as well, etc.," Blank said. "What hasn't worked is the head coaches. We only have three Black head coaches out of 32 teams."
Blank should tread lightly considering the Falcons' own questionable history of hiring minority candidates
Blank, who calls the late Congressman John Lewis a friend, has a history of supporting civil rights and equality. The billionaire donated $17 million to the National Center for Civil and Human Rights, an Atlanta-based museum, in February 2021.
There is no arguing that Blank is devoted to fighting social injustice. However, he doesn't have the most extraordinary history of hiring minority candidates to run significant aspects of his football team.
It took Blank, who bought the Falcons, nearly 20 years to appoint a Black general manager. Rich McKay, who became Atlanta's president and CEO in 2008, also held the general manager role from 2003-08. His successor, Thomas Dimitroff, served as the GM until his firing in October 2020. Both men are white.
The Falcons are one of 13 teams that have never had a full-time Black head coach. Emmitt Thomas, a Pro Football Hall of Fame defensive back, went 1-3 as Atlanta's interim head coach in 2007. Raheem Morris, who was the Tampa Bay Buccaneers' head coach from 2009-11, won four of his 11 games as the Falcons' interim head coach in 2020.
When Morris took over the Falcons following an 0-5 start, Blank was asked if the veteran defensive mind would eventually be considered a candidate for the full-time job. According to the Falcons' official website, Blank responded, "If Raheem ends up 11-0, he's certainly going to be a candidate."
NFL Media's Jim Trotter tweeted he wasn't pleased with the remark and later pressed the Falcons owner on his comments. In response, Blank said he is "colorblind," and he would have made the remark regardless of who had been named the interim head coach.
Goodell, for his part, all but admitted the league needs to address its hiring practices
Only time will tell if Goodell eventually begins calling teams into his office. For now, he and the league appear committed to addressing the league's hiring practices one step at a time, including by reevaluating the current protocols.
Ahead of Super Bowl 56, Goodell told reporters the league intends to reevaluate the Rooney Rule, a league policy that mandates teams must interview at least two external minority candidates for head coaching positions. All franchises must also interview at least one minority candidate for all coordinator positions and senior-level positions, including general manager.
Pro Football Hall of Fame head coach Tony Dungy recently wrote the NFL a letter suggesting the league prevent teams from hiring candidates before the Super Bowl. Every vacancy during the most recent cycle was filled before the Big Game. Dungy, who became the first Black head coach to win a Super Bowl, also called the current system "broken."
As of publication, the league had not announced any impending changes to the hiring process. If Goodell is looking for internal counsel, both Blank and Dungy have all but made it clear they're doing whatever it takes to change what they believe is a failing standard.
Like Sportscasting on Facebook. Follow us on Twitter @sportscasting19.
RELATED: Jason Whitlock Demands the NFL Fire Roger Goodell and Find a New Commissioner: 'Weak Men Are Weak Leaders'