Fantasy Baseball: 5 Players to Watch for This Week
Now that the Fourth of July has come and gone, Major League Baseball is entering the back end of its tumultuous 162-game season. Teams are making moves, showing their true colors, and officially declaring themselves as contenders or pretenders. The same goes for your fantasy teams. Similar to actual games, fantasy leagues across the country are starting to get serious.
Whether it's your sleeper picks needing to perform better, your top players performing at their expected levels, or just your ace pitcher not getting shelled, it's time to put the nose to the grindstone. While it might be difficult to pick up a quality player on the waiver wire at this time of the season, you never know, especially as injuries heal and slumps break. And even more importantly, you need to closely examine match-ups each week. Teams get hot and cold, and if you can even predict half of what might happen, your fantasy team will thrive: it's just a matter of allowing it to do so. So without further ado, here are five players to watch for that might have very productive weeks, at least in fantasy terms.
1. Brock Holt, Boston Red Sox
Though the 26-year-old outfielder might not hit for power (he only has two home runs and 18 RBIs on the year), his average has made him a solid option in the outfield. He currently sits at .320 on the year, putting him 26 points above his career average. Though his average has dropped in the last week, he still was able to finish at .308 with five runs scored and one RBI. Again, he's not going to light up the stat line, but he's consistent.
Looking ahead to this week, Boston has seven games against two teams — the Cleveland Indians and the Houston Astros — that give up a lot of runs. Take Houston for example: they've allowed 415 runs this season, which is good enough for fourth worst in all of the majors. Even if Holt doesn't get hot, given Boston's opponents, he's almost a guarantee to play a role in a lot of Red Sox runs.
2. Christian Yelich, Miami Marlins
Up until June 29, the Miami left fielder was on the disabled list. While it wasn't a long stint (he's still appeared in 69 games this season), his fantasy value greatly dipped at the time. But now he's back, and he's made quite the splash. Consider this: Last week, he hit .333, drove in five runs, and finished with a total of nine hits.
And on top of his hot streak, the Marlins open this week with a three-game series against the Arizona Diamondbacks. Not only are the Diamondbacks tied for the worst record in the MLB, but they've also allowed the third-most runs (427). As a whole, Yelich will produce for your fantasy team in categories all across the board. He can drive in runs, hit for average, steal bases, and even showcase some power, especially when he's playing teams like the Diamondbacks. 
3. Roenis Elias, Seattle Mariners
Though this Mariners pitcher's presence on this list might surprise some of you, he's primed for a big week. Just look at how Elias started the year. He was one of the best pitchers in the American League early on; he's just been faltering lately. Sure, in his last two starts he's given up 10 earned runs in 11 innings. But the two starts before that? Two earned runs in 13.2 innings pitched. That's a crass difference, but one that can be hurdled. The fact that Elias has been inconsistent recently actually bodes well for his future. If he can regain his early form — every time, not occasionally — his matchup this week with the Minnesota Twins should be a good one.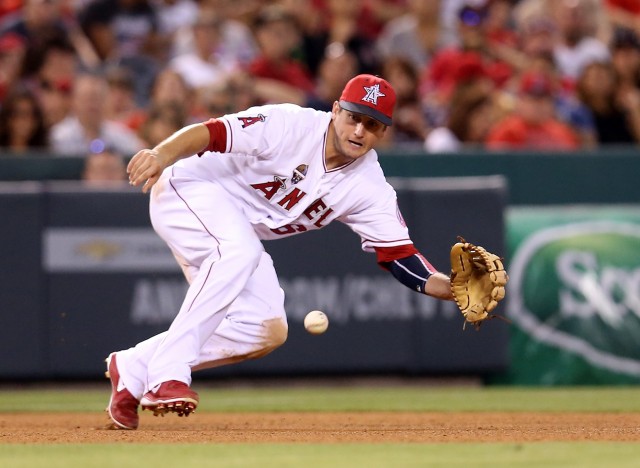 4. David Freese, Los Angeles Angels
It appears that the injury that kept the third baseman out of the lineup this weekend shouldn't be too serious. And besides that little speed bump, Freese has been hot as of late. Just last week, he went eight for 19 from the plate and knocked in 6 RBIs. As a career .282 hitter, his season average of .253 doesn't really speak well about his potential.
And if Freese's recent trend of getting on base and driving runs remains true, his fantasy owners will benefit greatly. For an everyday player like Freese, while the first half of this 2014 season wasn't his finest, he did drive in 60 runs for St. Louis a year ago. This streak will come, and when it does, you'll want him in your lineup. And that starts this week.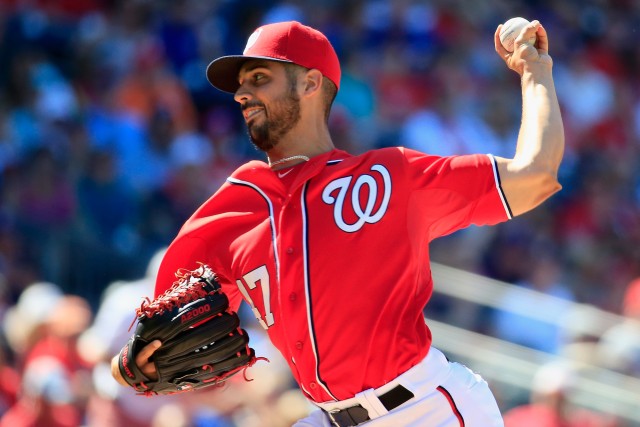 5. Gio Gonzalez, Washington Nationals
In terms of fantasy numbers and production, Gonzalez is about as hot as it gets. Going back to his last three starts, he hasn't allowed a single run in 21 innings pitched. That kind of scoreless streak is difficult for any pitcher, let alone one on your fantasy roster. Even when you consider that he'll be facing the Baltimore Orioles, who post one of the MLB's best offenses, this week, he's still a must start.
Although he started out the year roughly — a trend with most of the players on this list — he has come into his own recently. It also helps that the Nationals have the National League's best pitching, so as a whole, Gonzalez isn't relied upon as heavily as he would be elsewhere. During his last three starts, he has made noticeable improvements in his mechanics and his ability to locate pitches. Those kind of mid-season improvements bode well for his fantasy value as this week kicks off and as the season continues.