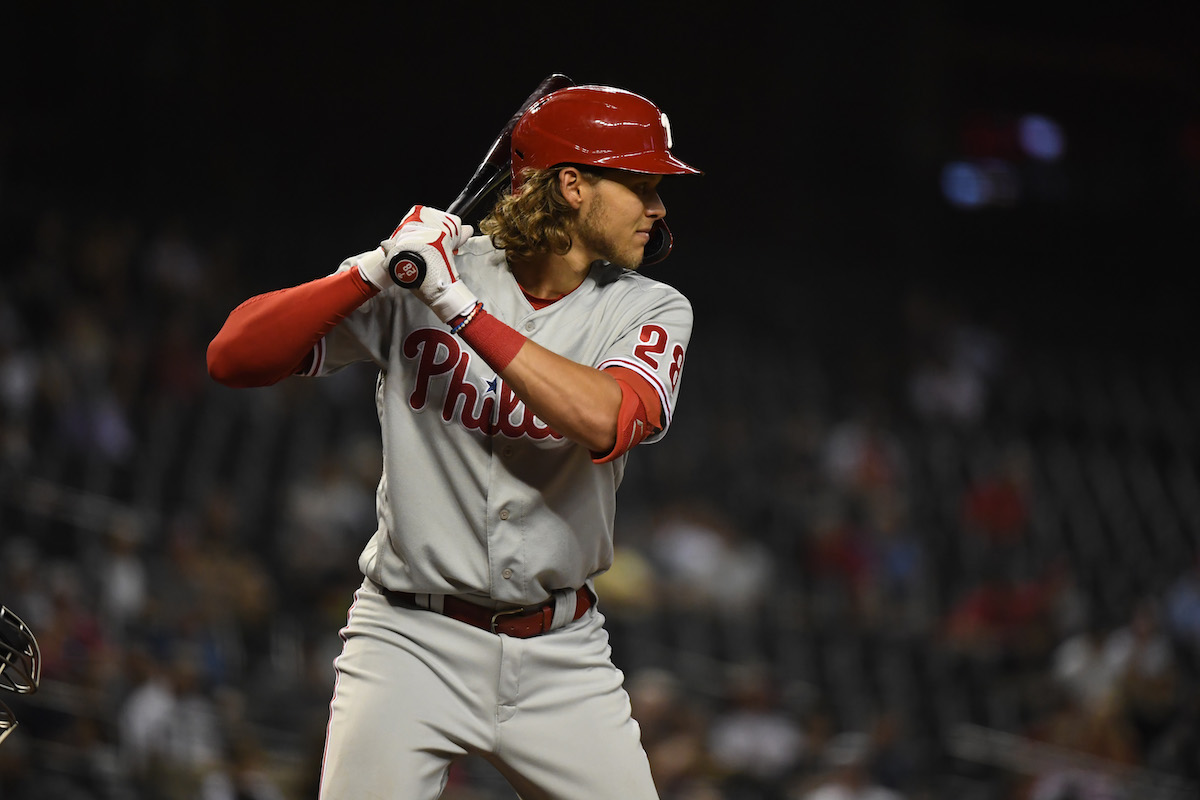 Fantasy Baseball Sleepers: 3 Late-Round Third Basemen Who Could Change Your Fortunes
If you're trying to find value late in your fantasy draft, each of these three third base options could do the trick. The position is shallow, but sleepers exist.
The third base lineup spot is home to a ton of fun fantasy baseball sleepers, ranging from up-and-coming MLB players such as 25-year-old Abraham Toro of the Seattle Mariners to a 36-year-old version of Evan Longoria poised to do plenty of damage for the San Francisco Giants. But we're not here to list them all so much as to whittle them down and highlight the three most likely to break out in a way that recoups the most bang for your fantasy buck, just as we've done at catcher and starting pitcher, among other positions.
Plus, the wealth of under-the-radar, bargain-bin options is at least partially due to the shallowness of the position. After the few top options cemented near the top of draft boards, even the third- and fourth-tier options are brimming over with question marks.
That sets the stage for you to wait until the later rounds and grab a high-upside or high-value option who can turn the tides in your favor after you've invested elsewhere in the earlier portions of your draft. Each of the following three contributors at third base has an average draft position (ADP) outside the top 200, but each is worth monitoring if you're looking for late value at the position.
Alec Bohm, Philadelphia Phillies
ADP: 296.6
Age: 25
2021 Stats: 417 PA, 46 R, 15 2B, 0 3B, 7 HR, 47 RBI, 4 SB, .247/.305/.342
Alec Bohm fits squarely into the "post-hype sleeper" category after a dismal 2021 season for the Philadelphia Phillies that saw him struggle to generate the power he put on display over 44 scintillating games as a rookie that left him trailing only Devin Williams of the Milwaukee Brewers in the 2020 National League Rookie of the Year voting.
Fortunately for both him and the Phillies, that regression isn't a career death knell.
Bohm utilized a similar approach at the plate during his two drastically different seasons. He didn't chase more pitches outside the zone (and improved his rate of contact on such pitches by a sterling 12.9 percentage points). Instead, he just struggled to make contact on would-be called strikes, dropping his zone contact percentage from 83.4 to 76.6%.
The primary culprit? Fastballs.
Bohm struggled to make contact on elevated heaters, as well as ones brushing him back or coming right over the heart of the plate (especially weird for a hitter of his caliber who had enjoyed so much success at lower levels).
His actual batting average on fastballs plummeted from .344 to .190, though some of the discrepancies were luck-related. His xBA only dropped from .301 to .255, indicating that the fall wasn't as large as advertised and might be fixed with better contact. After all, Bohm still had an average exit velocity in the 89th percentile and a hard-hit percentage in the 90th percentile.
Simplifying his swing — as he's been doing with his work alongside Philadelphia hitting coach Kevin Long, who is seeking to shorten it, among other changes — should go a long way and allow him to regain his contact skills without sacrificing the beating he puts on a ball when he does make contact.
A few subtle tweaks could be all it takes for Bohm to go boom and hit a lot more bombs.
Jeimer Candelario, Detroit Tigers
ADP: 242.6
Age: 28
2021 Stats: 626 PA, 75 R, 42 2B, 3 3B, 16 HR, 67 RBI, 0 SB, .271/.351/.443
Stop for a second and just think about this: You can land a switch-hitting cleanup option around the 250th pick of a typical draft.
Yes, Jeimer Candelario plays for an offensively challenged Detroit Tigers club, but staying healthy allows him to rack up plenty of counting stats without hurting you in any of the rate categories. His complete lack of speed on the basepaths is arguably the only drawback, which should negate any concerns about his limited power potential that maxes out shy of 25 homers.
Per THE BAT X, Candelario is projected to follow up a 42-double season that paced the majors with another 32 two-baggers. Among third base-eligible players, only Jose Ramirez (34) and Rafael Devers (35) are projected to have more, and they're not exactly available at the same stage of the draft.
He's cut his strikeout rate each of the last three seasons, produced a solid slash line without being a huge luck beneficiary, learned to walk at a decent clip, and cemented himself as a middle-of-the-order Motown mainstay. He might not be the sexiest sleeper due to the lack of power potential and dearth of steals, but at such a shallow position, the remarkably high floor is worth pursuing this late in the proceedings.
Candelario might not be a home run in the draft. That's fine. He's perfectly content to knock another double into the gap and help elevate you in the standings without drawing too much attention.
Kevin Smith, Oakland Athletics
ADP: 654.0
Age: 25
2021 Stats: 36 PA, 2 R, 0 2B, 0 3B, 1 HR, 1 RBI, 0 SB, .094/.194/.188
The Oakland Athletics probably aren't going to be too competitive after trading Matt Olson to the Atlanta Braves and shipping Matt Chapman to the Toronto Blue Jays, but the prospects they got back in return should make an immediate impact.
Kevin Smith was the centerpiece of the deal with MLB's Canadian representative, and he'll be making a quick transition from shortstop to third base for the Green and Gold. He's only been playing the position for under two years, but that was where he lined up during brief major league action north of the border in 2021.
That brief action didn't yield impressive results, but don't judge a 25-year-old with a strong pedigree off a sample of just 18 games.
Smith was a power-speed threat in the minor leagues, racking up 21 homers and 18 steals over 94 games at Triple-A before he got the call from Toronto in 2021. In 2018, he went for 25 and 29 across two levels, and he followed that up in 2019 with 19 and 11 in 116 games. Most notable projection systems have him flirting with double-double territory during his true rookie season despite not pushing upward of 100 games and 400 plate appearances.
What if he cements himself at third from the get-go?
Despite the shaky offense and unfavorable ballpark in Oakland, those opportunities to produce could allow him to push toward 20 dingers and 15 steals in relative anonymity. With a powerful uppercut swing that yields plenty of loud contact and walk rates and strikeout rates trending in opposite directions (6.2 and 32.3% at Double-A in 2019 and 11.2 and 23.7% at Triple-A in 2021), that's well within the realm of realistic possibilities.
You can essentially have Smith for free in most drafts, and that's lucky for you if you're willing to take the no-risk, high-reward gamble.
All stats, unless otherwise indicated, courtesy of Baseball Reference, Fangraphs, and Baseball Savant. ADP data courtesy of FantasyPros.