Fantasy Football 2020: Dak Prescott Is Too Risky a QB1 Option Even After Coaching Changes
Dak Prescott had a big 2019 season on the field and it translated into plenty of points for both the Dallas Cowboys and fantasy football owners.
Dak Prescott has been an extremely productive fantasy football quarterback in his first four years with the Cowboys. Players should use caution if they plan to draft Prescott as their QB1, though.
Dak Prescott could have a huge 2020 season
RELATED: Troy Aikman Expresses True Feelings on Dak Prescott's Contract Situation
Regardless of your feelings on Dak Prescott's contract situation, it is hard to deny the Cowboys have the makings for a strong 2020 season.
Oft-criticized head coach Jason Garrett is now the New York Giants' offensive coordinator and Mike McCarthy, a Super Bowl-winning coach with the Green Bay Packers, is his replacement.
Dallas signed star receiver Amari Cooper to a new deal and All-Pro running back Ezekiel Elliott returns in the backfield. The Cowboys also used a first-round pick on Oklahoma standout receiver CeeDee Lamb.
Dak Prescott is coming off arguably his best season as a pro. Despite Garrett's questionable play-calling and Dallas' 8-8 finish, Prescott set career-highs in passing yards (4,902) and passing touchdowns (30).
Prescott's 11 interceptions were a bit high compared to his past seasons, but he was picked off on less than 2% of his passes.
Prescott has been a reliable fantasy football quarterback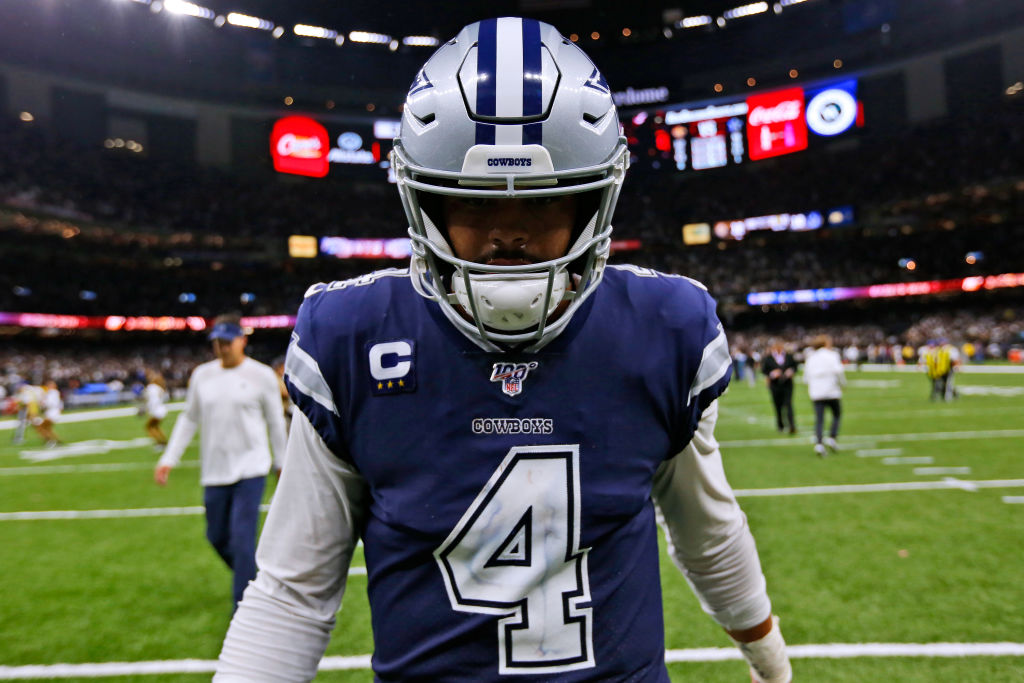 RELATED: Darren Woodson Believes Dak Prescott Has Put in More Than Enough Work to Earn a New Contract
Dak Prescott has started all 64 games he's played in as a pro and he's ranked in or near the top-10 quarterbacks in fantasy points every year.
Prescott's 338 fantasy football points trailed only Ravens quarterback Lamar Jackson (416) and Panthers running back Christian McCaffrey (355) last year.
Russell Wilson, Deshaun Watson, and Jameis Winston were the only other players who topped 300 points, according to Pro-Football-Reference.
Prescott ranked sixth among quarterbacks in 2016 before he dipped to 11th in 2017. He rose to 10th in 2018, a year the Cowboys made it to the second round of the NFC playoffs.
It is worth noting that Deshaun Watson missed one game last year and Patrick Mahomes missed two. Had they played a full 16-game schedule, they each could have passed Prescott given their numbers in 15 and 14 games, respectively.
Use caution when drafting Dak Prescott this year
RELATED: Dak Prescott is a $31.4 Million Roadblock to the Cowboys Trading for Jamal Adams
There are plenty of reasons to be optimistic about Dak Prescott's fantasy football outlook in 2020. Players should nonetheless consider their options if Prescott is available as a QB1.
Dallas retained offensive coordinator Kellen Moore, so Prescott at least has familiarity on his side. Aaron Rodgers historically thrived as a fantasy football quarterback when Mike McCarthy coached the Packers.
Rodgers was a top-2 quarterback in seven of his nine full seasons under McCarthy. Rodgers missed extended time in 2013 and 2017 because of injuries.
Of course, Aaron Rodgers had far more to do in the Packers' offense than Prescott has in Dallas. Rodgers only had a 1,000-yard rusher three times in those nine seasons and none after 2014.
The presence of Elliott in Mike McCarthy's offense could mean fewer points for Prescott. The other issue, and one that could create a distraction, is Prescott's contract situation.
Whether or not Dak Prescott and the Cowboys reach an agreement on a new contract won't mean much about the narratives surrounding Dallas' veteran quarterback.
Prescott's 2020 season will either include conversations about how the Cowboys need to give him a new contract, if they were wrong to sign him to one, or if the Cowboys took too long to award him with a new deal.
Those conversations could interfere with the Cowboys' championship hopes and, by extension, plenty of fantasy football seasons.
Lamar Jackson and Patrick Mahomes will likely be the first two quarterbacks taken off the board in most fantasy leagues this summer.
Even after last year's dominant showing, it may be worth waiting until the likes of Rodgers, Russell Wilson, and even Deshaun Watson are off the board before selecting Prescott.