Fantasy Football 2020: Drew Brees Was Already a Risky QB1 Option Even Before Controversial Comments
For nearly 15 years, Drew Brees could do no wrong in New Orleans. All of that changed with one ill-timed comment.
In a recent interview, Drew Brees dismissed the idea and sentiments behind players kneeling for the national anthem. Many NFL players, including some of Brees' teammates, ripped the future Hall of Fame quarterback on social media.
Brees was already a risky fantasy football pick for 2020, but should players definitely try avoiding him after his comments? Let's take a look.
Drew Brees had another strong season in 2019
For nearly 20 years, Drew Brees has been a constant 'QB1' for fantasy football players. Brees was a top-10 fantasy football quarterback every year from 2004-18 and ranked No. 1 in 2008 and 2012.
Brees finished second among fantasy football quarterbacks in points in 2009, 2011, and 2013.
Drew Brees completed 74.3% of his passes last year for 2,979 yards, 27 touchdowns, and four interceptions. In most years, that pace surely would have placed Brees in the top-10 among fantasy quarterbacks.
However, Brees missed five games because of a thumb injury and only finished 21st among quarterbacks, according to Pro-Football-Reference.
Those five games marked the first games Brees missed for injury since he entered the NFL in 2001.
Brees recently made extremely controversial comments about the national anthem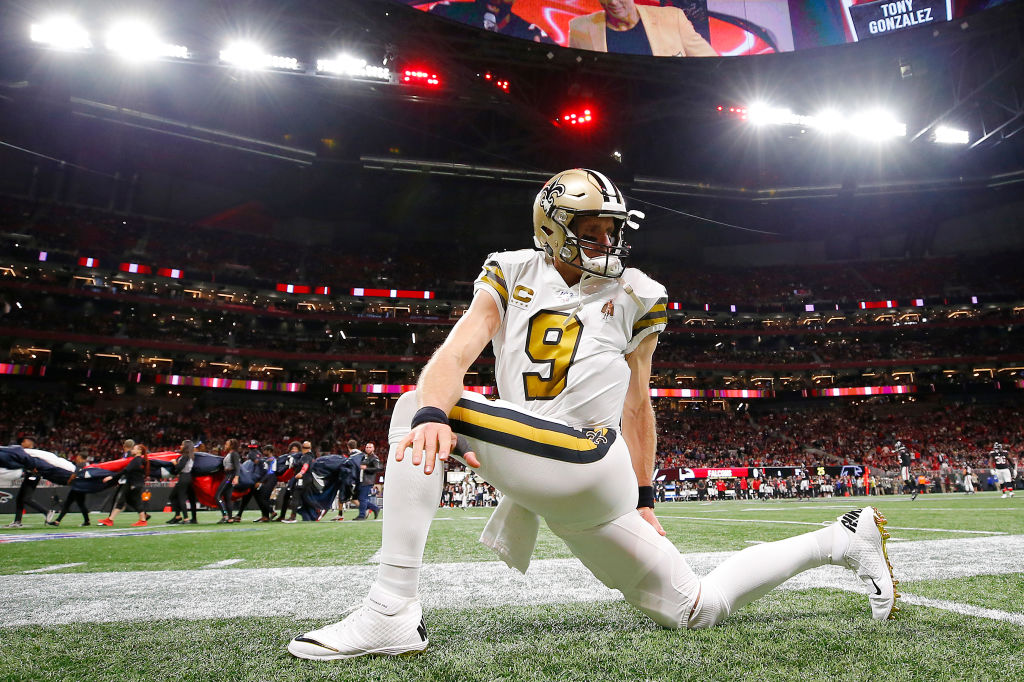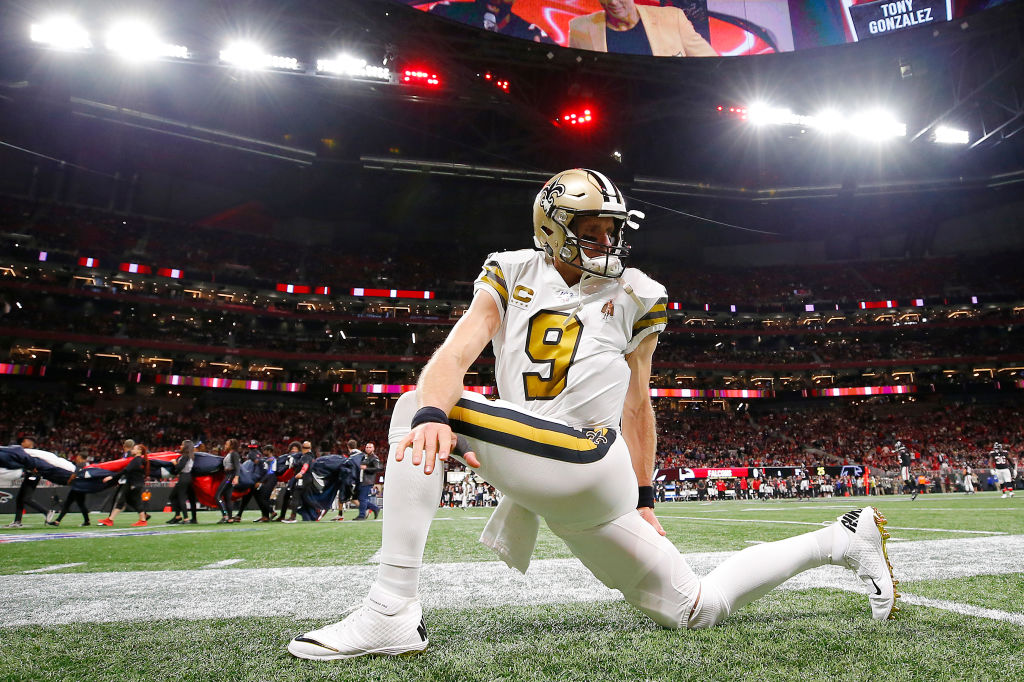 In a recent interview, Drew Brees was asked about players kneeling for the national anthem in protest of racial inequality and police brutality.
Former San Francisco 49ers quarterback Colin Kaepernick knelt for the anthem in 2016. Kaepernick has not played in the NFL since January 2017.
Colin Kaepernick has not commented on Brees' stance as of June 4, 2020.
Brees, who locked arms with Saints teammates in the past to protest those very same problems, said he viewed kneeling as "disrespecting the flag of the United States of America or our country."
Brees' comments set the sports world on fire. Numerous NFL players, including some of his Saints teammates, publicly criticized Brees for his comments.
Saints defensive back Malcolm Jenkins, notably, told Brees to "shut the f— up" in a video Jenkins posted.
Drew Brees is among the most important people in New Orleans' history as a city. That didn't stop residents from chanting "F— Drew Brees" at a protest after his comments went viral.
Be careful drafting Drew Brees as your 'QB1' this year
At 41 years old, Drew Brees is getting up there in age and there is enough proof that Superman can't fly forever.
Brees is among the greatest quarterbacks in NFL history. He holds the league's all-time passing yards and passing touchdowns records, although Tom Brady may trade the latter with him throughout the 2020 season.
But Brees' age already made him a risky fantasy football option, at least as a 'QB1.' All it takes is a slow start to the season and Brees looking his age for a fantasy football campaign to end before it really began.
Now, the dreaded 'distraction' could loom over the Saints' heads. It isn't worth sinking an early pick into Brees with all of the problems New Orleans could face this year.
If Brees lasts until the middle rounds and is avaliable as a 'QB2,' fantasy football players should certainly consider adding him. But younger quarterbacks like Deshaun Watson, Russell Wilson, and even the also-risky Dak Prescott are far safer picks than Brees.