Fantasy Football 2022: Takeaways From the Final Week of the NFL Preseason and Roster Cutdown Day
None of the cuts made Tuesday by NFL teams to get their rosters to the 53-man limit were earth-shaking for fantasy football owners.
A few backup quarterbacks like Kellen Mond in Minnesota were let go, running back Phillip Lindsay was a casualty in Indy, and tight end O.J. Howard, a former first-round pick by Tampa Bay, was cut by Buffalo, somewhat surprisingly.
Maybe a fantasy manager somewhere – like here, as I mentioned on a friend's podcast over the weekend – thought Howard was someone to keep an eye on in the Bills' high-scoring offense. After all, he caught a touchdown in his last preseason game, and he was a beast in college at Alabama, right?
OK, it turns out that fantasy football isn't an exact science.
But there are a few other revelations from the final week of the preseason and cutdown day with just a week until the first game of the NFL season.
Dameon Pierce wins the RB1 battle with the Texans
Before the preseason started, it was a pretty solid bet that former Colts RB Marlon Mack would be the starter in Houston with the hopes that he would return to his 2019-2020 form when he rushed for 1,999 yards and 17 touchdowns before suffering an Achilles injury.
On Tuesday, the Texans cut Mack, paving the way for rookie Dameon Pierce, Houston's fourth-round draft pick out of Florida. Pierce had a standout preseason with 86 yards and a touchdown in two preseason games. He averaged 6.2 yards per carry in this past week's 17-0 win over San Francisco.
Pierce is now rostered in 76.8% of ESPN fantasy leagues – that's up 25.2% from a week ago when Mack was still in the picture on the active roster (Mack is expected to be signed to the Texans' practice squad.)
That leaves veteran Rex Burkhead, Dare Ogunbowale, and Royce Freeman on the roster to start the season for the Texans.
Pierce is obviously the only one with fantasy relevance at this point, and he's no longer the sleeper he once was as he climbs up draft boards as a possible fantasy RB2 and certainly a flex with a high ceiling. 
ESPN still has Pierce ranked at No. 90 overall in fantasy, but he's no longer a projected 10th-round pick. He's not going in the fourth and even the third rounds of fantasy drafts and could easily live up to that status.
Neither Steelers QB can be trusted in fantasy football
Pittsburgh head coach Mike Tomlin isn't saying so as not to "feed the (media) beast," but Mitch Trubisky is almost certainly the Steelers' starter – at least for now.
Trubisky, of course, is the former Chicago Bears draft pick selected ahead of Patrick Mahomes at No. 2 overall in the 2017 NFL Draft. Trubisky played well on occasion for the Bears, and his arm and mobility were valuable to fantasy owners as a QB2 and streaming starter, particularly in deeper leagues.
He spent last year backing up Josh Allen in Buffalo after the Bears reset at quarterback with Justin Fields in the 2021 NFL Draft.
Despite Trubisky's age – he's only 28 – rookie Kenny Pickett is the Pittsburgh QB that has the eye of fantasy owners, particularly in dynasty leagues. After a rare, full four-year career at Pitt, Pickett, 24, looms large over Trubisky's shoulder.
If Trubisky stumbles, Pickett figures to get the early call.
Both players performed well enough to start during the preseason. Trubisky started all three games and completed 15 of 19 passes for 160 yards and a touchdown in last week's 19-9 win over Detroit. Pickett was similarly effective, going 10 of 14 for 90 yards.
Even so, neither are fantasy factors for this season, with so many other quarterbacks in the mix. In keeper and dynasty leagues, Pickett is the obvious choice. He's rostered in 6.5% of ESPN leagues, while owners are rostering Trubisky in 2.5%.
Neither Steelers quarterback can be trusted for now in one-year fantasy leagues. Trubisky could be a choice as a No. 3 quarterback in two-QB leagues, but owners need to be ready to make a move if Pickett hits the field.
Why you need to pay attention to Matt Ryan and the Colts' QB room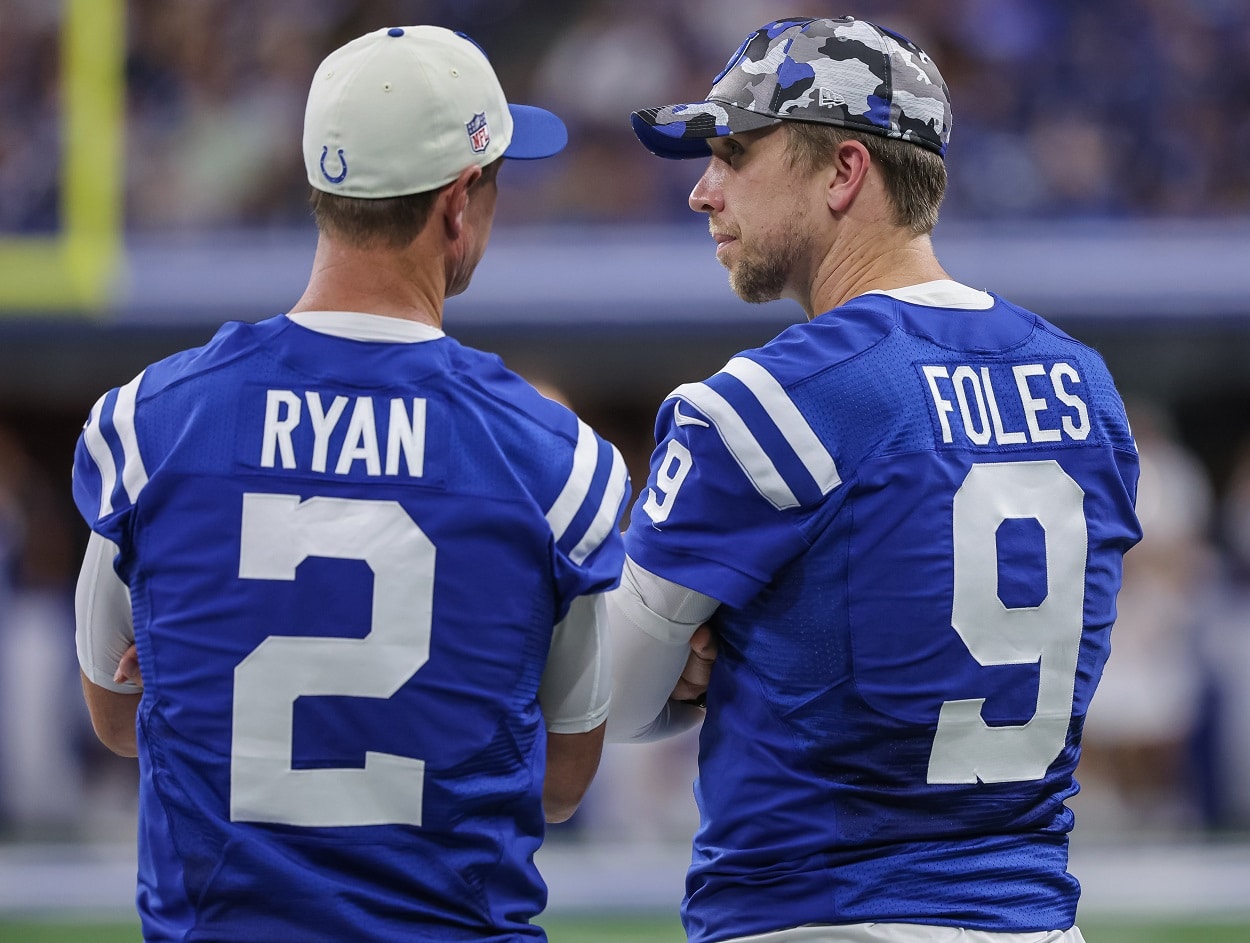 Matt Ryan will be better than Carson Wentz was for the Colts. No-brainer – Ryan is the best QB with the Colts since the early retirement of Andrew Luck.
From a fantasy perspective, Ryan had had a couple of notable years when he finished in the top three among fantasy quarterbacks, but the former NFL MVP has finished 11th or lower in five of the last seven years.
With a run-heavy offense starring Jonathan Taylor, Ryan doesn't figure to recapture that MVP form this season at the age of 37. Plus, there's no Julio Jones in his prime on the outside.
So, for now, Ryan is maybe a QB2. He will make WR Michael Pittman better. Same for Parris Campbell if he can finally stay on the field. Same for rookie Alec Pierce. Pittman is a WR2 with an average ceiling. During his long tenure in Atlanta, Ryan liked throwing to his backs more than any quarterback in the league, so Nyhiem Hines' stock should be higher in fantasy PPR this season.
When final cuts came down Tuesday afternoon, QB Sam Ehlinger was not a lock to make the roster as a third-stringer behind Ryan and backup Nick Foles.
The Colts kept all three, which is interesting and may offer a clue to the future.
Ryan is 37. Foles is 33.
Ehlinger, a second-year player drafted in the sixth round by the Colts out of Texas, completed 24 of 29 passes for 289 yards, four touchdowns, and no interceptions during the preseason.
Colts head coach Frank Reich said it would be hard to imagine anyone having a better preseason, and word is Ehlinger corrected some flaws in his throwing motion.
Could the Colts be going old school and actually developing a quarterback?
Maybe it's a red herring. But it could be a clue to the Colts' future with a younger, mobile dual-threat quarterback.
Dynasty fantasy owners, in particular, may need to pay attention.
Stats courtesy of Pro Football Reference
Like Sportscasting on Facebook. Follow us on Twitter @sportscasting19 and subscribe to our YouTube channel.
RELATED: Fantasy Football 2022: 5 Big Gambles That Could Make or Break Your Season