7 Running Backs With Favorable Fantasy Matchups in Week One
The 2016 National Football League season is finally upon us, which means it's time to start setting your fantasy football lineups for Week 1. We fully understand that it can be extremely difficult and at times painfully frustrating to attempt to make roster decisions based off projections that were formulated entirely on performances from previous seasons. That's why we are here to help. Here are seven running backs who have favorable fantasy matchups in Week 1 of the 2016 NFL season.
1. Latavius Murray, Oakland Raiders
Latavius Murray has flashed big-time ability over the last two seasons, but he has also frustrated anyone with ties to the Raiders. In 2015, it was ball security issues that led to the former Central Florida running back being a liability to the Oakland offense. In 2014, the frustration involved health issues. With all of this behind him, however, we expect Murray to have a career year in 2016. There is no better opposing defense for a running back to start the season with than the New Orleans Saints.
In 2015, the Saints allowed their opponents to rush for 4.9 yards per carry and 129.8 yards per game, and they allowed opposing running backs to put up an average of 20.7 fantasy points per game. With highly touted rookie defensive tackle Sheldon Rankins now on the team's Injured Reserved list, we don't see the New Orleans defense showing much improvement in 2016. The bottom line here is that fantasy owners should expect Murray to score 15 or more fantasy points in Week 1.
2. Doug Martin, Tampa Bay Buccaneers
Doug Martin had a huge year for Tampa Bay in 2015, and we expect him to start his 2016 season off on a similar note. The Bucs will face one of their fiercest rivals in Week 1 when they take on the Atlanta Falcons, and Martin's performance could end up being the deciding factor in the outcome of the game. With that being said, given the Falcons' defensive deficiencies in 2015 (they gave up 19.2 fantasy points per game to opposing running backs) and the fact that they did little to improve them this offseason, fantasy owners can expect to see Martin score 15 or more fantasy points on Sunday afternoon.
3. Todd Gurley, Los Angeles Rams
Todd Gurley pretty much has a favorable fantasy matchup anytime he is healthy and in the Rams' lineup. The second-year pro is arguably the best running back in the NFL today, and his Hall of Fame-caliber ability makes him a complete game-changer. On the flip side, though, seeing as how they are going with veteran journeyman Case Keenum as their starting quarterback, teams will likely stack the box and attempt to force the Rams to beat them through the air. Still, we expect a big game out of Gurley in Week 1 against the San Francisco 49ers.
The Niners have a couple of nice pieces on the defensive side of the ball (defensive ends Arik Armstead and DeForest Buckner and linebacker NaVorro Bowman), but this is still the same defense (mostly) that gave up an average of 21.4 fantasy points per game to running backs in 2015. Expect more of the same this week for Gurley.
4. Ryan Mathews, Philadelphia Eagles
Simply put, we expect a huge season out of Ryan Mathews in the Eagles' offense under new head coach Doug Pederson. As a refresher, Pederson's play-calling with the Kansas City Chiefs resulted in the best season of Jamaal Charles' career, and we will likely see something similar this year from Mathews. In Week 1, the Eagles will face a Cleveland Browns defense that did little to be proud of in 2015; they gave up 4.5 yards per carry, 128.4 rushing yards per game, and 15.8 fantasy points per game to opposing running backs.
Given that they are clearly in rebuild mode, we expect Cleveland's defense to be even worse in 2016. We believe the Eagles will rely heavily on their rushing attack as they break in rookie quarterback Carson Wentz. As a result, we foresee 20-plus touches for Mathews and well over 100 total yards in Week 1.
5. Ezekiel Elliott, Dallas Cowboys
Ezekiel Elliott has been one of the most hyped running backs to enter the NFL in quite some time, and we feel pretty confident that the former Ohio State Buckeye's professional career will start off with a bang. In his first regular season NFL game, Elliott will face a New York Giants defense that improved over the offseason, but still has holes in their front seven, which should allow the Cowboys' dominant offensive line to open gaping holes for their talented rookie to run through. On top of that, we will likely see Dallas focus on their rushing attack to make life easier on rookie quarterback Dak Prescott. All said, expect to see Elliott end up with 20 or more carries for well over 100 yards in Week 1.
6. Rashad Jennings, New York Giants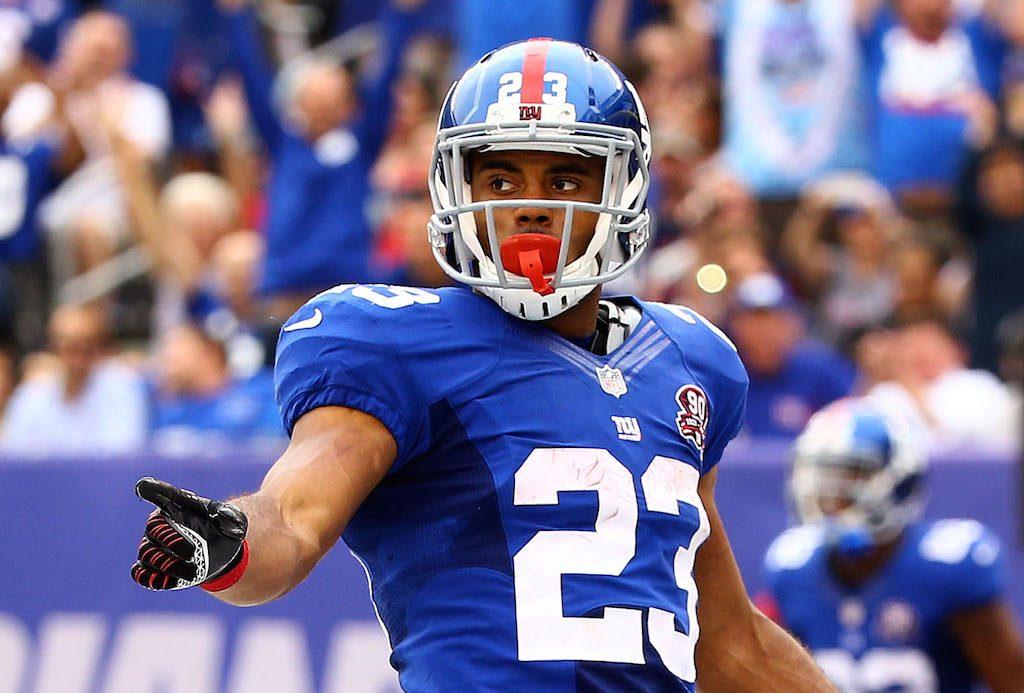 Rashad Jennings will share some of the Giants' workload with Shane Vereen, but the six-year NFL veteran is still expected to get somewhere around 15-20 carries per game and all of the team's goal-line touches. In Week 1, Jennings will face a Dallas Cowboys defense that should again be porous after allowing opposing running backs to rush for an average of 4.2 yards per carry and score 19.6 fantasy points per week in 2015.
7. Thomas Rawls, Seattle Seahawks
This situation needs to be monitored closely, as Thomas Rawls is still battling back from a dislocated ankle he suffered last December. Seattle head coach Pete Carroll said that the team will take it slow with the second-year running back, but in the same breath, he also said that Rawls is back to running at full speed. If he ultimately ends up playing and getting the bulk of the work for Seattle, Rawls will face a Miami Dolphins defense that gave up an average of 21.8 fantasy points per game to running backs in 2015 and did little to improve over the offseason.
Statistics courtesy of Pro-Football-Reference and ESPN.