Fantasy Football Sleepers: Which Quarterbacks Drafted as Backups Could Reach QB1 Status?
Quarterbacks have become increasingly more important in fantasy football as the NFL evolves further and further into a passing league. QBs are putting up bigger stats through the air than they ever have before.
The position is evolving as well. Gone are the days when Randall Cunningham or Michael Vick were the only quarterbacks with the athleticism and speed to make plays with their legs. The position has been dubbed the most important in all of sports.
A starting quarterback in fantasy football is important, but a reserve option is sometimes just as crucial. Three QBs will likely be available in the late rounds of most leagues and could be stashed on a bench in case of emergency: the Miami Dolphins' Tua Tagovailoa, the Los Angeles Rams' Matthew Stafford, and the Chicago Bears' Justin Fields.
Quarterback sleeper No. 1: Tua Tagovailoa, Miami Dolphins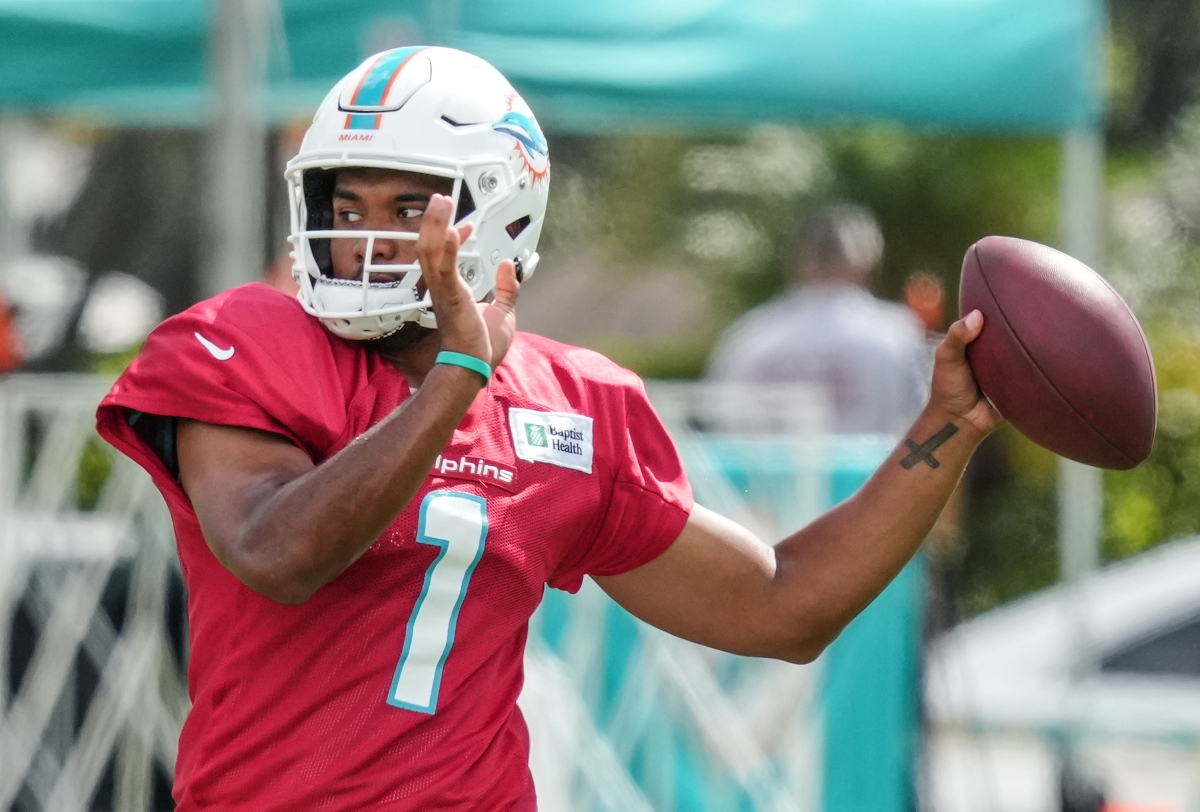 Tagovailoa was considered the best quarterback in the 2020 draft class. That is until Joe Burrow had one of the greatest college seasons of all time. The Alabama quarterback joined Miami as one of the most accurate and efficient quarterbacks in college history. He also had the ability to improvise on broken plays and checked all the boxes in terms of leadership on winning teams.
Tagovailoa is being overlooked heading into his second season because of myriad reasons. He had a long injury history in college and was coming off major hip surgery as he headed into his rookie year. He also had an offseason dramatically shortened because of the coronavirus (COVID-19) pandemic. The former national champion missed valuable learning time and an entire preseason.
Miami also didn't have the most talented array of skill players around the 6-foot-1 quarterback. DeVante Parker led the Dolphins in receiving with 793 yards and four touchdowns. Tight end Mike Gesicki finished the year with 703 yards and six scores. No other Miami player had more than 388 yards or four touchdowns.
Tagovailoa's expert consensus ranking (ECR) is No. 19, and his average draft position (ADP) is No. 16 among quarterbacks. He's a perfect candidate to be scooped up near the end of a 10-team or even 12-team draft with the hope his breakout season comes in 2021.
Quarterback sleeper No. 2: Matthew Stafford, Los Angeles Rams
According to PFF, Stafford has finished as a top-10 fantasy quarterback six times during his career. He's generally been underrated, but now he's stepping into Sean McVay's offense in LA. He might have the most prolific season of his career.
McVay's offenses are notoriously quarterback friendly, and the Rams' head coach has never had one as naturally talented as Stafford. In 2020, Jared Goff threw for 3,952 yards and 20 touchdowns with a 67% completion percentage. He averaged 7.2 yards per attempt.
Stafford is a far more talented, intelligent, and competent quarterback and flew under the radar on some bad Detroit Lions teams. He's worth rostering in case of an injury but also has the potential to put up top-10 fantasy numbers.
Quarterback sleeper No. 3: Justin Fields, Chicago Bears
The elephant in the room when it comes to Fields is that he's a rookie. No one is quite sure when or if he'll get a starting opportunity this season. Chicago has veterans Andy Dalton and Nick Foles on the roster next to Fields, and Dalton is expected to be the starter. This year, the Bears might be competing for a playoff spot, so head coach Matt Nagy may want to stick with a veteran.
But if it's a question of when, and not if, Fields sees the field because he has every attribute a fantasy quarterback needs to succeed. He's able to make plays through the air and with his legs, and as a rookie, he might lean on his legs a little more often. That would bode well for fantasy managers.
Fields sits at No. 22 among quarterbacks in ECR but is a classic case of boom-or-bust. He could be drafted in later rounds, especially in a 12-team format, but more than likely, he starts the season on the waiver wire because of the questions surrounding his playing time.
Whenever he does get under center, the Ohio State product has top-five fantasy football potential.
All ADP and ECR information courtesy of FantasyPros. All statistics courtesy of Pro Football Reference.