Week 3 Fantasy Football Start 'Em/Bench 'Em: Running Backs
There may be no tougher fantasy decision to make on a weekly basis than who to utilize at running back. With Week 3 on the horizon, it's time to talk about which fantasy running backs deserve to be in your lineup and who should ride the pine. Let's jump into it by looking at a player who's set to see a massive boost in his workload this weekend.
Start 'em: Theo Riddick, Detroit Lions
With Ameer Abdullah placed on the injured reserve, it will be Theo Riddick's show starting in Week 3. He's now the man for the Lions in both the running game and passing game out of the backfield, and he should be in for a huge day. Through two weeks, Riddick has been a strong fantasy football option, specifically thanks to his ability to catch passes. The 25-year-old out of Notre Dame has nine catches for 91 yards and a touchdown through Week 2, while also rushing for 82 yards and a score in limited action on the ground. Expect his numbers to go up in each category this weekend.
Bench 'em: Jeremy Langford, Chicago Bears
Basically, the team's official website posed the question of whether or not backup running back Jordan Howard deserves a promotion. It's safe to say the topic didn't come up because of Howard's performances so far this season. Through two games, he's only received three carries for 22 yards. It's likely due to Jeremy Langford's recent terrible performances. He averaged just three yards-per-carry over the last two games. His most recent performance against the Philadelphia Eagles involved 11 carries for 28 yards. A touchdown saved his day twice now, but don't bet on it happening in Week 3.
Start 'em: Charles Sims, Tampa Bay Buccaneers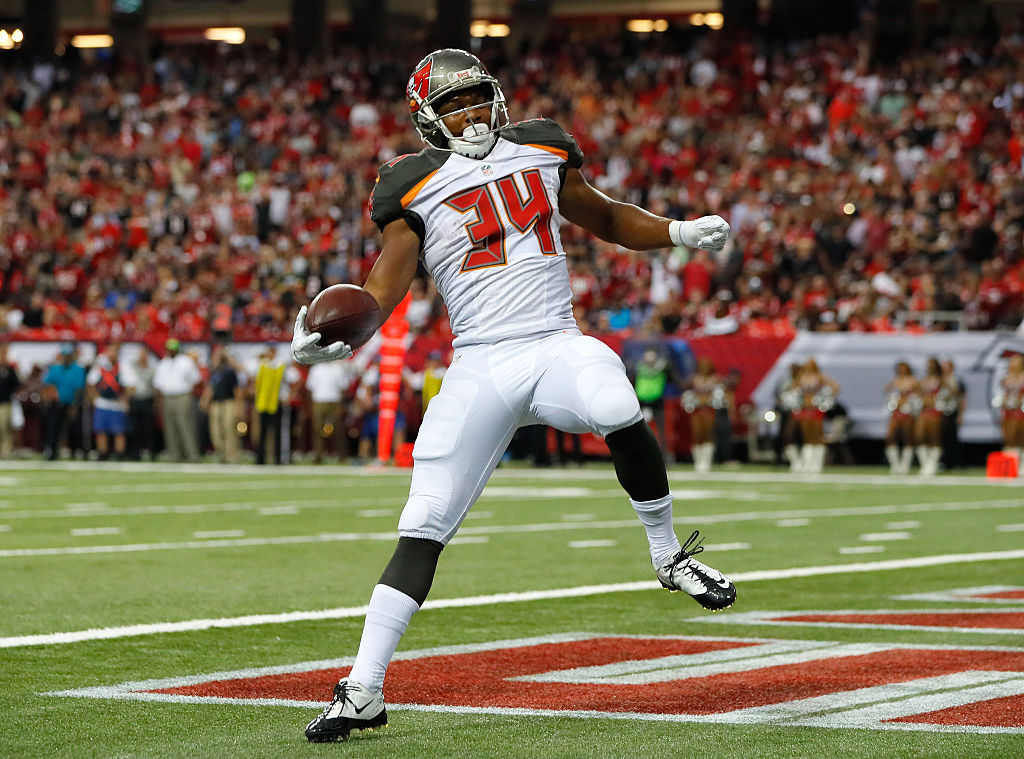 No, Charles Sims' matchup with the Los Angeles Rams isn't great, but his workload is more than ideal. With Doug Martin expected to miss multiple games, Sims has the chance to step in and receive as many carries and receptions as he can handle. This type of work is something you can't ignore in fantasy football. Plus, Sims is a major playmaker, so his big-play ability could easily set him up for a huge day. Remember: One run alone could justify you starting him in your fantasy football league. Don't shy away from Sims this week, and also don't forget what Carlos Hyde did to the Rams two weeks ago.
Bench 'em: Thomas Rawls, Seattle Seahawks
It's been the Christine Michael show through two games. In Week 2 he was the only running back able to do anything for the Seahawks. To contrast his performance, Rawls totaled seven carries for negative seven (yes, negative) yards against the Rams. He struggled in a big way, and Seattle draws a San Francisco 49ers defense that shockingly bottled up Todd Gurley in Week 1. Rawls may have a mediocre day, but Michael will still get plenty of work, and that, paired with Rawls' struggles, make him a player to keep on your bench until he gives you a reason to think it's going to change.
Start 'em: Spencer Ware, Kansas City Chiefs
There's no reason to jump off the Spencer Ware bandwagon anytime soon. While he didn't score a touchdown last week and didn't catch seven passes like he did the week before, he still averaged 5.7 yards-per-carry. The unfortunate truth is that when the Chiefs play from behind the entire game it makes it tough to run the ball much. This is a big reason why Ware only has 21 carries through two games. While the New York Jets defense isn't bad, don't be surprised to see Ware finally top 15 carries and also catch four or five passes as well on Sunday.
Bench 'em: Ryan Mathews, Philadelphia Eagles
After two games, it may be time to pump the brakes just a bit on Mathews. While he's received 31 carries through two games, the 28-year-old saw his total touches drop from 22 down to 10 in the span of one week. Also, his ability to score touchdowns saved both of his fantasy football days. Betting on a guy to score touchdowns as a starting fantasy running back isn't always the best idea, and Mathews looks like his arrow is pointed down heading into Week 3. Through two games, he's averaged just 3.5 yards-per-carry and has only 109 rushing yards. Hard pass this week.
Statistics courtesy of ESPN and Pro-Football-Reference.