5 Quarterbacks With Favorable Fantasy Matchups in Week 1
After an eventful offseason, training camp, and slate of preseason games, final rosters have been set and the 2016 National Football League season is finally here. For fantasy football players, this means it's time to get your roster set for the opening week of the season. Any experienced fantasy player will tell you that the key to success is finding and exploiting the right fantasy matchups on a weekly basis. We've already broken down the running back position, and in this article we will take a look at five fantasy quarterbacks who have favorable matchups in Week 1. Here's what we came up with.
1. Derek Carr, Oakland Raiders
Derek Carr quietly put together an excellent fantasy football season in 2015, and based on the improvements in his supporting cast and the fact that he should be even better with another year of experience, we believe that this year could be even better. His 2016 season should get off to a great start considering he has a matchup against the New Orleans Saints — who had arguably the worst defense in the entire league last year — in Week 1.
Last year, the Saints gave up 284 passing yards and just under three touchdown passes per game. They allowed opposing quarterbacks to post a 116.2 quarterback rating and score an average of 23.3 fantasy points per game. With one of the best offensive lines in the NFL, and a trio of top-notch targets (wide receivers Amari Cooper and Michael Crabtree and tight end Clive Walford) to throw to, Carr should be one of the top fantasy quarterbacks in the league for Week 1.
2. Aaron Rodgers, Green Bay Packers
This one is kind of a no-brainer. There are few scenarios (if any) where Aaron Rodgers isn't a must-start fantasy quarterback, but this week he has a particularly strong matchup against the Jacksonville Jaguars. We love what the Jags are building defensively, but they just don't match up well against a quarterback with a lightning-fast release and several high-end targets to spread the ball around to.
3. Brock Osweiler, Houston Texans
While we adamantly believe that signing Brock Osweiler to a $72 million contract was a bad move by the Texans, we cannot deny that he has an excellent fantasy matchup in Week 1 against the Chicago Bears. The Bears' defense allowed opposing quarterbacks to score an average of 18.6 fantasy points per game in 2015, and with the improvements Houston made to their receiving core and offensive line this offseason, Osweiler should easily reach 20 fantasy points this week.
4. Russell Wilson, Seattle Seahawks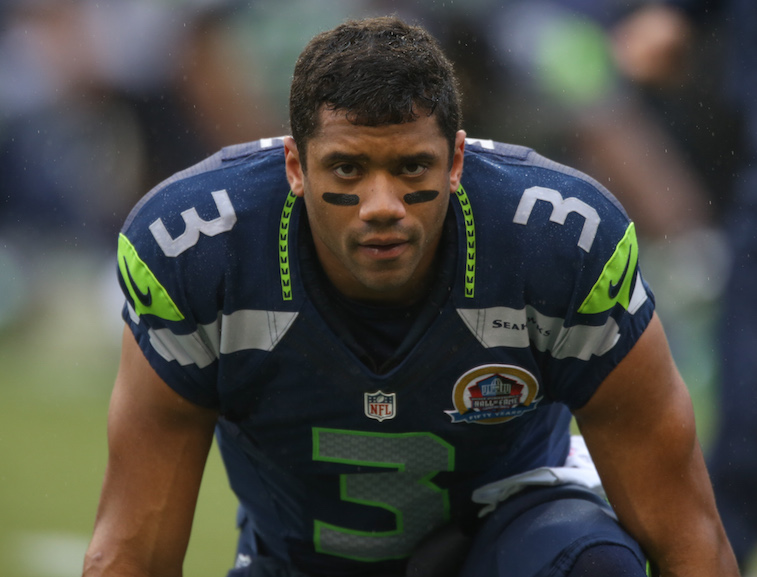 Russell Wilson and the Seahawks will open the 2016 season against the Miami Dolphins. And while the Dolphins are undoubtedly a pretty talented group on the defensive side of the ball — particularly in their front seven — they still have major holes in their secondary. Their starting cornerbacks are Byron Maxwell, who was hugely disappointing during his one season (2015) with the Philadelphia Eagles, and rookie Xavien Howard, who was a second-round pick in the 2016 NFL Draft. Not only do we see Wilson having a great deal of success through the air, he will also likely score a handful of points on the ground.
5. Carson Wentz, Philadelphia Eagles
We are fully aware that Carson Wentz will be a rookie making his first career NFL start when the Eagles host the Cleveland Browns on Sunday, but that doesn't change our opinion on his fantasy outlook for Week 1. The Browns are a flat-out disaster on the defensive side of the ball, and our guess is that they will be even worse than they were in 2015 when they allowed opposing quarterbacks to score an average of 19.4 fantasy points per game. While there will surely be times when Wentz looks like a rookie, we are confident that he will score somewhere close to 20 fantasy points in Week 1.
Statistics courtesy of Pro-Football-Reference and ESPN.