5 NFL Running Backs With Favorable Fantasy Matchups in Week 2
If your fantasy football team struggled during Week 1 of the 2016 National Football League season, don't worry. It was only one week, and you have plenty of time left to make a run to your league's playoffs. The key to finding (or continuing) success, is identifying and taking advantage of the right fantasy matchups every week. That's where we can help. While many people feel like the running back position is dying in the NFL, we are among those who still believe it should be a priority. These five running backs have favorable fantasy matchups in Week 2.
1. Rashad Jennings, New York Giants
Rashad Jennings had a solid performance (75 yards on 18 carries) against the Dallas Cowboys in Week 1, and we expect him to be an even better fantasy option in Week 2 against the New Orleans Saints. Last week, the Saints allowed a whopping 167 yards on 26 carries (6.4 yards per carry) to the Oakland Raiders, and it quickly became clear that their defensive issues are not a thing of the past.
Granted, those numbers are a little bit skewed thanks to a 75-yard touchdown run by Oakland Raiders running back Jalen Richard, but there is no denying that the New Orleans defense is still ill-equipped to stop a competent opposing rushing attack. We fully understand that the New York Giants are a pass-first team on offense, but we still expect Jennings to have close to 100 yards on the ground in Week 2. He is definitely one of the best fantasy matchups of Week 2.
2. DeAngelo Williams, Pittsburgh Steelers
DeAngelo Williams ran all over the Washington Redskins in Week 1, and we expect more of the same out of the 33-year-old running back in Week 2 against the Cincinnati Bengals. Last week, the Bengals struggled to slow down Matt Forte and the New York Jets' rushing attack. Simply put: The Jets are just not on the same level as the Pittsburgh Steelers in any facet of offensive football. Expect to see the Bengals' defense line up in their nickel package for most of the game in an attempt to slow down Ben Roethlisberger and Antonio Brown, which should make it relatively easy for Williams to rack up yards all game long.
3. Lamar Miller, Houston Texans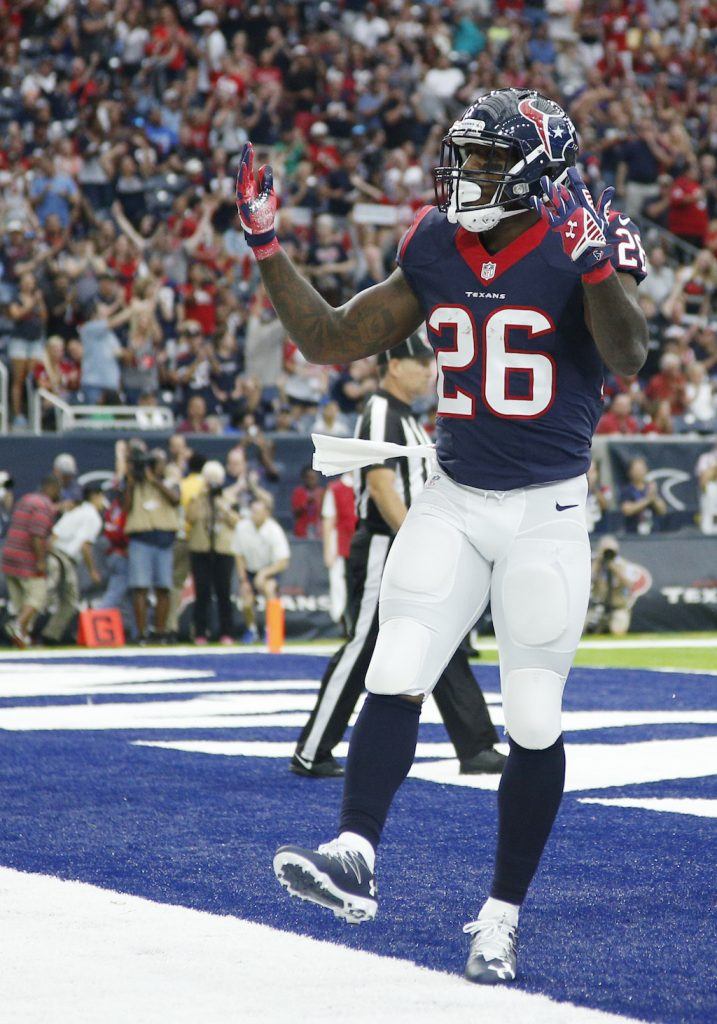 Lamar Miller and the Houston Texans will host the Kansas City Chiefs in Week 2, and we expect a huge game out of the former Miami Hurricanes running back. The Chiefs struggled mightily against the San Diego Chargers' running game in Week 1, which is a great sign for Miller and the Texans, who are a more talented group than the Chargers. Fantasy owners should expect to see Miller go well over the century mark in rushing yards for the second consecutive game this weekend.
4. C.J. Anderson, Denver Broncos
We weren't all that high on C.J. Anderson's fantasy potential heading into the season. But after Week 1, it's clear that the former undrafted free agent is the unquestioned No. 1 running back in a Broncos offense that looks dramatically improved (especially in the running game) this season. Against the Carolina Panthers, who have arguably the best defensive front seven in the league, Anderson ran for 92 yards and a touchdown on 20 carries. He also caught four passes for 47 yards and another touchdown.
This week, Anderson will face an Indianapolis Colts defense that gave up 4.8 yards per carry (116 total rushing yards) and two rushing touchdowns to the Detroit Lions in Week 1. Knowing this, we expect the 25-year-old running back to go well over 100 yards on the ground, catch a handful of passes, and reach the end zone at least once in Week 2.
5. Ezekiel Elliott, Dallas Cowboys
Ezekiel Elliott's NFL debut in Week 1 against the New York Giants wasn't stellar (51 yards and a touchdown on 20 carries), but it wasn't bad either. In Week 2, we expect to get our first glimpse of the game-changing player everyone expected Elliott to be when the Cowboys selected him in the 2016 NFL Draft.
Dallas will face a Washington Redskins defense that got absolutely shredded by Pittsburgh Steelers running back DeAngelo Williams in Week 1 (143 yards and two touchdowns on 26 carries, and six catches for 28 yards). We believe that Elliott will have a similar amount of success in Week 2. Expect to see the rookie post the first 100-yard game of his NFL career this weekend.
Statistics courtesy of Pro-Football-Reference and ESPN.