'Fast Eddie' Johnson Went From an NBA All-Star to Serving Life in Prison
Eddie Johnson had success as an NBA player. He worked out to make it to the league and did not want to waste away any opportunity he had. He was able to play in a few All-Star games during his time in the league.
The shooting guard adjusted well when he got to the league, and he immediately made an impact. Toward the end of his career, he faced some off the court issues that would ruin his NBA career and ruin his life.
'Fast Eddie' Johnson's NBA career
Going into the 1977 NBA draft, Johnson was not a highly-rated prospect. The Atlanta Hawks drafted him in the third round of the NBA draft in 1977. Even though he was a late draft pick, Johnson was able to help the Hawks' team. In his rookie season, he averaged 10.5 points and three assists and helped the Hawks reach the playoffs for the first time in four years.
The next season, Johnson improved his game. He averaged 16 points and 4.6 assists for the Hawks. He started to become a top player on the Hawks' team. The shooting guard got the nickname 'Fast Eddie' because of his quick speed on offense and how he had an explosive first step. Johnson was one of the top scorers on the Hawks' for multiple seasons. He also was a good defensive player as well. He made the NBA All-Defensive Second Team in 1979.
During the 1979-80 season, Johnson made his first All-Star team and was named to the All-Defensive Second Team for the second straight year. He started in his first All-Star game and scored 22 points while shooting 11-of-16 from the field. That season he averaged 18.5 points, 4.7 assists, and 2.5 rebounds per game. Johnson took his game to the next level in a short period.
The 1980-81 season was the best season of Johnson's career. He averaged 19.1 points per game, which was the most in his career, and he made his second straight All-Star team. Johnson would start in the All-Star game again as he scored 16 points in that game. Johnson's career was heading in the right direction. Johnson was teammates with current Los Angeles Clippers head coach Doc Rivers and Spud Webb, and the Hawks were one of the top teams in the Eastern Conference.
Johnson's career taking a turn for the worst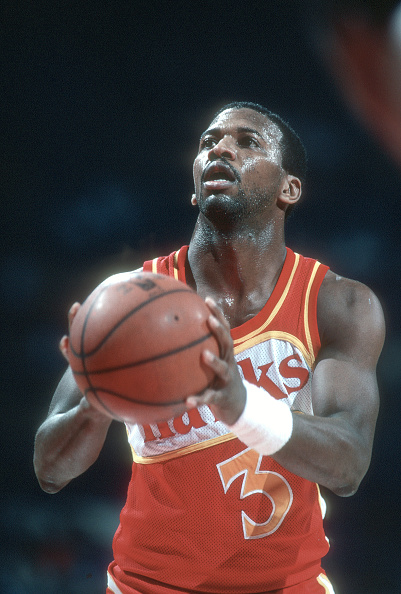 After the 1981 season, Johnson's career would take a hit due to injuries and drug problems that Johnson was having. He still averaged double digits in scoring while he was dealing with those issues.
Things would go south for Johnson a few seasons later. He had a serious addiction to cocaine had was suspended numerous times from the league. In 1986 he checked himself into rehab. But Johnson failed to cooperate and was banned from the NBA for life in 1987. Johnson finished his NBA career averaging 15.1 points and 5.1 assists per game.
Johnson, who was once considered a top player in the league, could not get back into the NBA anymore. Something that he worked so hard to do was taking away from him because of his actions.
Johnson facing life in prison
Johnson was accused of numerous assaults and burglaries when he was done playing in the NBA. One accusation that put Johnson behind bars for life was the accusation of sexually assaulting an eight-year-old girl. Johnson was found guilty of sexual battery and sexual molestation.
His life and career did a complete 360-degree turn. A once highly-talented NBA star is now serving life in prison. Johnson needed help when he was playing in the league, and it's unfortunate to see how his life ended up.